*This post may have affiliate links, which means I may receive commissions if you choose to purchase through links I provide (at no extra cost to you). As an Amazon Associate I earn from qualifying purchases. Please read my disclaimer for additional details.
Most horse owners turn to horse boarding because they do not have enough land or the right setup to care for horse. Unless you own a horse-friendly farm already, the costs of purchasing land, building a barn, running fence and maintaining a horse farm can be more than most people bargain for.
Boarding your horse at a horse-centered facility is the best option for equestrians in this situation.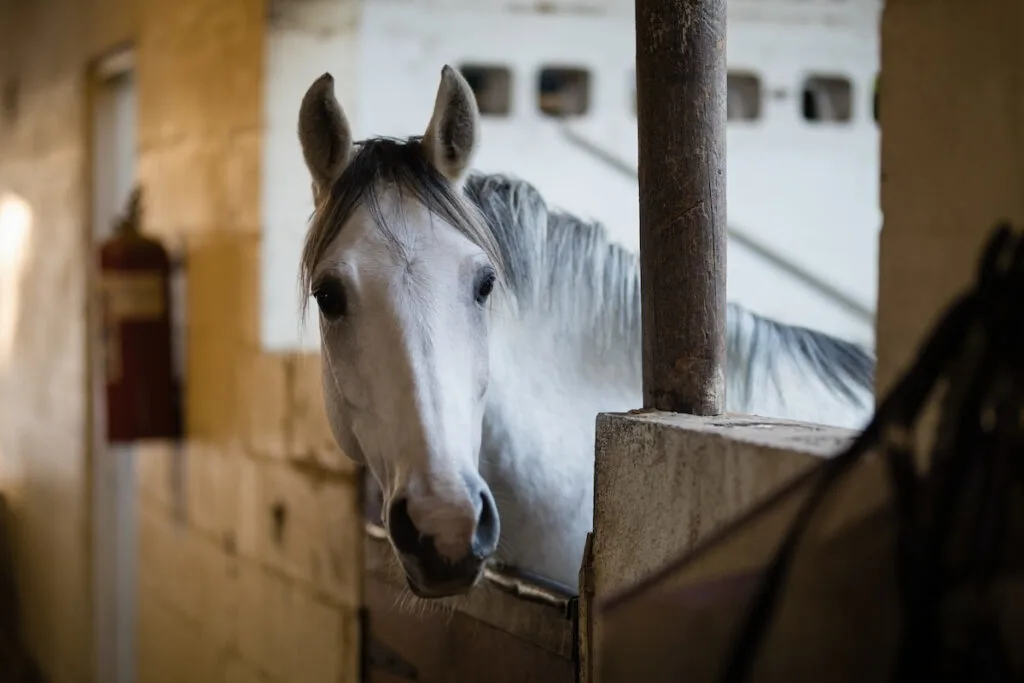 Deciding where to board your horse begins with learning about the different types of boarding and options that horse boarding facilities offer. While it seems like a simple decision, it is important to know exactly what to look for when choosing the right facility for your horse and your situation.
What is Horse Boarding?
Horse boarding is a service offered by established horse farms across the country. For a monthly fee, the horse boarding facility will maintain the daily care of a client's horse.
This may include things like daily feeding, turnout, stall cleaning, grooming, training, and even medical care.
Each facility is different and they each offer different types of boarding as well as various payment choices and optional amenities.
Types of Horse Boarding
Not all horse boarding facilities offer the same types of boarding. Some may offer a variety of options while others may only offer one of them.
Each type of boarding varies slightly based on the needs of the client. Some types require daily visits from the horse owner while others require no visits at all. You should choose the option that works best for your situation.
Pasture Boarding
Many farms offer pasture boarding. This means that your horse will remain in a pasture each day. No stall will be provided but a shelter of some kind should be in the pasture.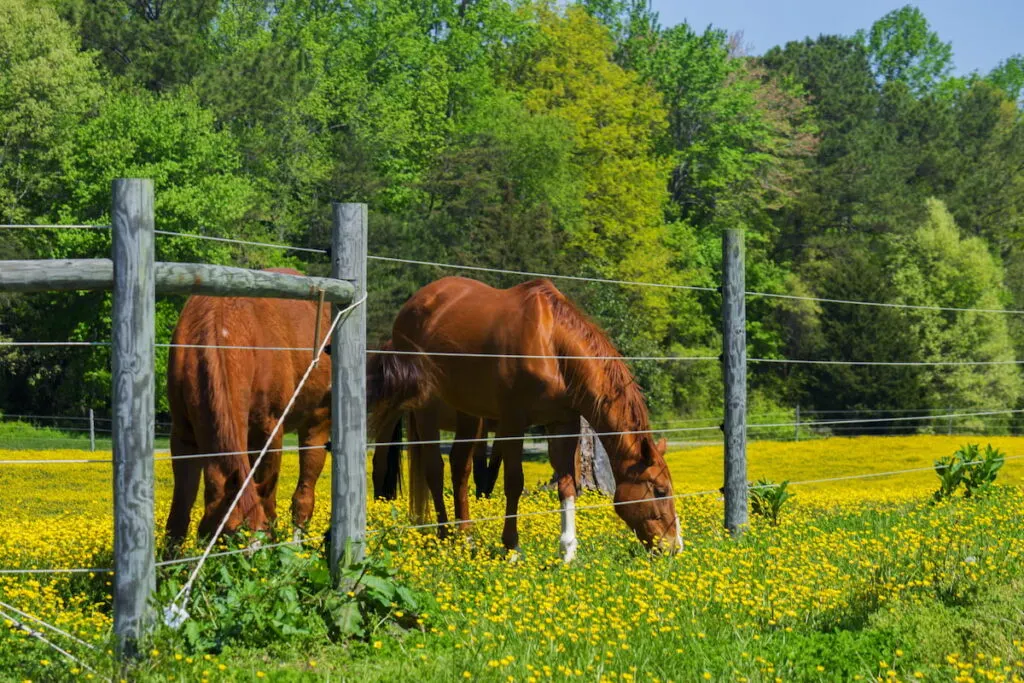 Horses will be provided access to water and feed, grass or hay as needed. This is a great option for horses that do not like to be stalled or that may suffer from illnesses that make stalling them less than ideal.
Stall Boarding
If a farm offers stall boarding, that means that they will provide a stall that your horse can utilize daily. It will be cleaned regularly and repaired as needed to keep your horse safe.
Even though it is called stall boarding, the horse will be turned out regularly but will spend at least each night safe inside of its own stall. Stall boarding typically includes daily feedings, daily turnout, and stall cleaning.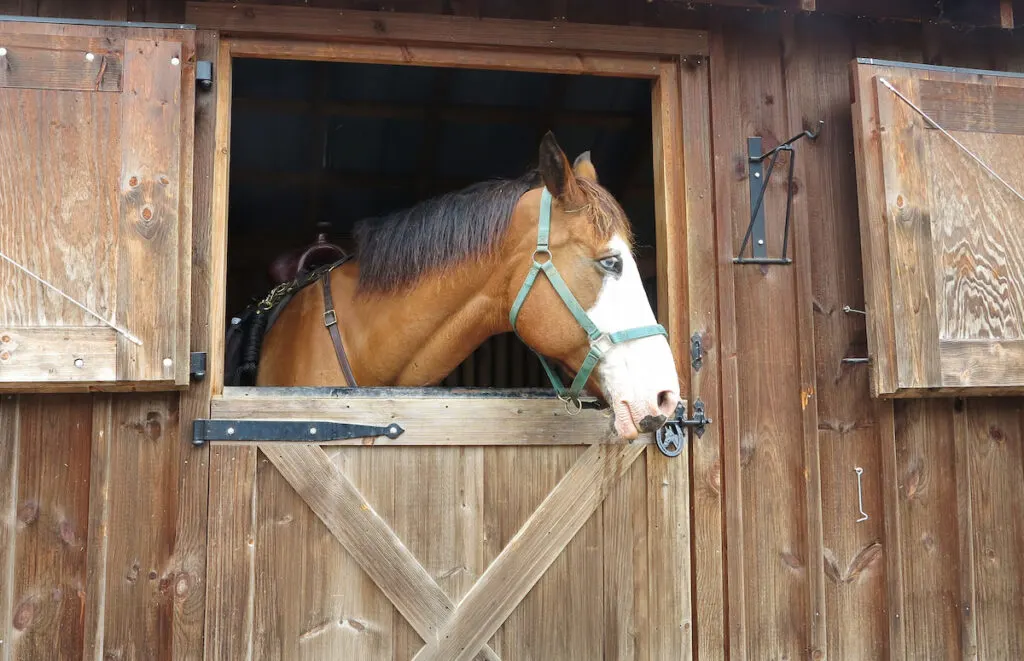 Self-Care
Some farms offer self-care horse boarding. The facility will provide the shelter, but for the most part, the horse owner is responsible for daily feeding and caring for the horse.
This situation is ideal for horse owners that want to continue caring for their horses each day, but simply do not have the land or facility to do so.
Self-care boarding relies on the owner to do most of the work involved in owning a horse including the daily feeding and watering, routine stall cleaning, and pasture turnout.
Partial Care
Partial care horse boarding means that the horse owner performs some of the daily care while the facility takes care the rest. The horse will be provided a stall and daily turnout, but the remaining care is divided up.
The facility manager and the client will decide what jobs each will handle.
For example, you may agree to clean the horse's stall regularly and handle the grooming while the facility manager handles daily feeding, watering and turnout. Partial care still usually involves regular visits and care from the horse owner.
Full Care
Full care boarding means that your horse will completely be cared for each day exclusively by the horse boarding facility. Your horse will be given a stall along with daily turnouts as weather permits in a pasture or paddock.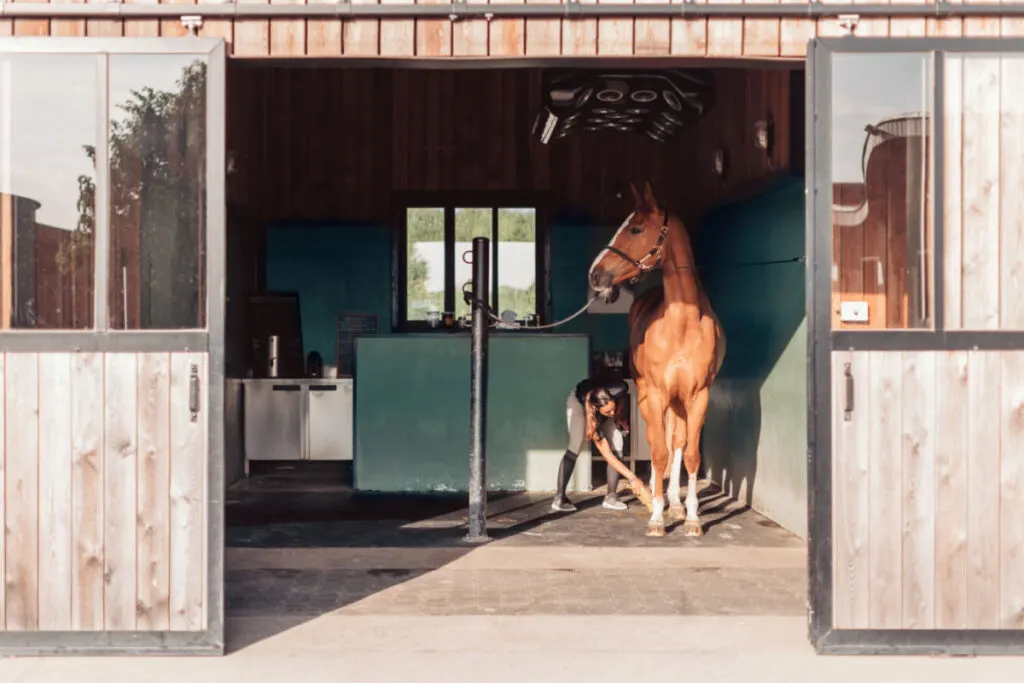 Stall cleaning, grooming, shoeing appointments, routine medical care, turnout, watering and daily feeding will often all be completed or arranged by the facility.
With full care boarding, the horse owner maintains complete ownership and medical decision-making for the horse, but he or she is not required to visit the boarding facility daily or even weekly.
This is a great option for equestrians who work out of town, live far away from the boarding facility, have other pressing priorities or work long hours.
Pros and Cons of Boarding Your Horse
Boarding your horse at a horse-boarding facility has its pros and cons. It is not suitable for everyone, but it is a viable option for many horse owners across the country.
The Pros
You can keep a horse without paying a large mortgage on a farm or pasture.
Less time will be spent on daily horse-related chores.
You will have more free time to ride and bond with your horse.
Your horse will be on a set daily schedule which is ideal for their health.
You can go out of town for work or vacation without worrying about your horse's care.
The facility may have an arena you can train your horse in.
Many facilities offer training if you want to improve your riding skills.
The Cons
Cost of boarding a horse can be high in some areas.
You may not bond with your horse as easily.
Someone else is caring for and possibly bonding with your horse.
You may not be able to monitor your horse's care each day.
The facility may not allow you to visit or ride whenever you want.
Your horse may not be cared for the same way you would care for them.
You may lose interest in horses over time since you do not see and handle yours every day.
How Much Does Horse Boarding Cost?
The cost of horse boarding varies greatly depending on where you live and what type of boarding you choose.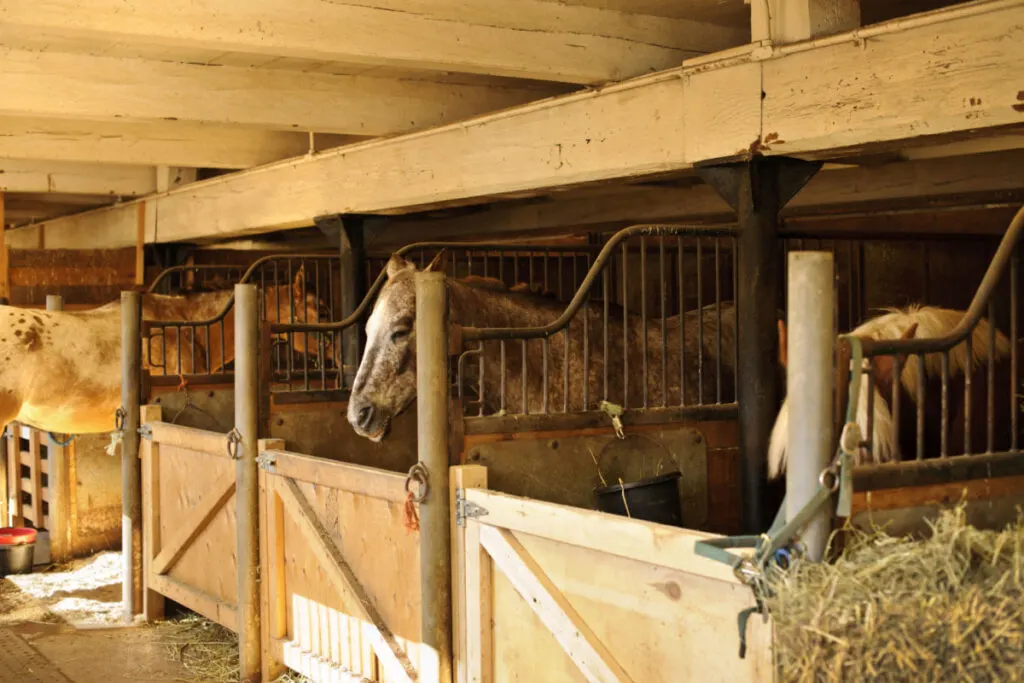 Horse boarding fees can range anywhere from $150 to a shocking $2,000 a month in some areas. Full care boarding requires the most work which makes it the most expensive option. The costs progressively decline based on the percentage of care the boarding facility agrees to take on.
While even $150 a month may seem like a lot to spend each month, it is important to remember all the costs incurred by the boarding facility.
All horse boarding farms are footing the bill for not only horse feed and high-quality hay, but also electricity, water, property upkeep, property taxes, insurance, staff salaries, farm equipment, grading, improvements and to top it all off, a monthly mortgage in most cases.
Important Considerations When Choosing a Horse Boarding Facility
Age of your horse
If your horse is a senior, you will want to choose a horse boarding facility that specializes in and understands the needs of senior horses.
The same rings true for young horses. If your horse is young and in need of extensive training, you will want to choose a facility that keeps a trainer on hand.
Stall Size and Quality
If the facility offers stalls, you will want to check out the size and quality of the stalls. Horse stalls for average-sized horses should be at least 12ft x 12ft. (source )
Make sure the stalls are built well, with no nails sticking out or damage that can be dangerous for your horse.
Turnout
It is important that the facility offers regular turnout in a pasture or paddock for your horse so that it can stretch its legs.
Make sure the pasture area looks safe for horses and that the facility agrees to turnout your horse regularly.
If your chosen facility doesn't offer turnout service, it is your responsibility to make sure that you get out to the barn each day to let your horse out. Standing in a small stall day in and day out is not ideal for a horse.
Do they provide supplemental feeding?
If your horse requires supplemental feeding, it is imperative to make sure that the boarding facility will accommodate your horse's special needs.
Some facilities do not offer supplemental feeding or will charge an additional fee.
Arena size, lighting and availability
Some facilities only let you utilize the arena during specific hours, but it needs to line up with your own availability.
You will want to make sure the arena is large enough to work your horse and practice any specific event you are interested in.
Find out if it has lighting if you know that you will need to work your horse in the arena after dark.
Fencing Type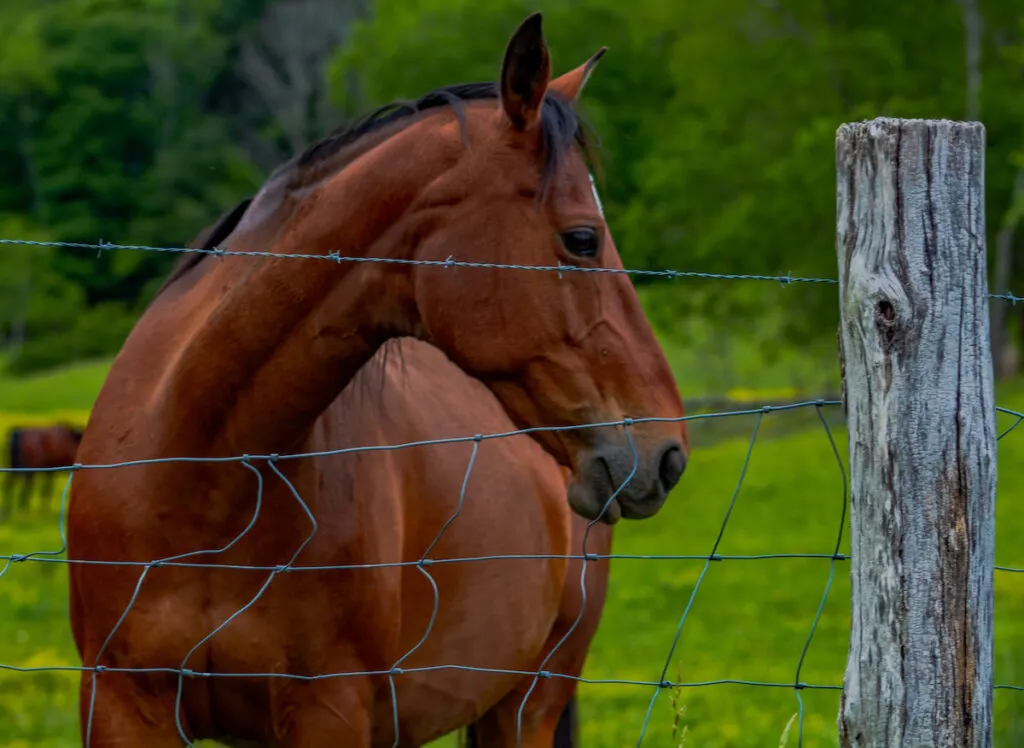 The type of fencing on the property you choose needs to match the requirements of your horse. While most horses are easily contained, some have no problem jumping low fencing or pushing on weaker fence.
If you horse needs strong fencing to keep them in, make sure the facility you choose can accommodate your horse.
Water/Food Access
If you choose pasture-based boarding, it is important make sure that your horse will always have access to water and that feeding situation is up to par.
You will also want to make sure your horse will be given ample access to grass, grain and hay as needed.
Shelter Availability
Pastures at boarding facilities need to have adequate shelter than can accommodate all the horses inside it during cases of extreme temperatures or bad weather. Horses will naturally seek shelter in storms and rough weather.
Shade Availability
It is also important that pastures have at least some shaded areas for horses to escape the sun and cool off in warm temperatures. The shade from a tree can help cool off a horse quickly if they get overheated.
Parking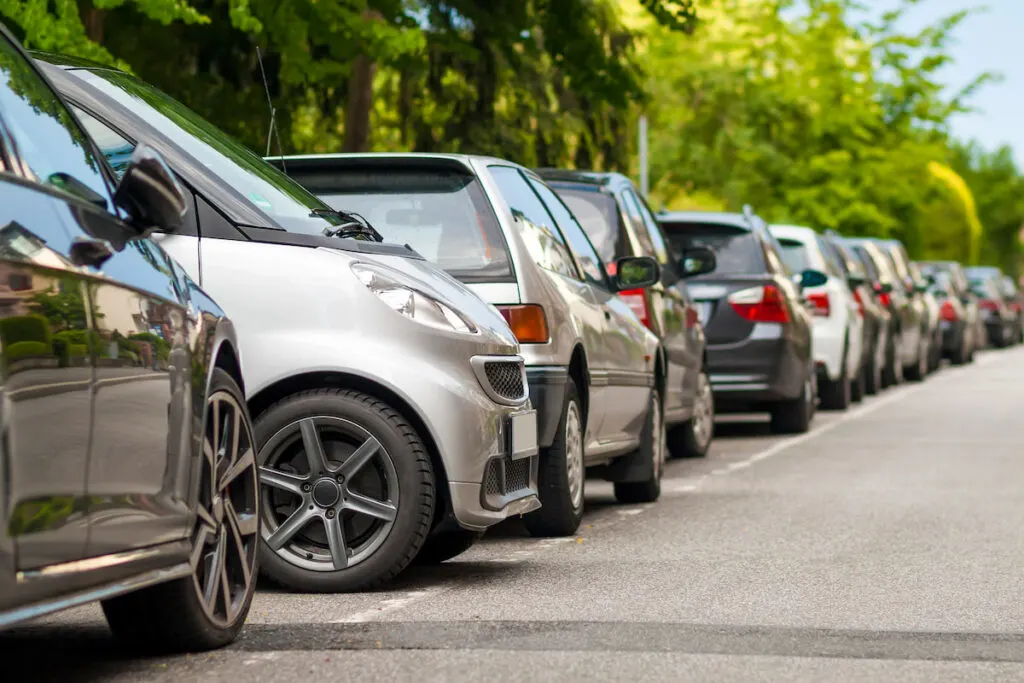 Make sure the facility you choose has adequate parking and loading areas. You should be able to easily maneuver a truck and trailer in the parking lot if needed. There should also be ample parking for each boarder.
Trail Access
If you intend on taking your horse trail riding, try to find a facility that has or within riding distance of trail access. Many horse boarding facilities offer trails on their own property that you can ride at your own convenience.
Tack Room Options
Many of tack rooms will be shared, but larger facilities sometimes offer their boarders private tack rooms. A private room offers more secure storage, but often comes at a higher price.
A shared tack room means that you will have to share it with other boarders and risk having your equipment taken, lost or used while you are not there.
Security
Horse boarding facilities house several horses for different boarders and security should be high on their list of priorities. You want to make sure the facility you choose is secure from intruders and that the horse stalls and fences are secure, to keep horses from getting lose.
Hours
Many horse boarding facilities allow free access to visit your horse, but some have specific times that they will let you come and go.
This is often as a safety precaution and not because they do not want you to see your horse. You should verify if a facility has set open hours and if so, make sure they fit into your schedule before you make a commitment.
How does billing work?
Billing options vary by location and are not the same at every horse boarding operation. Some accept only cash while others accept cash as well as checks, electronic funds transfer (EFT), and other forms of electronic payment.
Do they provide extra options?
Many horse boarding operations will offer extra options, usually at an additional cost. This can include training, riding lessons, physical therapy, as well as chiropractic and holistic care.
Quarantine Policy?
If there are a lot of horses coming and going at the horse boarding facility, it is important to find out if they have a quarantine policy.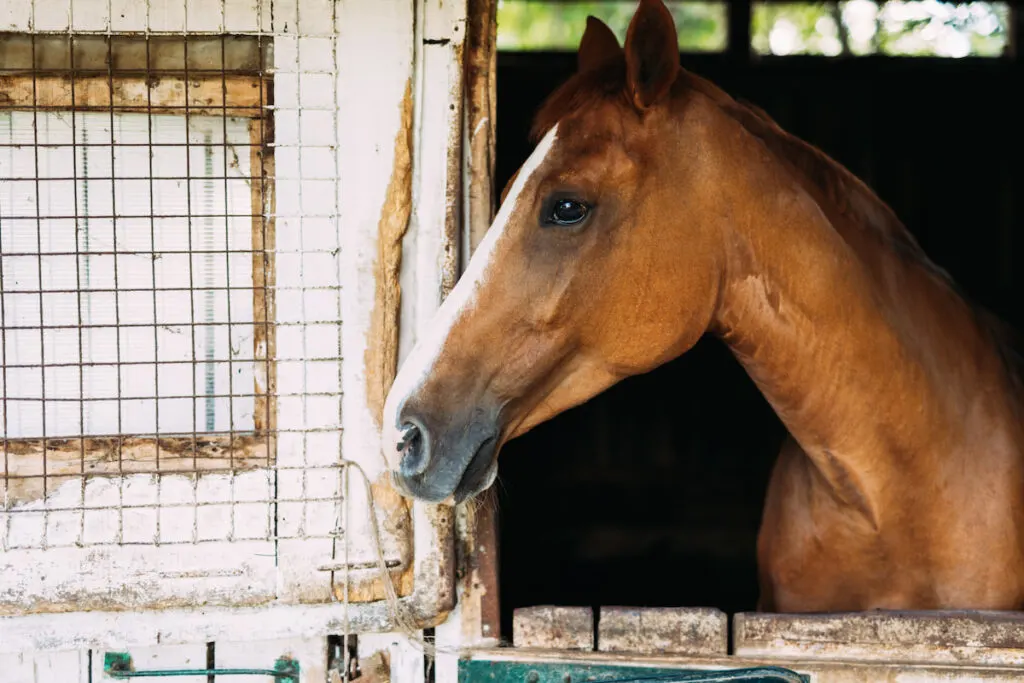 A quarantine policy means that new horses and possibly even horses that have left to go to a large event must be separated from the other horses on the property for a set amount of time.
This means that your horse will be protected from viruses and other illnesses that may be brought to the boarding facility inadvertently.
Location
You should choose a boarding facility that is within an acceptable distance from your home. The further away it is, the less often you will be able to visit your horse. You also want to be close in case your horse has an emergency that requires your immediate attention.
Deciding on a Horse Boarding Facility
Determine what type of boarding you want and what amenities you prefer.
Find horse boarding facilities near your location.
Contact each facility and find out what they offer.
Compare each farm and narrow down which one or ones fit your needs.
Visit the horse boarding facilities you like and see them for yourself.
Make the best decision you can based on the information you have collected.
Final Thoughts
Choosing a horse boarding facility for your horse is not going to be simple task but knowing what to look for is half the battle. Most equestrians understandably consider their horses a part of your family and your boarding facility should treat them as such. With a little research, you can find the right farm to board your horse.