*This post may have affiliate links, which means I may receive commissions if you choose to purchase through links I provide (at no extra cost to you). As an Amazon Associate I earn from qualifying purchases. Please read my disclaimer for additional details.
Are you new to horses?
It may take you by surprise to know that you need different saddles for various horse-riding disciplines. This guarantees you the specialized features required for your specific activity or event to increase efficiency, chances of success, and even security.
It also opens you up to the extensive world of horse saddles that can be overwhelming even to the best of us.
Luckily, this article breaks down the various types of horse saddles and explains how they work so you can find the best one for your needs.
Western Saddles
As the name suggests, Western saddles are typically used in the West on working horses found on cattle ranches.
Their design derives from a combination of horse saddles prominently used in Spain's two main horse-riding styles in the 16th century.
They provided ease and freedom of movement for the horse and unmatched control and security for the rider.
The current result is a secure and comfortable saddle for the rider and horse when traveling over uneven terrain for prolonged periods.
Western saddles have a detailed design and large footprint, differentiating them from other saddle types.
Though mainly associated with cowboys and ranches, Western saddles come in various designs for horse-riding needs. Here are the most common types of Western saddles.
Barrel Racing Saddle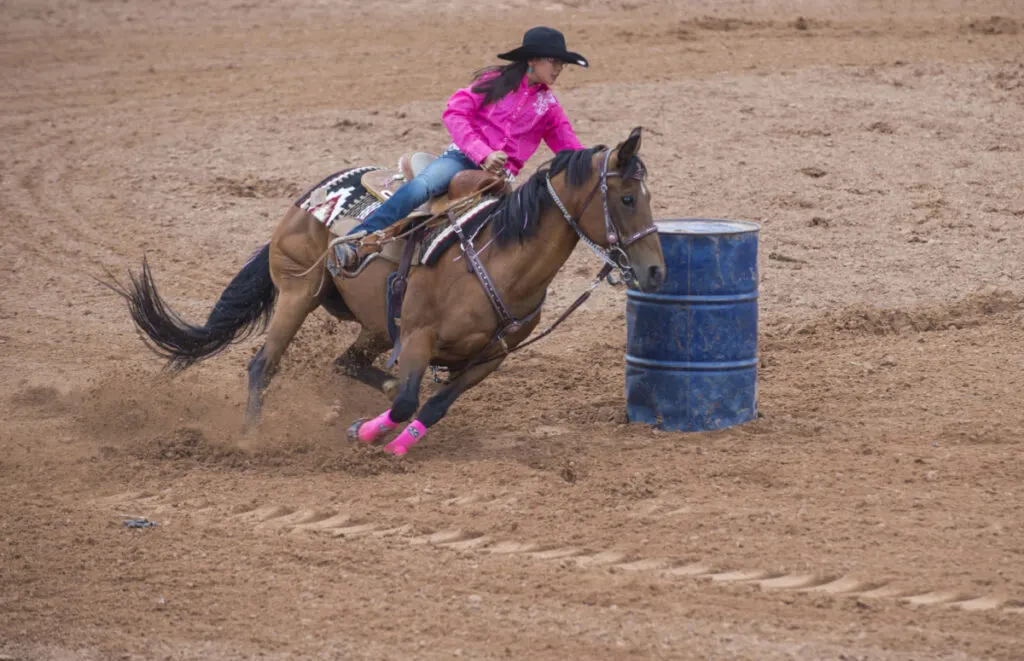 As the name suggests, barrel saddles are used for barrel racing — a rodeo event that entails maneuvering around preset barrels in a cloverleaf pattern in the shortest time possible.
This means the saddles are designed to withstand the sharp and abrupt turns and fast speed associated with the event.
For instance, barrel saddles have deep seats with tall pommels and rough surfaces to keep riders snug and secure during sharp turns.
A higher cantle also offers security by keeping the rider in place when the horse goes around a turn.
A compact and lightweight design is perhaps the most noticeable aspect of barrel saddles. This ensures that the horse doesn't take on a lot of extra weight to not interfere with its speed and agility.
In addition to a taller horn for grip, barrel saddles have rounded and shorter skirts with in-built riggings to help keep the saddle in place while protecting the horse.
The thick swells on barrel saddles enable riders to hang with their knees hooked under the fork.
Roping Saddle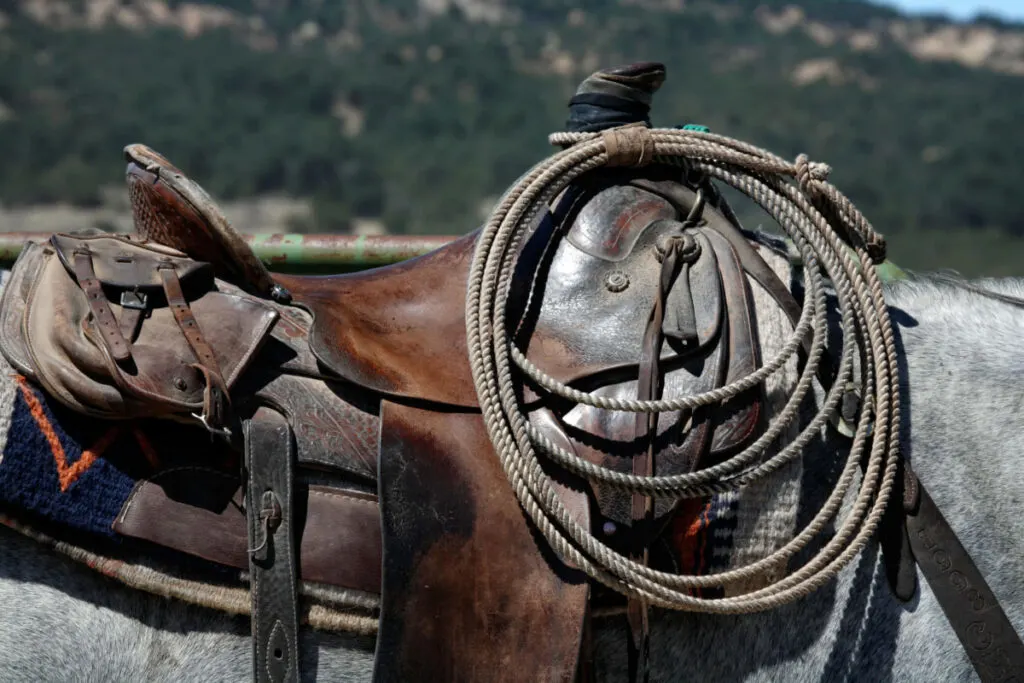 A functional roping saddle should allow you to easily rope cattle, secure your lasso around the horn and effortlessly dismount.
As such, roping saddles are heavyweight and large enough to handle pressure or force from a cow, bull, or calf. This makes them more durable than other types of Western saddles.
The thick and sturdy horn allows you to dally cattle from one place to another, while a lower-than-usual cantle allows for effortless dismounting.
Similarly, the deep stirrups offer you something to brace yourself against when roping to make abrupt stops.
Essentially, the design of a roper's saddle guarantees optimum freedom of movement so that roping doesn't interfere with your run. They also have suede or rough seats to keep you from sliding off.
Besides roping, this saddle is also helpful for other ranch activities like branding, driving, and loading cattle for transportation.
Reining Saddle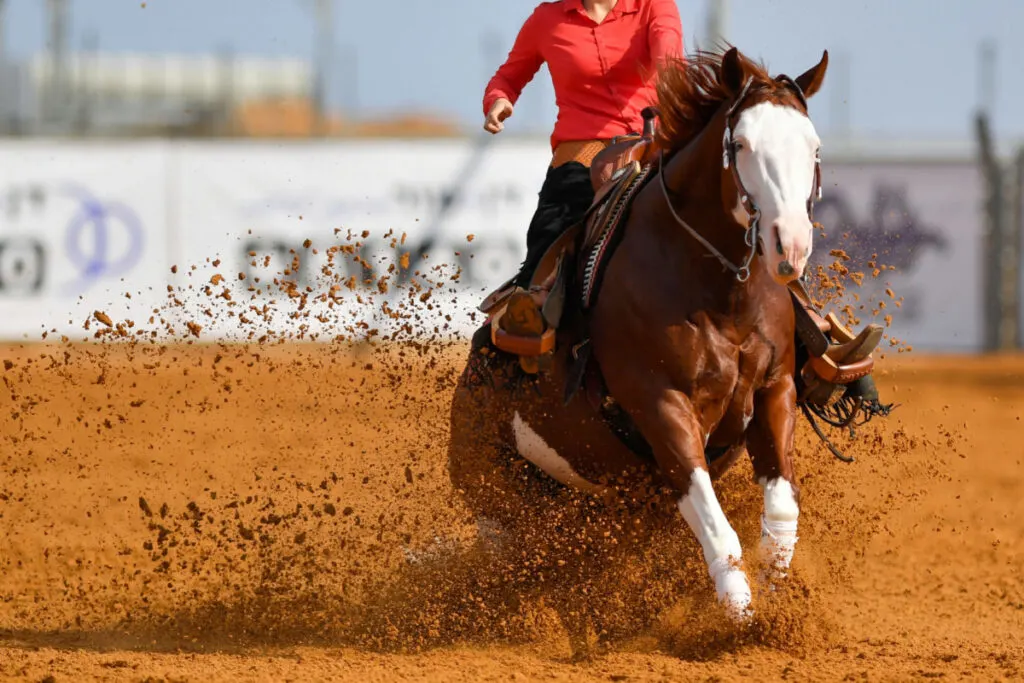 Like other Western saddles in this list, the reining saddle is specifically designed for reining — another rodeo event where you give commands to your horse and are judged based on various maneuvers.
As such, the reining saddle is built to maximize close contact and connection between you and your horse for successful maneuvers.
It features front-hung stirrups that keep you balanced for quick starts and stops and in close contact to command your horse.
This unmatched close contact also makes the reining saddle ideal for training horses.
Cutting Saddle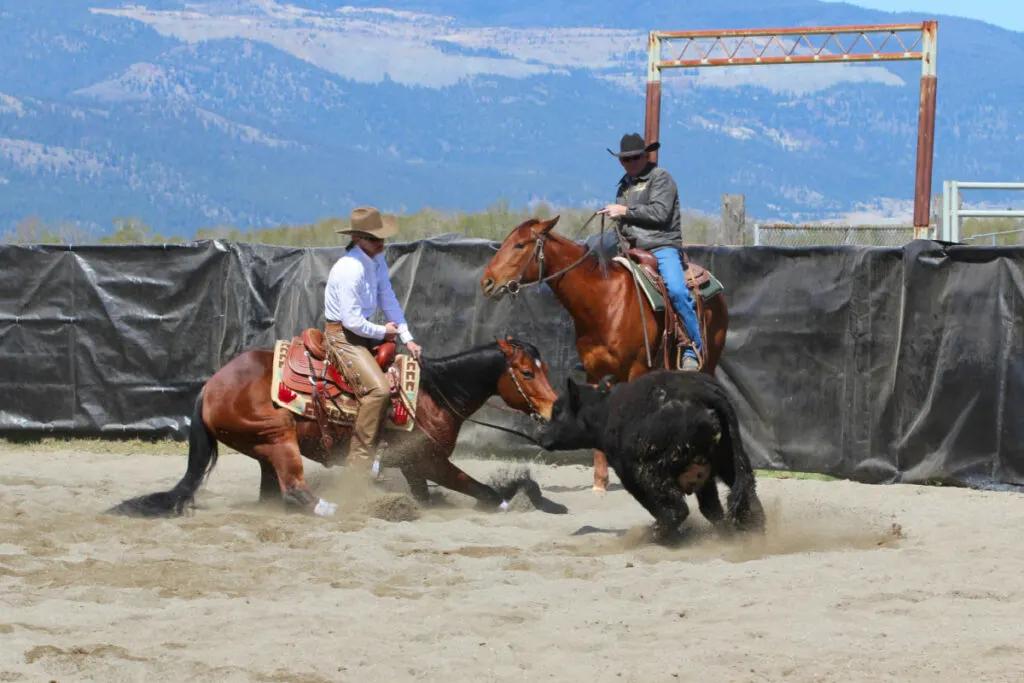 The cutting saddle is ideal for you if you plan on competing in cutting events.
The saddle is designed for optimal maneuverability, so you are out of your horse's way during sudden movements.
The slightly elevated flat seat gives you full mobility while the saddle's thin and tall horn offers a commendable hand grip to help balance you out.
Consequently, the low cantle ensures the seat is not digging into your back.
Skirts on cutting saddles are primarily long and square-shaped and may sometimes be double.
You can also use a cutting saddle for training, reining, and penning, making it a worthy investment for any horse owner.
Endurance Saddle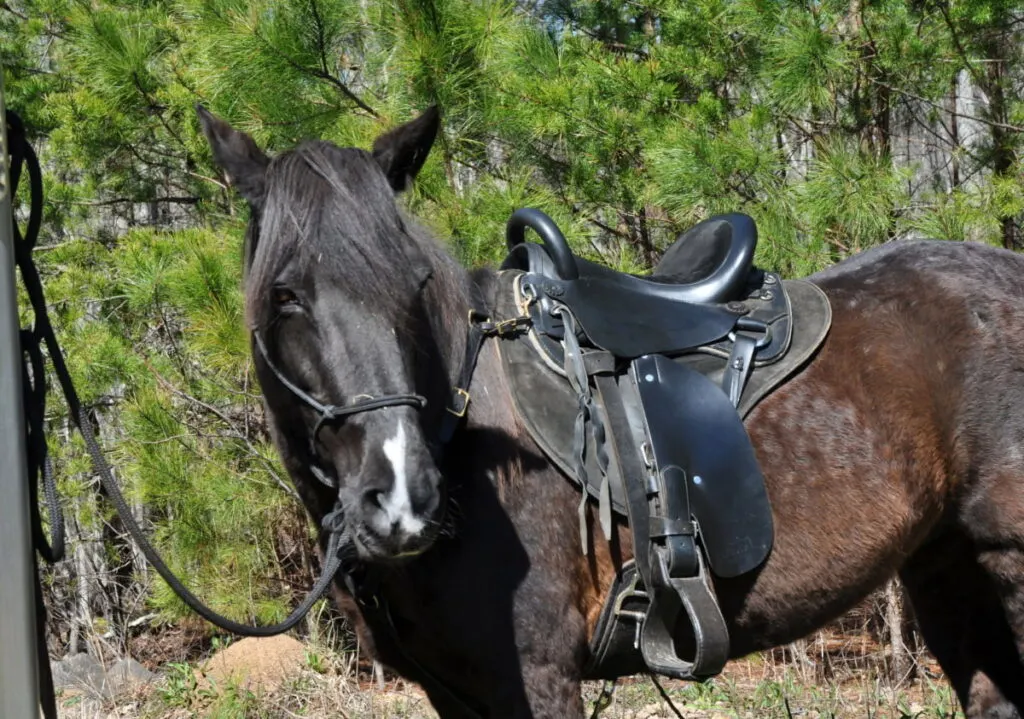 As the name suggests, this type of Western saddle is designed for long-distance riding.
Therefore, the saddle features high-quality leather and a deeply padded seat for comfort. Several D-rings provide enough room for you to carry all the gear along. It may or may not have a horn.
It, however, features a couple of saddle strings and short, round skirts and can also be used for pleasure or trail riding.
Show Saddle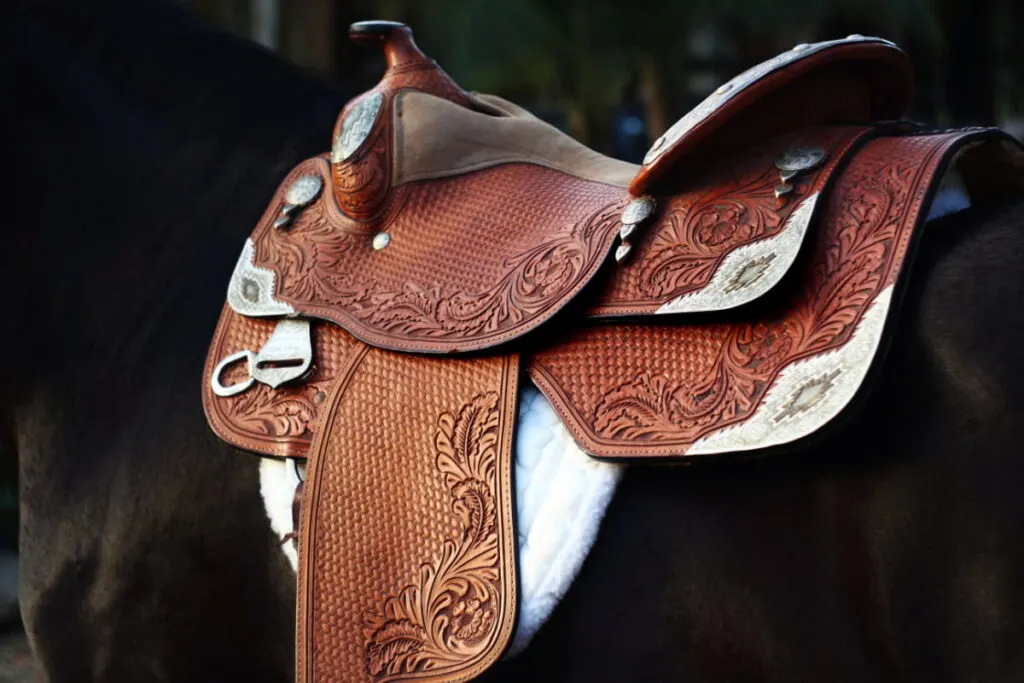 Show saddles are perhaps the most outstanding types of Western saddles. They have intricate leather trolling and silver trims that give them a lavish look.
Their long close-contact skirts are eye-catching, amplify your leg cues, and balance your seat for the perfect riding position. Their short horn and lower pommel guarantee better rein movement and cue transfer.
Show saddles also tend to have deeper cuts than other Western saddle types. These and the low cantles make the saddles easy to mount and unmount.
Lastly, as flashy as they may be, show saddles are not ideal for everyday use since their seats don't have much foam padding.
Also, with all the embellishments, you can expect the saddle to be heavy and expensive.
Also, like other things in fashion, certain features on show saddles are bound to go in and out of style.
Trail Saddle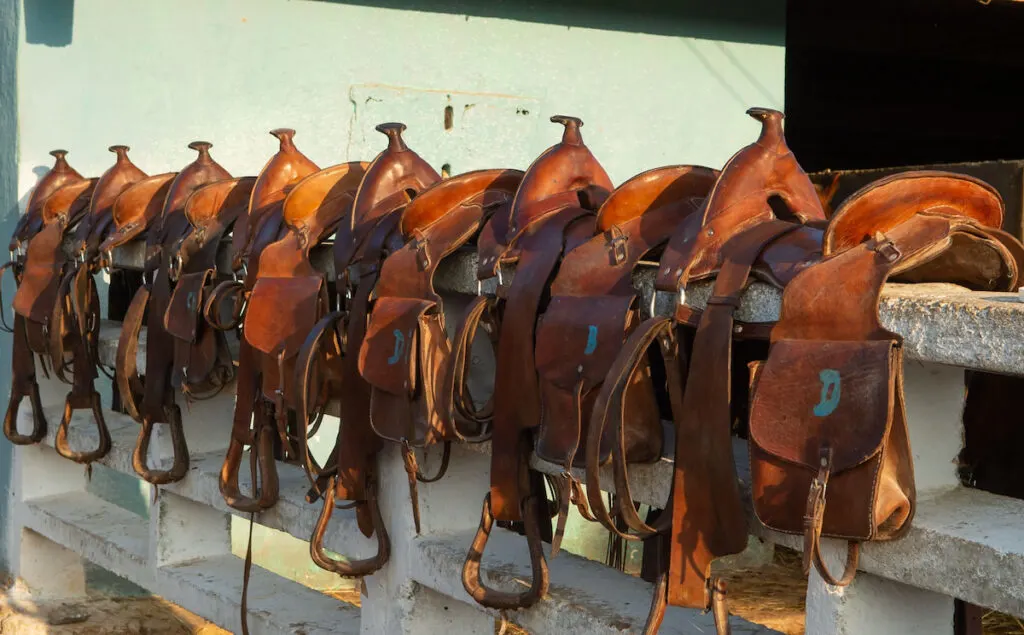 Also known as the pleasure saddle, the trail saddle is usually lightweight and is mainly designed for comfort. As such, they feature padded seats for comfort as you leisurely ride your horse.
The saddle has a higher cantle, shorter pommel, and a thinner horn for protection.
Some riders, however, prefer not to have the horn to prevent bruising their tummies, especially when navigating steep terrain.
It also features saddle strings to attach your trailing gear to and is used with a breast collar to ensure you do not slide backward when navigating steep trails.
Wade Saddle
The wade saddle hails from a long line of historical horsemanship. Unlike most saddles in this list, wade saddles are crafted by hand, increasing their worth.
Since the wade saddle is designed for rigorous work on the ranch, it often features a lower set pommel with a lower and wider horn for efficiency.
You will also notice that the saddle has a wooden instead of a metal horn and lacks swells.
Ranch Saddle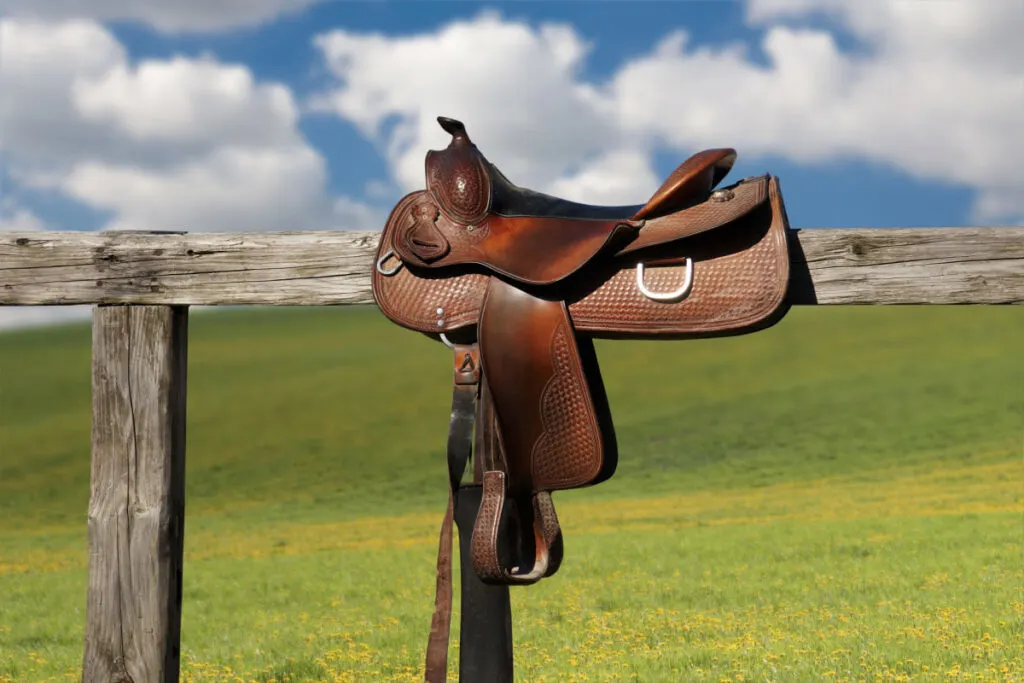 As the name points out, the ranch saddle is designed for use around the ranch and has features suited for the thorough work done on ranches.
For instance, the saddle has a robust tree and horn. As a result, the horn is stout enough to withstand taxing ranch work like dragging and roping.
It also has a deep-seat design that guarantees comfort as you go about your work. To keep you snug, the seat comes in a textured material.
Similarly, the saddles feature a high cantle for security and comfort since ranch work can go on for hours. The saddle may also feature saddle strings for you to secure your work equipment.
All in all, it is a functional saddle that works as it should and is the best option if you are looking to move livestock or repair fences. Ranch saddles can also come in wade style, which is quite popular with ranchers.
Ranch Cutting Saddle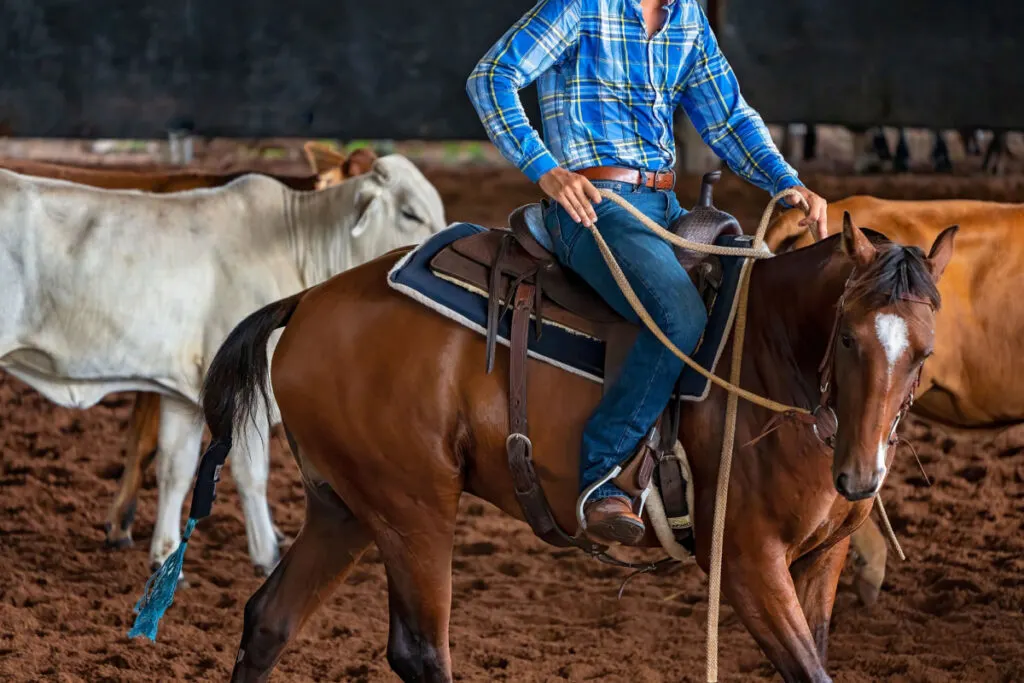 Versatility doesn't get better than the ranch-cutting saddle. It can be used for various activities like ranch and arena work, trail riding, and cutting competitions, among others.
It allows you to accomplish multiple jobs without compromising comfort, hence its flat but slightly raised seat.
Like the regular cutting saddle, this saddle has long square skirts. The pommel and horn are tall, but the horn is thicker for easy roping.
Lastly, ranch-cutting saddles are made of robust material for durability hence their heavyweight nature.
Mounted Shooting Saddle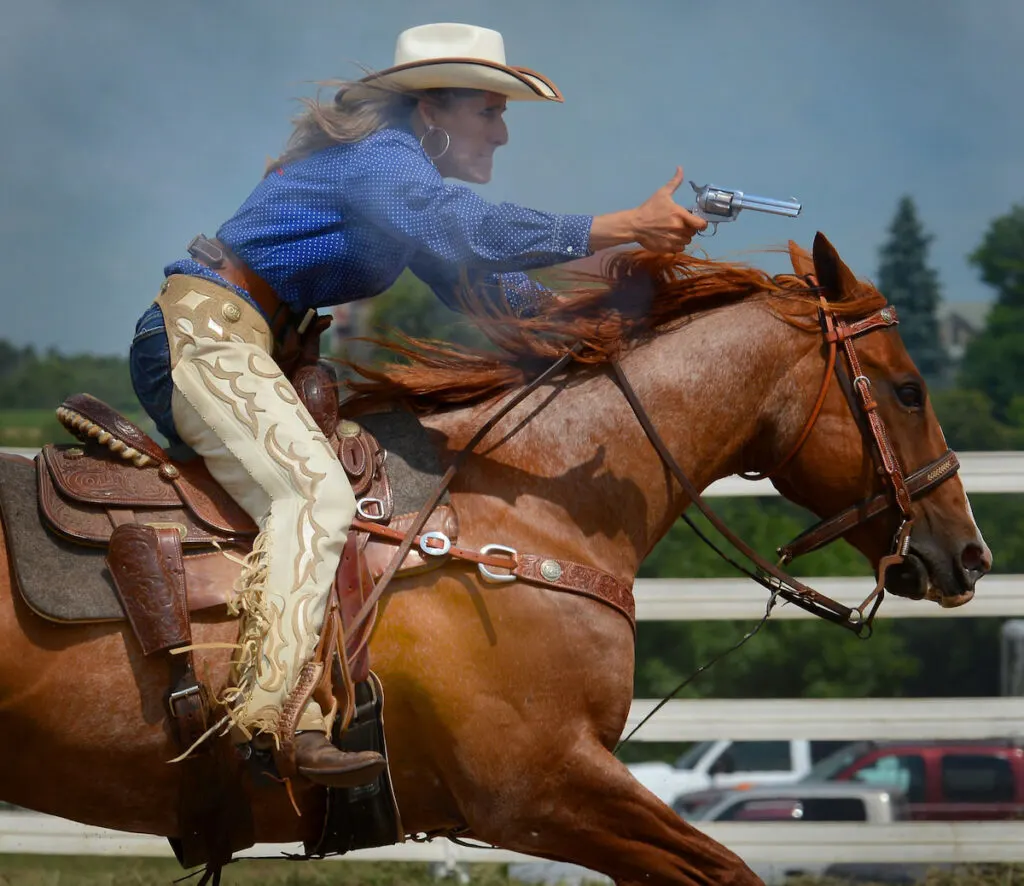 The mounted shooting saddle is similar to the barrel racing saddle we discussed.
It features close contact skirts to intensify your leg cues and a tilted horn and swell for easy and fast gun changes during competitions.
A deep seat keeps you snug into the saddle while the free-swinging fenders allow maximum movement. Some riders also use barrel racing saddles for mounted shooting.
All-Around Saddles
Going by the name, all-around saddles are designed to help you execute most, if not all, of your horse-riding needs.
You can use your all-around saddle to rope, trail ride, barrel race, and ranch, among others.
An all-around saddle features a robust tree and horn to handle the pressure associated with roping.
It also has close contact skirts for amplified leg cues where need be and a flat seat with a great pocket to keep you in place during all your speed events.
The saddle also features reinforced rigging to withstand dragging and roping. An all-around saddle is an excellent choice if you plan on doing multiple activities on your horse.
Flexible Tree Saddle
Essentially, flexible tree saddles are developed with rigid cantles and forks. The bars are, however, made of a flexible material allowing your saddle tree to move seamlessly with your horse.
The saddle is lightweight and fits a large variety of horses. Their close contact with the horse makes it ideal for training, trail, and reining activities.
Training Saddle
The training saddle is your go-to saddle if you are looking to train your horse. This saddle shares the same saddle tree with the reining saddle to ensure the closest possible contact with the horse.
The saddle has cut-out skirts and a low pommel to emphasize your closeness to the horse further.
Regarding comfort, the training saddle has a padded suede seat and features rough-cut leather jockeys and fenders for a better grip.
English Saddles
English saddles generally refer to a wide array of saddles used for various English riding events.
These saddles offer your horse an unlimited range of movement while allowing you to assume a balanced sitting style for each discipline.
Each of these disciplines has a designated saddle that offers specialized features to maximize comfort, balance, and efficiency. Here are the most popular English saddles:
Cross-Country Saddle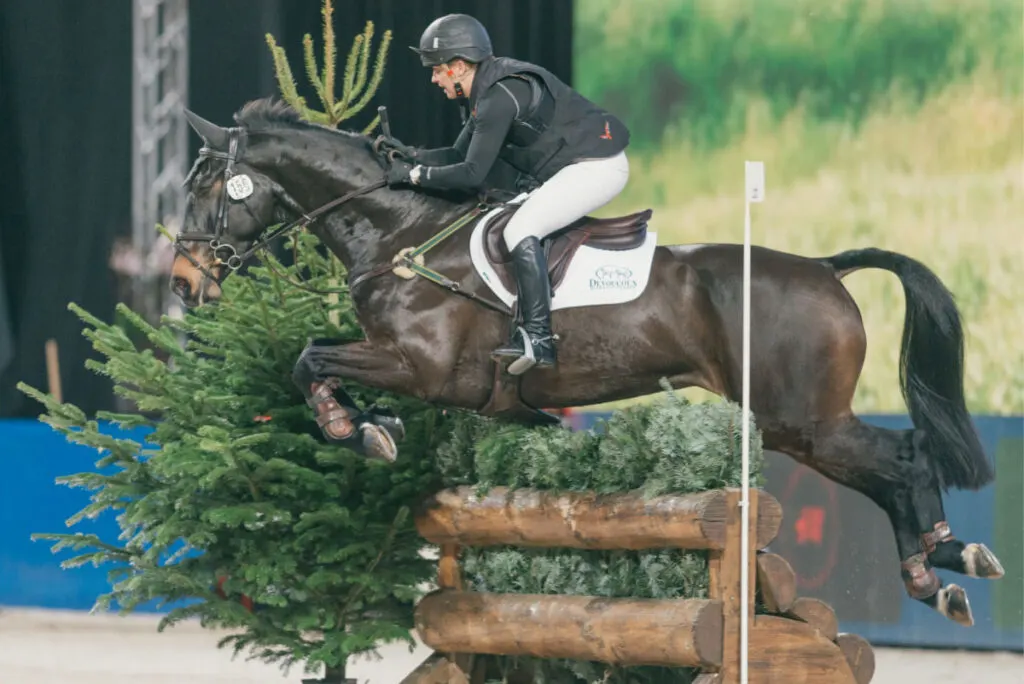 Cross-country saddles, also known as eventing saddles, are similar to close contact English saddles.
With eventing saddles, the seat is slightly deep to give you a better seat as your horse navigates more challenging fences.
But it is shallow enough for you to get out of your saddle to give your horse more freedom to maneuver over obstacles.
The cantle is squared-off to keep it from hitting your rear over higher fences. The eventing saddle also has a significant knee roll to better secure your legs.
Jumping Saddle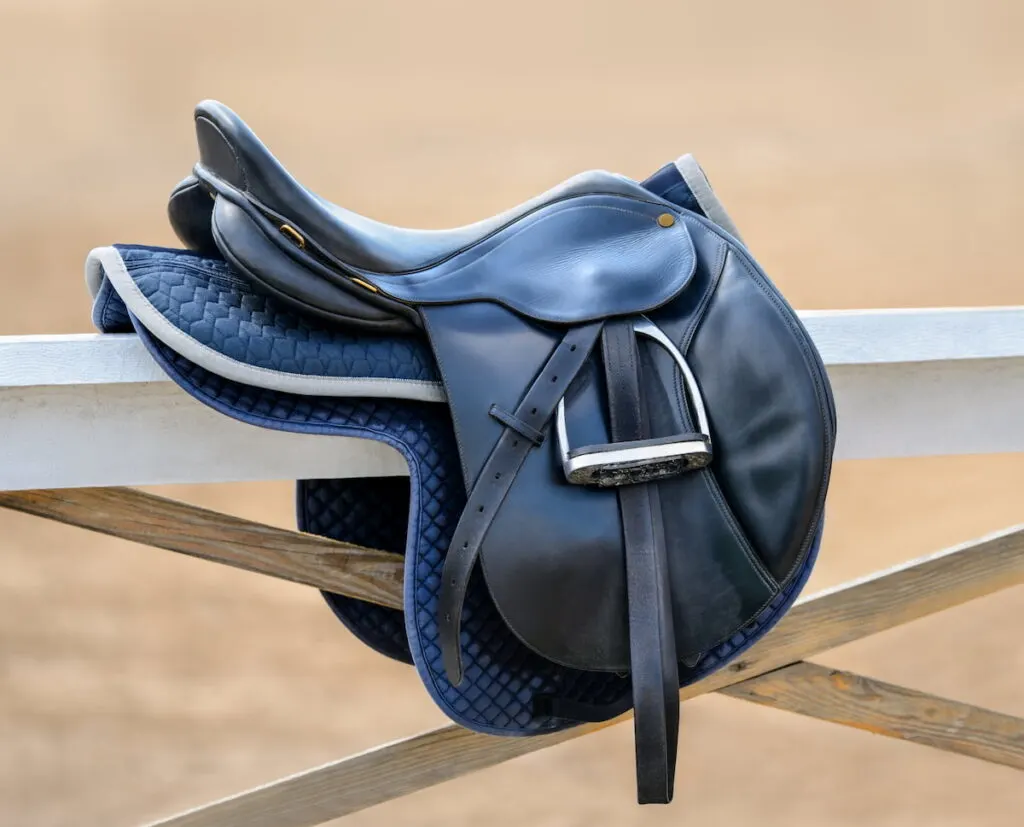 The jumping saddle also features a square cantle and a flatter seat, which position you closer to the horse's movements. For this reason, the jumper saddle also goes by the name "close contact saddle."
In addition to facilitating close contact, the flatter nature of the saddle seat enables you to get out of it more freely, which gives your horse the space it needs to jump over fences.
To guarantee maximum close contact, jumping saddles are designed with foam panels. They may, however, feature flocked panels to accommodate horses with difficult backs.
The saddle flaps on this close-contact saddle are shorter than usual, allowing you better access to your horse's sides. This also enables the use of shorter stirrups which is necessary when jumping.
As a result, the flaps have a forward appearance and are equipped with a knee block to allow your knees to grip.
Dressage Saddle
Unlike other saddles, the dressage saddle features a deep seat and high cantle, which allow a deeper snug into the saddle.
Similarly, the long billets on dressage saddles allow you to attach the girth close to your horse's elbow. As a result, you have closer contact with your horse's barrel through the flaps.
To encourage maximum shoulder movement by your horse, the tree points on dressage saddles are usually vertical to the tree. This prevents any hindrance to your horse's shoulder movement.
Lastly, dressage saddles occasionally feature different thigh and knee block options to help you secure your legs according to your preference.
Racing Saddle
Racing saddles are essentially lightweight pads that resemble a saddle. It is easy to think that racing saddles are there only to support the stirrups.
The jockey usually has extremely short stirrups when racing so you can stand up and get off your horse's back as it gallops—getting off your horse's back removes any restrictions and allows for unhindered strides.
Since the saddle has short stirrups, it is natural that it also has short flaps so you can effortlessly feel your horse's sides.
Hunter Saddle
Another type of English saddle is the working hunter saddle for hunting runs.
Since the hunter saddle is not as straight as your regular dressage saddle or as forward cut as a general-purpose saddle, it is designed for horse showing while securing you when jumping.
This cut makes the saddle ideal for hunting while showing your horse's shoulder.
General-Purpose Saddle
Simply put, general-purpose saddles can be used for all your English riding needs.
While it is not as deep-seated and upright as a dressage saddle or as flat as jumping saddles, general-purpose saddles are suitable for jumping, flatwork, trail riding, or eventing.
That said, there is a limit to how far the general-purpose saddle will take you in the disciplines concerned.
The more experienced you become in a given discipline, the more specialized your saddle will need to be.
The standard flap on a general-purpose saddle has a medium-sized knee roll to help you adjust the stirrup length to fit your preference and the activity at hand.
Australian Saddles
Australian saddles are famous for providing riders with a secure and comfortable seat over long-distance riding. The saddles achieve this by allowing a rider's leg to assume a natural forward position.
Australian saddles can come with or without a horn, depending on your activity, and look like a cross between an English saddle and a Western. They come in a wide range of styles, but horse and rider comfort and safety are the hallmarks of this saddle type.
Side Saddles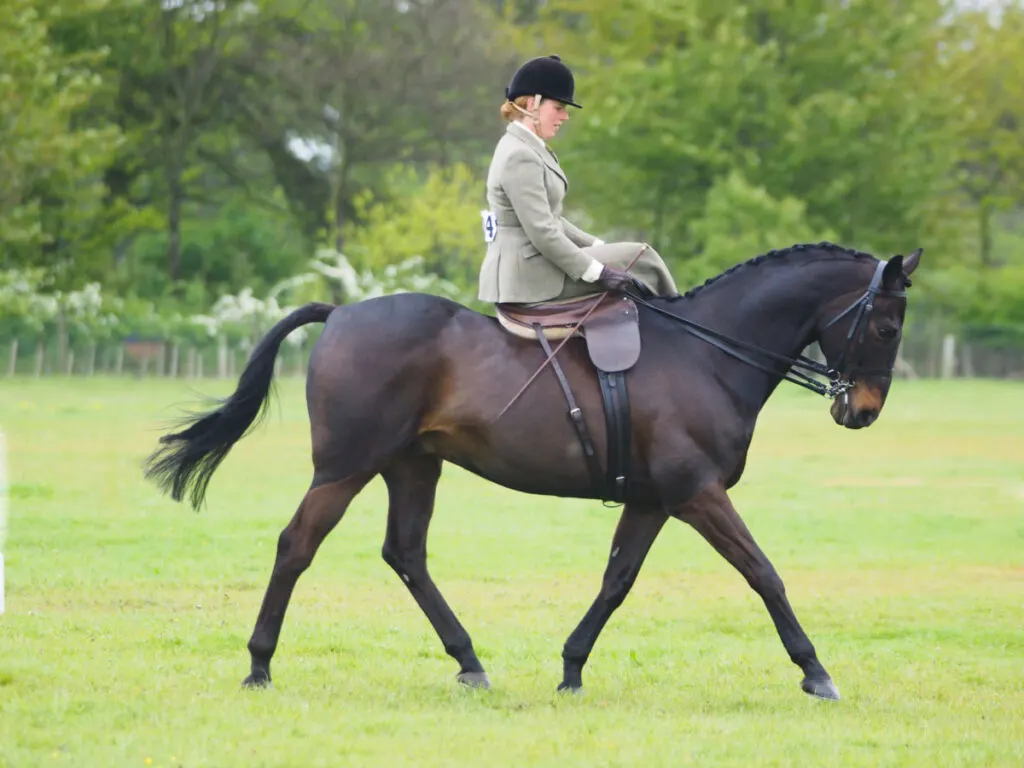 This special type of saddle gets its name from a style of horse riding known as side saddle.
It was also practically impossible for women to ride astride since their long and heavy skirts restricted their mobility and made it difficult to control a horse.
The practice has since progressed to become a leisure sport both men and women enjoy.
Design-wise, side saddles are different from regular saddles because they need to provide adequate support to a rider who's seated with their body angled to the side.
Side saddles typically have a flat seat and two pommels.
When on a side saddle, the proper riding technique is to place your right leg over the top pommel (Queen), and the left leg curves around the bottom pommel (leaping head).
Stirrups on side saddles come in a variety of styles, with some even allowing you to detach them when seated.
The saddles also come with three girths that counter the weight imbalance and keep the saddle in place when riding.
Charro/Mexican Saddle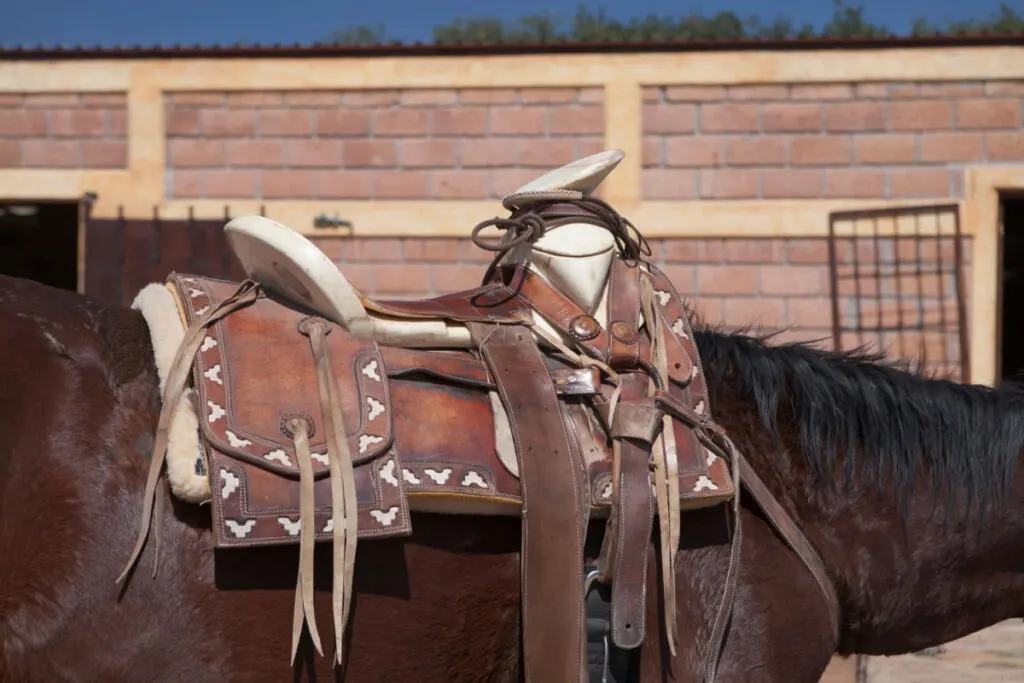 The Mexican saddle is a heavyweight saddle with many characteristics similar to Western saddles.
Like most Western saddles, Mexican saddles are built from a firm base known as a tree. They also possess similar features, such as jockeys, cantle, and skirts.
The key differences that make these saddles unique are the horn, seat size, and the way the different parts of the saddle are joined.
Charro saddles have a bigger horn and broader seat than Western saddles. The horn is distinguishable in that it has a flat top that curves gracefully towards the neck of the horse.
The different parts are held together with leather strings to give the saddle its unique look.
Final Thoughts
There you have it, fellow horse lovers. As you can see, there is a specific horse saddle for almost every horse riding need.
As such, getting the best saddle for your horse comes down to determining how you intend to use your horse.
As a general rule of thumb, it is advisable to start with all-around or general-purpose saddles and switch to more specialized ones as you gain experience and grow in your chosen field of activity.
Resources