*This post may have affiliate links, which means I may receive commissions if you choose to purchase through links I provide (at no extra cost to you). As an Amazon Associate I earn from qualifying purchases. Please read my disclaimer for additional details.
Helmets are vital for the safety of all equestrians, especially kids.
Knowing the ins and outs of horse helmets for kids can seem daunting, but it is not as scary as it seems.
The good news is there are several high-quality horse helmets on the market that are available in child sizes.
The bad news is you may need some help choosing the best one. But we've got that covered.
Here are the best kid horse riding helmets that we found and what they have to offer.
TuffRider Starter Basic Horse Riding Helmet
This basic horse-riding helmet is a great starter helmet for kids, and it does not break the bank.
It is SEI and ASTM certified, which means it is safety approved. It has an ABS outer shell and a Coolmax liner that is removable and washable.
It features multiple vents that promote air flow and has a padded chin strap that can be easily adjusted to provide a comfortable and custom fit.
It does not contain many of the extras and frills that other, more expensive helmets do, but it serves its purpose well.
If your kid is just starting out riding or if you need a few stock helmets for the tack room, this one may fit the bill. It is safe, affordable, and durable.
Equi-Lite Horse Riding Helmet for Kids
IRH INTERNATIONAL RIDING HELMETS Equestrian-Helmets
2 snap-in liners made with hi-tech, fast drying cool-on fabric provide a custom fit. Removable and machine washable
Maximum ventilation ports to keep the rider cool
Approved by current sei and ASTM standard testing
The Equi-Lite horse riding helmet is an excellent option for both beginner and experienced youth equestrians.
It is easily adjustable, thanks to its Dial-Fit system that allows for quick and easy size adjustment.
It has 9 cooling vents that promote air flow to keep kids cool.
It is ASTM/SEI certified which means that it meets helmet safety standards.
It has a soft padding inside the helmet and a quick release connector that allows for a speedy removal when needed.
This helmet comes in a variety of colors including black, navy, green, purple, white, and silver.
TuffRider Starter Horse Riding Helmet
Sale
TuffRider Starter Riding Helmet Large
ABS matte outer shell with three stainless steel mesh covered ventilation slots
Detachable and washable Coolmax liner
Precision dial-fit system with a detachable peak
Adjustable nylon harness with padded and adjustable chin strap
This horse-riding helmet has an ABS outer covering that offers superior protection to the wearer.
It is ASTM/SEI certified and it is a great starter helmet for beginner riders and it has a removable cooling liner that can be easily cleaned and reattached.
The TuffRider starter helmet is adjustable, making it wearable by more than one rider if needed.
This helmet has an adjustable harness, a padded chin strap, and a brim that is detachable.
It has vents to keep the wearer cool and free of excess sweat. It also is designed so that it can be easily worn with a ponytail.
It features mesh covered vents that support needed ventilation to keep riders cool.
Ovation Equestrian Deluxe Schooler Helmet
Ovation Equestrian Deluxe Schooler Helmet
DELUXE SCHOOLER RIDING HELMET – Do you ever feel like your helmet is 'too much'? It's too hot, too heavy, too tight, too loose; This Ovation riding helmet isn't too much of anything, except protective; You'll stay cool, fresh, comfortable, and stylish
MAXIMUM SAFETY – This lightweight low-profile Ovation Deluxe Schooler horse riding helmet is certified to ASTM standards offering you maximum protection when you are in a saddle; Minimum manufacturer recommended age: 12+ years
The Ovation schooler helmet showcases an adjustable dial to allow for a more custom fit.
It has several vents that keep air flowing through the helmet to reduce the heat applied to the wearer.
It has a removable liner that is washable, and it has a detachable visor and it comes in sizes small enough for toddlers!
The Ovation schooler helmet meets the SEI and ASTM certification standards.
It has a unique rubber covering that keeps it safe from scratches.
It comes in a variety of colors including blue, black, white, brown, gray, tan, and purple.
There are also some No products found. including red, teal, fuchsia, purple and blue.
Troxel Spirit Children's Safety Horse Helmet
Troxel Spirit Schooling Riding Safety Helmet
The #1 riding helmet in the market is now better than ever with a new low profile!
DialFit System New Low Profile, full coverage design
FlexTip Visor Maximum Airflow Vent Placement FlipFold removable washable headliner with Air-Channel technology
ASTM/SEI certified
A leader in the equestrian helmet world, Troxel has designed a high quality and youth appealing helmet that rivals the competition.
It has a removable liner that is easy to wash and reattach and several vents on the helmet help make it extra ventilated for a cooler experience when riding.
The Troxel spirit helmet comes in 4 different colors including black, blue, pink and sky blue.
The pink and sky-blue options feature a gorgeous horse head image that make these helmets even more appealing.
This helmet is promoted for use as a western riding helmet with a low profile, making it enticing for younger riders.
Troxel Fallon Taylor Performance Helmet
These unique horse helmets are inspired by Fallon Taylor, a World Champion in the sport of barrel racing!
While it is not designed exclusively for kids, it does include small enough sizing that fits kids as young as 4 or 5, depending on their head circumference.
Not only do these helmets sport gorgeous Fallon Taylor exclusive designs, they also are ASTM and SEI certified!
They feature the Dialfit system as well as removable liners and a mesh cover ventilation system.
It also has a FlipFold system that allows wearers to make the padding inside the helmet thicker or thinner as needed.
Tipperary Sportage Hybrid Helmet
No products found.
This helmet is covered in ABS plastic and has a removable liner that is a breeze to clean and reattach.
It meets ASTM and SEI certification requirements. It has mesh covered vents located on the top and rear of the helmet to allow for ventilation.
This helmet is not designed exclusively for kids, but it does come in both x-small and No products found. sizes, making it an ideal option for children equestrians.
It weighs about 1 pound depending on size. It has a high contour in the back with a foam interior that makes it extremely comfortable for the wearer.
IRH 4G Helmet
IRH 4G RIDING HELMETS Equestrian-Helmets
2 snap-in liners made with hi-tech, fast drying cool-on fabric provide a custom fit. Removable and machine washable
Maximum ventilation ports to keep the rider cool
Approved by current sei and ASTM standard testing
The IRH 4G horse helmet is SEI and therefore ASTM approved. It sports 2 unique snap-in liners that are designed with a quick drying fabric.
The liner is removable, washable, and interchangeable. The IRH 4G helmet has multiple vents to allow for maximum coolness and ventilation.
This helmet features a chin strap that has a quick-release option in case of emergencies.
It also has a modified harness that allows the wearer to sport a ponytail.
This helmet falls on the more expensive end of the spectrum, but it has a very stylish and sleek look.
It comes in two covering options including matte or suede, depending on which the child prefers.
Champion Junior X-Air Dazzle Plus Helmet
This helmet is the most expensive on the list, but in this case, you really get what you pay for.
Champion horse helmets are high-quality, proven horse riding helmets that are very popular in the show ring.
This helmet not only sports a dazzling, colored vent panel, it has multiple vents that allow for ideal ventilation.
It has a lightweight outer shell and a padded lining, making it extremely comfortable.
This helmet has a quick release chin strap to allow for release in emergent situations.
It meets ASTM certification standards and is imported from the United Kingdom.
It has a suede comfort harness that contributes to added comfort.
How to Determine What Size to Get
Get a flexible measuring tape or a string and ruler.
Measure the circumference of the child's head, at forehead level, about an inch up from their eyebrows.
Do not pull too tight, but make sure it is comfortably snug.
Most helmet size charts give head circumference sizing in inches or centimeters so that you can match up to the correct helmet size.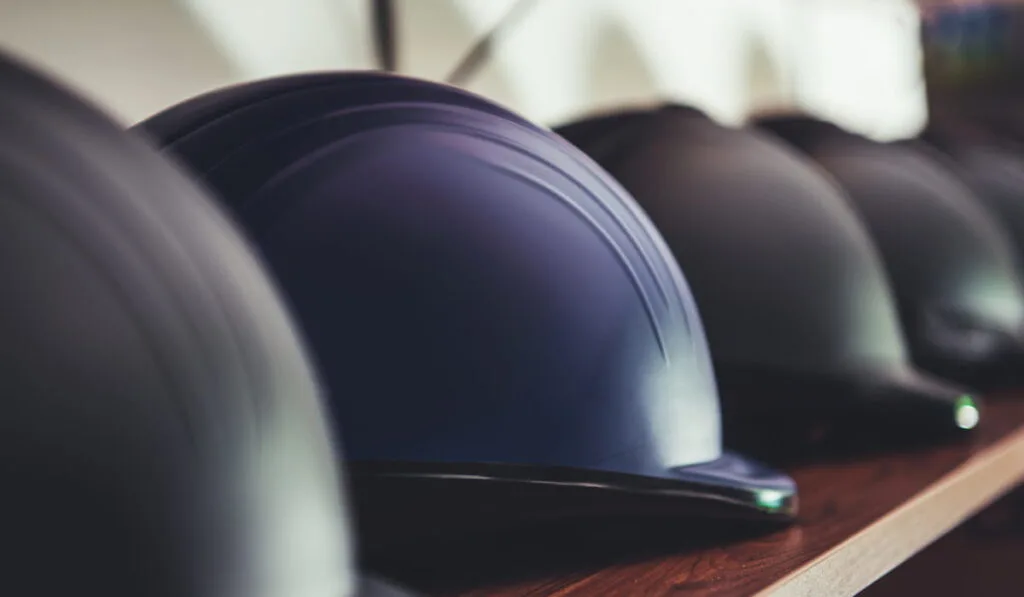 What Kind of Horse Riding Helmet Does a Child Need?
A child needs a comfortable and adjustable horse helmet to make sure they continue to wear it.
It should be well-ventilated to prevent overheating. An adjustable horse helmet will allow your child to use the helmet for a while and adjust it to their desired comfort level.
The helmet should be ASTM approved and made exclusively for horse riding.
Helmets with removable liners are ideal as well because they can be more easily cleaned in the case of spills or other accidents.
Best Horse Helmets for Kids
Best Suitable
for…
Cost
ASTM/SEI Certified
Removable Brim/Visor
Padded Chin Strap
TuffRider Basic
Beginners
$
☑
☒
☑
Equi-Lite Helmet
Beginner, Intermediate
$
☑
☑
☒
TuffRider Starter
Beginner, Intermediate
$$
☑
☑
☑
Ovation Deluxe
Beginner, Intermediate
$$
☑
☑
☑
Troxel Spirit
Beginner, Intermediate
$$
☑
☒
☒
Troxel Fallon Taylor
Beginner, Intermediate
$$$
☑
☒
☒
Tipperary Sportage
Beginner, Intermediate
$$$
☑
☒
☑
IRH 4G
Beginner to Advanced
$$$$
☑
☒
☒
Champion Junior X-Air
Advanced Competitive
$$$$
☑
☒
☒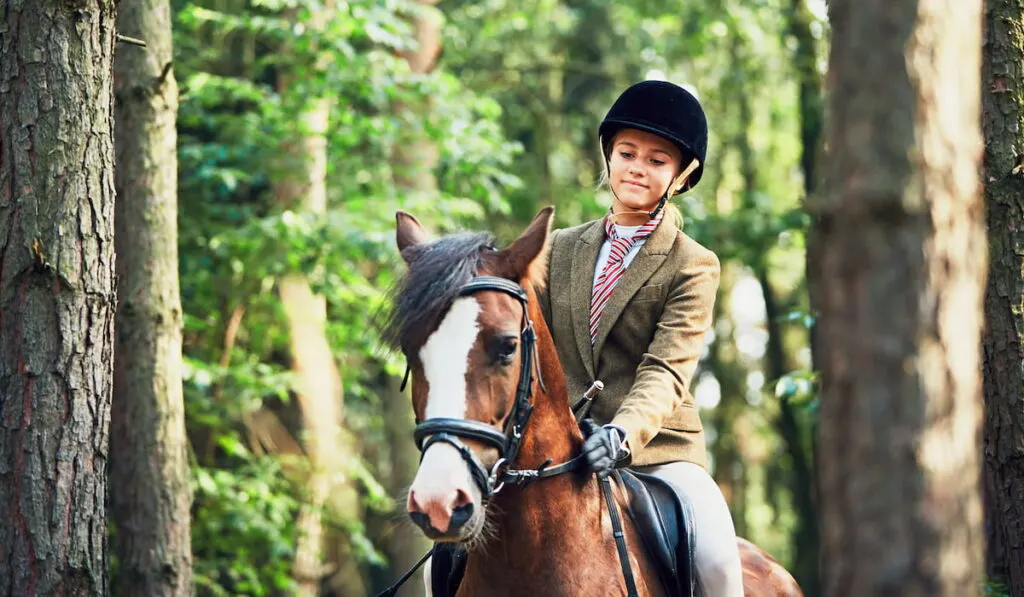 How to Know Which Helmets are Safe?
Even if a helmet appears safe, it does not necessarily mean that it is safe.
The American Society for Testing and Materials, the ASTM, has established a set of standards for helmets known as the ASTM F1163 to help protect consumers.
The Safety Equipment Institute, the SEI, is the laboratory that makes sure that a helmet product meets the standards set by the ASTM.
Therefore, if you see SEI certified, that means that it has met the ASTM F1163 certification.
Make sure that you always check to see that the helmet you are purchasing meets the ASTM certifications that prove it is safe.
You can verify this in person by checking for the ASTM/SEI seal that is often located inside of the helmet.
A non-SEI certified helmet offers absolutely no protection to the wearer and could allow for significant injury or death.
If you cannot determine if it is ASTM certified, do not buy it and do not let a child wear it.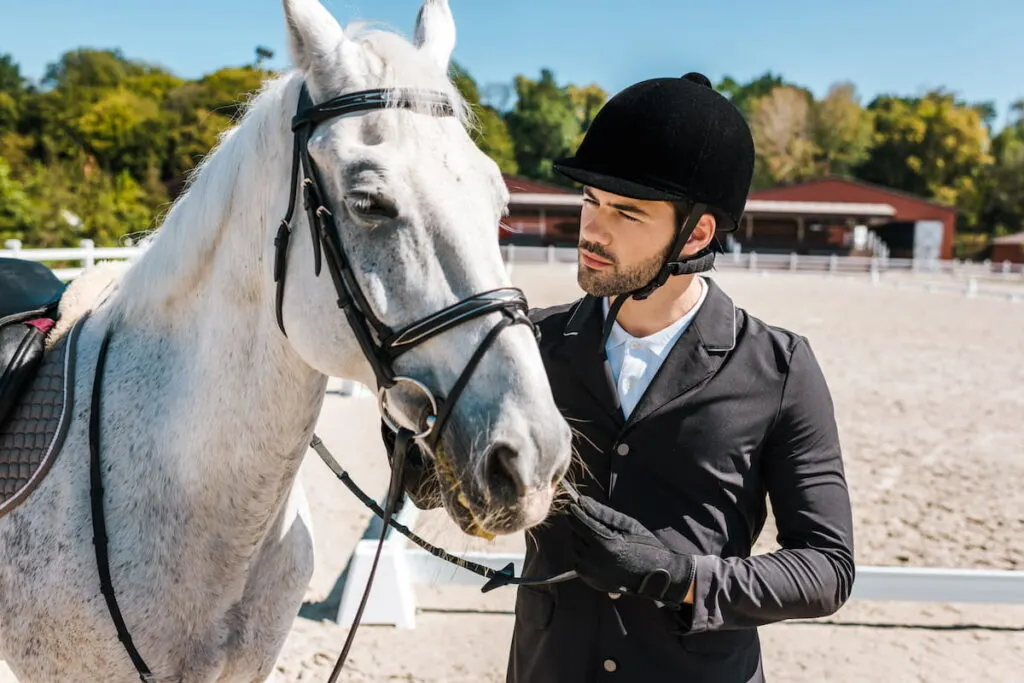 Why a Horse Specific Helmet is Best Compared to Other Helmets?
It is imperative that horse riders always use a horseback riding helmet when riding as opposed to a bicycle or skating helmet.
Equestrian helmets are designed to protect wearers on all sides of their head, not just the front like most bike helmets do.
Horse riding helmets are created and tested specifically to keep horse riders safe from falls and accidents.
You should always make sure that your child or other children in your care are wearing certified horse riding helmets, not bicycle, skating, or other helmets.
Final Thoughts
Finding the right horseback riding helmet for your child may seem overwhelming at first glance, but with the right information, it should be a breeze.
Once you know the child's head circumference measurement, all you need to do is narrow the search down to ASTM/SEI approved horse riding helmets.
Steer clear of bicycle helmets and other helmets that are not designed with the equestrian in mind.
The rest is just deciding how much you want to spend and what options the kid in question prefers.
Source:
http://animalscience.uconn.edu/equine/helmet-safety.php#:~:text=The%20ASTM%20has%20created%20criteria%20for%20horseback%20riding,ASTM%20standard.%20Why%20Do%20We%20Need%20a%20Standard%3F