Finding the perfect horse trailer that fits your needs, budget and lifestyle can be a challenging task. First, you need to decide exactly what you are looking for in a horse trailer, such as do you need living quarters? How many horses do you need to be able to haul?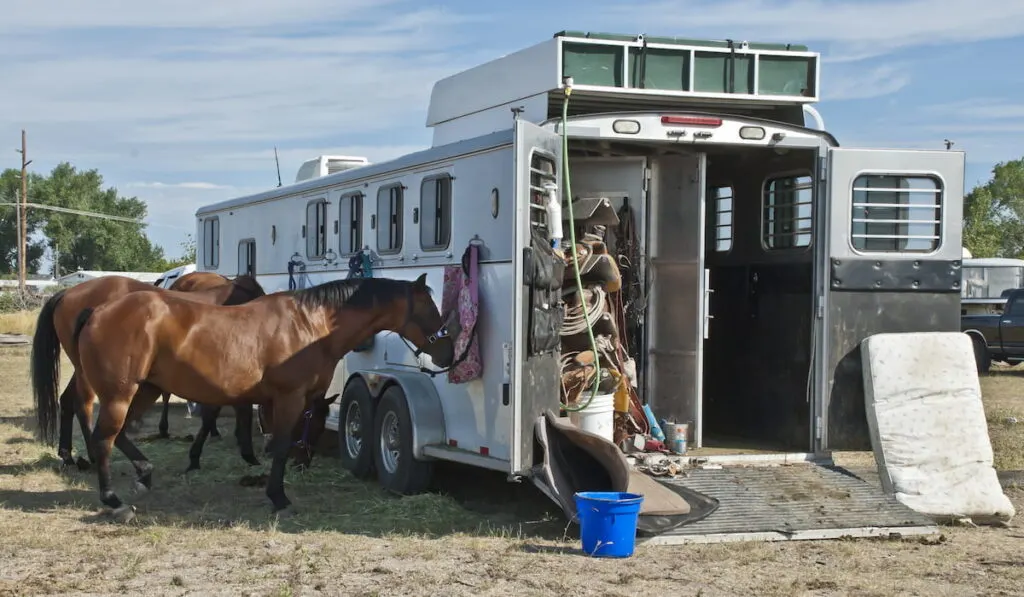 Each horse trailer brand offers a variety of choices and styles. Only the best ones offer high-quality trailers that withstand the test of time and are designed to fit different lifestyles. The following is a list of the best horse trailer brands and what they offer.
Best All-Aluminum Horse Trailer Brands
These brands offer all-aluminum horse trailers. An all-aluminum trailer does not rust like a steel trailer does, and has a cleaner, sleeker design than traditional makes of horse trailers. All-aluminum trailer is also lighter and easier on your vehicle to haul when compared to its steel-framed counterparts.

4-Star Trailers
Located in Oklahoma City, Oklahoma.
www.4startrailers.com
4-Star Trailers offers both gooseneck horse trailers and bumper pull options. All their horse trailers are custom designed to each customer's specifications. They offer equestrians more than 100 different floor plan options including the choice to add living quarters if desired.
4-Star Trailers have a unique "WERM" flooring sealant in their trailers which makes them long-lasting, durable, and easy to clean. You will not need to replace it after years of wear and tear as you will with wood or aluminum flooring.
They are the official trailer sponsor of the National Barrel Horse Association. Time and time again, I find horse owners that recommend the 4-Star Trailer brand above the rest.
Cimarron
Located in Chickasha, Oklahoma.
www.cimarrontrailers.com
Cimarron Trailers designs custom-built aluminum trailers for horses and livestock. They are committed to creating quality trailers that truly fit the needs and desires of their customers.
With round edges to prevent injuries, and sound structural designs, these horse trailers are designed to keep you and your horses safe. Cimarron trailers provides both gooseneck and bumper pull options, depending on your truck's capabilities. Their smallest option is for only 2 horses while their largest and most expensive options can haul up to 11 horses.
Some of their customizable upgrades include hay rooms, slide-outs, and exterior color choices including red, silver, black, maroon, champagne, stainless and natural aluminum.
Sundowner Trailers
Located in Coleman, Oklahoma.
www.sundownertrailer.com
Known as "America's trailer since 1976", the Sundowner Trailer brand is well-known among equestrians. An official AQHA trailer brand, Sundowner Trailers sells quality aluminum horse trailers that can be customized to fit your specific needs.
They offer 10 styles of gooseneck trailers and 8 different varieties of bumper pull trailers. They can be equipped with living quarters if needed and some models can even haul up to 10 horses. New Sundowner horse trailers come with an 8-year structural warranty.
Featherlite Inc.
Located in Cresco, Iowa.
www.fthr.com
The Featherlite trailer brand has been around for more than 45 years and they offer all-aluminum horse trailers that can be customized to fit your and your horse's lifestyle.
For example, their Model 7541 horse trailer has a choice of an 8 or 10-foot living area for a two, three, or four-horse trailer. The living quarters on this trailer comes with a sofa, cabinets, LED lights, as well as a 10-year structural warranty.
Featherlite prides themselves on having a safety-first mentality and they offer features like ramps, rubber floor mats and drop-down feed doors. The Featherlite Inc. brand designs tough horse trailers that are lightweight and dependable.
Adam Trailers
Located in Rural Retreat, Virginia.
www.adamtrailers.com
Adam Trailers has all-aluminum horse trailers that are either bumper pull or gooseneck designs. They also offer one steel gooseneck horse trailer model called the Bargaineer. They have a side load 2-horse bumper pull trailer and a gooseneck trailer that each include a ramp for easy loading.
Adam Trailers have more than 40 years of experience designing high-quality trailers that equestrians love. They design custom trailers to fit your specific needs and they continue to work with equestrians to provide one of the best horse trailers available.
Merhow
Located in White Pigeon, Michigan.
www.merhow.com
The Merhow trailer brand offers a line of sturdy all-aluminum horse trailers. With over 60 years of service, Merhow knows how to make a high quality and long-lasting horse trailer for equestrians. They offer trailers both with and without living quarters. Customers can choose between gooseneck and bumper pull horse trailers depending on their needs.
Elite Trailers
Located in Oklahoma City, Oklahoma.
www.elitetrailers.com
Elite Trailers has a line of aluminum horse trailers that are built with functionality in mind. Their trailers can be customized to fit your particular needs and they have both gooseneck and bumper pull options.
They even offer one style that allows horses to be loaded from the side instead of the back like typical horse trailers. This design allows for additional tack room space.
They also have a head-to-head center load gooseneck option. This allows you to load and unload some horses without having to unload the entire trailer to get to a specific horse. These are very popular if you haul horses for other people often.
Hart Trailers
Located in Chickasha, Oklahoma.
www.harttrailer.com
Hart Trailers is a family owned and operated business that provides high quality horse trailers for their customers. The trailers are custom designed to meet the needs of each customer.
They have bumper pull and gooseneck trailers that are renowned for their structural integrity. While many owners admit that a Hart trailer weighs more than the typical trailer, it is because of how it is well-built to withstand the wear and tear of horse life.
Hart offers a variety of size and cost options but maintains that it never comprises on the structural integrity of its designs.
Best Mixed Steel and Aluminum Horse Trailer Brands
These trailer brands offer horse trailers that are built on steel frames with an aluminum shell. Although they are heavier than their all-aluminum counterparts, they do offer additional safety, structural soundness and are often easier to repair.
Hawk Trailers, LLC
Located in Manawa, Wisconsin.
www.hawktrailers.com
Hawk Trailers, LLC is an employee-owned company that focuses on detail and safety. Their trailers all have a galvanized steel frame that provides an added level of safety and security.
They are unique in that they focus solely on the production of horse trailers while other companies offer a variety of livestock, car, and horse trailers. They pride themselves on their commitment to horse safety and comfort. They offer high-quality custom-built horse trailers at affordable prices.
Hawk Trailers has a large selection of bumper pull and gooseneck trailers with the option of side load capabilities.
Trails West Trailers
Located in Preston, Idaho.
www.trailswesttrailers.com
Trails West Trailers offers equestrians a line of horse trailers that are designed to withstand a lifetime of use. They have both bumper pull and gooseneck trailers, with some that even have living quarters.
Their goal is to keep horses safe but to also provide low prices to customers. All their trailers are designed on solid steel frames that are encased with aluminum creating a safe and durable trailer.
The floors are made with wood from Douglas fir trees and spacing in between that allows drainage and breathability. With time and wear, it can easily be replaced, unlike metal or aluminum floors.
Logan Coach
Located in Nibley, Utah.
www.logancoach.com
Logan Coach offers bumper pull and gooseneck trailers for horses of all shapes and sizes. If you happen to own a warmblood horse, which are often on the large end of the size spectrum, Logan Coach has a trailer option specifically for you and your horse!
This brand also has a patent-pending flooring technology in each trailer that is covered with a Vortex sprayed-on rubber coating that makes the aluminum last longer and protects it from moisture. A Sure-Grip layer on top of the flooring is permanently attached which provides cushion and prevents slipping.
CM Trailers
Located in Madill, Oklahoma.
www.cmtrailers.com
CM Trailers has an appealing horse trailer line that offers gooseneck and bumper pull options as well as aluminum and steel designs. With almost 30 years of experience in the horse trailer business, CM Trailers offers well-built horse trailers at an affordable price.
They do not have any trailers with living quarters, but if you are looking for a quality, dependable and economical choice that will fit your basic needs and last for the long haul, CM Trailers may just be the perfect brand for you.
Final Thoughts
While it may seem overwhelming at first, finding the right horse trailer for you and your horses should be fun and exciting.
Don't forget to consider trailer weight when making a decision. Be sure to check out these relevant posts as well.
Every equestrian you encounter will have different opinions on favorite brands and which one they think is best. The truth is, there are a lot of great horse trailer brands out there including all the ones detailed here. The key is to find the one that checks all the boxes on your own list of needs and requirements.