*This post may have affiliate links, which means I may receive commissions if you choose to purchase through links I provide (at no extra cost to you). As an Amazon Associate I earn from qualifying purchases. Please read my disclaimer for additional details.
Keeping your cowboy boots in perfect condition doesn't have to be complex if you have the best leather conditioners.
Leather conditioners are designed to keep the leather safe while restoring and protecting your boots. The best conditioners should protect and maintain the boots' shape and shine.
We tested out various leather conditioners on a range of cowboy boots. We looked at the ingredients, the ease of use, and the overall results.
We also reviewed customer feedback to understand the product's overall performance better.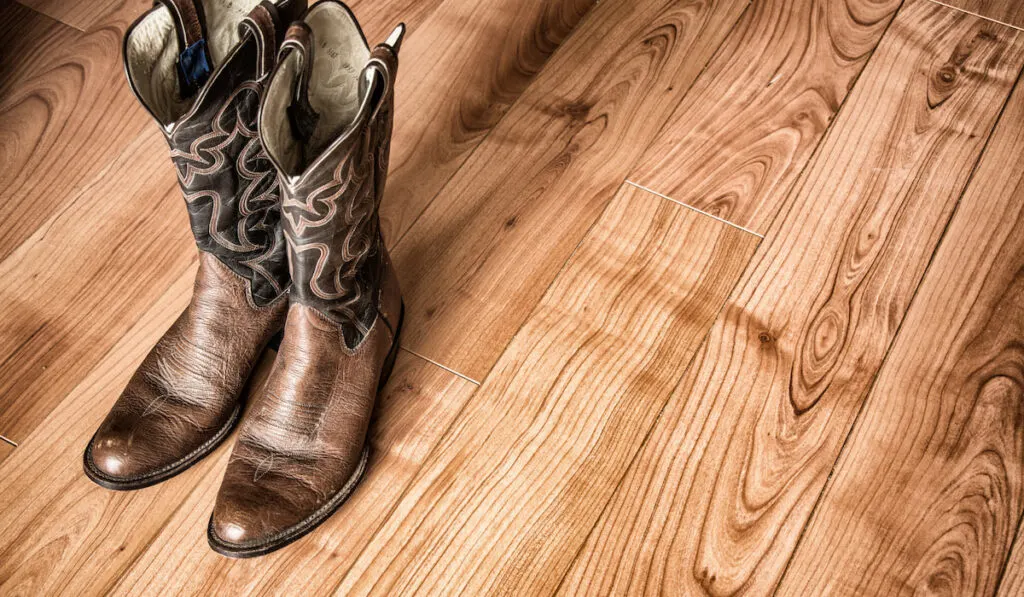 Here are the six best leather conditioners for cowboy boots:
Saphir conditioner
Obenauf's Heavy-Duty LP Leather Conditioner
Bickmore Bick 4 Conditioner
Cobblers Choice Conditioner
Leather Honey Conditioner
Chamberlain's Leather Milk Conditioner.
These leather conditioners are an important part of any cowboy boot care routine.
Continue reading to learn more about their features and how they can help you keep your cowboy boots looking their best.
Best Quality: Saphir Leather Conditioner
Saphir Natural Smooth Leather Conditioner is an excellent choice for protecting and restoring your beloved cowboy boots.
This conditioner is made from natural ingredients and is suitable for all types of smooth leather.
It contains pure, refined mink oil, a great product to use on your leather boots to keep them at their best! This ingredient hydrates and softens the leather, bringing back the original luster and shine.
Mink oil also helps to prevent discoloration and cracking, extending the life of your cowboy boots.
Saphir conditioner is designed to nourish the leather while providing a protective barrier against water and dirt.
Plus, it's easy to apply, and the instructions are clear. You only need a simple brush, and you can have your boots looking as good as new.
Saphir conditioner can absorb perfectly into the leather of your boots, so you don't have to worry about it leaving a greasy residue or staining your boots. Regular use can ensure your cowboy boots look and feel great.
Pros:
Affordable
100% leather
All-natural ingredients
Meets quality standards
Has an amazing smell
Cons:
Frequent use can darken the color of the leather, making it look unnatural

Best Heavy Duty: Obenauf's Heavy-Duty LP Leather Conditioner
Sale
Obenauf's Heavy Duty LP Leather Preservative
Leather conditioner cream specially formulated with real beeswax and plant oils designed to melt when spread on by hand allowing the oils to be gradually released into the fibers as long-term lubrication.
Heavy Duty Leather Preservative is designed to rejuvenate and preserve leather, protecting it from caustic chemicals, acids, salt and petroleum while also waterproofing and extending the life of your leather.
Condition and restore sun faded leather saddles, saddle bags, leather boots, jackets, bags or purses. Provide protection and maintenance for leather used in harsh environments.
Obenauf's Heavy-Duty Conditioner is another product that can give you impressive results.
This conditioner is made with beeswax and propolis, which enhance deep conditioning. It can waterproof your leather, shielding it from premature damage.
In addition, the conditioner is specially designed to protect your cowboy boots from harsh elements like acids, chemicals, and petroleum.
Another attractive thing about this conditioner is that it doesn't require much effort.
Its key ingredients make it easy to spread evenly across the surface of the leather. This is perfect for restoring the original state of your cowboy boots, preserving them for longer.
Other than that, if you're looking for a versatile product, then Obenauf's conditioner is the perfect answer.
This conditioner is a unique formula for various leather items, from boots and saddles to belts and jackets.
Don't worry if you have a piece of older or damaged leather that you want to match your cowboy boots. The leather conditioner has natural ingredients that can work on the leather fibers to improve their texture.
Pros:
Clear protective coating
Absorbs well
Works on a wide variety of leather materials
Has a pleasant smell
Cons:
Contains ingredients that can darken leather with higher use

Best for Preserving: Bickmore Bick 4 Leather Conditioner
Bick 4 Leather Conditioner and Leather Cleaner
PREMIUM LEATHER CONDITIONER SINCE 1882: Bickmore Bick 4 Leather Conditioner cleans, polishes, and protects all types of leather products such as boots, shoes, jackets, purses, handbags, furniture & upholstery, car interiors, motorcycle seats, equestrian equipment such as saddles and tack, any exotic leather products, and more. Our time tested formula is proven to extend the life of all your most precious leather products.
WILL NOT DARKEN YOUR LEATHER: Unlike most leather conditioners, Bick 4 Leather Conditioner will NOT darken your leather. It's perfect for restoring old, worn leathers to their original shine, and keeping your new leather products in the same shade that you bought them. Ideal for keeping all smooth and finished leather soft without compromising breathability.
Bickmore Bick 4 Leather Conditioner can go the extra mile to help you preserve your cowboy boots.
This conditioner is made to penetrate deep into the leather, providing nourishment and protection from elements that can ruin your boots.
It also helps to restore the original color and texture of the leather by working on natural oils and waxes within the leather.
The conditioner offers a protective mechanism against cracking, fading, and dryness, bringing out the natural beauty of your boots.
It's always a bit of a bummer when you use a leather conditioner, and it leaves a greasy residue behind — especially when it's visible on your favorite leather items.
Thankfully, this conditioner is wax free, so you won't even see the residue once it dries.
Plus, Bickmore is easy to use. You simply need a lint-free sponge to apply to your cowboy boots.
With regular use, this conditioner can help keep your boots looking new and comfortable for a long time.
Pros:
2 in 1 – cleaner and conditioner
Does not darken leather
Compatible with all types of leather
Simple to use
Cons:
Its effects don't last as long.

Best All-Natural: Cobblers Choice
Cobblers Choice All-Natural Leather Conditioner
CONDITIONS & RESTORES LEATHER — Our unique blend of seed oils and triple filtered beeswax provide a deep and rejuvenating condition onto the leathers surface while our naturally occurring lipids help penetrate the pores of the leather to offer an even deeper condition.
PROTECTS LEATHER — The triple filtered beeswax provides a layer of defense over the leathers surface making it water resistant. The Leather Conditioner is dual effective, it conditions and protects your leather from the elements for wherever the day takes you.
Cobblers Choice Conditioner also offers an excellent option for keeping your cowboy boots in top shape.
It contains a unique combination of seed oils, which nourish the leather while providing a protective barrier against dirt and moisture.
The seed oils penetrate deep and lock in moisture, protecting the leather from cracking and fading, and can even help to reduce the appearance of scuffs and scratches.
It's easy to apply and leaves a subtle, natural shine on your boots.
The conditioner uses triple-filtered beeswax as its unique ingredient.
The beeswax also helps to keep the leather waterproof, so you don't have to worry about your boots getting wet in the rain.
On top of that, this conditioner has a pleasant, natural scent that won't overpower the smell of your boots. With regular use, your cowboy boots should last you a long time.
Pros:
Contains 100% all-natural ingredients
Dries quickly
Affordable
Cons:
Doesn't shine much
Leaves behind a waxier feel

Best Versatile: Leather Honey
Sale
Leather Honey Leather Conditioner
POWERFUL LEATHER CONDITIONER: Leather Honey penetrates deep to protect new leather and rejuvenate dry leather and old leather. This non-toxic leather conditioner has no silicone, solvents or animal products. Not sticky and completely odorless. Protect leather all year long from snow & rain with our water-repellant formula!
RESTORE ALL TYPES/COLORS OF LEATHER: Soften leather furniture, moisturize leather car interiors & promote flexibility in your favorite leather belt or leather shoes. Great for upholstery, truck seats, motorcycle leather, boots, gloves, purses, jackets, saddles & tack! Not for use on suede, faux leather or vinyl.
Leather Honey is an excellent choice if you want a versatile product.
This conditioner is also designed for deep penetration, restoring the natural oils of the leather while improving its quality.
Furthermore, it's made from natural ingredients, so you can be sure it's safe for your boots. Plus, it's non-toxic and odorless..
Like most conditioners, Leather Honey is easy to apply and offers a long-lasting effect. You need to simply rub it gently into the leather with a soft brush to get a great-looking finish.
Pros:
Compatible with all types and colors of leather
100% satisfaction guarantee
Doesn't leave a sticky feeling
Cons:
Very oily
Permanently darkens leather
Thin consistency makes application challenging

Best Non-Sticky: Chamberlain's Leather Milk Conditioner
Leather Milk Leather Restoration Kit. Leather Cleaner
GIVE YOUR LEATHER SOME TLC – Our three-formula combo is all you need to clean, condition, and protect your leather. All of our formulas are natural and great smelling for a safe, pleasant application. If you love your leather and want to preserve your furniture, car interiors, handbags, luggage, purses, boots, saddles, and other leather goods, you will love our Leather Milk three-formula combo. Imagine that leather you love, looking healthy, hydrated, and alive again!
HOW IT WORKS – First apply our Straight Cleaner No. 2 which permeates leather with natural, non-alkaline cleaning agents to gently clean your leather. Then, use our Liniment No. 1 to nourish and strengthen your leather, prolonging the life of your leather. Finally, apply the Water Protectant No. 3 that uses deeply penetrating natural oils and waxes to condition and protect your leather from moisture and harsh weather conditions. For best results, use the FREE, reusable applicator pads!
For non-sticky conditioners, Chamberlain's Leather Milk Conditioner offers unmatched service.
Its consistency is neither thick nor watery, hence it applies fast. This conditioner is designed to nourish the leather from the inside out.
The natural preservatives can protect your cowboy boots from cracking and fading. On top of that, it won't leave your cowboy boots feeling greasy or sticky.
Pros:
Comes with three restoration pads
3-in-1 formula combo (conditioner + cleaner + waterproofing)
100% satisfaction guarantee
Cons:
Darkens leather
A bit pricey
Final Remarks
Leather conditioners for cowboy boots come in a variety.
The best conditioners should be affordable, easy to apply, and keep the leather looking lively. Plus, they should have safe ingredients, for both you and your boots.
Some of the best leather conditioners for cowboy boots include Saphir, Bickmore Bick 4, Leather Honey, and several more.
With the right conditioners, you can ensure that your cowboy boots remain in top condition for a long time.
Resources