*This post may have affiliate links, which means I may receive commissions if you choose to purchase through links I provide (at no extra cost to you). As an Amazon Associate I earn from qualifying purchases. Please read my disclaimer for additional details.
Choosing the right horse manure fork should be easy but the truth is, horses are stalled on a variety of different surfaces and the right poop scooper can make all the difference. You want to be sure to choose a manure removal tool that does the best job with the least amount of work.
For larger pastures that may mean a pasture scooper or drag, for stalls and smaller paddocks that usually means a manure fork. I'll go through my top choices for manure removal based on size and substrate.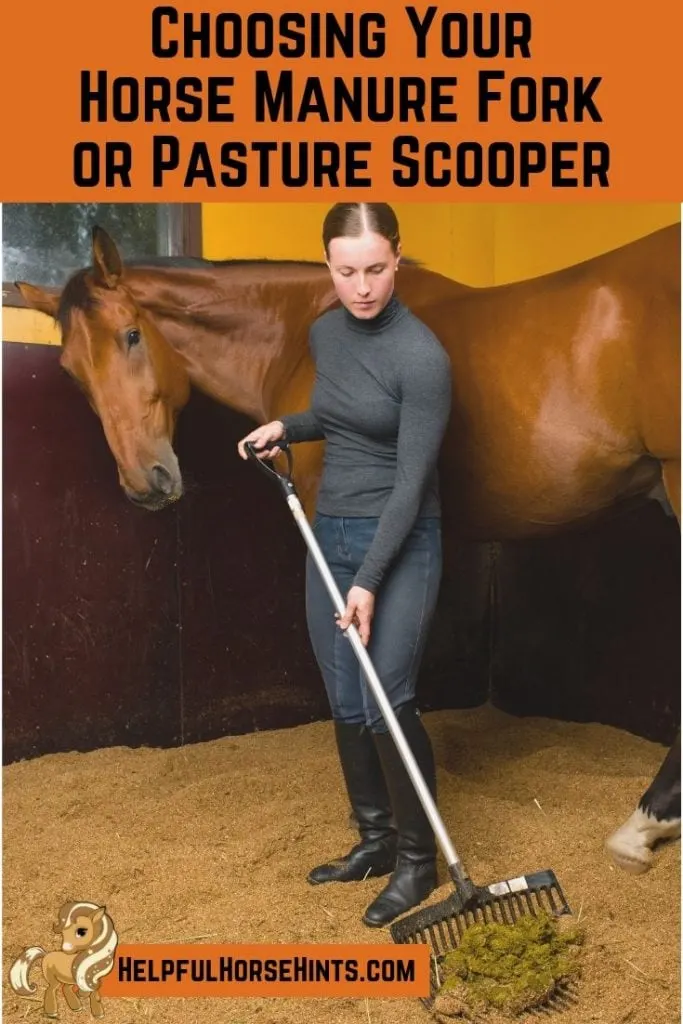 Manure Forks
Manure forks are a staple in any barn or stable environment. Horses poop and that poop should be removed from their stall. The manure fork facilitates quick and easy removal of manure from a horse's stall.
The thing is, the type of manure fork you use may vary depending on the type of bedding or substrate your horse lives on.
Removing manure from stalls bedded in shavings is different than stalls bedded with dirt. Likewise, you might use a different manure fork for removing manure from a grass pasture vs a sand paddock.
Below are my favorite horse manure forks for each type of bedding situation.
Best Manure Fork for Shavings
Sale
LITTLE GIANT DuraFork Pitch Fork Replacement Head
POLYCARBONATE CONSTRUCTION – This stable fork heads' polycarbonate design offers superior flexibility and strength.
ANGLED TINES FOR LESS SPILLING – The pitch fork head has angled tines result in less spilling through the tines of the fork and overall less mess.
FORK DIMENSIONS – This pitch fork head's tines are 13.125 inch long by 15.125 inch wide.
When a horse is bedded in shavings, the idea is to remove all of the manure but as few shavings as possible. For this reason, my favorite manure forks are the basket type manure forks (I like this one ).
These allow you to pick up the manure and then "shake" the excess shavings out leaving only the horse poop behind to add to your bucket.
Of course, the size of your shavings do matter. If you have really thick, premium horse shavings, they may not fall through the tines on this manure fork.
If you have regular or even economy shavings, this manure fork should work just fine. It is also great for pelleted bedding.
Best Manure Fork for Sand Paddocks
Most of my horses and burros are kept in sand paddocks. My favorite for sand is just a plain, plastic manure fork you see commonly at most barns. In fact, I usually have an ample supply around.
Sale
Miller (2 Pack) Mfg Little Giant Dura Fork Head2
This replacement fork head is made of high quality heavy duty plastic to ensure its longevity. Suitable for professional livestock.
Get this ergonomic manure pitchfork head that fits any handle with 1" diameter (not included). It is very suitable for picking up manure, grass and hay.
I keep one in the trailer, one in the wheelbarrow for manure and one in the hay shed to rake up excess hay that drops (which I feed to my goats). This is a great 2-pack on Amazon that includes handles.
The thing about these is they are not great for hard surfaces or mud. If you try and pick up wet, saturated manure, the tines may break.
Likewise, if you hit a rock or anything hard, you may break a tine off. The good news is you can buy replacement heads and, honestly, they still work fine in most cases with one or two tines broken off.
There is a newer fork I've been interested to try (but haven't yet) that offers replaceable tines. The theory is that if an individual tine breaks, you can replace it.
What holds me back from purchasing the wave fork is that the fork is more expensive to purchase initially and the entire replacement head on a regular plastic manure fork, is just a few dollars cheaper in most cases than the replacement fork tines for the wave fork.
If you want to check out the wave fork, this is the link to the product .
Best Manure Fork for Grass or Rocky Paddocks
# 244 Missy RAKE
manure fork, metal manure fork, apple picker, missy apple picker, missy rake, stable fork
For grass or rocky paddocks, including paddocks with areas of gravel, I like a metal tined manure fork.
They are more expensive to purchase, initially, but last a long time when well cared for. Because the tines are metal, they might bend but they rarely break.
In fact, my metal manure forks have always needed the handle replaced before they needed the head replaced.
If you have a variety of different stall types and want just ONE solution, this is the manure fork you will want to choose. It can be used on all of the softer substrates like shavings and dirt, but is rugged enough for rocky paddocks and won't break if it gets caught on grass.
Metal tined manure forks can usually be purchased at your local feed store or, conveniently delivered if you buy them on Amazon .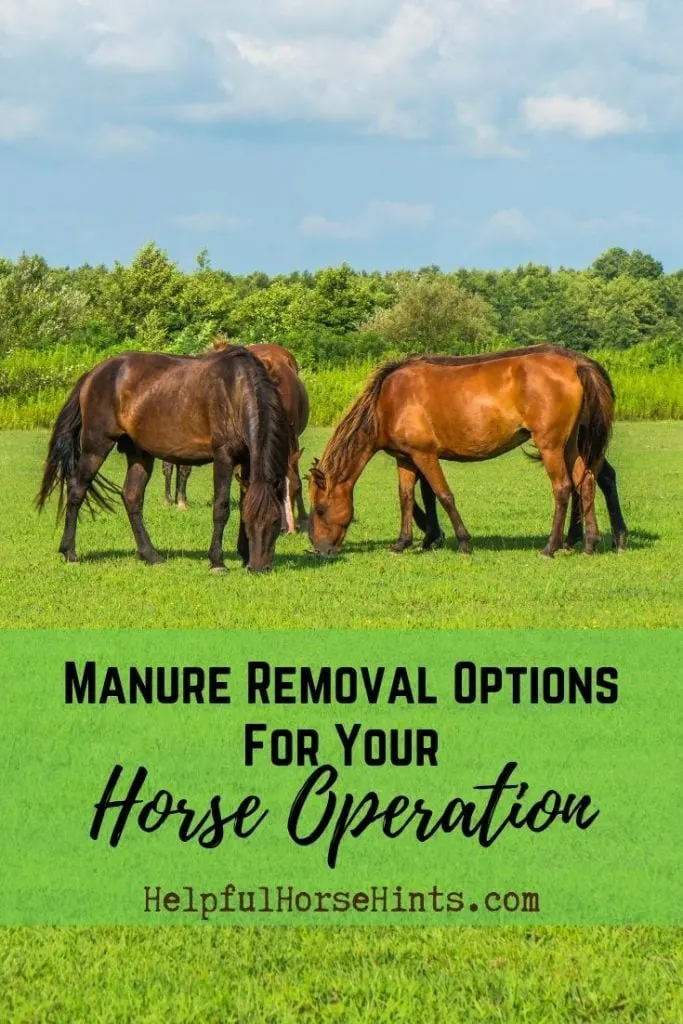 Pasture Scoopers
If you have a large grass pasture, you may want to consider a pasture scooper. One such device I found is the Super Scooper Horse Manure Collector .
This device is pulled behind a quad or tractor and collects poop easily. What is awesome is that you aren't having to go out into your pasture with a wheelbarrow and manure fork.
Instead, you hitch up and drag the Super Scooper behind you. The only caveat to this is that the device does not work well for sand or dirt pastures. It will collect sand and dirt just like manure if the ground is not packed hard.
Here is a great video where you can see this item in action:
My paddocks are large dirt paddocks and so this type of device doesn't work well for me but, for those of you with grass pastures, it could definitely save you some time!
Dirt Paddock / Arena Harrow and Drags
The best option for any living area for horses is to remove the manure and relocate it to another area to be disposed of. The reason for this is that you want to avoid spreading any worm eggs that may be present.
In the case of large dirt paddocks for horses, something common in my area, we will use a heavy-duty drag harrow to spread the manure.
This is something that you can also easily DIY. There are a couple of ways to make your own DIY pasture drag.
DIY Pasture / Arena Drag
Materials:
Chain Link Fence Piece
Wood (preferably 4×4 or 6×6)
Tension Bar or Galvanized Metal Pipe
Chains
Eye Bolts
Instructions:
The great thing about making your own pasture drag is that you can choose the length and width to fit your equipment and your pasture.
If you have an old chain-link gate lying around (like this one ), that will make this process much easier. you can just attach the gate to the wood, add your chains and you are good to go.
Keep in mind that you don't want to make the drag wider than your smallest pasture gate width or you won't be able to get it into the pasture to use!
Cut your 4×4 to the desired length. 4 – 6′ is typically a good length that will fit between most gates.
Thread your tension bar or galvanized pipe through the chain link. This step is important because it will distribute pressure through all the links vs attaching the drag to the wood via a single link
Securely attach the tension bar to your 4×4.
Add Eye hooks to the 4′ x 4′. One on each side at least 3 inches in from the edge.
Attach chains to each eye. Whether you use straight chains or combine them to make a triangle will vary depending on how you plan on towing the drag.
Tips
Add cinderblocks or an old tire to add weight to the drag if necessary. This will help it to dig deeper into the dirt.
Your chains should be sturdy enough to pull some weight. Sand / dirt may accumulate and cause the drag to become heavy and you want to make sure your chains are thick enough to pull that weight.
The longer the drag is, the harder it will be to make tight turns.
Final Thoughts
Manure is going to be an ongoing issue at your barn. As long as you have horses, you will have manure and need a way to deal with it. Because of that, don't choose your tools lightly. Be sure to get the right tool for the job, even if the right tool is initially more expensive. You will thank yourself later!
Related Posts