*This post may have affiliate links, which means I may receive commissions if you choose to purchase through links I provide (at no extra cost to you). As an Amazon Associate I earn from qualifying purchases. Please read my disclaimer for additional details.
In today's everchanging world, videoing our unique ways of life is a great form of entertainment. It is also a great way to share your love of riding horses!
If you want help finding the right camera to capture your ride for social media, family or for training purposes, then you have come to the right place.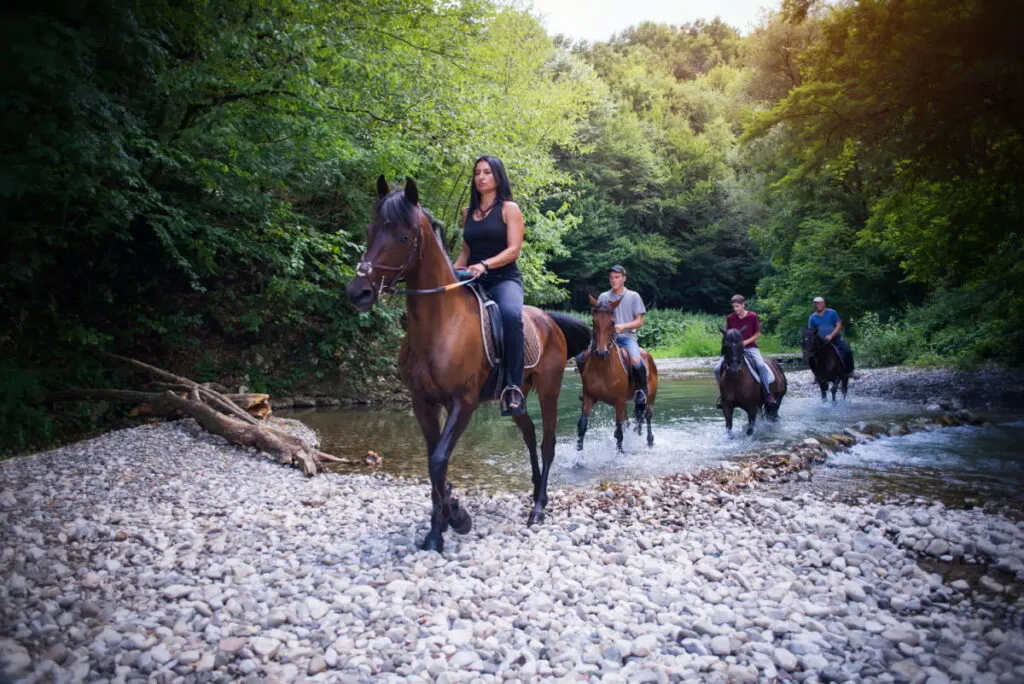 The journey to making an excellent horse-riding video begins with getting the right horse-riding camera gear.
We know that horses are not all the same, and neither are action cameras! It is not as simple as buying any old camera and hitting record.
It's important to learn all about the types of horse-riding camera gear available so that you can make the right decision the first time.
Capturing your ride while you are riding your horse seems tricky, but it can be done with the right horse-riding camera gear. With a good set up, you can safely and seamlessly record all your rides, whether you are on the trail or in an arena.
Types of Horse-Riding Camera Gear
There are several different options for camera gear to use when horseback riding.
The type of camera that you need depends on the type of filming you want to do.
It is important to figure out which camera set-up is most comfortable for your riding style.
Helmet Only Cameras
Although helmets offer a lot of protection when riding, not every equestrian wears one. If you do plan to wear a helmet while you ride your horse, you may want to invest in a helmet action camera.
Mounting a camera on your helmet offers the ability to film as comfortably as possible, often forgetting it is even there at all. These action cameras are designed specifically to be worn on helmets, including those for riding.
This front-mount action camera has mounts available that are specifically designed for use with a helmet.
GoPro HERO11 Black – Waterproof Action Camera with 5.3K60 Ultra HD Video, 27MP Photos, 1/1.9″ Image Sensor, Live Streaming, Webcam, Stabilization
Revolutionary New Image Sensor: expansive field of view ever on a HERO camera out of the box. This gives you an extra-large canvas for your creativity by capturing more of the sky and horizon in every shot. Zoom in, crop your shots, change digital lenses, adjust aspect ratios and more while keeping the rich textures and sharpness of your footage..Maximum Video Bit Rate : 120Mbps. ISO Range – Video : 100-6400, ISO Range – Photo : 100-3200, Exposure Control : Yes, Operating Temperature : -10º C – 35º C.
Unbelievable Image Quality: With 5.3K video that gives you 91% more resolution than 4K and an incredible 665% more than 1080p, HERO11 Black captures the action with crisp detail and cinematic image quality. A water- repelling lens cover even helps eliminate lens flare and other artifacts to make your photos and videos even more stunning.
The GoPro Hero Camera offers an astonishing amount of features including video stabilization and the ability to play back your footage in slow motion.
The video may be slightly bouncy or choppy depending on the speed of your ride and the terrain however the software can help clean up any of that in post-production.
This action camera was designed to capture adventures on motorcycles, bicycles, and other sports including horseback riding.
It is Wi-Fi-enabled, and it includes microphones that help to pick up all the captivating sounds of your journey!
Shoulder, Chest, and Helmet Cameras
These cameras are not restricted to the helmet. With a few accessories, these horse-riding cameras can be fitted to film from your shoulder, chest or helmet.
The GoPro Camera listed above also offers great flexibility as far as the types of mounting options available. It's our number one pick because you can also use it chest mounted, or even mount it to your horses breast collar.
If you are looking for some more options, here's another good one:
Sale
AKASO EK7000 Action Camera Ultra HD Underwater Camera
4K Ultra HD action camera. Professional 4K 30Fps & 2.7K 30Fps video with 20MP photos at up to 30 frames per second for incredible photos, which is 4 times the resolution of traditional HD cameras.
Wireless wrist remote control sports camera. With a wrist 2.4G remote, you can capture the world in an all-new way. Controlling the camera, framing shots or recording video is convenient. (THE REMOTE IS NOT WATERPROOF)
With the right accessories, this camera can be used as a shoulder, chest, or helmet camera. It comes with 2 rechargeable batteries, each recording up to 90 minutes of video!
The Akaso EK7000 4K action camera is waterproof, comes with a durable case, and was made to film the outdoors.
This camera also comes with a wrist remote control, allowing convenient control of your camera at all times.
Sale
DJI Osmo Action – 4K Action Cam 12MP Digital Camera
Dual Screens: Osmo Action's dual screens allow you to capture it all with the touch of a button. A vivid front screen lets you frame yourself effortlessly in any setting, while the back screen delivers a crystal-clear, hyper-responsive display. This durable, versatile action camera is jam-packed with advanced technology that lets you spend less time worrying about equipment and more time living the action.
The RockSteady technology combines EIS with complex algorithms, delivering stable, shake-free footage no matter how heavy the action gets.
This amazing action camera offers hydrophobic coating, making it waterproof and able to withstand the outdoors.
It is compatible with most universal mounting accessories, allowing easy setup as a shoulder, chest or helmet camera.
The DJI Osmo Action 4K has a slow-motion option and picture stabilization, which makes it a superb option for filming horse rides. It comes with 1 lithium battery, a quick-release base, and an anti-slip grip. This camera also comes with a tripod and case.
This action camera can be used as a shoulder, chest, or helmet camera and it is terrific option for the trail.
The Campark V50 4K camera offers a dual color screen display, a tough cover, and a waterproof body. It has a built-in stabilizer that will help you capture the best videos possible.
This camera comes with 2 rechargeable batteries and a remote control.
Auto-Follow Camera
Just as their name suggests, auto follow cameras do just that, they follow you! Say, for example, you are riding in a small area, like an arena, pen or paddock.
You can set up an auto-follow camera up to video you as you ride! Auto-follow cameras allow you to video yourself riding horses without the need of a cameraman.
You only need to wear the tracker that comes with the camera. The camera will automatically follow the tracker and if it is attached to you, that means that it will film you as you ride!
This auto-follow camera attachment is one of the best available and it can be set up to film a diameter of 330 feet! It is automatic zoom capable and offers the option of live streaming.
The Move and See Pixio Auto Follow Cameraman comes with a convenient wristband tracker.
The cameraman does not include a camera or camcorder device. You will have to purchase it separately. It adapts easiest to Sony Cameras, like No products found..
Handheld Gimbals
Have you ever wondered how the social media videos you see online are so smooth and professional looking? Well, handheld gimbals are usually the answer.
Handheld gimbals are amazing little gadgets that transform your action camera footage into stable, smooth video.
Instead of bouncing around and creating choppy and bouncy footage, a handheld gimbal will make you look like a professional videographer.
While most handheld gimbals are just attachments for cameras, this one was designed with a camera built-in.
It is lightweight and very portable, making it a great option for your ride. It can be connected to smartphones to allow for a larger viewing area, but it is not necessary for filming.
This camera/gimbal combination offers crisp, stabilized video, on and off the trail.
This handheld gimbal is compatible with GoPro Hero models 3 through 8, as well as the DJI Osmo Action Camera, the SJ Cam, and more. It is water-resistant and has a battery that will last up to 12 hours.
Described as both durable and dynamic, the iSteady Pro 3 Gimbal is a great option if you have one of these action cameras or intend to purchase one. It is not just an accessory; it is a necessity for those wanting a truly stable video.
Things to Consider
Zoom Length and Quality
Zoom is not the most important aspect of an action camera, but it is a nice component to any camera. Not only should the zoom on your action camera be sufficient, it should also be of high quality.
Sound Quality
You may not think sound is important, but if you are filming for a vlog or for social media, sound can really help to give the viewer a truer experience.
Unless you intend on overlaying all your videos with music, make sure the camera you choose has an acceptable sound quality.
Battery Life
When choosing the right camera, look for one that will have enough battery life to last during your ride.
Rechargeable batteries are great options, allowing you to easily and inexpensively recharge your own batteries.
Durability
Horseback riding is not a sport for the weary or, in the case of a camera, the flimsy.
You need a camera that can withstand the rough terrain, bouncing and unrelenting bumps and knocks that will inevitably happen on the trail. It should be able to handle extreme weather and at least a little bit of rain.
Camera Accessories To Consider
Sale
Backpack Shoulder Strap Mount for GoPro
Stabilizes the camera (for high quality video) with a large base plate made of shock-absorbing elastomer. Two non-slip straps wrap around your shoulder strap and secure with VELCRO brand tape. Fits backpack straps up to 2.5 inches wide.
Ball joint allows you to point your camera in any direction. Mounts on left or right shoulder strap, adjustable from high on the shoulder to low on the chest.
This pack mount kit is designed to fit not only GoPro cameras but also other action cameras as well. It can be used to mount the camera to your chest or shoulder.
SmilePowo 48-in-1 Accessories Kit for GoPro Hero
【Perfect for Vlog, skiing, cycling, canoe and more other high speed sports activities】: Wrist strap (with 360 degree power clips), car suction cup mount, head strap, chest mount, tripod, selfie and floating handle grip can freindly connect your sport action camera like FOR GoPro Hero 9 8 7 6 5 4 3/3+ 2 1 Black,FOR GoPro Max Black, 2018 Session Fusion Silver White and more. FOR The GoPro accessory kits can make it easier to capture immersive video and photo, and protect your camera stabler.
【Black 360°Rotating Wrist Strap + Car Suction Cup Mount】: wrist strap features 360°rotation helps you adjust your capture angle. Car suction can help you attach your action camera to cars, boats, motorcycles and more to record your self-driving journey.
This kit includes multiple accessories that fit most action cameras including the ones talked about above. This kit includes a helmet mount, chest mount, a flexible tripod and more.
Tripods
Tripods are great accessories for action cameras, especially auto-follow cameras.
Many auto-follow camera set-ups include a tripod, but you can purchase a larger one if needed.
Extra Batteries
Consider getting a back-up battery, or two, for your camera. If you keep extra batteries, you can always have at least one or two camera batteries charged and ready to go if possible.
This will make sure every horse-riding adventure can be captured as intended.
Newmowa Replacement Battery (2-Pack) and Rapid 3-Channel Charger for DJI OSMO Action Camera
VVHOOY 3 x 1050mAh Rechargeable Action Camera Battery
★1.PG1050 Battery Pack set compatible with AKASO EK7000/EK7000 pro/Brave 4/Brave 4 pro/V50X/Crosstour/Campark act74 act76 act68 act73r /APEMAN A60 A77/Victure/Remali Capture Cam/DBPOWER EX5000/N5/N5 Pro/EKEN H9R H9S W9S H6S/Lightdow LD4000 LD6000/SOOCOO/Geekam/Review XP/Dragon Touch/COOAU/JEEMAK/MGcool/Vemico/Vemont/APEXCAM/ACTMAN/HLS/Yolansin 4K Action Camera and so on.
★2.Package include :1*battery charger,3*1050mah rechargeable action camera batteries,1*USB cable. (Warm Tip:Please run out of all the battery power before charging for the first time)
Final Thoughts
It is clear there are many options to choose from when selecting your own horse-riding camera. Each option comes with its own unique qualities, but the right one for you is out there.
The trick is to figure out exactly what you want to film, how you want to film it and purchase the option that fits the best. Thankfully, there are many comfortable options to choose from! Happy riding and happy filming!