*This post may have affiliate links, which means I may receive commissions if you choose to purchase through links I provide (at no extra cost to you). As an Amazon Associate I earn from qualifying purchases. Please read my disclaimer for additional details.
The world reveres royal families for their distinguished and elegant demeanor. However, there is one aspect that often goes unnoticed — their majestic horses.
Some of the most remarkable breeds in the world reside in the stables of royalty, from the impressive Besty to the spirited Aureole. But what makes these horses so unique?
This article will delve into the 14 most iconic royal horses and their contributions to the British monarchy.
We'll also explore their rich history, unique characteristics, and enduring legacy.
Read on as we uncover the fascinating world of 14 royal horses.
Queen's Favorites (In Memory of The Queen)
Queen Elizabeth II was an avid horse lover and breeder for over six decades. She owned and rode many horses throughout her reign, but a few held a special place in her heart. Among her favorites were:
Betsy
During the 1960s, Betsy held a special place in the heart of the Queen as one of her favorite royal horses.
The purebred Andalusian mare stood at an impressive 15.2 hands with a striking black-brown coat that added to her regal demeanor.
Her natural talent was evident through her performances in various riding forms, including show jumping and dressage.
Betsy's athleticism and poise are unmatched and a true testament to the skill and dedication of the royal trainers. She will always hold a special place in the Queen's entourage.
Doublet
Doublet was one of the most versatile horses in the royal stables. Bred as a polo pony, he quickly proved himself a top-class eventer.
Princess Anne, known for her equestrian skills, rode Doublet to victory at the European Eventing Championships at Burghley in 1971.
The duo's impressive performance was a testament to Doublet's versatility and athleticism.
Doublet was gentle and affectionate, making him a favorite among the royal children. Doublet retired from competition in the early-1970s after a crashing fall.
He continued to live out his days in the royal stables, where a team of dedicated grooms cared for him.
Sanction
Sanction was one of the most beloved horses in the royal stables and for good reason. This stunning bay gelding had a unique talent for anticipating his rider's every move, making him almost telepathic.
His exceptional intelligence and unwavering loyalty quickly endeared him to Her Majesty, who rode him countless times.
In 2002, Sanction sadly passed away at 24 and was buried at Home Park.
Sanction was the final home-bred equine that Her Majesty rode before the decision to ride native ponies.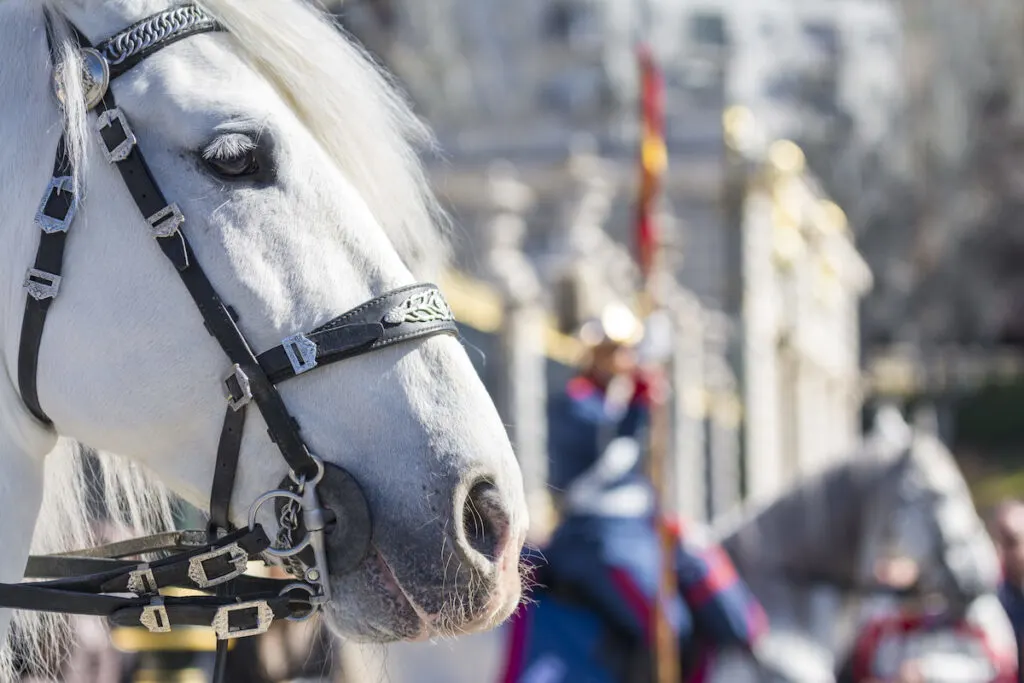 Burmese
Burmese, a black mare with a white blaze, was another of the Queen's favorite horses.
The Royal Canadian Mounted Police presented Burmese to Her Majesty in 1969, and the horse quickly became a cherished part of the royal stable.
Her Majesty last rode this royal horse during a 1986 parade, after which the mare retired from public duties.
Burmese lived out the rest of her days at Windsor Castle, where she was cared for by the stable royal staff until her passing in 1990.
Despite her retirement, Burmese remained a favorite of the Queen, who often visited her in the stables. The Queen even had a statue of the mare commissioned after her death.
Balmoral Jingle and Balmoral Curlew
Balmoral Jingle and Balmoral Curlew held a special place in the heart of Queen Elizabeth II as her most preferred royal equine companions.
Before integrating into The Royal Mews in Windsor, Lizzie Briant showcased these two ponies. The ponies made a notable impact in the show arena and later became breeding mares at Balmoral.
Both ponies were beautiful chestnut mares bred by the Queen's stud at Balmoral. They were shown in hand as foals and won several championships in the show ring.
Columbus
Columbus was a legendary horse that won the Badminton Horse Trials in 1974. He was sired by Colonist, a stallion owned by Winston Churchill.
Princess Anne initially competed with Columbus at the novice and intermediate levels.
She encountered difficulties handling him due to his immense strength and energy, thus describing him as more suited for a male rider.
This royal horse was a talented hunter and team chaser, but his jumping abilities set him apart.
He effortlessly navigated the old Grand National course, leading the Queen Mother to declare him the Grand National horse that never was.
Emma the Fell Pony
Emma was a shining example of the loyalty and dedication that Her Majesty's horses exhibited.
As one of The Queen's riding ponies, Emma served Her Majesty with distinction for many years and, at the age of 24, showed no signs of slowing down.
Emma's strength, agility, and grace made her a valuable asset to the Royal Stables and a beloved member of the Royal Family.
In 2016, the Fell Pony Society paid tribute to The Queen's 90th birthday by offering to bring 90 ponies to celebrate the occasion.
Emma was one of the ponies chosen to represent the Royal Stables. She proudly marched alongside her fellow equine companions in honor of Her Majesty's milestone birthday.
The Royal Racehorses
The Royal Racehorses were a highly esteemed breed selectively bred for speed, agility, and stamina.
Phantom Gold
Phantom Gold was a magnificent racehorse with a short but illustrious career on the track. Her breeding and racing credentials caught the attention of Her Majesty, who purchased her as a broodmare prospect.
Phantom Gold was a true champion, winning the Ribblesdale at Royal Ascot and Geoffrey Freer Stakes. Phantom Gold's legacy, however, did not end with her racing career.
She produced several exceptional daughters, including Golden Stream and Well Hidden.
Highclere
Highclere was a magnificent thoroughbred racehorse that enjoyed immense success during her racing career.
Trained by Major Dick Hern at West Ilsley, this stunning mare won two of the most prestigious European races, the 1000 Guineas and Prix de Diane.
Her victory in the Prix de Diane was particularly impressive, as she beat a strong field of fillies by over two lengths.
Aureole
He was sired by Hyperion and Angelola, a mare by Donatello.
Aureole was a notable equine figure to Her Majesty The Queen. Aureole also sired many other top horses while living at Sandringham Stud until he retired at 24.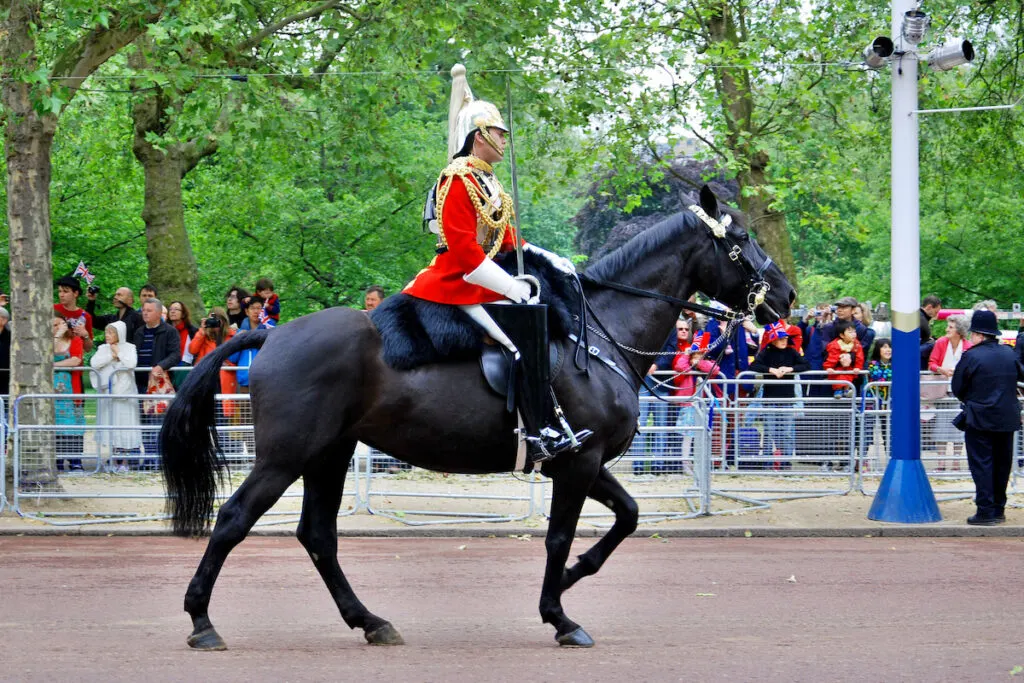 The Queen's Horses in 2022
With a long-standing tradition of breeding and raising top-quality horses, the Royal stable still gave several contenders for major races in 2022.
Here is a list of the Queen's horses in 2022:
Kings's Lynn
Despite a quieter campaign in 2022, King's Lynn remains a horse of great promise and potential.
Trained by Andrew Balding, the five-year-old has already shown his quality with impressive listed wins at Haydock and Doncaster in 2021 and two strong performances at Royal Ascot.
While he has not hit the heights this season, King's Lynn secured a Group 2 victory in the Temple Stakes at Haydock in May, holding off some top-class sprinters to win by a neck.
Saga
Saga, a talented gray filly, was among the most talked-about horses in the Queen's stable in 2021.
Her impressive performances on the track had many racing enthusiasts tipping her as a future star.
Despite being given plenty to do by Frankie Dettori, Saga failed to make an impact and finished a disappointing sixth.
This performance was the final straw for trainer John Gosden, who publicly criticized Dettori for his ride.
While Saga's future remains uncertain, she is still a talented horse with the potential to achieve great things in 2023 and beyond.
Perfect Alibi
Perfect Alibi is a promising filly in The Queen's stable, showing great potential in recent races. Although she finished down the field in The Queen's Vase, her form has steadily improved.
Training with William Haggas, Perfect Alibi emerged victorious in a handicap race at Newbury.
She also secured a runner-up position in her subsequent races, behind the winner Hoo Ya Mal.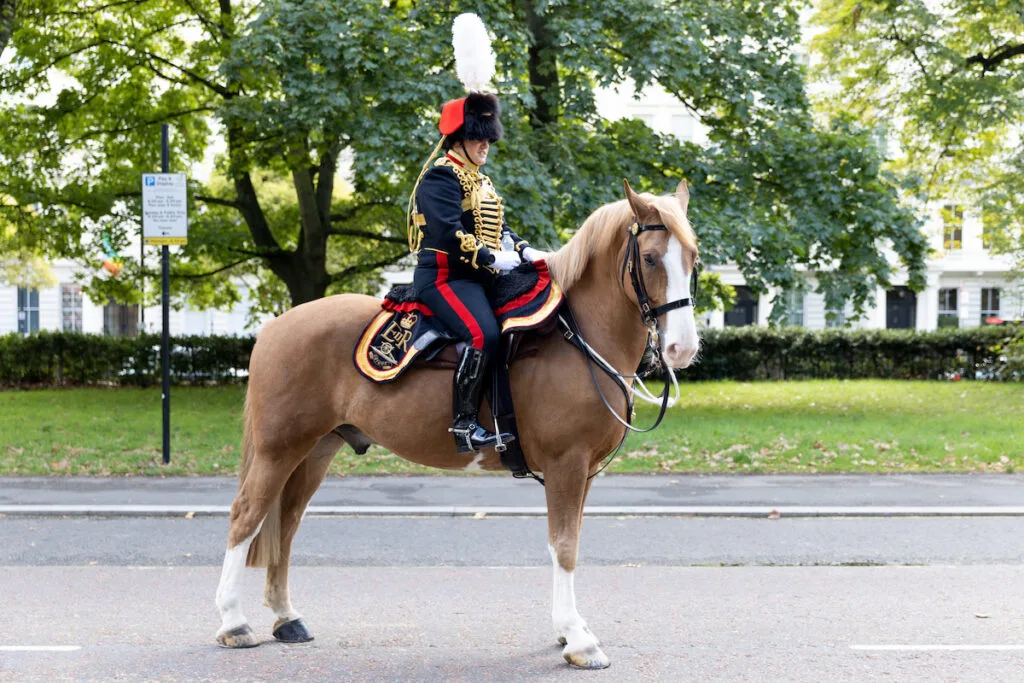 Round Up
The list of royal horses is a fascinating glimpse into the history and traditions of royalty worldwide.
Looking back at these horses, we can appreciate the special bond between them and their royal owners.
While many of these royal horses are now retired, their legacy lives on through their offspring and the continued use of horses in royal ceremonies and events.
Resources