*This post may have affiliate links, which means I may receive commissions if you choose to purchase through links I provide (at no extra cost to you). As an Amazon Associate I earn from qualifying purchases. Please read my disclaimer for additional details.
You should have the right saddle to connect and find balance with your horse, especially during dressage.
Dressage saddles should also fit the rider and horse like a glove while giving sufficient support and stability.
Failure to do so may result in back problems, decreased performance, pain, and discomfort for the horse.
However, there are many types of dressage saddles, each with unique benefits and features.
From Traditional to Monoflap to Western, here are five of the best dressage saddles. We have also included why it is important to use the right saddle, and how to choose one.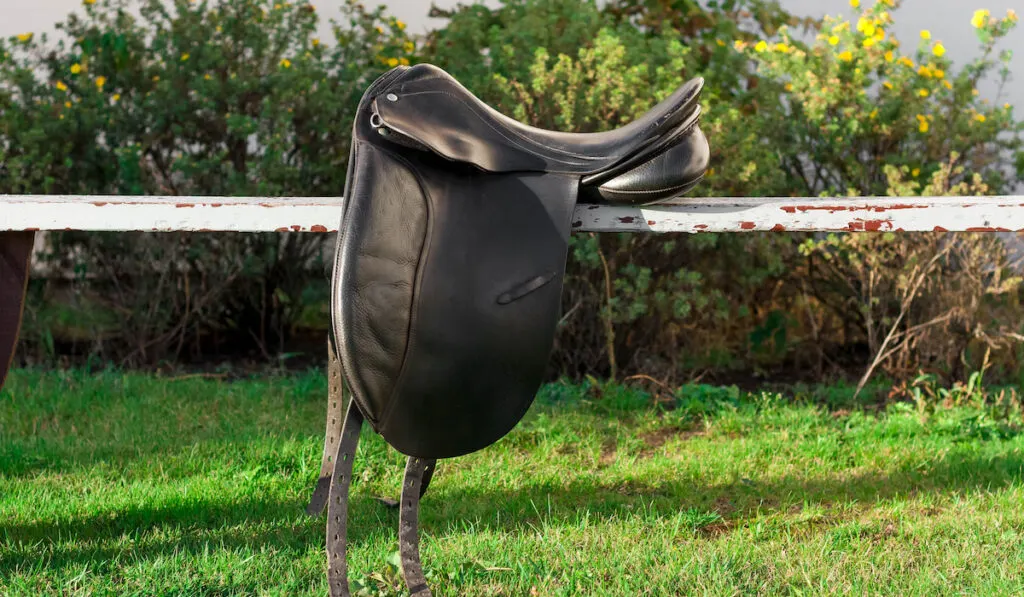 1. Traditional Dressage Saddle
It has extra padding around the rider's knees for comfort and a stable riding position.
Also, the extra padding and four-strap girthing help evenly distribute the weight on the horse's back, ensuring it is comfortable.
However, the deep seat and long flaps may not be suitable if you are in a more forward and jumping position during dressage.
Also, the four-strap girthing may take longer to adjust and may be difficult for some riders, especially newbies, to use.
Some of the popular brands of traditional dressage saddles include:
AH Saddles Classic Dressage. This dressage features a high-positioned knee block that provides a stable and comfy seat to assist you in maintaining appropriate posture.
Fairfax Classic Dressage Saddle. This dressage is available in various widths, allowing you to select the optimum fit for your horse.
2. Western Dressage Saddle
Here are some features that make the Western saddle better in dressage, as shown in the table below.
| | |
| --- | --- |
| Features | Explanation |
| Narrow twist | The tiny space between your legs and the horse's sides enables you to perform more complicated motions during dressage. |
| Altered stirrup position | Increases your saddle's stability and balance by allowing you to position your legs correctly during dressage. |
| Deeper seat | It is perfect for side passes as the deeper seat provides more significant support. It also aids in evenly distributing your weight on the horse's back, allowing the horse to move freely and perform to its full potential during training. |
| Higher cantle | Because it is comfortable, it keeps you centered on the saddle, providing you with more support and stability. |
Remember that some of these features may differ depending on the brand and model, as shown below:
Harmony Western Dressage Saddle. With breathable shock-absorbing foam, it provides optimal protection and comfort. It relieves strain on the horse's back while enabling heat and moisture to escape.
Circle Y 17″ 1760 Julie Goodnight Teton Saddle. It's a dressage saddle for riders on a tight budget who want a high-quality saddle. The saddle's Flex2® tree technology helps it adapt to the horse's back, giving for an even weight distribution.
3. All-Purpose Saddle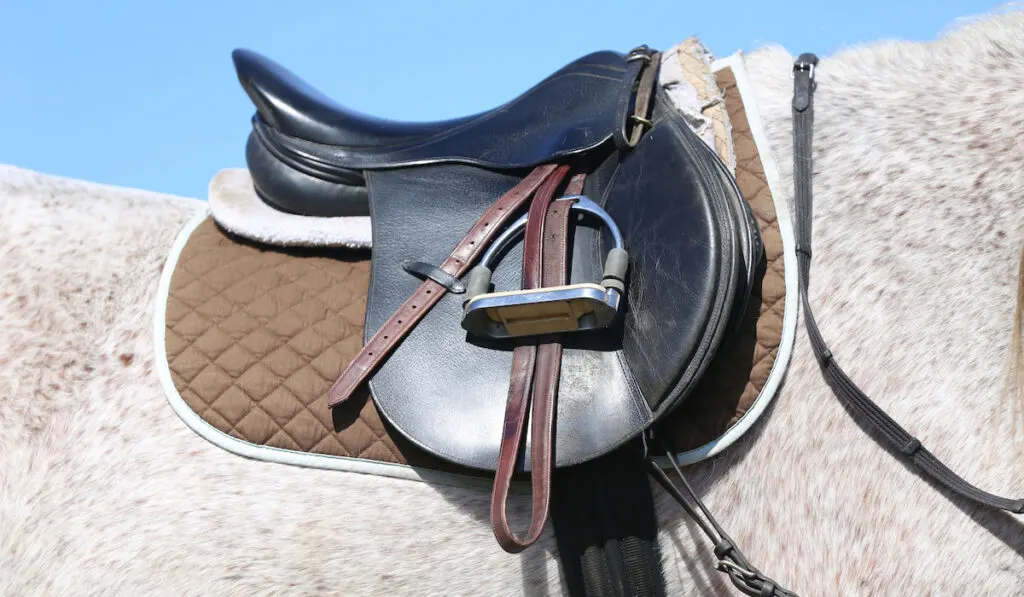 You can use an all-purpose saddle for dressage since it is comfortable and has a balanced seat.
It is also cost-effective since you can use it for more than dressage, like jumping and hacking.
However, it may lead to limitations in dressage, especially for advanced riders. Yet, the moderate knee rolls make it comfortable during dressage by giving you plenty of support.
Some of the popular brands of all-purpose saddles include:
Horze Leather All-Purpose Saddle. Made from genuine leather, therefore it is durable. The knee rolls also provide plenty of support, ensuring you ride comfortably.
Wintec 500 All-Purpose HART Saddle. This all-purpose saddle is functional and enables comfort as it has exceptionally soft panels and a sturdy seat. It makes it simple to ride in a safe stance. You can customize the saddle with a colored stirrup keeper.
Arena All-Purpose Saddle. It has a comfortable and well-balanced sea design allowing you to maintain the correct position effortlessly. It also boasts an adjustable wither fit and an Easy-Change Gullet Fit System to ensure a proper fit for the horse.
4. Mono/Single Flap Dressage Saddle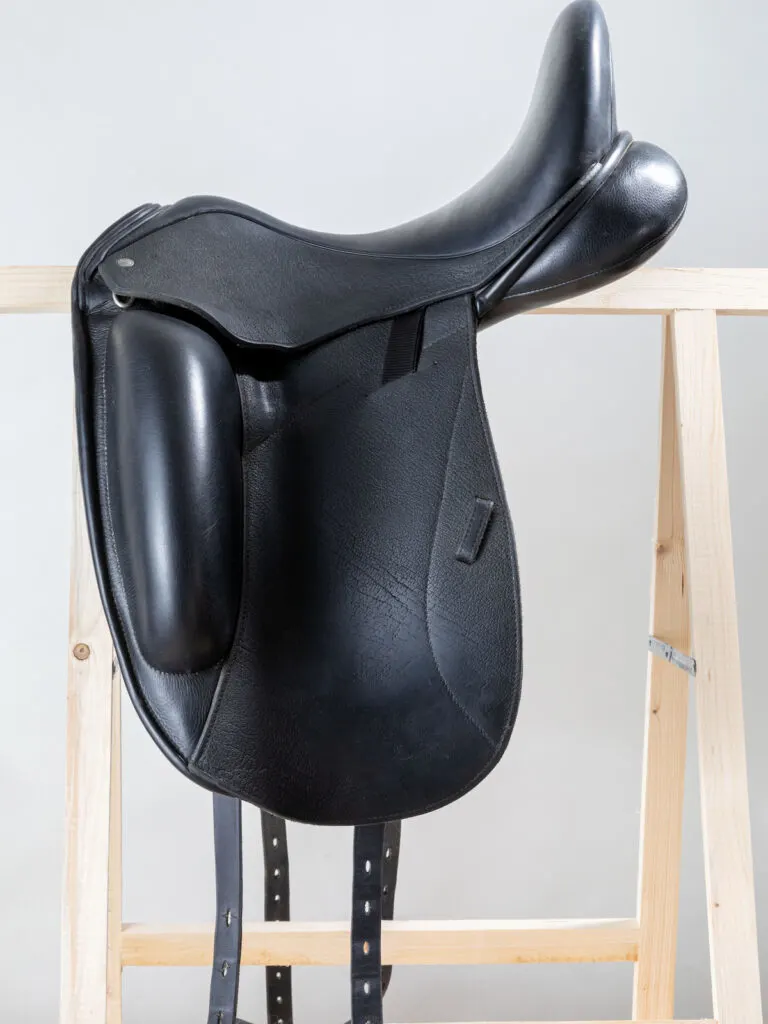 If you prefer a minimalist design, the mono-flap saddle will allow you to enjoy dressage without needing a second layer of leather or padding.
Yet, this may make it difficult for certain riders to keep a firm grip.
Some of the popular brands of this Monoflap dressage saddles include:
Loxley Dressage Monoflap. A close contact saddle with a deep seat and a molded front block for direct support help you maintain a proper position, thus providing stability.
Bletchley Synthetic Monoflap. It features a deep seat with a purpose-built cantle, thus providing you with support and stability during dressage. The saddle pad can help absorb sweat, minimizing the horse's irritation and discomfort.
5. Pleasure Dressage Saddle
It also has extra padding and decorative accents to distribute the weight evenly.
Some of the popular brands of pleasure dressage saddles include:
King Series Pleasure Trail Saddle Package. It is a lightweight saddle that reduces discomfort or fatigue for the horse. It also has a reinforced fiberglass frame that conforms to the horse's back, thus helping distribute your weight evenly across the horse's back.
Barrel Racing Trail Pleasure Leather Horse Western Saddle. It is a well-padded saddle for a comfortable ride, lightweight yet strong. Also, it has a nylon reinforcement on the leather stirrup for extra safety.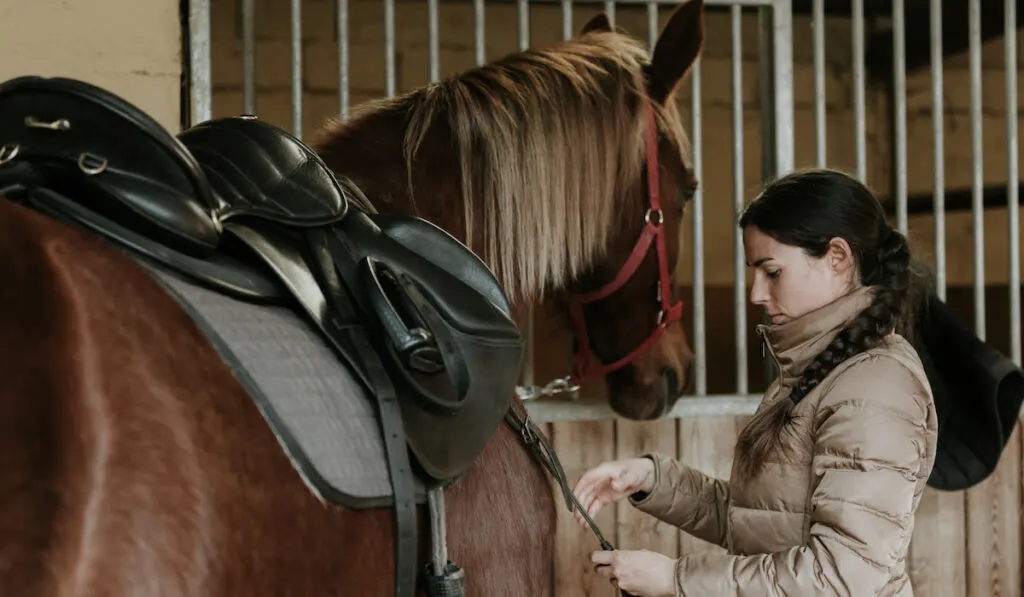 Use the Right Dressage Saddle
You need to use the right dressage saddle to improve your position and balance as you ride your horse.
In addition, using the wrong dressage saddle will only cause your horse pain and discomfort.
Moreover, riding in an ill-fitting dressage saddle may cause you to slip or shift. The horse can become agitated, which could make them trip and tumble.
Therefore, investing in a high-quality dressage saddle will improve your riding experience, performance and ensure your horse is always comfortable.
How to Choose a Dressage Saddle
To guarantee you use the proper dressage saddle, you must first understand how to select one.
Just because you saw a coworker riding a certain dressage saddle doesn't imply it's ideal for you.
So, here are four tips to help you buy the best dressage saddle.
A. Always Go for the Perfect Fit
It should allow the horse to move freely with no restrictions.
A dressage saddle that is too tight might cause pinching and rubbing. If excessively loose, it may cause instability and force you to ride incorrectly, putting you at risk of injuries.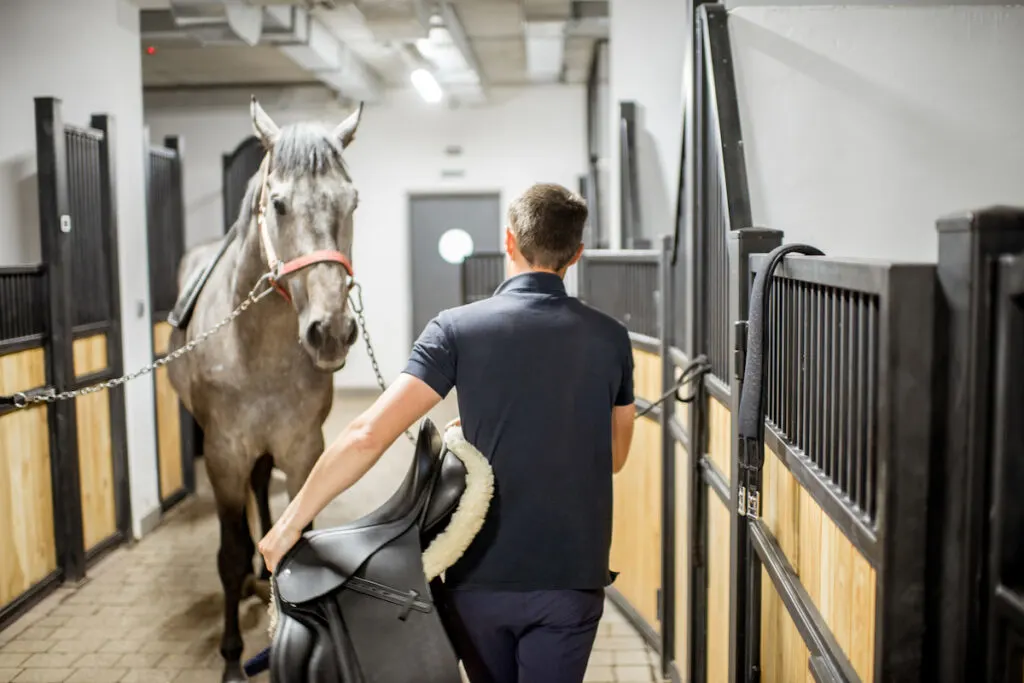 B. Consider Your Riding Objectives and Skill Level
For a beginner, a saddle with additional support and stability will help you build confidence and enhance your riding abilities.
On the other hand, if you are a professional, you may prefer a dressage saddle that enables you to move freely. This will enable you to practice more dressage techniques.
C. Always Opt for High-Quality Materials
Even if you're on a tight budget, quality should always come first.
By doing this, you'll get a dressage saddle that you can use for many years without buying another one after a few months.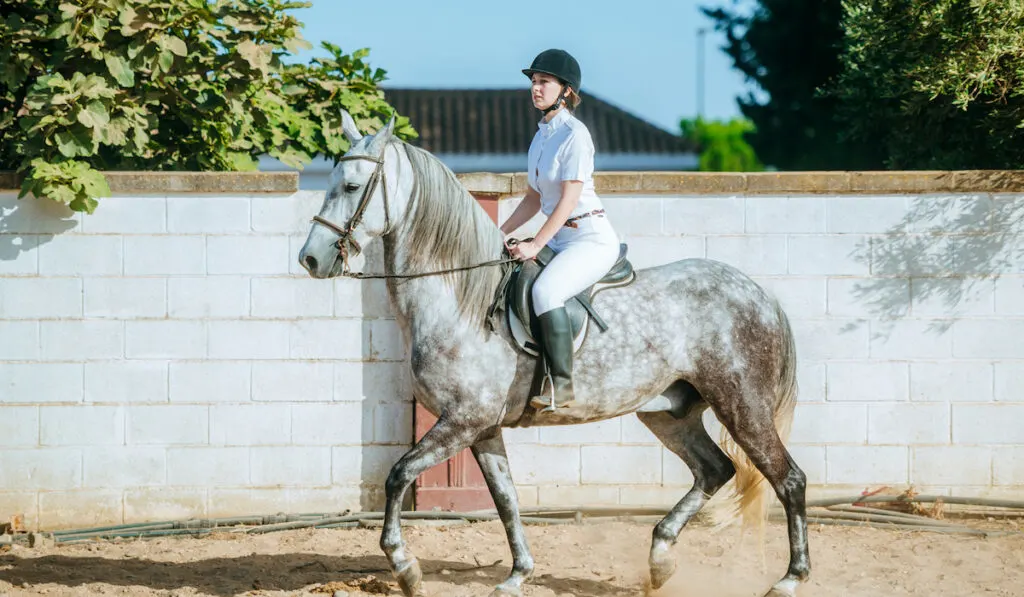 D. Always Take a Test Ride Before Buying Your Favorite Dressage Saddle
If possible, take a test ride with the dressage saddle on a horse you frequently use.
If you don't slip or shift during the test ride, you'll know if the riding will be comfortable.
Conclusion
However, choosing which dressage saddle to use may take time, since there are many types available.
Nonetheless, considering the above tips, it may be easy to choose one of the five dressage saddles we have described.
But whether you choose classic, western, or all-purpose, keep your experience and budget in mind.
With the right dressage saddle, you can have a harmonious connection with your horse and ride with grace, style, and confidence.
Resources