*This post may have affiliate links, which means I may receive commissions if you choose to purchase through links I provide (at no extra cost to you). As an Amazon Associate I earn from qualifying purchases. Please read my disclaimer for additional details.
Western saddle pads are made exclusively to be used with western style saddles.
They are designed to fit perfectly underneath a western riding saddle.
You should never use an English pad under a western saddle or vice versa.
Western saddle pads come in a variety of shapes and material combinations. They are used to help absorb moisture, reduce heat, and keep your horse cushioned from the saddle.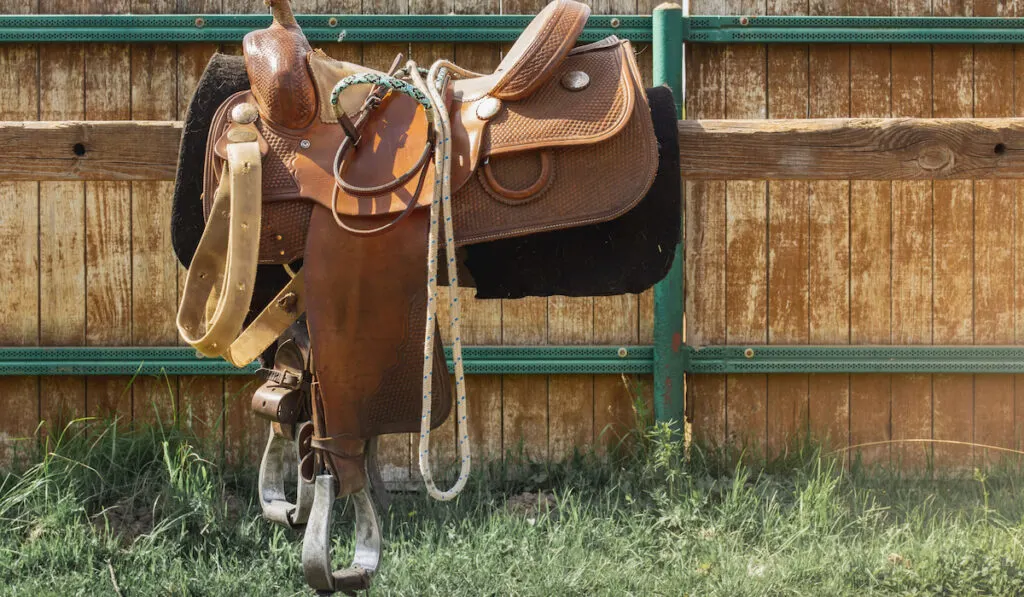 Choosing the right western saddle pad for your horse depends on several factors including your saddle design, the physical characteristics of your horse, and the equine sport you participate in.
Materials
Western saddle pads are comprised of either a single main material or a combination of two or more core materials.
Every saddle pad is designed to help ease the pressure that hard leather saddles place on a horse.
They should help absorb moisture and balance the heat that builds up during rides.
Felt
Arguably one of the most popular materials in western saddle pads, felt is a staple in the saddle pad world.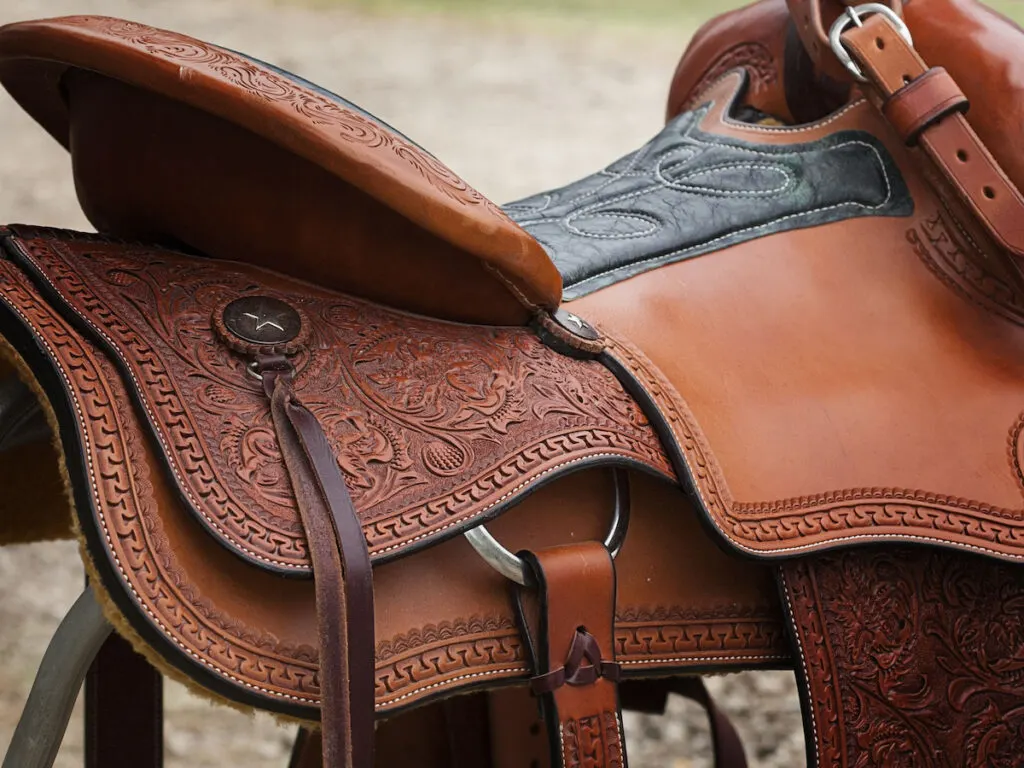 Felt is just wool that has been compressed. It can be synthetic or organic, but the overall benefit is the same.
Felt is an extremely breathable material that absorbs sweat and moisture from horses.
Basic felt saddle pads will contain thick felt inner layers as opposed to a foam core.
Many saddle pads with various cores and inner layers will feature a felt liner or covering.
Care Required: Felt saddle pads and felt-lined saddle pads do absorb sweat and dirt, so they are often harder to keep clean and will darken underneath with use. With proper care, they can last a long time.
Price: $$
Where to Buy?
Weaver Contoured Felt Saddle Pad
Wool Fleece
Western saddle pads that are made from wool fleece offer a natural feel and a lot of highly beneficial features.
They often have a felt interior and cover with a thick wool fleece liner underneath. Wool is naturally sweat-wicking and it is extremely soft.
Wool fleece is flexible, allowing the saddle pad to shape to conform to your horse.
It works to balance out any uneven stress points from the saddle and rider that would otherwise irritate the horse.
They offer a thick, comfortable cushion that helps protect the horse and keep the saddle in place.
Care Required: Wool fleece pads require extra care and are often more difficult to clean. They can last a while if they are well cared for. They will absorb dirt and sweat, so discoloration will occur. (source)
Price: $
Where to Buy?
Tough 1 Square Saddle Pad with Fleece Bottom
Neoprene
Neoprene is popular in today's world and it has finally made its way into the western saddle pad arena.
Neoprene is a synthetic material similar to rubber. It is resistant to liquid substances including oil and water. (source)
Its cushion-like quality helps absorb the shock from pressure points that a horse encounters during a ride.
Neoprene saddle pads sometimes have a waffle pattern on the bottom side, making them more breathable.
They may have a felt top that sits on top of a thick piece of neoprene.
Neoprene saddle pads are known for their ability to stick to the horse, preventing saddle slippage during a ride.
Care Required: They are easy to care for and easy to clean.

Price: $$
Where to Buy?
Performer's 1st Choice Neoprene Western Pad
Memory Foam
Memory foam western saddle pads have an inner layer made of memory foam, often along with another cushiony material.
The memory foam will maintain its shape but helps cushion pressure points a horse feels from the saddle.
Memory foam is considered more complex and beneficial than saddle pads with felt cores.
The outer parts of the memory foam pads are often made from anti-slip materials that keep the pad and saddle from slipping during activity.
Memory foam saddle pads are covered in various materials like felt, neoprene, and wool.
Care Required: Care often depends on the material that lines and covers the memory foam. Usually, memory foam saddle pads are easier to clean and care for than regular wool fleece or felt saddle pads.

Price: $
Where to Buy?
Challenger Memory Foam Western Saddle Pad
Impact Gel
Impact gel saddle pads are often covered in a material like felt, but the inner layer of the pad consists of an impact gel system.
The impact gel helps to protect the horse by absorbing shock from various pressure points from the saddle during a ride.
Impact gel saddle pads are flexible and extremely comfortable for riders and horses alike.
Many riders today prefer impact gel over foam or felt core options.

Care Required: Impact gel saddle pads are easy to care for and are extremely long lasting. They can withstand high heat and harsh conditions.
Price: $$$$
Where to Buy?
Impact Gel Felt Saddle Pad
Styles and Features
Western saddle pads come in a variety of shapes, styles, and features.
Here are the most common. Keep in mind, some of them can be a combination of styles or features.
Standard
Standard western saddle pads are square-cut or somewhat rectangular.
They work best with saddles that have square-shaped skirts. The standard shaped western pad will completely cover the area directly underneath all parts of a square skirted saddle.
These tend to be popular in western equine sports like cutting, sorting, roping, and barrel racing. They are best for horses with normal withers and backs.
Price: $ – $$
Where to Buy?
Tough 1 Sierra Square Saddle Pad
Round
A round, or barrel-shaped saddle pad has rounded edges and works best with saddles that have round skirts.
Round skirts are often found on western pleasure or trail saddles.
Rounded saddle pads are also recommended for horses that are short backed, meaning its back is shorter than the average horse.
A short-backed horse will have a back that is not over one third of its full body length. (source)
Price: $
Where to Buy?
Challenger Barrel-Shaped Western Horse Saddle
Contoured
A contoured western saddle pad is shaped to fit the unique shape of a saddle while accommodating for the horse's withers.
Contoured saddle pads have a slight dip in the middle ridge of the saddle pad. It is designed so that it helps to reduce the pressure placed on a horse's wither by the saddle.
Contoured saddle pads are best for horses that are swaybacked or have high withers.
It more adequately fits the swayed curve of the horse's back so that the saddle fits more snugly to its body.
This reduces friction, pressure, and creates an overall more comfortable ride for the horse.
Price: $
Where to Buy?
Weaver Leather Contoured Saddle Pad
Cutback
Cutback saddle pads are unique in that there is a small section at the front bend of the pad that is completely cut back.
The front part of the saddle pad will not be connected.
The section that sits on top of the horse's withers is completely removed so that it takes pressure off the horse's withers.
This is a great option for horses that have an abnormally high wither, often seen in Thoroughbred and Saddlebred horses. (source)

Price: $
Where to Buy?
Weaver Leather Cutback Saddle Pad
Weaver Leather Cutback Saddle Pad
Cut back design is perfect for horses with high, prominent withers
Added layers of felt help raise up saddle to relieve pressure on withers
Herculon fabric top is easy to clean and quick drying
Merino wool fleece liner provides added comfort
Cutout
The term cutout is often used interchangeably with cutback in the western saddle pad descriptions, but they are not the same thing.
A cutout saddle pad has a portion of the front of the pad that is cut out of the pad, but the pad is still connected in the front.
It literally looks like a hole was cut out of the saddle pad.
Cutout saddle pads are great for horses with high withers because, like cutback saddle pads, they help to relieve the pressure saddles put on a horse's withers.

Price: $$
Where to Buy?
Classic Equine Cutout Western Saddle Pad
Classic Equine ContourPedic Square Western Saddle Pad
1/8″ wool felt top; 3/4″ closed cell foam bottom
Cut out over the withers and contoured to fit your horse's back
A split design that allows the pad to move with the horse
Designed to be used alone or with a blanket
Built-up
Built-up western saddle pads are also great for horses with high withers.
The pad is designed so that it is built-up in the middle ridge of the pad so that it lifts the saddle up to take pressure off the horse's back and wither.
Built-up styles are often seen in conjunction with cutback or cutout pads.
Additional material is added to the front part of the pad that sits directly on the horse's withers. You will see a noticeable lift in the top front of the saddle pad.
Price: $
Where to Buy?
Mustang Navajo Built-up Saddle Pad
Swayback
Swayback western saddle pads are designed specifically for horses that have swaybacks.
A swaybacked horse is a horse that has a distinctive sway or significant dip in their back.
The pad contains a thicker area in the center bend of the pad to accommodate for the dip in the back so that the saddle is not sitting on the horse with a large area of air between the saddle and the pad.
Price: $$
Where to Buy?
Reinsman Tacky Too Navajo Swayback Pad
Final Thoughts
There are a lot of different western saddle pads in today's world.
They are all a little different, but their purpose remains the same.
Regardless of their design, the goal of all saddle pads is keeping a horse safe, healthy, and comfortable during rides.
Most saddle pads today have a combination of styles and designs that help make sure there is an option for every horse.
Make sure you get the one that is best for your horse.