*This post may have affiliate links, which means I may receive commissions if you choose to purchase through links I provide (at no extra cost to you). As an Amazon Associate I earn from qualifying purchases. Please read my disclaimer for additional details.
Since the early 1800s, a cowboy would never leave home without his cowboy hat. While working in sometimes harsh conditions, the cowboy hat is a shield against the elements. From the searing heat and continuous rising dust to the chilly wind and rain, the cowboy hat provides essential protection.
But what are cowboy hats made of?
Depending on the function, a hat could be made of wool, felt with a fur blend, palm leaf, straw, or leather.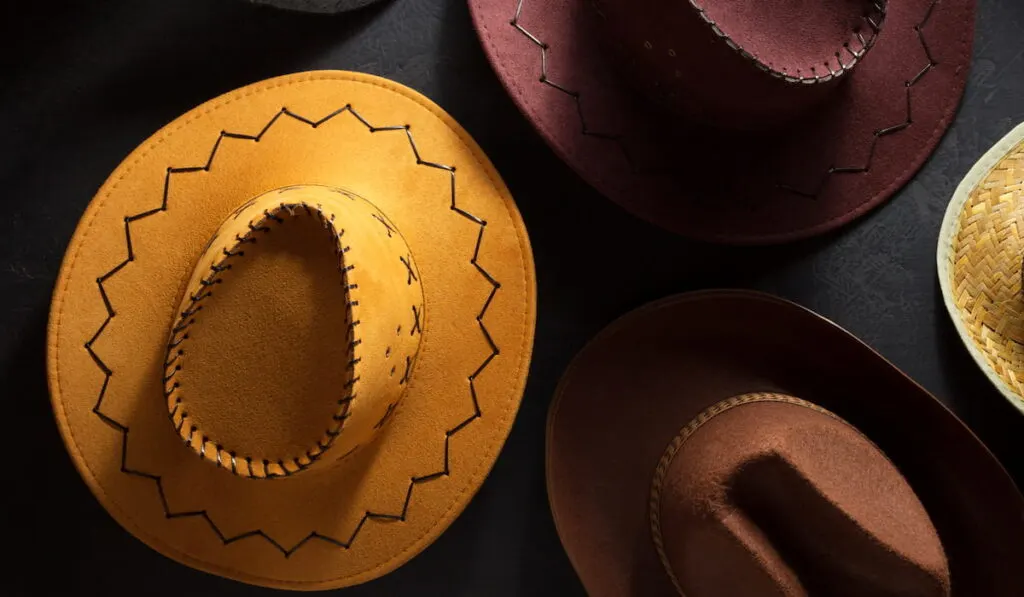 Whether you choose the iconic cowboy hat for its classic style or as protection against harsh outdoor conditions, my cowboy hat materials guide will help you select the perfect cowboy hat for your needs. Read on to find out more.
1. Straw Cowboy Hats
Durable, lightweight, and able to circulate air, it's no wonder straw was also adopted as the material of choice by the cattle-ranching cowboys of the Wild West era to aid as protection against searing summer temperatures.
A cowboy hat's quality is directly related to the grade of the straw used to make it. The weaving method is also a significant quality indicator, whether by hand or on a loom.
Shantung Straw
Shantung straw comes from Asia and is the most commonly used material by manufacturers of high-quality straw cowboy hats.
The much rarer Toquilla straw, which only grows on the high western slopes of South American mountains, is used to make Panama straw hats. Shantung straw has essentially replaced Toquilla straw as the favored hat material.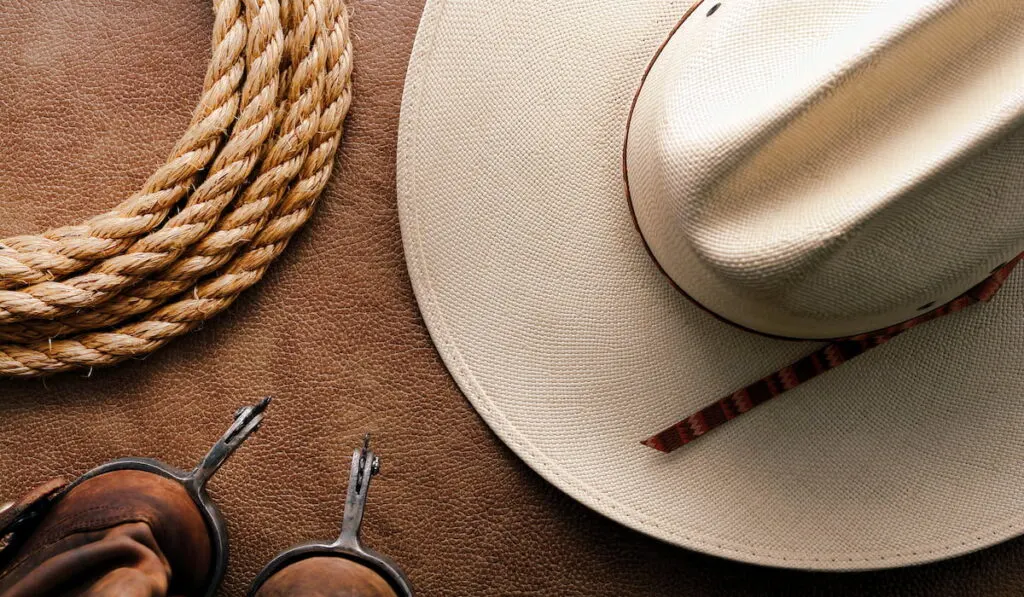 Bankok-Toyo
Bankok-Toyo, commonly known as Bangora, is another favorite straw for manufacturing cowboy hats. Bankok-Toyo straws are coarser than the finer grades of Shantung, and hats manufactured using Bankok-Toyo often have a vented crown.
Ventilated crowns made of Shantung or Bankok-Toyo straw are gaining popularity.
Here are a few examples of cowboy hats made of Shantung and Bankok-Toyo straw from two of the highest quality cowboy hat manufacturers in the world, "Stetson" and "Justin."
Types of Straw Cowboy Hats
Stetson
Renowned for their superior quality cowboy hats and creative western flair, Stetson is an iconic brand that is recognized across the globe.
And with traditional western design and maximum cowboy/cowgirl comfort, you can wear these western hats with any western outfit.
Let's take a look at two of Stetson's Shantung straw cowboy hats:
The Open Road Straw Hat has an open-weave cattleman crown that has been hand-pressed to give it a classic frontier style. Handmade in Texas using Shantung straw, this timeless classic is available in taupe and successfully blends city and traditional styles.
The Evilla de Oro Shantung Cowboy Hat comes in natural white and has a 1000X Shantung straw construction with a 3BU 2X2 weave. This quality cowboy hat features a wide, roan leather hat band with a buckle.
Justin
Known for the best quality cowboy boots out there, Justin produces some of the best quality cowboy hats too. From ranches to rodeos, Justin is the brand of choice for cowboys with a rough, tough lifestyle.
Check out these Shantung and Bankok-Toyo straw cowboy hats from Justin:
The Justin Ivory Hutson Bent Rail Straw Cowboy Hat has been made using Shantung straw and will keep you cool whenever things get heated. With a bent brim and cattleman's crease, this classic western construction allows air to circulate even on the hottest days.
The Justin 20X Cutter Black Straw Cowboy Hat is made from Bangora straw (Bankok-Toyo) and features a cattleman's crease. This striking classic design comes with a leather sweatband and a vented crown.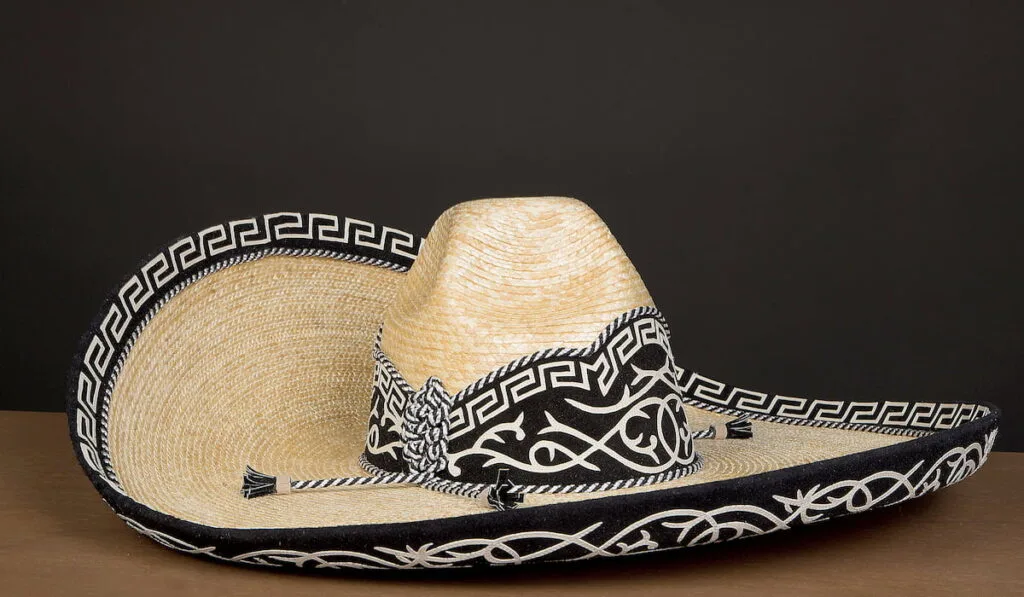 2. Palm Leaf Cowboy Hats
Palm hats are excellent alternatives to conventional straw cowboy hats and are fantastic for the beach, gardening, and working at home.
Palm leaf cowboy hats are available in several styles. Some are more traditional, while others have a modern, trendy appearance. Whatever your style, there is a palm-leaf cowboy hat available to suit you.
Types of Palm Leaf Cowboy Hats
The Palm Leaf Cutter Cowboy Hat is a budget-friendly alternative to more expensive cowboy hat materials, but it looks amazing. With a similar style to the West Texas style, this comes in a variety of different brim sizes.
The Palm Leaf Open Road Hat has a sophisticated look and features a timeless crease and black headband. This classic hat is great for men and women and will keep you cool on hot summer days.
3. Fur Felt Cowboy Hats
For traditional cowboys, felt hats historically had more uses than straw hats. They shielded them from the sun in the daytime, and at night, when the desert's temperature fell, they would keep them warm.
Today, many people wear their felt cowboy hats all year round, while others only pick them up after Labor Day.
Fur felt is their hat of choice through the colder seasons of winter and fall until Memorial Day, when the temperatures start to rise again. Then it's time to store away the fur felt and exchange it for straw.
Felt cowboy hats are widely recognized as a more classic cowboy look. On special occasions, when it is time to dress up and look good, the felt cowboy hat comes out of the western wardrobe no matter what time of year it is.
Where Does the Fur Come From?
After this process, a warm, water-resistant, lightweight material is created and shaped into a hat. These furs undergo a felting process, and when exposed to steam and water, the fur fibers shrink and interlock.
The highest quality felt cowboy hats are often made using the fur from a beaver's belly, also known as silverbelly. The barbed hairs from this part of the animal interlock exceptionally well, creating the perfect dense, lightweight, weather-resistant material.
Types of Fur Felt Cowboy Hats
The Resistol Men's Black Gold Beaver 20X Fur Felt Cowboy Hat gives you that custom-built feeling. If you want to make a statement, this is the hat for you! Made with 20X premium beaver fur felt, this hat is both durable and water-resistant.
The Calgary Rabbit Fur Cowboy Hat is made with 100% rabbit fur felt and features a rabbit fur hat band complete with a 3-piece buckle set in 24k gold finish. Available in black, it comes complete with a black goat leather sweatband.
The Black Bradford Western Cowboy Soft Felted Beaver Fur Hat is perfect for both men and women. The super soft beaver felt gives it a unique and timeless style, and it features a black silk-tied headband.
The Deadwood 4X Wool Cowboy Hat is also a notable example of Stetson's superior craftsmanship. With the appearance of a classic cattleman and a hatband with a 3-piece silver buckle featured, this hat is a fantastic choice for both men and women.
Your fur felt cowboy hat will require a little TLC
At one stage or another, your hat will get wet. Do not use a heat source like a hair dryer to dry it, and don't lay it down near a warm stove. Let it dry naturally with the sweatband flipped out if necessary.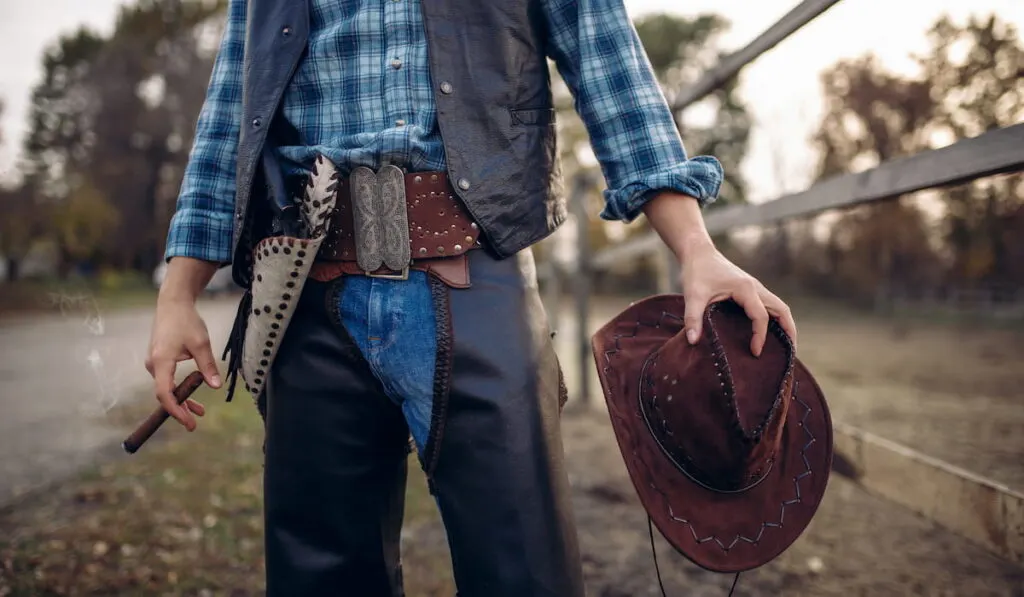 4. Leather
Leather or suede cowboy hats are less common than the more traditional materials like felt, wool, and straw, but they are long-lasting and provide protection from the sun and wind. They may even withstand light snow and rain if properly treated and sealed.
Because the Australian climate can be very harsh, they needed a better-than-average hat while working their own cattle ranches. So, the Outback hat was developed under similar circumstances to the American cowboy hat.
While Australians like straw and felt hats in the Outback these days, just like the Americans, leather and suede hats are still hugely popular. The Outback hat symbolizes the hard-working men and women of rural Australia, and it is worn all year round.
While the dimensions of the Outback hat are slightly less than the American cowboy hat, their functions are very similar. The Outback hat's brim is usually between 3″ to 4″ wide, and the teardrop-shaped crown is never more than 4″ high.
Types of Leather Cowboy Hats
The Hollywood Leather Cowboy Hat is made from genuine leather and features a handcrafted, braided leather hatband. Durable and lightweight, with holes in the crown for ventilation, this style has always been popular.
The Barmah Outback Crocodile Hat is great for both men and women and has a genuine Australian outback look. Made from premium full-grain cattle leather, this hat features a leather hatband with 5 genuine crocodile teeth included.
Brim: 3″ at the front and 2 3/4″ on the sides
Final Thoughts
From traditional to modern styles, cowboy hats come in many shapes and sizes and are made of materials that will suit many different situations.
Whether you need a cowboy hat to keep you warm in the winter or cool in the summer, or maybe you just simply want to look good on special occasions, for work or for play, there is a cowboy hat out there to suit every taste.
Resources
https://greenmountainhorse.com/news/cowboy-hats-101-choosing-the-hat-that-is-right-for-you/
https://eliswesternwear.com/resistol-mens-black-gold-beaver-20x-fur-felt-hat/