*This post may have affiliate links, which means I may receive commissions if you choose to purchase through links I provide (at no extra cost to you). As an Amazon Associate I earn from qualifying purchases. Please read my disclaimer for additional details.
When it comes to horses, some colors are more prevalent than others. In fact, one could argue that bay, chestnut and gray are the three most common colors that exist in the horse world.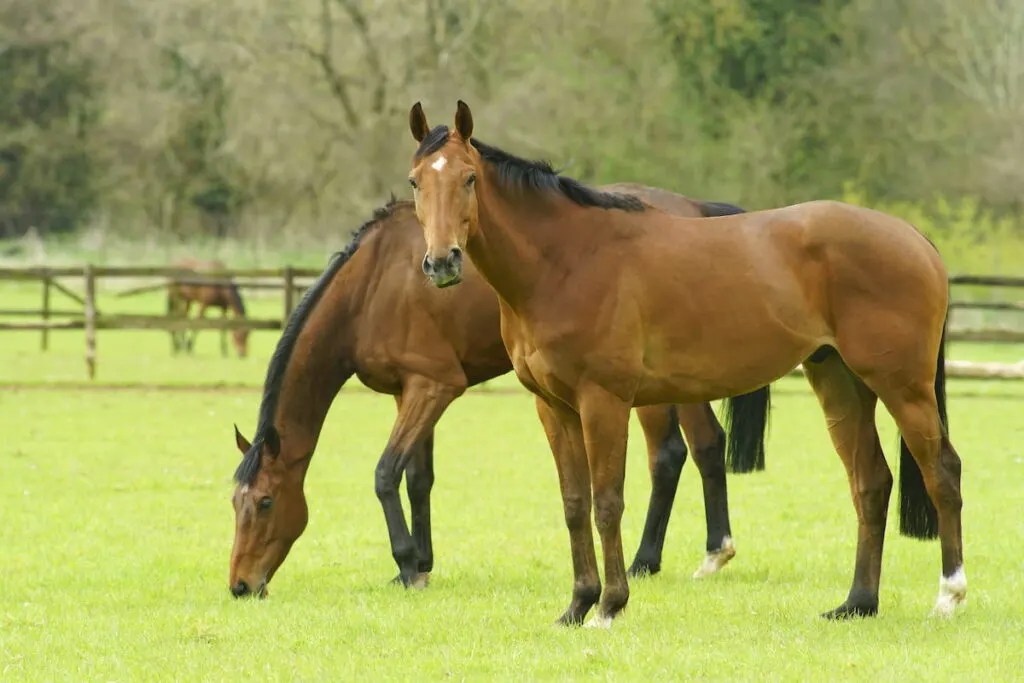 Bay horses often range in shade from a beautiful blood bay highlighted by bright red tones over the body to a gorgeous dark bay with a rich, chocolate colored coat.
In fact, most "brown" horses are genetically bay if you were to have them evaluated by a university. Part of the reason this color is so common is because of the genetics involved. Be sure to check out our article on bay horses to learn more about that.
Without further adieu, here are our most popular names for bay horses.
Top 10 Bay Horse Names
Cookie
Kahlua
Baylee
Mocha
Reese
Whiskey
Teddy
Sienna
Hershey
Brownie
28 Bay Horse Names for Girl Horses
Are you looking for the perfect name for your mare or filly? It's hard enough to come up with the perfect name for your girls but, what if you want that name to reflect their gorgeous bay color as well?
These are some of our favorite bay horse names for females.
Amber
Auburn
Baby
Bambi
Batty
Bay Angel
Bay Belle
Bay Lee
Baybee
Baylor
Brandy
Cookie
Cupcake
Ember
Henna
Java
Kahlua
Kava
Latte
Maple
Moana
Mocha
Muffin
Pepper
Sable
26 Bay Horse Names for Males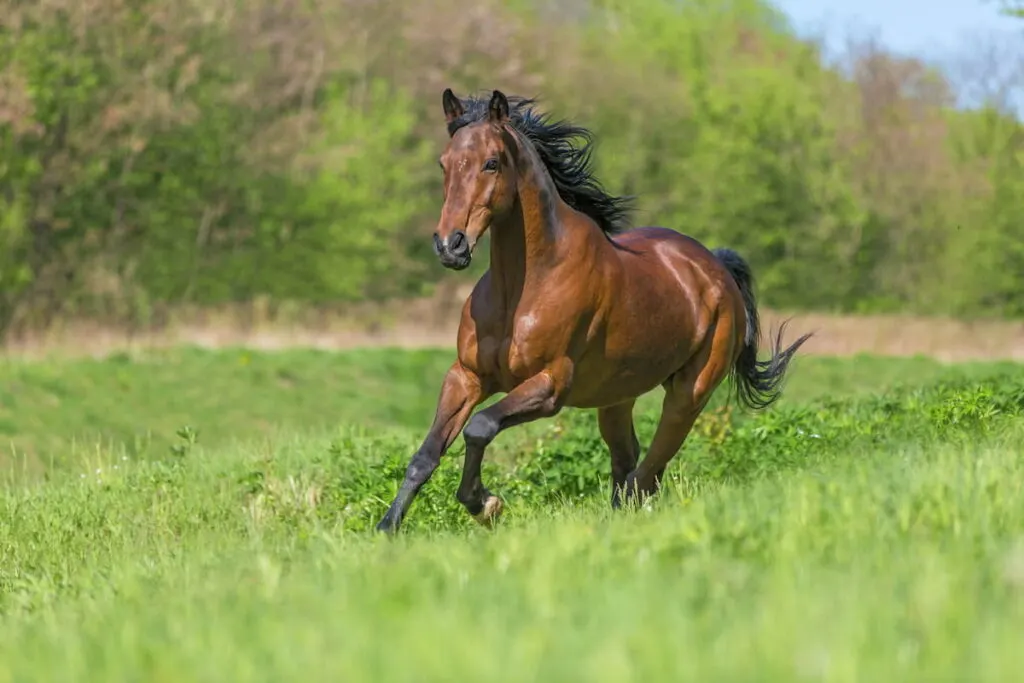 Do you have a bay gelding or stallion that needs a perfect name? Boy horses are fun to own and, even funner to name. Whether you have a deep red blood bay horse or a standard brownish bay color, we've got several options to choose from.
Here are some great bay horse names for your gelding or stallion.
Badger
Bear
Beaver
Brownie
Caramel
Carmel
Chewy
Chipmunk
Chocolate
Duncan (like Duncan Donuts)
Forest
Gravy
Grizzly
Guinness
Kodiak
Moose
Oso (means bear in spanish)
Porter
Reese
Russet
Scooby
Snickers
Teddy
Umber
Whiskey
Wookie
19 Unisex Names for Bay Horses
Are you looking for a name that is unisex? These names are perfect, for example, for an unborn foal. They can be used for mares, geldings or stallions.
Bay Leaf
Bayou
Bean (Beans)
Brownie
Chai
Chili
Chip
Cleveland
Java
Kona
Mocchi
Molasses
Monkey
Pinecone
Roo (like Kangaroo)
Starbuck
Toffee
Waffles
Walnut
31 Names for Blood Bay Horses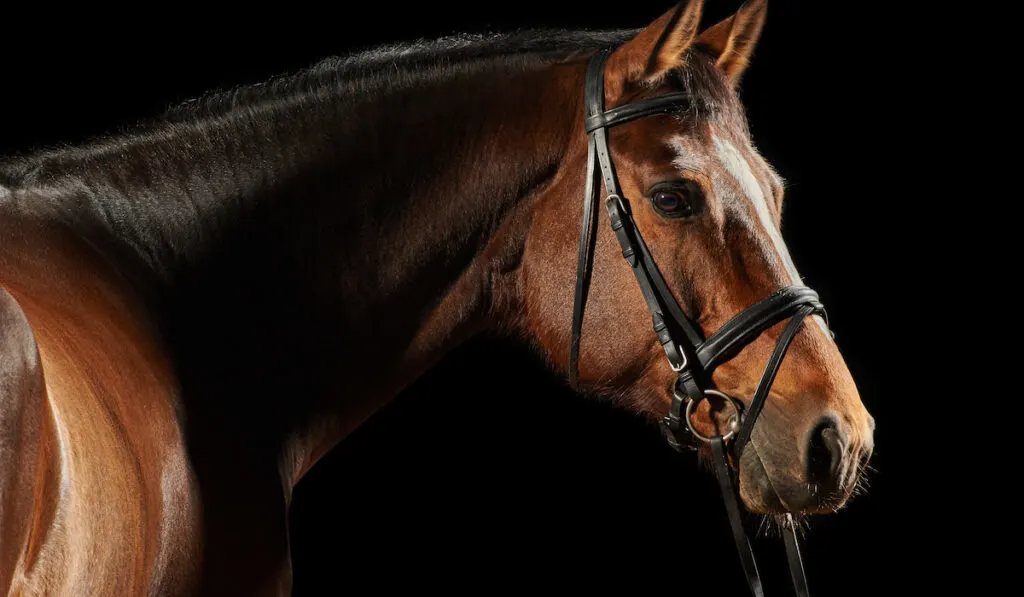 Blood bay horses often have very red or deeply red bodies with dark black manes and tails. Here are some great names for blood bay horses.
Auburn
Bayberry
Black Widow
Burgundy
Butterfly
Cabernet
Cerise
Cherry
Cherry Garcia
Cinnamon
Copper
Coral (like a Coral Snake)
Cranberry
Crimson
Current
Curry
Garnet
Hazel
Lady Bug
Maroon
Pepperoni
Ruby
Russet
Sandy
Scarlet
Sienna
Strawberry
Twizzler
Watermelon
Widow (like a black widow)
Zinfandel
Funny Names for Your Bay Horse
Coming up with a funny name for your bay horse doesn't have to be hard. Think about using rhymes or play on words to form a perfect name.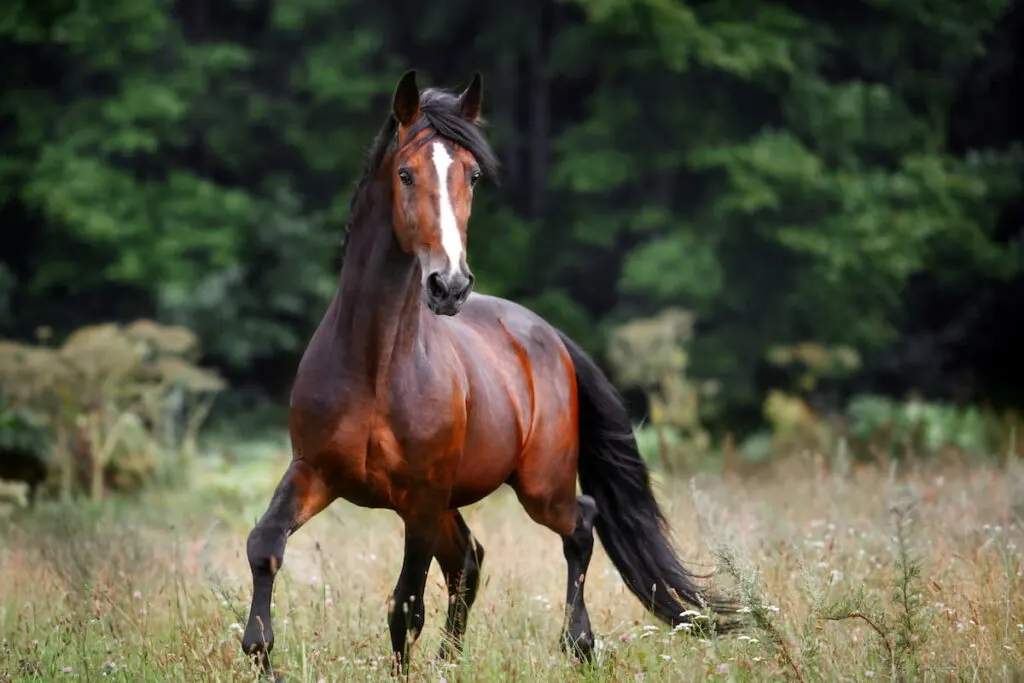 Here are some examples of funny bay horse names using those techniques.
Jay (the bay)
Kay (the bay)
Bay You A Drink
Big Bay Day (instead of big payday)
Gandalf the Bay (instead of Gandalf the Gray)
Not a Working Bay (instead of "working day")
18 Bay Horse Names That Remind You of Chocolate
Because most bay horses have a brownish, sometimes chocolaty tone to their coats, it's only natural to name your bay horse after the delicious treat.
Here are some great bay horse names inspired by chocolate!
Almond Joy
Cadbury
Bon Bon
Chip
Choco
Hershey
Godiva
Kit Kat
Klondike
Mars
Milky Way
Nestle
Nougat
Peanut
Reese
Rolo
Snickers
Toby (like Toblerone)
16 Show Name Ideas for Bay Horses
Do you want a perfect show name for your bay horse? Often you can combine the horse's barn name with other words to make a great show name.
Here are some show name ideas that are great for bay horses.
50 shades of bay
Bay Breeze
Bay Bridge
Bay is the new Black
Bay Ja Vu
Bay Leaf
Bayless
Blue Bay You
Chesapeake Bay
Half Moon Bay
Misty Bay
Not Just Another Bay
Ocean Bay
Oyster Bay
Pelican Bay
Quantanamo Bay