*This post may have affiliate links, which means I may receive commissions if you choose to purchase through links I provide (at no extra cost to you). As an Amazon Associate I earn from qualifying purchases. Please read my disclaimer for additional details.
Chestnut horse names, fiery and bold, await you! Whether it's for a spirited mare or a stallion with a coat like embers, we have all the options you need. Start with our most popular names and naming ideas below, and then scroll further for more options.
We have 220+ names for you to choose from, but don't forget our Horse Name Generator, which will help you come up with even more options if you need them!
Key Takeaways:
Pick a name based on a core attribute of your horse's personality (Cowboy for a Stallion or Gelding, Inferno for a badass or energetic horse) or a key physical attribute (Sable for a brown horse name or Mosaic for an Appaloosa horse with chestnut colors).


Popular Chestnut Names include Ginger, Copper, Chestnut, Rusty, Red, Autumn, Sienna, Amber, Sorrel, and Ruby.


Consider name options of famous chestnut horses for inspiration, like Secretariat, Seabiscuit, Man o' War, and Trigger

Use our Horse Name Generator to quickly find the right name for your horse!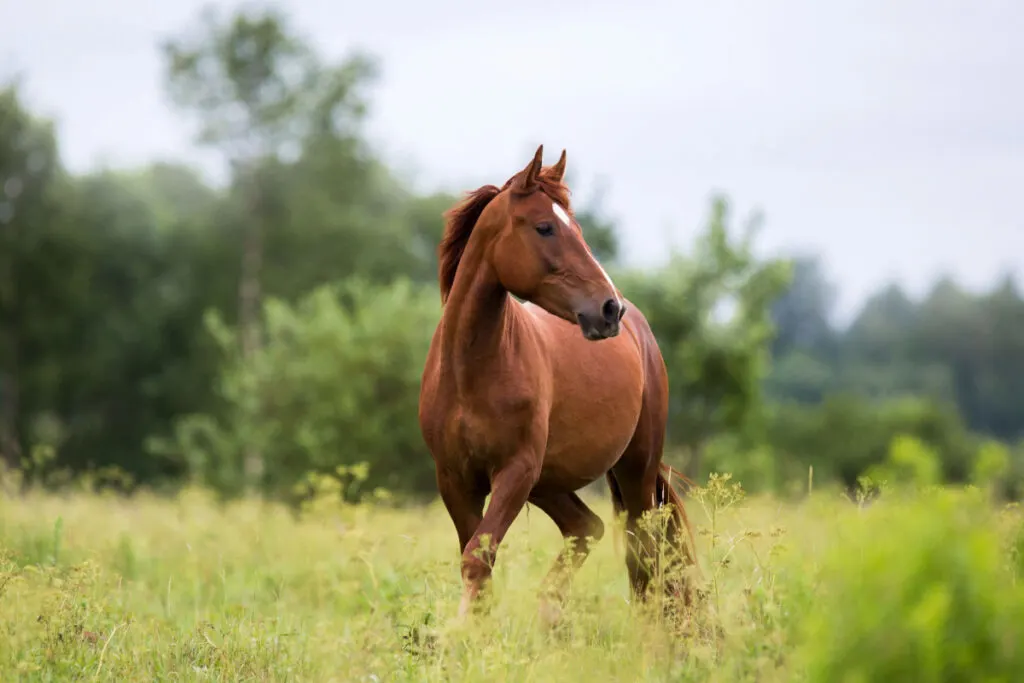 The Best, Most Popular Names for Chestnut Horses
These are the top 10 best horse names for chestnut horses:
Red
Ginger
Rusty
Copper
Blaze
Annie
Fox or Foxy
Rosie
Flame
Ember
Best Male (Stallion/Gelding) Chestnut Horse Names
If your chestnut horse is male, whether a stallion or gelding, these names might be perfectly suited for him:
Alchemist
Blaze
Chester (the Chestnut)
Copper
Cowboy
Demon
Dragon
Elmo: The red monster from Sesame Street (lol!)
Flash
Fox
Hades
Maroon: Similar to red and chestnut
Mars
Meatball
Mufassa (from the "Lion King")
Red Devil
Rusty
Satan
Simba: From the "Lion King"
Sunny
Titian
Tormund (like Tormund Giantsbane from Game of Thrones)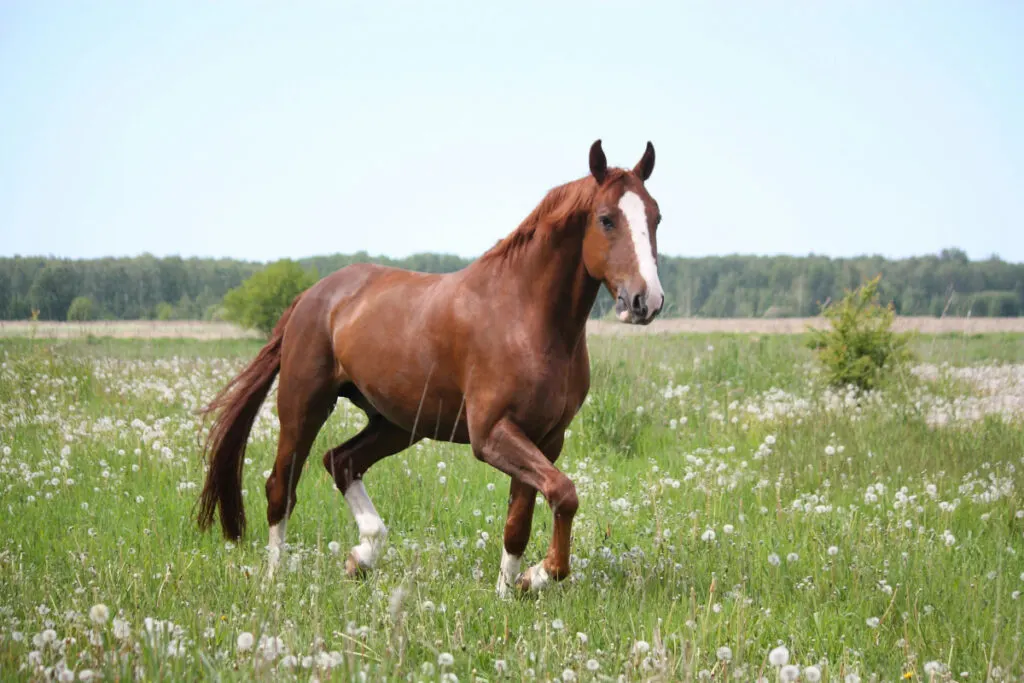 Best Female (Mare) Chestnut Horse Names
Do you have a female chestnut horse? Chestnut mares are such beautiful creatures that they deserve a bit more time and effort in picking the perfect name. After you look at this list, have a look at our full post on 150+ Horse Names for Fillies and Mares.
Amber
Annie
Apple
Ariel
Autumn
Brandy
Cayenne
Cherry
Cinnamon
Coral
Coraline
Dana (like Dana Scully from The X-Files)
Daphne (like Daphne Blake from Scooby Doo)
Ember
Fiona (like Princess Fiona from Shrek)
Foxy
Ginger
Gloriana
Hazel
Henna
Hibiscus
Jean (like Jean Grey from X-Men)
Ladybug
Lucille (like Lucille Ball)
Merida
Paprika
Pebbles
Peony
Pippi (like Pippi Longstocking)
Robin
Rosa
Rosy
Ruby
Salsa
Scarlet
Scully (like Dana Scully from the X-Files)
Sunshine
Ygritte (from Game of Thrones)
Venus
Again, horse names for chestnut mares deserve a bit more time and effort. It's one thing to have a chestnut horse name, it's another to have a beautiful chestnut horse with the perfect name.
Badass Chestnut Horse Names
Some chestnut horses carry an air of badassery, with a fiery mane and a bold demeanor that demand names with an edge. Maybe their chestnut coat is fiery, demanding more of a red horse name overall. Here are 10 badass names that capture the untamed spirit of your chestnut steed:
Inferno: For a horse with a fiery spirit.
Blaze Fury: Combining the chestnut's signature color with a fierce temperament.
Mustang (need we say more?)
Vengeance: For a horse that runs with purpose and power.
Thunderbolt

Spartan: After the fierce warriors of ancient Greece.
Outlaw
Rampage
Goliath
Titan: For a horse that stands out in size and spirit.
If you want to go deeper in this direction, have a look at our post on 101+ Medieval Horse Names.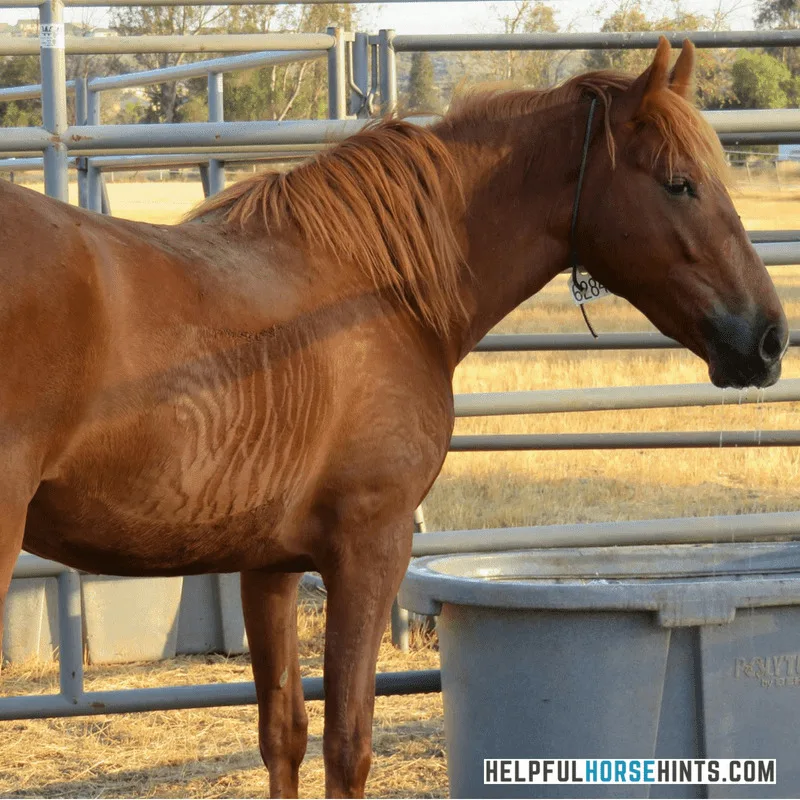 Unisex Chestnut Horse Names
The names below are suitable for both male and female chestnut horses:
Arizona
Aster (Arabic word meaning "red")
Blaze
Chestnut
Chilli
Crimson
Red
Fiery
Fire
Firefly
Flame
Flare
Irish
Jasper
Mars
Rua: Meaning "red" in Irish
Salmon
Saturn
Spice
Zodiac
Chestnut Horse Show Names
Naming your show horse is never easy. We have a dedicated list of 120+ Strong and Powerful Horse Names you may prefer to skim at this point. If you are looking for a great show horse name for your chestnut horse, here are some ideas to get you started.
A Lady in Red
Autumn Dream
Burning Arrow
Bentley Red
Blazing By
Cool Under Fire
Copper Sunrise
Fan the Fire
Far Out Fox
Flame-Broiled
Flat out Foxy
Harvest Moon
Knight's Rose
Red Hot Assassin
Redneck Report
Seeing Red
Scottish Affair
Strawberry Fields
Warning Ahead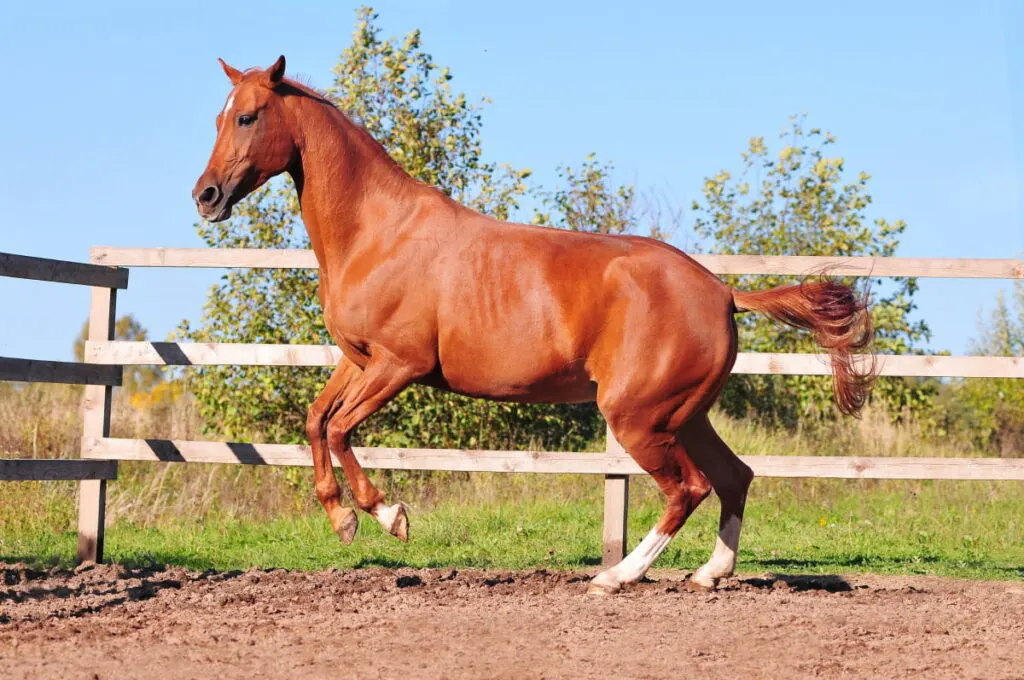 Famous Chestnut Horse Names
Chestnut horses have galloped through the pages of history and fiction, leaving a legacy as enduring as their striking color. Below are 10 names of famous chestnut horses that may get your creative juices flowing:
Secretariat: The legendary racing champion.
Pegasus: After the mythic winged horse, often depicted as chestnut.
Seabiscuit: Another racing legend of the 20th century.
Red Rum: A celebrated steeplechaser and three-time Grand National winner.
Man o' War: One of the greatest racehorses of all time.
War Admiral: The son of Man o' War and a legend in his own right.
Affirmed: The last horse to win the American Triple Crown for 37 years.
Phar Lap: A folk hero in Australian racing, a chestnut with a large heart.
Trigger: The famous palomino (a horse with a coat that has a golden color and a white mane and tail) movie star, often mistaken for chestnut due to his color in black and white films.
Big Red: A nickname given to several famous chestnut horses, including Secretariat and Man o' War.
Chestnut Horse Names Inspired By Food & Drinks
Chestnut horses are known for their reddish-brown color. If you love food and drinks, you will definitely love to name your horse after these red food and drinks (or use their shortened forms):
Carrots
Chardonnay
Cherry Garcia – Cherry
Cider (like Apple Cider)
Cinnamon
Cortland
Currant
Curry
Donut
Gala (like a Gala Apple)
Ginger
Grenadine
Heinz (like the Ketchup)
Kool (like Kool-Aid)
Marinara
Paprika
Pip (as in orange pip)
Pomegranate Martini – Pomtini or Tini
Red Snappers – Snaps
Shirley Temple – Shirley
Spicy
Strawberry Puff – Puffy
Tangerine
Chestnut Horse Names Inspired By Nature
Do you love nature? Here are some names inspired by nature for your chestnut horse:
Amaryllis
Anemone
Aster
Azalea
Begonia
Boysenberry
Camellia
Carnation
Celosia
Cinnamon
Cosmo
Dahlia
Hibiscus
Marigold
Pansy
Peony
Petunia
Poppy
Red Lobster
Rose
Sea Horse
Sweet Pea
Strawberry
Sumac
Tomato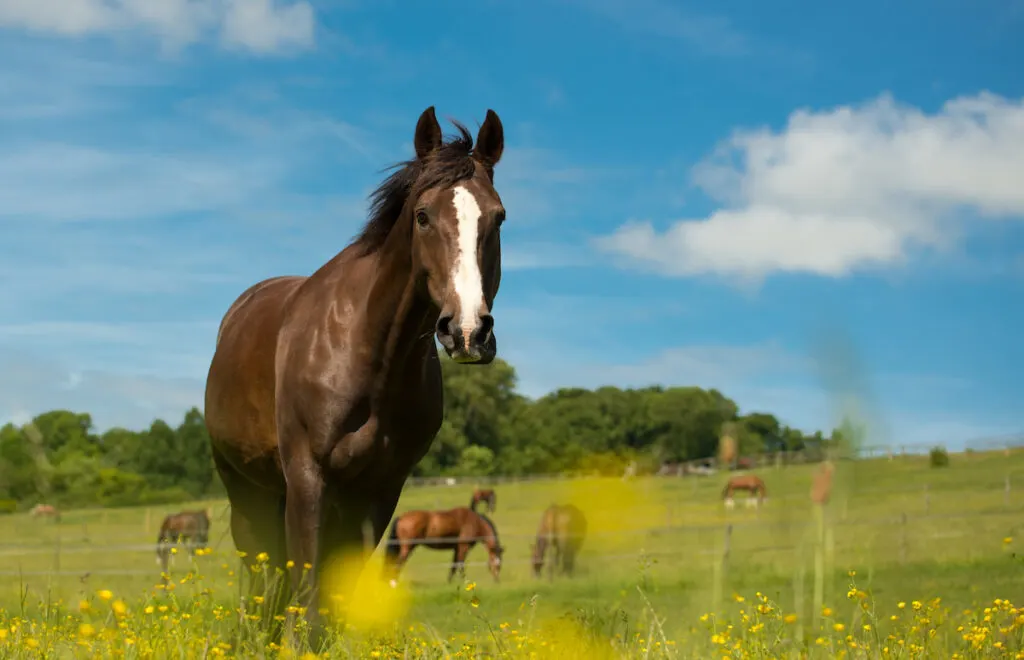 Liver Chestnut Horse Names
Liver chestnut horses are kind of their own subset. Their deep, dark, almost maroon color definitely sets them apart from the bright red copper chestnuts that are so common.
Here is a list of names that are perfect for a liver chestnut horse:
Maroon
Cinnamon
Currant
Curry
Crimson
Mahogany
Sangria
Merlot
Burgundy
Saffron
Sumac
Brown Horse Names
Closely related to the rich, reddish hues of chestnut, brown horses carry a spectrum of earthy tones, from light tan to deep, dark chocolate. Here's a curated list of 10 names that are perfect for brown horses, reflecting their earth-toned elegance:
Sienna
Umber
Bruno
Hazel
Walnut

Cocoa
Espresso
Bear
Bourbon
Mahogany
Whether your horse is a light sandy brown or a deep, velvety brown, these names offer a connection to their beautiful and solid coloring.
Appaloosa Horse Names
With their distinctive spotted coats and diverse heritage, Appaloosa horses carry a sense of the wild and picturesque American spirit. They aren't always chestnut, but the chestnut brown color can show up in their coats a lot, lending itself to a lot of fun name options. Here's a list of 10 names that can resonate with Appaloosa horse's vibrant patterns:
Patches
Picasso – (For the horse with a coat like a masterpiece.)
Marbles – (Perfect for a horse with a playful pattern.)
Kaleidoscope
Mosaic

Freckles – (A cute name for a horse with smaller spots.)
Splatter
Galaxy
Domino
Pollock
Getting Names from Other Languages
"Chestnut" is similar to red and other related colors. You can name your chestnut horse with a word from where it (i.e. the breed) originated from. The names below mean red, chestnut, brown, or other related colors from various languages:
Aka (Japanese)
Castana (Spanish)
Dearg (Irish)
Hong (Chinese)
Kastanie (German)
Kurumi (Japanese)
Maroon (Spanish)
Redeca (Solvenian)
Roja (Spanish)
Rosso (Italian)
Rot (German)
Rouge (French)
Unique Chestnut Horse Names
Here are some unique horse names that work great for chestnut horses. And if you're desperate for more, be sure to watch the video above which offers even more interesting options!
Alev: A Turkish word meaning "flame". This name is best for brightly colored female horses
Basia: In Czechoslovakian, Basia means "fire".
Brigit: Brigit is a Celtic goddess of poetry and fire. It is best for dramatic chestnut horses
Calida: This name is Latin for "fiery". It suits horses with a fiery temperament.
Coral: Aquatic invertebrates that come in various colors especially reddish brown just like chestnut horses.
Ember: The hot fiery coals (or fuel) that keep a flame burning. While they keep you warm, they can hurt you if you get too close. This name is suitable for horses with warm temperaments that can sometimes act out.
Etain: Meaning "jealousy" in Ireland, Etain is suitable for male horses with bright colors that attract people intensely.
Eldur: This word from Iceland means fire. It is suitable for male horses.
Fiamette: This name is Latin for "fiery one". It is suitable for pretty bright-colored female chestnut horses.
Golner: A Persian name that means the bright center of a flame. Golner is suitable for a chestnut stallion, or chestnut thoroughbred stallion.
Hestia: In Greek methodology, Hestia means hearth or fireside. Hestia was the goddess of hearth and home. This name is suitable for calm-tempered horses.
Kalama: This name for females originates from Hawaii and means "a flaming torch". It is suitable for horses with bright colors or personalities.
Keegan: This Irish name means "descendant of the fiery one". It is suitable for both males and females but mostly used by males. This name is best for horses born in sunset.
Niran: Niran is an Arabian word for "flames". This name is best for chestnut breeds that originate from Arabia.
Rowan: These tress have chestnut or fiery flowers. It is suitable for both genders
Pele: Pele is the goddess of volcanoes and fire in Hawaii. She is usually calm, but can be quite of a temper sometimes. This name is best for chestnut horses with bright markings.
Phoenix: This bird is mythological. It burns itself in a very bright flame and then, it is reborn from its own ashes. "Phoenix" is a great name for every chestnut horse.
Pyralis: Meaning "of fire" in Greek, this name is suitable for horses with sound and calm temperaments.
Vanhi: Vanhi means "fire" in Hindu. It is suitable for both genders and reminds you of the fiery coat of your horse.
Vulcan: He was the Roman god of fire. This name is suitable for large and strong chestnut stallions.
Frequently Asked Questions (FAQ)
Q: What makes a horse chestnut-colored?
A horse is classified as chestnut when it has a reddish-brown coat, which is a result of its genetics. The chestnut color can range from a light, golden shade to a dark liver hue.
Q: Can chestnut horses have a mane and tail of a different color?
Yes, while many chestnut horses have a mane and tail that are the same color as their body, some can have flaxen (lighter) manes and tails.
Q: Are chestnut and sorrel the same color?
The terms are often used interchangeably, but some horse communities consider sorrel to be a lighter, more reddish color, while chestnut is a deeper brown. The distinction can vary by region and breed.