*This post may have affiliate links, which means I may receive commissions if you choose to purchase through links I provide (at no extra cost to you). As an Amazon Associate I earn from qualifying purchases. Please read my disclaimer for additional details.
What is the best fly mask for horses? The best fly mask for a horse is one that fits well and eliminates the ability for the flies to enter the eyes and ears of the horse. Some fly masks also have UV protection to prevent sunburn and sun related damage.
There are so many different options on the market it can be hard to decide which is the best one. Do you choose a fly mask with ears? Which design or style is best? What about UV rating, is that something you need to worry about? We've broken down some of the top fly mask options for you here.
Top Choice
Sale
Shires Fine Mesh Fly Mask with Nose Fringe
The innovative fringe whisks flies away from the muzzle!Keep even the smallest insects away with the Shires Fine Mesh Face Mask with Fringe. This full face mesh fly veil features air stream fabric on the ears and fleece padding on the seams. The addition of the fly fringe that moves with the horse helps deter flies from the muzzle area. Colors: Teal, BlackSizes: Small Pony, Pony, Cob, Full, Extra Full
The Shires fly mask seems to be the winner based on form, fit and function. It comes with different colors and options but the best one is the Mask with ears and fringe.
So what makes this fly mask so special? It has a couple of things going for it. The meshed viewing area is complete with conveniently placed darts that help to keep the mesh off of he horse's eye. The mesh itself provides 60+% UV Protection.
Pros:
Attractive yet functional design.
Elasticated at the poll for good fish
60+% UV Protection
Well fitted around the jowl
Available in a variety of options including with ears and nose fringe.
Runner Up
The Professional's Choice Comfort Fit Fly Mask is a runner up. This fly mask has taken a more newer approach to form and fit than the traditional fly mask. Professional's choice has chosen a smooth, stretchy lycra for the fly mask body. Eye cups and ears are covered by the same, fine mesh to allow vision and airflow but eliminate annoyance by flies.
If your horse is stabled with a friend who loves to pull on and chew on the straps of a normal fly mask, this may be a great solution for you. The smooth lycra is easy to get on and comes in a ton of great colors and patterns. We're all familiar with lycra attire on show horses so this fly mask should help keep your horse's face nice and clean and smooth too!
Pros:
Attractive and functional
Smooth, close fit
Many color options
Economically priced
No straps for other horses to play with
Honorable Mentions
Kensington Fly Mask
Sale
If you need more UV protection, you may want to consider the Kensington Fly Mask that offers 73% UV protection. YES, your horse can see through this beautiful pattern without issue. The standard ear hole at the top allows your horses forelock and ears to be outside of the mask. If you need even more protection, they offer a version with a removable nose too that is perfect for your horses with pink noses and sensitive skin.
Cashel Crusader Fly Mask
The Cashel Crusader Fly Mask is another great option for horses that need increased sun protection. This mask offers 70% UV protection and there is a version with the nose extension as well. The design of this mask is similar to our top pick above and I've used this one and like it quite a lot. However, they are so similarly priced that I have moved this one to honorable mention.
Keep in mind that, unlike the Kensington mask above, the nose on this fly mask is not removable. Like most other fly masks, this one comes without ears and without the nose extension as well depending on your needs.
How to Choose a Fly Mask for your Horse
When it comes to choosing a fly mask for your horse there are a few factors you should consider. These include:
Budget
Design and Function
Your horse's training level
Your climate
Color
Budget
As far as budget is concerned, I realize not everybody's horse accessory budget is the same. If you need to buy 20 fly masks, spending $35 a pop for the ultra fancy, pretty colored top of the line model horse fly mask might not be an option. On the other hand, if you have only one horse with a sensitive nose or fly allergy, it's a small price to pay for your horses comfort.
Design and Function
With ears? Without ears? Do you need a strapless model so your horse's play mates don't mess with it? Do you need a darted model so the mask doesn't touch your horse's eyes at all or is a soft mesh OK? Do you need ears? Is high UV protection most important to you?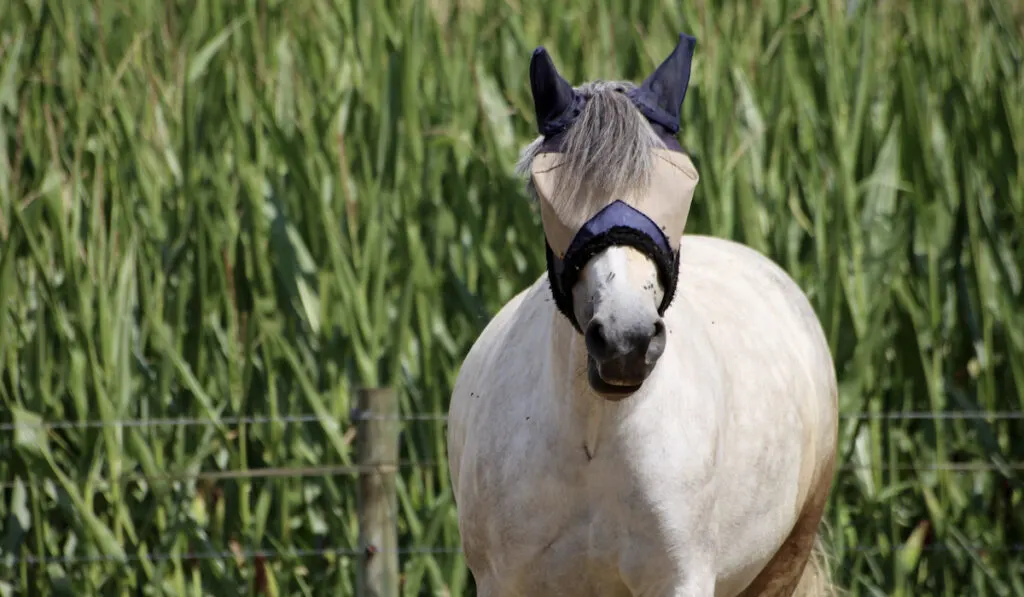 Training Level
The training level of your horse is important to consider. Since I have trained quite a lot of wild mustangs, I know how difficult it can be to ask an only partly trained wild horse to let you handle its ears enough to put on a fly mask with ears. Add a floppy nose piece or noisy velcro and you'll see how training can play a factor.
It isn't just mustangs that might have trouble, young horses or those who are spooky or ear shy could have issues as well. With time, most horses get used to whatever type you use as long as you use it consistently. But if getting it on and off the first 50 times is going to be a fight, it may be better to get a simple fly mask first and the fancy things up once your horse is used to wearing one.
Climate
If you live in a really hot, humid climate, a fly mask with airflow is going to be more important. In these climates you probably don't want the lycra type masks, for example. A stiffer mesh, in that case, will probably help air flow better.
Color
Color and patterns are an important factor of choosing the perfect fly mask but they should be way down on your list. Your horse's comfort and safety have to be paramount. When all other things are equal, I'm probably the biggest fan of colorful horse stuff! There are so many options and colors to choose from when it comes to fly masks. Decide on function first but then live it up with some bold colors or patterns.
These are all great questions that you should take into consideration when purchasing a new fly mask for your equine companion. There are lots of options on the market, it is up to you to choose the one that best suits your horses and your stable. If you want to mix it up, the world is your oyster, go for it!
Related Posts