Buckskin horses are beautiful to look at. My favorite is a nice, light buttermilk buckskin color with a creamy coat and dark black stockings. Buckskins, though, come in a wide variety of colors from very light, almost white to very dark, almost chocolate brown. If you are looking for a name for your buckskin horse, you have come to the right place!
Let's get started with some ideas!
Top Buckskin Horse Names
Cisco
Buck
Dusty
Moose
Mocha
Teddy
Sandy
Sierra
Bear
Bailey
Common Buckskin Names
These names are commonly given to buckskin horses. Some are super obvious, some not so much, but it is a good, general list to get us started!
In this section there are three different lists, names for girl horses, names for boy horses, and names that work for both!
Names for Buckskin Mares
I'll always be a mare lover first and foremost. Sure, a gelding has his place but there is something about a mare that just clicks right away with me. Maybe it's the girl power? I don't know. In any case, these names are great for female buckskin horses.
Amber
Autumn
Bambi
Buttercup
Buttermilk
Canela
Canyon
Dusty
Fawn
Hazel
Latte
Manila
Maple
Mocha
Mouse
Sahara
Sandy
Sienna
Tawny
Names for Buckskin Geldings and Stallions
Your handsome horse deserves the perfect name to fit him. Luckily, if your boy is a buckskin, there are many horse names that are perfectly suited for his specific color.
These are some names that are great for buckskin horses. Some are very common (like Cisco) and others not so much (like Beaver). Which one sounds best for your stallion or gelding?
Beach Boy
Bear
Beaver
Braun (brown in German)
Buck
Buckie
Buckingham
Buckington
Buckly
Buckeye
Buckshot
Buckwheat
Carhart
Cedar
Chewbacca
Chewy
Cisco
Dusty
Justin
Moose
Russet
Rusty
Scooby
Starbuck
Tanner
Teddy
Teddy Bear
Tumbleweed
Umber
Woody
Names for Male or Female Buckskin Horses
Some names don't necessarily belong to a girl horse vs a boy horse. These are a handful of gender neutral names. Keep in mind, many of the names in other sections of this post could apply to female or male horses. This is just a list of unisex names that didn't really fit in any other category.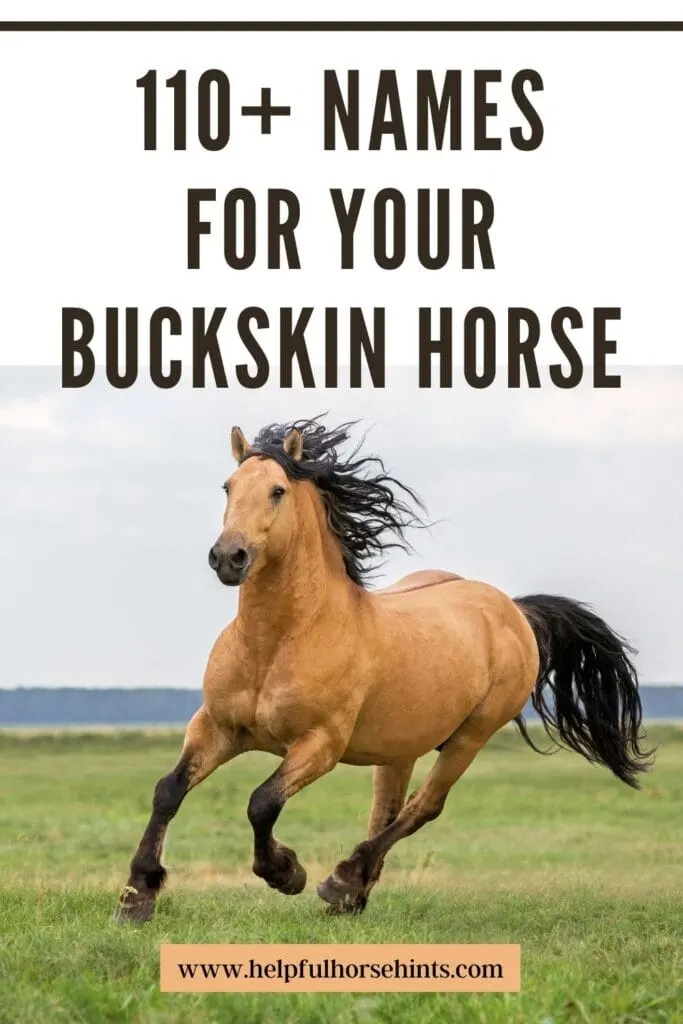 Butterball
Hickory
Khaki
Sandstorm
Shady
Teak (like the wood)
Buckskin Horse Names Inspired By Chocolate & Other Sweet Treats
Who doesn't love something sweet! If your buckskin horse is as sweat as a caramel apple, why not name him after one! Buckskin horses range in shade from a light, milky tan color much like milk chocolate, to a dark brown, rich chocolate color. This makes naming your horse after sweets kind of a great idea!
Almond Joy
Brownie
Butterscotch
Caramel
Chip (Chocolate Chip)
Cocoa
Fudge
Godiva
Heath
Hershey
Molasses
Nestle
Nutella
Rolo
Snickers
Buckskin Horse Names Inspired By Food and Drinks
There are so many tan, brown and cream colored foods and drinks available today. If your buckskin horse reminds you of some of your favorite foods or beverages, consider using one as a name.
Almond
Amaretto
Bailey
Biscuit
Brandy
Butters
Cappuccino
Cashew
Chai
Champagne
Chestnut
Cider
Cobbler
Coffee
Cognac
Cola
Cookie
Corona
Cornbread
Cracker Jack
Cream
Cream Puff
Graham
Guiness
Hazel
Hazelnut
Honey
Jiffy (Peanut Butter)
Martini
Nutmeg
Peanut
Pepsi
Popcorn
Saffron
Skippy (Peanut Butter)
Show Name Ideas for Buckskin Horses
There is nothing that says your horse needs to have a show name that matches his barn name, likewise, it doesn't have to match his color either. That being said, there are some fun things you can do to incorporate a horse's barn name into their show name.
Once you have the perfect barn name picked out, think about how that word might be used in a sentence. You can also think about what it sounds like or other words it rhymes with. Combine some of these elements and you have the start of a great show name!
Here are some show name ideas for buckskin horses to get you started.
Better with Butter
Biscuit Eater
Brandy Shine
Buck Naked
Buck Up
Buckingham
Buck's Last Dream
Buckskin Lady
Buckwiser
Buttercup Express
Caramel Cookie
Caramel Delight
Colonel Mustard
Cookies for Everyone
I'll Have Another (Great for any horse with a barn name of something you eat or drink)
Mrs. Buttersworth
Ten Proof (for a horse with an alcohol related barn name)
Tequila Talk
Names of Famous Buckskin Horses
Spirit – Famous cartoon mustang from the movie Spirit: Stallion of the Cimarron and the show Spirit, Riding Free
Casey's Ladylove – Hall of Fame Quarter Horse Mare
Expensive Hobby – Hall of Fame Quarter Horse Gelding
Harlan – Hall of Fame Quarter Horse Stallion
Hollywood Dun It – Hall of Fame Quarter Horse Stallion (Dunskin Stallion)
Buttermilk – Dale Evans Famous Quarter Horse
Buttercup – Alternate name sometimes used for Dale Evans' horse
Buck – Jack Mahoney's horse in The Range Rider
Apache – Bill Williams horse in Adventures of Kit Carson
Cisco – from Dances with Wolves
Denny – from The Man From Snowy River
Bandit – from Caitlin's Way
I hope this list of names for buckskin horses has been enough to get you started on your way to finding the perfect name for your horse. It isn't always easy coming up with names but, having a list helps!
Remember, I have lots of other posts specifically with horse names. If you didn't find the perfect name here, check out any of the name posts on this page. They include western horse names, show horse names, etc.