*This post may have affiliate links, which means I may receive commissions if you choose to purchase through links I provide (at no extra cost to you). As an Amazon Associate I earn from qualifying purchases. Please read my disclaimer for additional details.
The Dutch Warmblood is a popular equine athlete that serves in a variety of different equestrian sports.
They are strong, fast, and good-natured – the perfect combination for excelling at the highest levels of competition.
Here are 9 interesting Dutch Warmblood facts that you may not know about this special breed.
1. They hail from the Netherlands.
In their native homeland of the Netherlands, the Dutch Warmblood is referred to as Koninklijk Warmbloed Paardenstamboek Nederland or "Royal Dutch Sport Horse".
This is why the abbreviation for the breed's studbook is KWPN. There were originally two breeds popular in this region, the light riding and cart-pulling Gelderlander and the heavier Groningen.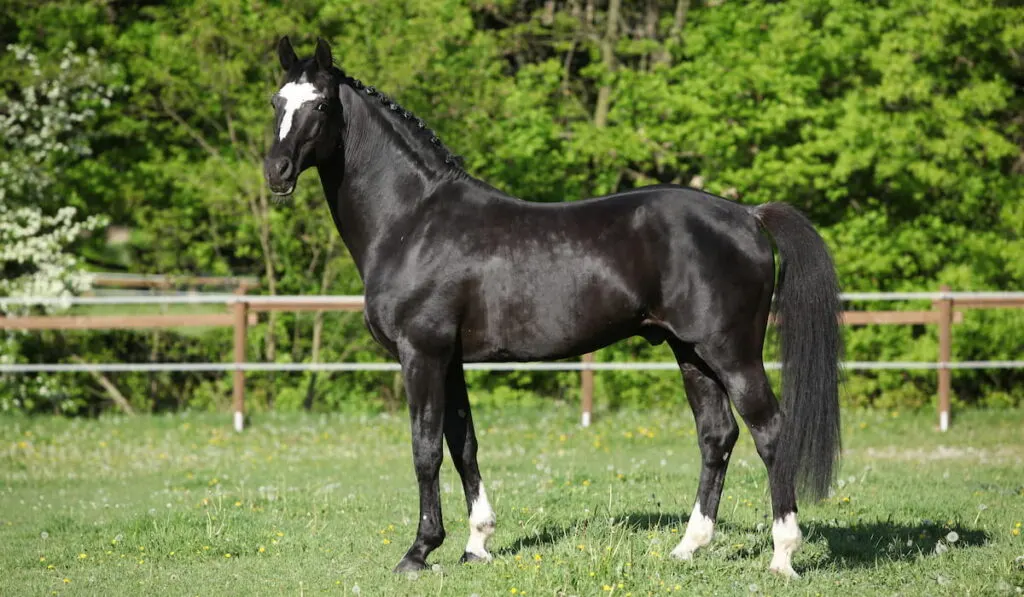 Up until the 1900s, these horses were used for farm work, transportation, and everyday agricultural activities.
As industrialization and machine-farming took over the landscape, utility horses became obsolete, and they became more of a luxury instead.
To save their businesses, Dutch Warmblood breeders began adding athletic imported breeds to their horses' pedigrees, focusing on sport and recreation instead of utility.
Combining Warmblood breeds from Germany (such as the Hanoverian and Holsteiner), slender English Thoroughbreds, and exceptional trotting horses like the Cleveland Bay and Hackney produced a versatile, strong, and good-natured sport horse that excels in equestrian competition to this day.
2. They're fierce competitors.
Dutch Warmbloods dominate equestrian competitions. They were bred for flying around jump courses with speed and accuracy, hauling wagons or carts in competitive combined driving, or performing complicated tests of training and skill in dressage.
Dutch Warmbloods are one of the most versatile and athletic breeds of sport horse, and they consistently perform at the highest levels of competition.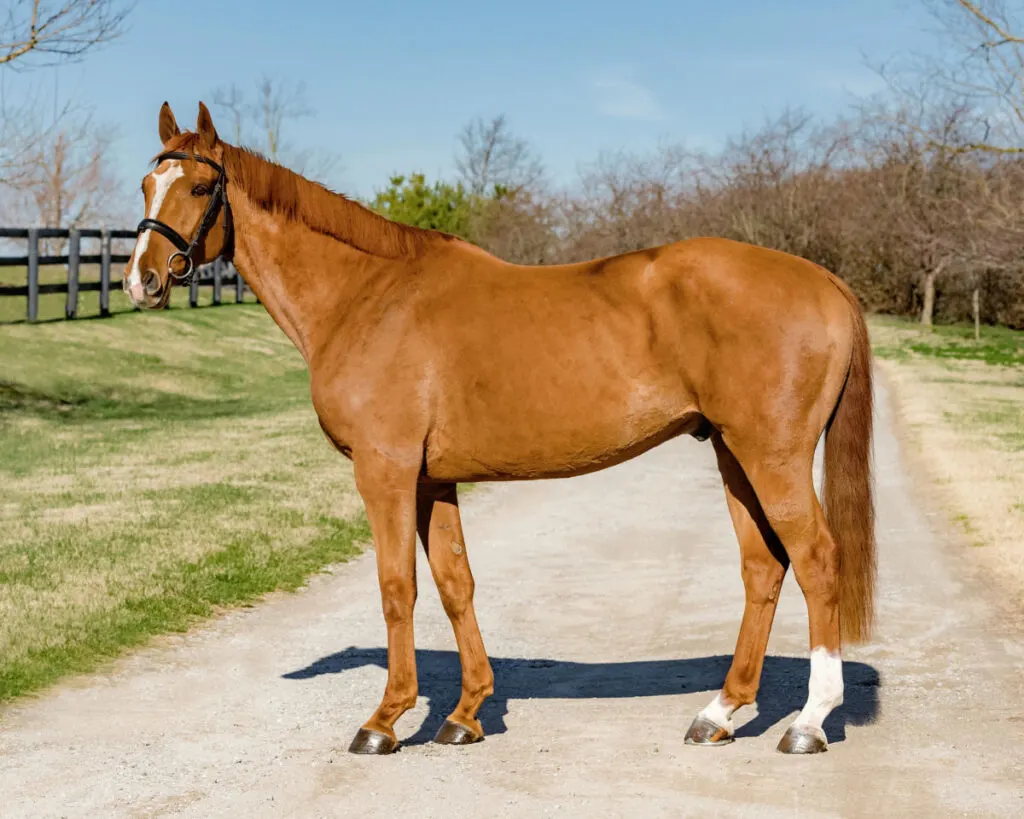 Every year, the World Breeding Federation for Sport Horses publishes the official rankings of competitive show horses specifically in the events of dressage, show jumping, and eventing.
The rankings are achieved by adding points that horses and riders earn throughout the show season, and then the top scores are tallied to produce a final result.
You'll often see Dutch Warmbloods competing at the highest levels of FEI events as well as in the Olympics.
For the past five years, the KWPN studbook has taken a top spot in the rankings for all three events especially dominating the field of dressage:
| | | | |
| --- | --- | --- | --- |
| Year | Dressage | Jumping | Eventing |
| 2020 | 1st | 1st | 1st |
| 2019 | 1st | 1st | 3rd |
| 2018 | 1st | 1st | 1st |
| 2017 | 1st | 2nd | 4th |
| 2016 | 2nd | 4th | 6th |
3. There are three different types of Dutch Warmbloods.
For top competitors, choosing the right partner for your particular sport is important. There are three separate categories for registering KWPN horses:
Riding Horse: 85-90% of KWPN horses are registered as riding horses, which means they were bred specifically to excel at jumping (either show jumping or hunters) and dressage.
Harness Horse: This wagon-pulling version of a Dutch Warmblood is often more upheaded, has flashier knee action, and may have a flatter croup than his jumping counterparts. They may also be referred to as Dutch Harness Horses.
Gelders Horse: Less commonly found in the US, these horses are well-rounded family horses, generally suitable for all types of competition.
4. They really are warm blooded.
While all horses are mammals (and are therefore warmblooded by nature), horses that are considered warmbloods in the equine world are often the result of crossbreeding hot-blooded horses (like Arabians and Thoroughbreds) with cold-blooded draft horses (like Percherons or Belgians).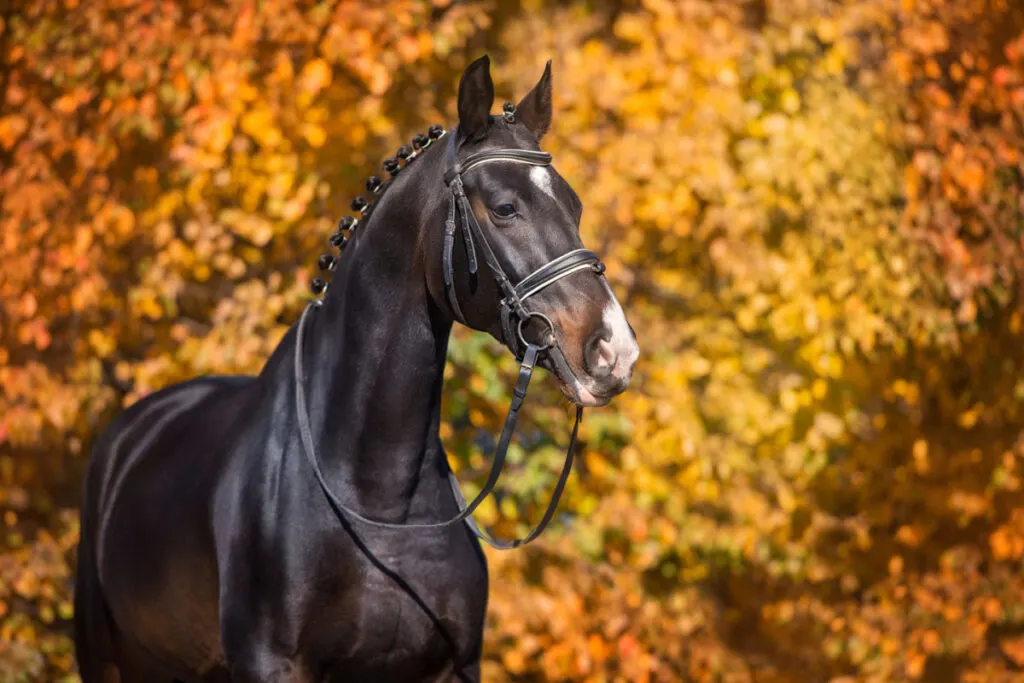 Warmbloods have the athleticism and spirit of their hot-blooded cousins but are tempered by the good nature and hard work ethic of their draft horse ancestors.
The result is a highly athletic and bold sport horse with a calm attitude that is favored by both amateurs and professional riders.
5. They come from a long line of crossbreeds.
Because KWPN breeders are focused on what a horse can do rather than who its parents are, you'll often see some wild family trees.
Scrupulous breeders desire to produce horses with a good work ethic, a friendliness toward people, and a talent for competition.
This can often mean crossing registered KWPN horses with Selle Francais, Hanoverian, Holsteiner, Thoroughbred, Oldenburg, or other Sport Horse breeds.
They get the best traits from both parents, and the horse is specifically bred to excel in one particular area (although they may be talented in other areas as well).
6. They must pass inspection to be bred.
To ensure that KWPN foals are of the highest quality, inspections are held every year for admittance into the studbook.
This annual Keuring inspection includes performance classes and tests, and young horses may also compete for cash prizes.
It's also an opportunity for KWPN enthusiasts to get together and show off their favorite horses.
7. They're famous!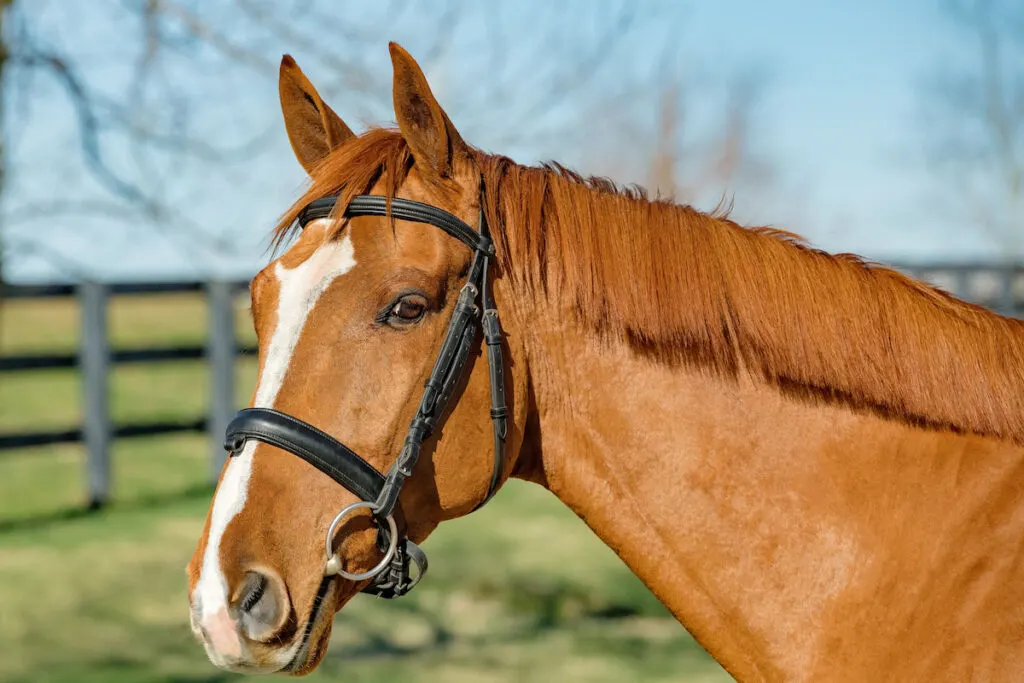 Because they're highly trainable and good-natured (and not to mention – pretty good looking, too), there are several notable Dutch Warmbloods that you may have seen on TV or in the movie theater.
Totilas. This expensive black beauty won 3 gold medals at the World Equestrian Games in 2010 and became the first horse to achieve a 90% score on a Grand Prix test with his Dutch rider, Edward Gal. He allegedly sold for the record-breaking price of 15 million Euros in 2010.
Uraeus. You may have seen Viggo Mortensen (an avid real-life equestrian and owner of several horses) riding this handsome bay gelding as Aragorn aboard Brego in the Lord of the Rings trilogy.
Hickstead. This Belgian-born bay stallion received the title "Best Horse in the World" after completing four clear rounds during the Rolex Top Four Final in 2010 – with four different riders. He also took home gold and silver medals at the Beijing Olympics in 2008.
8. They're not cheap.
Like most successful competition horses, you pay a premium for talent and performance – not to mention all of the extra training. Even a young untrained weanling with a good pedigree can cost over $5,000, and it can be years before they're show ready.
If you want something with a proven competition record and show success under its belt, be prepared to sign a check for $50,000 and up.
But every now and then, you may find an unregistered crossbreed with KWPN bloodlines that's perfect for schooling, low-level shows, or general pleasure riding. Dutch Warmbloods can technically make good family horses, but they're generally better suited for the show ring.
9. They're actually quite friendly.
While these horses are bred to be bold over fences and fierce in competition, they generally love people and enjoy their jobs. They're not a breed for everyone as they can be a bit too excited – but that's also part of their charm!
Source:
http://www.wbfsh.org/GB/Rankings/How%20are%20they%20calculated(x23x).aspx