*This post may have affiliate links, which means I may receive commissions if you choose to purchase through links I provide (at no extra cost to you). As an Amazon Associate I earn from qualifying purchases. Please read my disclaimer for additional details.
Showjumping is a classic equestrian sport that tests a horse and rider's strength, agility, and speed as they leap over a series of obstacles.
Riders compete professionally for large cash prizes, and Olympians take home medals as individuals or as members of their national team.
Some of the most famous showjumping horses came from humble beginnings but achieved impressive careers in the competition arena.
Here are nine of the most well-know horses in the showjumping world.
1. Milton
A crowd favorite, this exceptional gray gelding was a talented jumper that became the first non-racehorse to earn over a million dollars in prize money.
After pairing up with internationally acclaimed rider John Whitaker, together they brought home silver and gold medals at the 1987 and 1989 European Championships and continued on to win numerous FEI titles. (source)
2. Stroller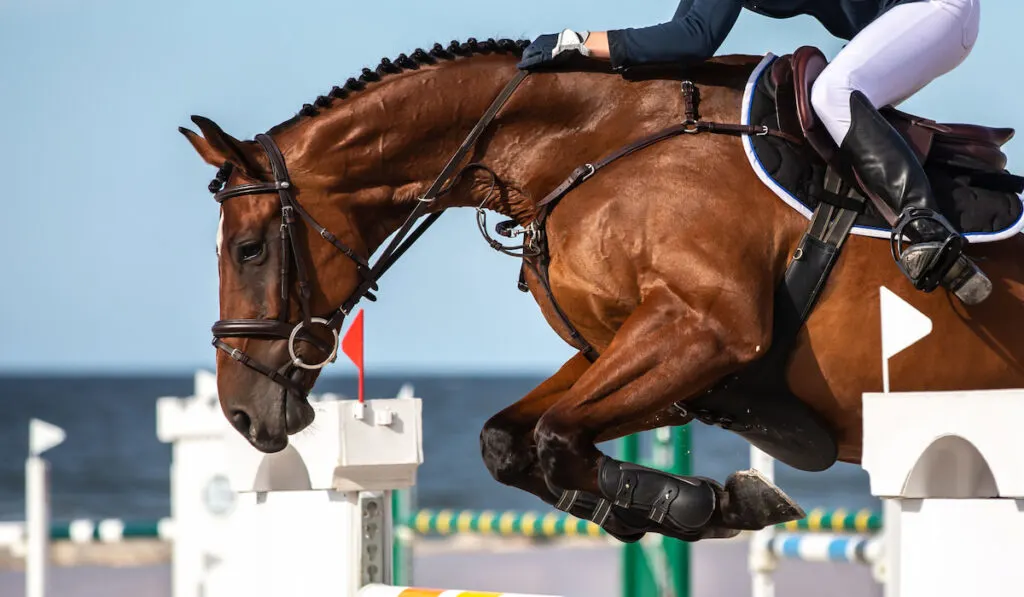 In 1968, Stroller became the only pony to win a gold medal at the Olympics.
Standing only 14.1 hands tall, the little bay gelding had no trouble out-jumping his taller counterparts at the ripe old age of 18.
He also became the only pony to win the Hickstead Derby with his rider, Marion Coakes.
This Thoroughbred and Connemara pony cross became a world-renowned sensation that we still remember today for his short stature and exceptional jumping ability. (source)
3. Gem Twist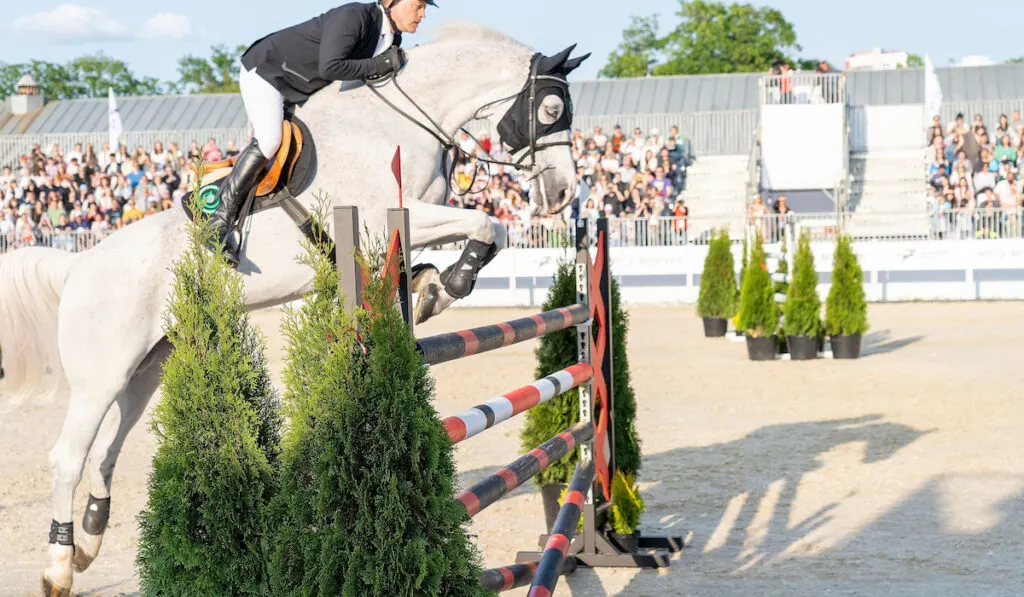 An international Grand Prix superstar, Gem Twist (registered name Icey Twist) won the title of American Grand Prix Association Horse of the Year three separate times.
With an impressive jumping career that spanned over ten years, Gem Twist picked up titles and fame wherever he competed, which included two silver medals in the Seoul Olympic Games in 1988.
After his death, his cloned DNA resulted in two foals—Gemini and Murka's Gem. He is widely regarded as arguably the "greatest showjumper in the history of the sport." (source)
4. Snowman
Equestrian Harry de Leyer purchased an unremarkable farm horse off a slaughter-bound truck for a paltry $80 and began using him to teach riding lessons to his children.
Less than two years later, the mixed-breed flea-bitten gray had become an international showjumping sensation, known for his gentle disposition and exceptional jumping ability.
Colloquially known as "the Cinderella horse", several books and films have been made about Snowman and his incredible story. (source)
5. Huaso (ex-Faithfull)
Chilean Thoroughbred Huaso broke the equestrian high-jump world record in 1946 by clearing an obstacle measuring 8 feet 1 inches tall.
Huaso was known for being too "nervy" and "unsettled" to be a successful competition horse, but Captain Alberto Larraguibel Morales saw his potential for Puissance.
His impressive 70-year-old record has never been broken and remains one of the longest sports records in history.
The current world Puissance height record (other than Huaso's) is 7 ft 10.5 inches, set by Franke Sloothaak on Optiebeurs Golo in 1991. (source)
6. Loro Piana TomBoy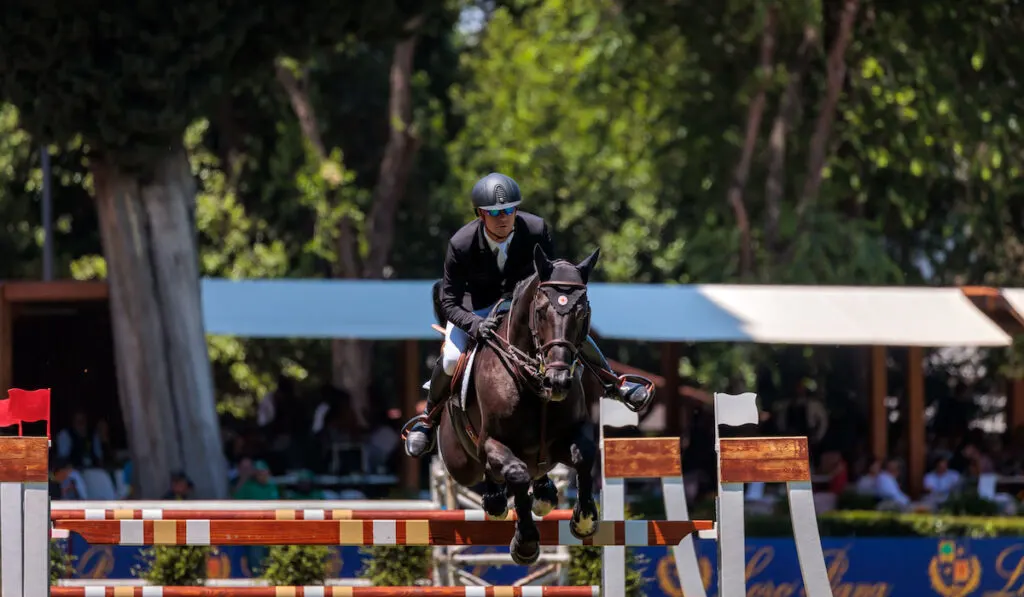 Rodrigo Pessoa rode Loro Piana Tomboy to Olympic bronze in 1996, securing the first equestrian gold medal for Brazil.
The Irish Sporthorse had an unusual jumping style—after an injury as a youngster, Tomboy couldn't tuck his front legs beneath him properly to clear large jumps.
Instead, he had to overjump obstacles so his dangling hooves wouldn't knock the rails.
His powerful jump and unique style made quite a stir at the Olympic games, and secured Brazil an unprecedented team jumping medal.
7. Hickstead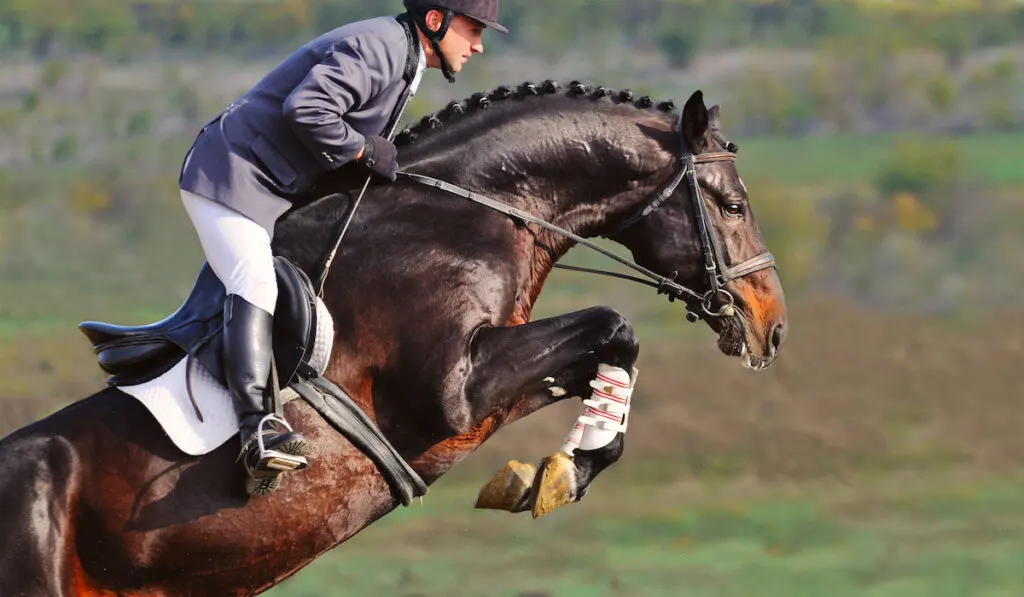 Hickstead was a bay Dutch Warmblood that took home both gold and silver medals at the 2008 Beijing Olympics.
He won many international titles over the course of his showjumping career, including "Best Horse in the World" after clearing four jumping rounds with four different riders at the World Equestrian Games.
At a competition in 2011, he suffered an aortic rupture after completing a round and unfortunately passed away as a result.
His longtime rider, Eric Lamaze, still speaks fondly of Hickstead and describes him as a "horse of a lifetime" and "the best horse in the world." (source)
8. Snowbound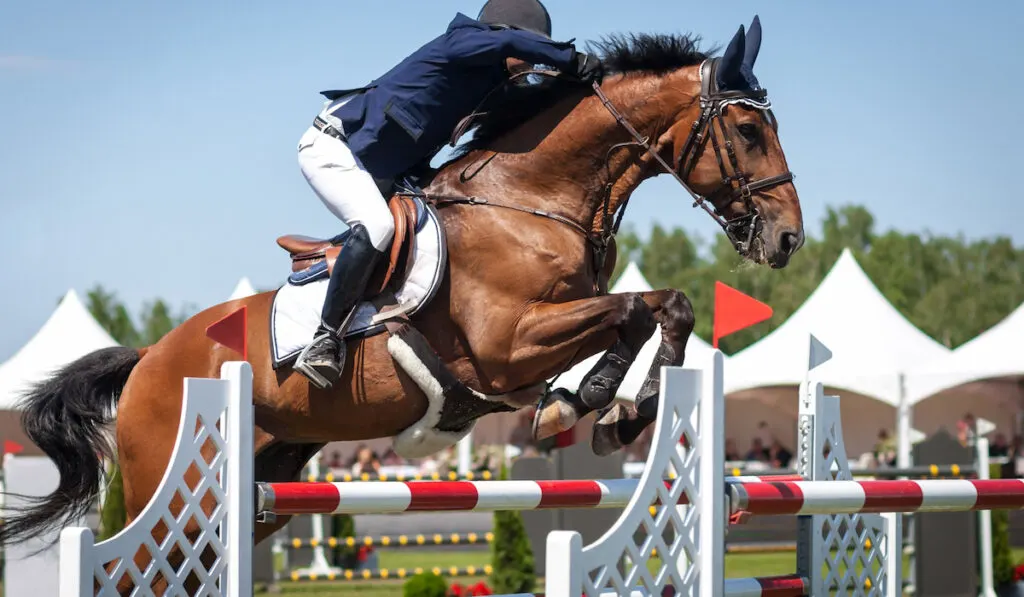 Stroller wasn't the only star of the 1968 Mexico Olympics. Snowbound, a bay Thoroughbred, took home the individual gold medal for the US with his rider William Streinkraus.
Despite his early trainers believing he "might as well be snowbound as to think he'd make a show horse," Snowbound beat the odds and showed off his true talent at the Olympic games.
Streinkraus and Snowbound became the first equestrian team to win an individual gold medal for the United States.
Recurring tendon injuries from his days as a racehorse eventually became too problematic for his show jumping career, and he retired at 14 years old.
9. Jappeloup de Luz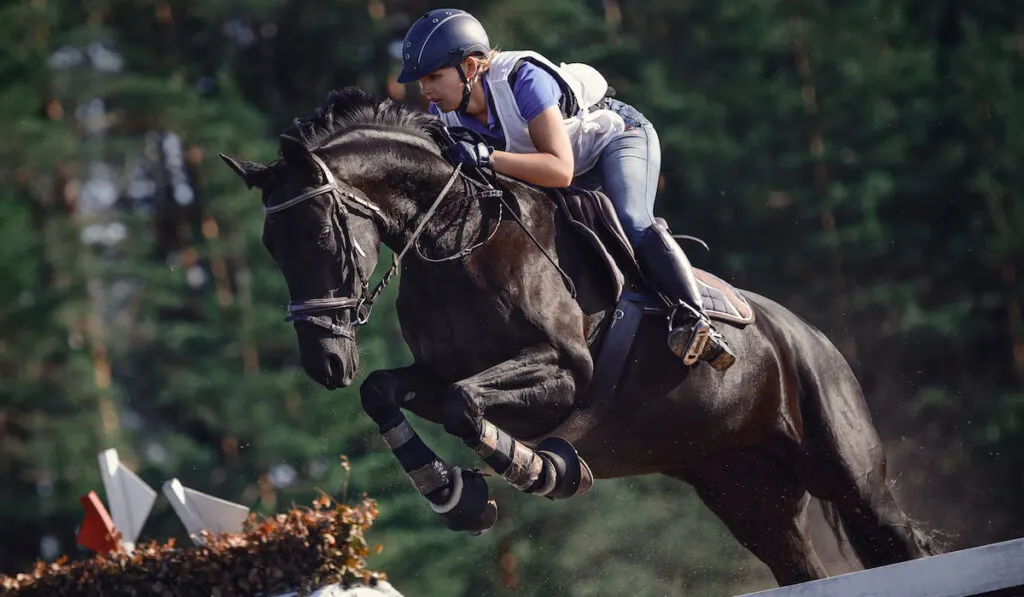 A little bay French Trotter/Thoroughbred cross, Jappeloup stood only 15.2 hands high and possessed a feisty spirit.
He defeated the famed Gem Twist in the 1988 Olympics to receive the gold medal for France in individual jumping.
A semi-biographical film, Jappeloup, depicted his tumultuous relationship with rider Pierre Durand.
It chronicled the trials and tribulations of riding the little impetuous horse to Olympic victory. (source)
Source:
https://www.bolesworthinternational.com/news-media/news/166-10-things-you-didn-t-know-about-the-puissance#:~:text=The%20world%20puissance%20record%20is,in%201991%20riding%20Optiebeurs%20Golo.