*This post may have affiliate links, which means I may receive commissions if you choose to purchase through links I provide (at no extra cost to you). As an Amazon Associate I earn from qualifying purchases. Please read my disclaimer for additional details.
Black horses have something alluring and unique about them. Their color makes them stand out and adds a certain appeal that's not there with brown or bay-colored horses.
Most people confuse chestnut or dark bay with being black. However, for a horse to be truly black, its coat and skin should be black.
Our guide explores seven of the largest black horse breeds. Read on to learn more about their characteristics, temperament, and body size.
7 Large Black Horse Breeds
Seven of the largest black horse breeds are:
1. Percheron Draft Horse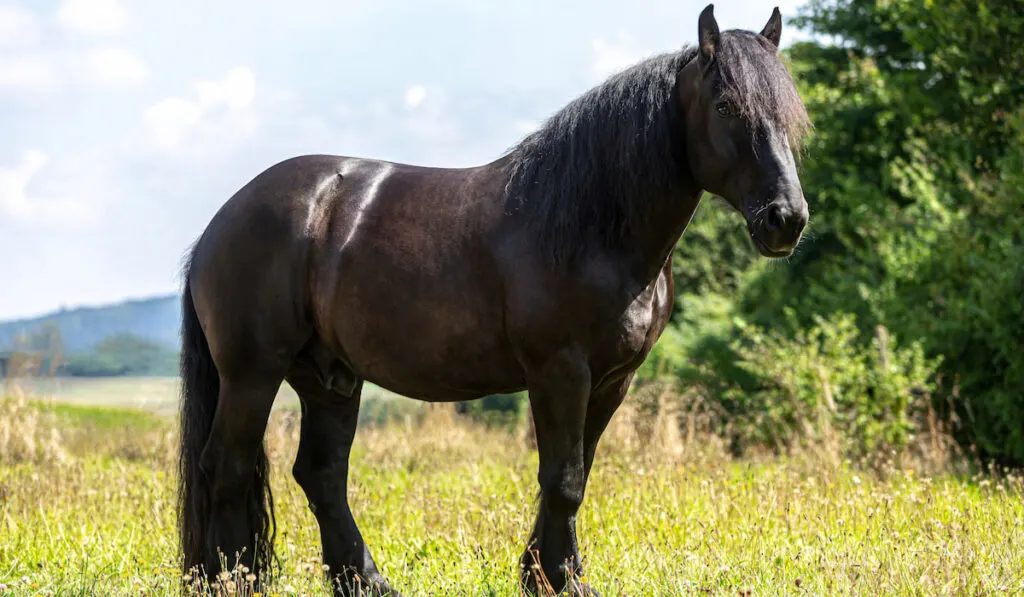 The Percheron draft horse is known for its intelligence, alertness, and hardworking nature. These horses are initially from France, where people believe it to be a cross between Flemish draft breeds and Moors.
They were introduced to the U.S. in the mid-1800s and used as farm horses.
Characteristics of Percheron Horses
Percherons are about 16-17 hands high and weigh, on average, 2,100 pounds. Their body is well-muscled, and they have a long neck and a slightly smaller head than other horse breeds.
Although there are gray Percheron horses, most have a black color. Percherons have muscular legs and thick manes.
These horses have a calm demeanor and are eager to please.
Regular grooming is necessary to remove debris, dirt, loose hair, and tangles. Clean the hair around the legs to prevent bacteria that might cause skin infections and inflammation.
Percherons are used as show horses. They can also be used for trail riding or pulling wagons.
2. Friesian Horse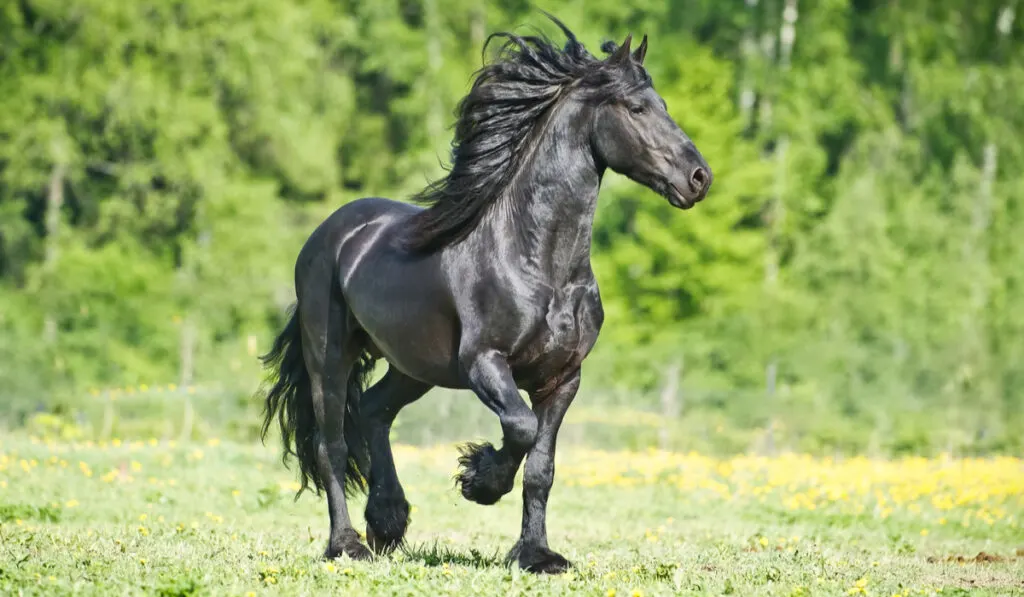 The Friesian horse is another pure black horse breed known for its majestic stature and massive size. It's thought that these horses date back to 1,000 B.C. and come from a small island off the coast of the Netherlands called Friesland.
These horses were used for agriculture and as war horses and riding horses. Friesian horses also make excellent dressage horses.
Characteristics of Friesian Horses
Friesian horses are black. However, the black can change to a black bay shade when shedding in the spring. Or it can be a bay black and turn into a true black.
These horses have thick tails and manes that can be wavy and long. They have feathers on their lower legs you can leave untrimmed.
The muscular and compact body gives the Friesian horse a majestic posture. Another distinct characteristic is their elongated heads.
When it comes to their demeanor, Friesian horses are calm and quiet.
Friesians are strong and cheerful when around people. They are easy to work with, and some people find them eager to please.
Grooming is essential for any Friesian horse.
Cutting its tail is recommended to keep it thick. Apart from brushing, you should keep the feathers on the lower legs tidy. Trim hanging feathers to keep their legs healthy.
Today, people ride Friesians in games and competitions. They sometimes star in historical movies due to their majestic appearance and color.
3. Murgese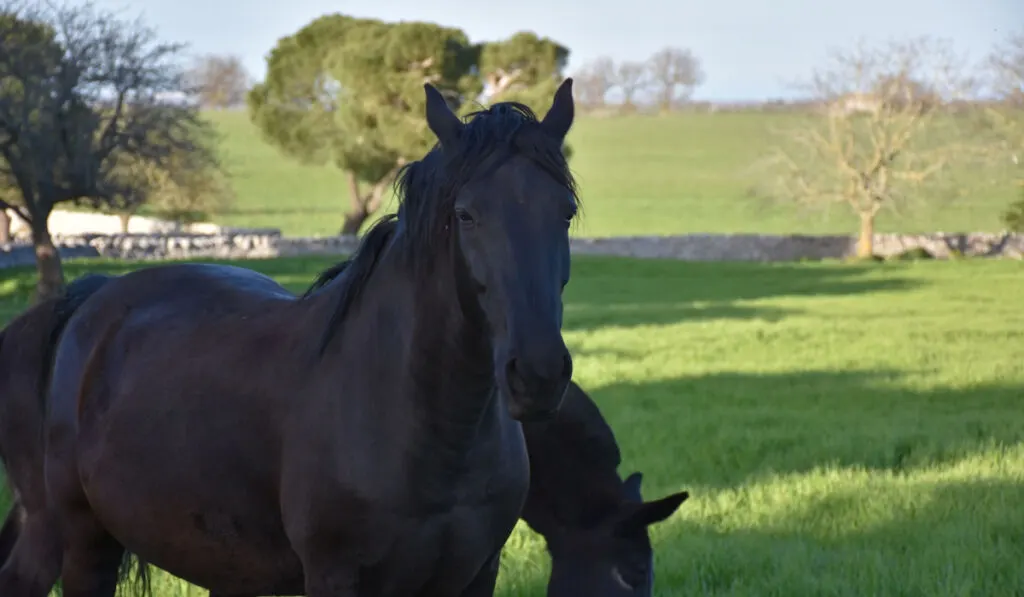 Originally from Italy, Murgese horses are a cross between the Arabian and Barb horses. They were used during the Spanish era for draft work and cross-country riding.
The Murgese breed is hardy, thanks to being kept in grazing lands and hilly woodlands. Their natural hardiness is the reason they are a popluar choice for equestrian sports.
Characteristics of Murgese Horses
Murgese horses stand between 14-15 hands high and weigh about 750-890 pounds. Their head can have a slightly convex shape or be straight.
They can also have a prominent jaw and a neck that's broad at the base. These horses have sloping shoulders and well-built chests.
Like Friesian horses, Murgese horses have muscular, strong legs with large joints.
Having come from grazing lands, these horses are hardy and resistant to most common equine diseases.
Murgese horses can do challenging tasks thanks to their high energy levels. They are also forgiving.
The breed excels on a high-forage diet. If they need extra calories, you can give them beet pulp and soy hulls. Murgese horses also need a lot of fresh water.
These horses are versatile, used for light farm and draft work. Novice riders will also find this breed easy to ride.
You can find Murgese horses in cross-country riding and trekking. They are also crossed with other breeds to improve their riding abilities.
On average, Murgese horses live for 25-30 years.
4. Dales Pony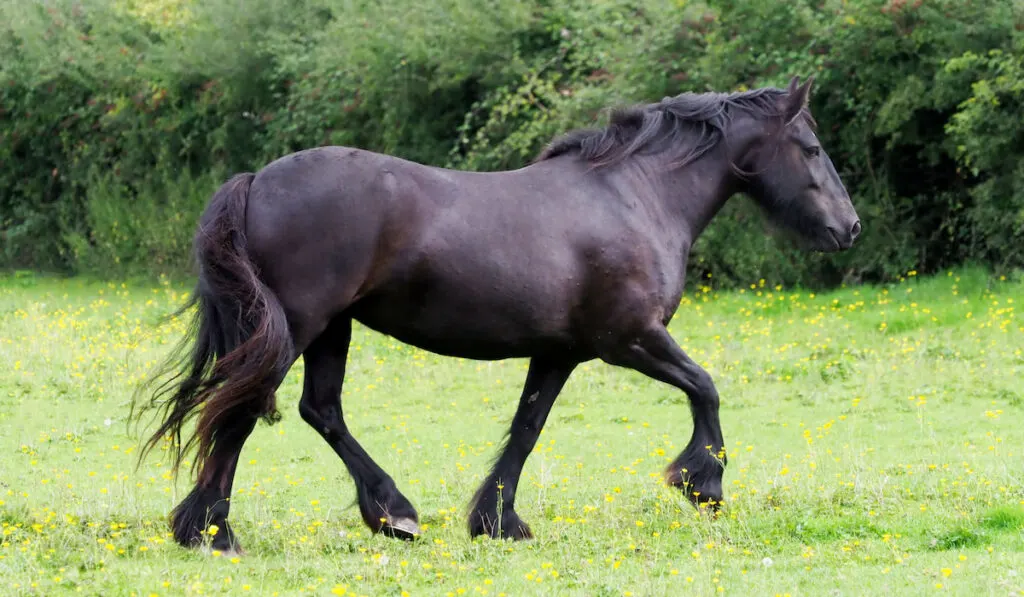 The Dales pony is another large black horse breed. Originally from Yorkshire Dales, England, these horses are famous for their stamina, strength, courage, intelligence, and hardiness.
They are also hardy, having been moorland and mountain pony breeds.
Characteristics of Dale Ponies
Dale ponies are predominantly black. However, some breeds are bay gray, brown, and roan.
There are some horses with a white snip or star on their head.
Dales also have a broad heck, slightly curved ears, sloping shoulders, and a somewhat short back. Their chests are wide, and their legs are muscular with well-defined tendons.
Dale ponies also have long, flowing manes and round hooves. You'll also notice that their legs have silky feathers.
Most Dale horses are 12.2-14 hands high and weigh about 1,000 pounds.
They are also kind and calm. Horse breeders have referred to them as all-rounded horses for their combination of hardiness, agility, endurance, strength, and good conformation.
Today, Dale ponies are common in show jumping, dressage, driving, eventing, and hunting. They also make excellent rider horses due to their endurance and stamina. Some areas still use these ponies as draft animals.
On average, Dale ponies can live for 25-30 years.
5. Fell Pony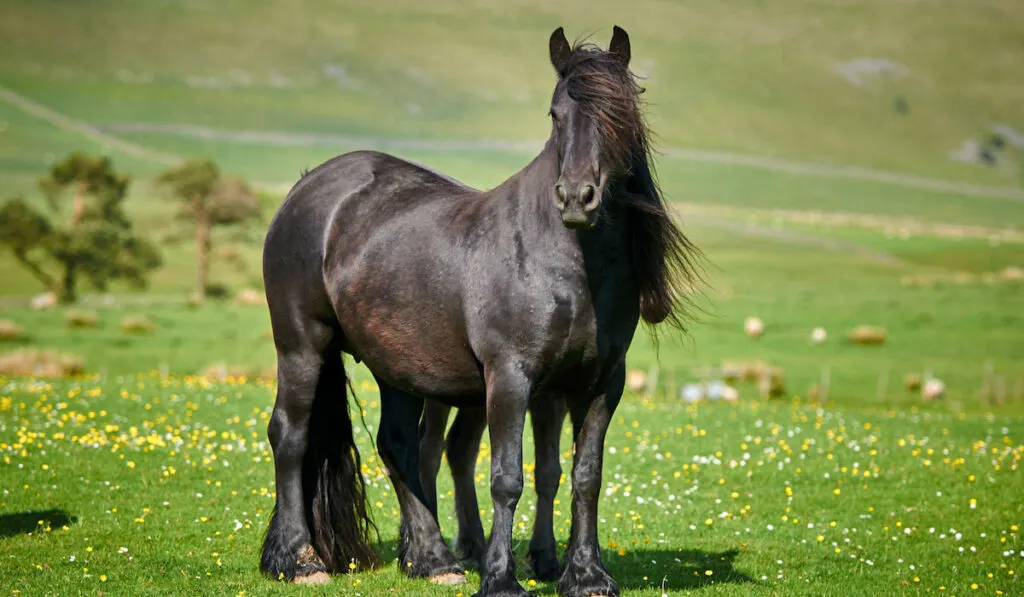 The Fell pony is native to North England in the Cumbria region. These horses were bred for the harsh environment where the feed comes at a cost.
Fell ponies can adapt to any weather as long as they have sufficient shelter.
In the 12th century, these ponies carried loads of fleece, foodstuffs, local metal ores, and woolen goods. Farmers also used them for hunting wolves that might attack the flocks.
Fell ponies share many traits with the Friesian horse. They both have fantastic stamina and speed apart from their black color.
Characteristics of Fell Pony
Fell ponies are primarily black. They can also be gray, bay, and brown.
The breed stands up to 14 hands high, although it's common to see some that are 13.2 hands high. These ponies also weigh close to 1,000 pounds.
According to the Fell Pony Society, these horses have well-chiseled heads and broad foreheads. Their eyes are prominent, and their ears small and well-formed. Fell ponies have a neck of proportionate length, and their shoulders are laid-back and sloping.
Like Fresian horses, Fell ponies also have muscular legs and thick manes.
They are common in Pony Club events and working hunter pony competitions thanks to their jumping skills. Fell ponies are also famous for endurance riding.
6. Shire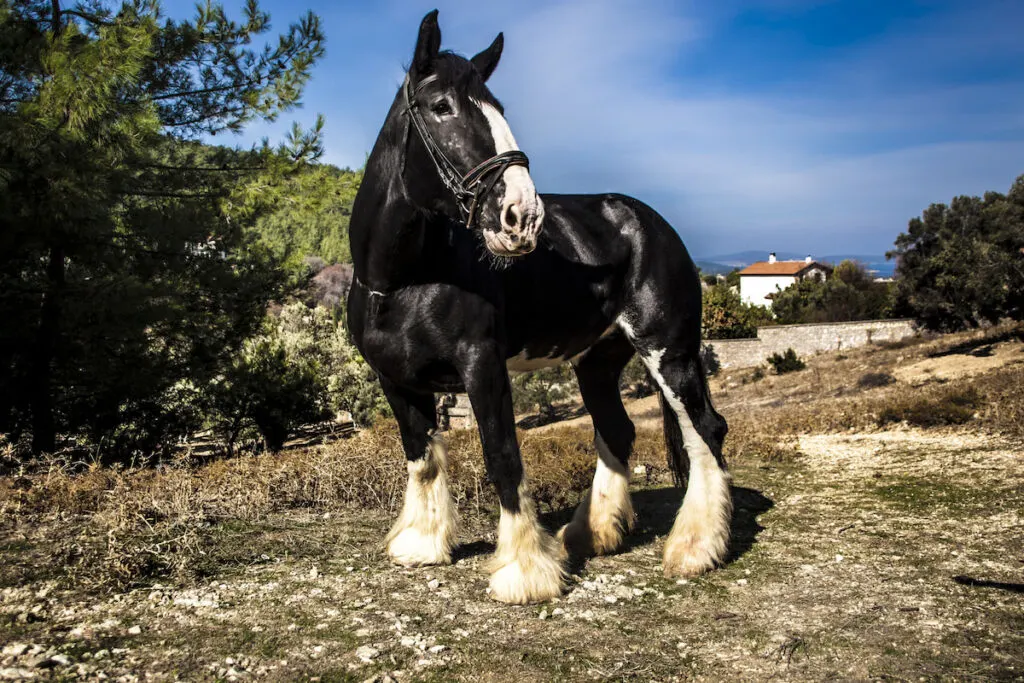 The Shire horse breed is considered one of the world's heaviest and tallest horse breeds. In the 18th century, breeders developed the Shire horse.
Shires were used as war horses to carry knights into battle. They were also used for farm work, cart pulling, and barge towing.
Characteristics of Shire Horses
A Shire's defining characteristic is its big size and height. These horses can weigh 1,800-2,400 pounds, and their height ranges from 16-17 hands.
Shires are black but can be brown, gray, or bay. They also have feathers on their legs, a Roman nose, large hooves, and a muscular build.
While they were initially bred for labor, Shires now make excellent rider horses. Sometimes they are used as therapy horses due to their intelligence and ability to follow verbal queues.
Shires are still used for manual labor due to their strength and hard work. When crossed with light horse breeds, these horses make excellent hunters and sport horses.
7. Mérens Horse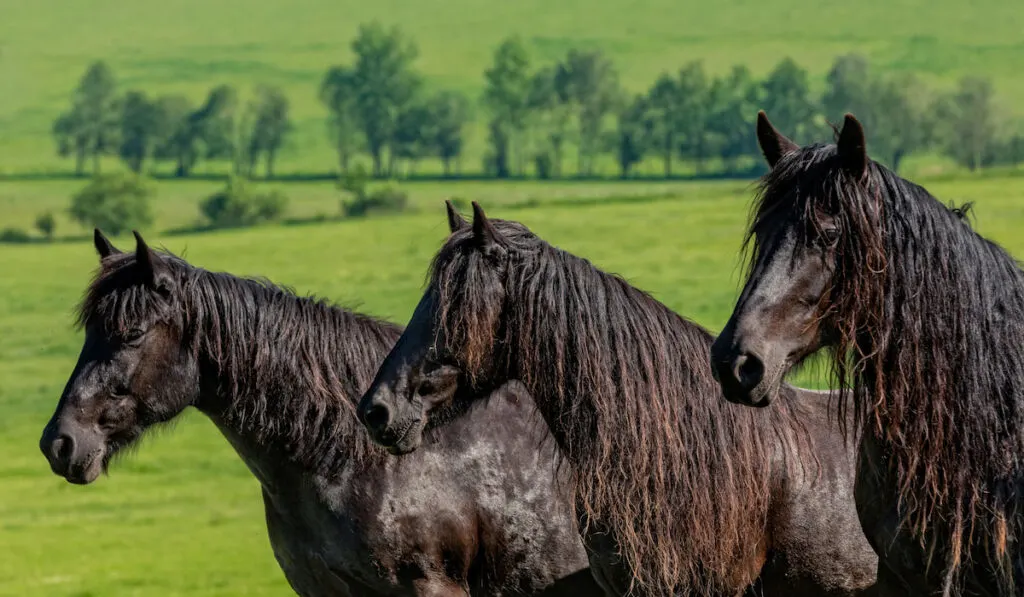 The Mérens horse is thought to have originated in the Iberian Peninsula, which is modern-day Portugal and Spain. There are different theories about the breed's origin, but their agility and strength are some traits that still stand out over the years.
These horses were used as pack horses and for draft work. Being a hardy breed, the Mérens horse was also a mountain farmer companion.
Characteristics of the Mérens Horse
Mérens horses come in two types: the light horse adapted to the mountains and the modern one that is sportier and tall.
Mérens are predominantly black, and most have dapples. The breed stands between 14.1-15.1 hands high.
Mérens are not only elegant, but they are also compact and robust. Their heads can be slightly concave or straight, with a mid-length neck and a deep, broad chest.
Unlike most black horses with tall legs, Mérens horses have short legs with well-defined joints. Having been kept in hardy zones, these horses maintain their stamina and hardiness.
They are also loyal and devoted to their handlers.
Today, Mérens are used for plowing and hauling or for riding, particularly trail riding and trekking.
Final Thoughts
There are many black horse breeds with distinctive characteristics. Our list above has some of the larger black horse breeds. Most share similar traits, like intelligence, strength, and endurance.
One thing to note is that black is an equine color, not a breed.
Resources