*This post may have affiliate links, which means I may receive commissions if you choose to purchase through links I provide (at no extra cost to you). As an Amazon Associate I earn from qualifying purchases. Please read my disclaimer for additional details.
Many people mistakenly believe that making big money in the horse world comes from winning competitions and races, but that is not the whole story. Yes, winning coveted events can yield high purses, much more than most of us could ever imagine, but the real money lies in the breeding rights.
When horses, especially race horses, are successful or show moderate signs of success on the track for a couple years, they are quickly shuttled off to stud farms to begin breeding mares.
Over time, if their offspring begin winning races and racking in the cash, the price of the stud's breeding fee skyrockets and the real money rolls in. Thanks to all this, breeding rights to these horses can be extremely expensive.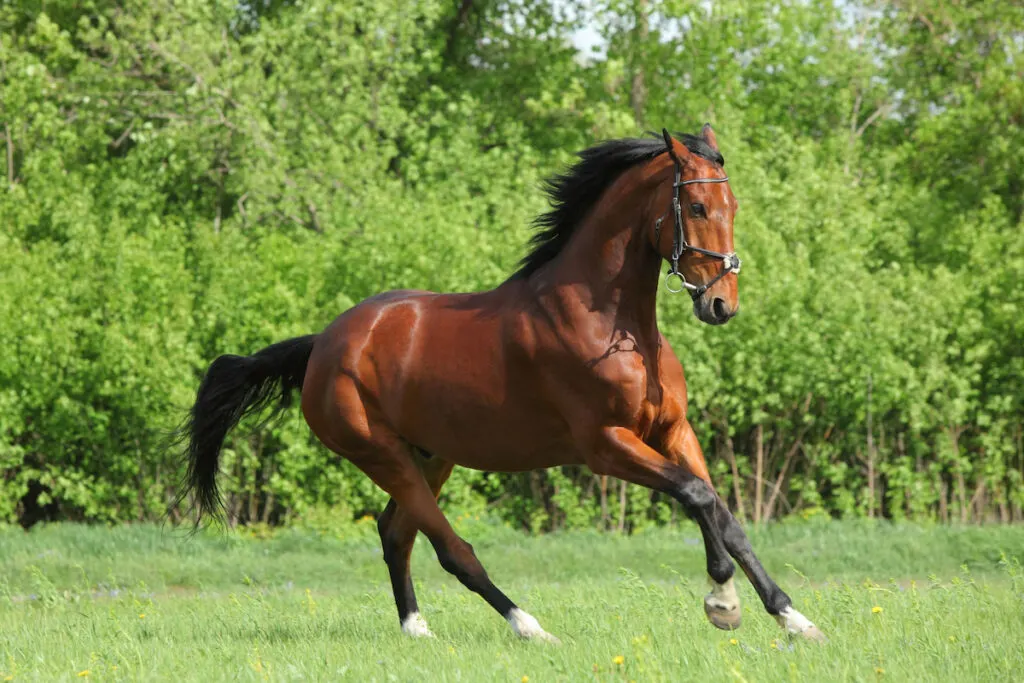 First, you have either a stud farm, an investor, or a conglomerate that purchases the horse to obtain exclusive breeding rights to these horses.
Then you have the stud fees, which allow equestrians and racehorse enthusiasts to purchase single use breeding rights to breed their mares to the stud.
The prices for each of these are the most expensive in the racehorse world. Here some of the most expensive horse breeding rights today.
1. American Pharaoh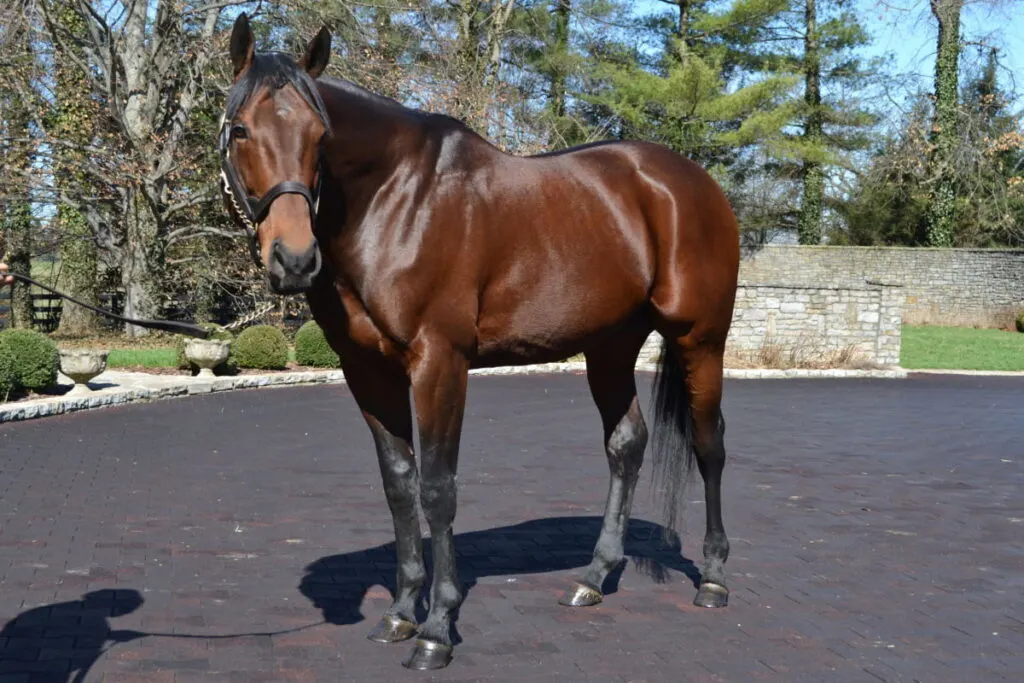 An elegant bay American Thoroughbred, American Pharaoh is a name that even run-of-the-mill racehorse enthusiasts should be familiar with.
He won the 2015 Triple Crown in America as well as the Breeder's Cup Classic of the same year, making him the first Grand Slam winner in the racehorse world. He retired in 2015 at the top of his game and entered the stud world.
American Pharaoh's owner sold the exclusive full breeding rights to Coolmore Stud for a staggering $23.5 million dollars. (source)
This means that Coolmore Stud will keep him to breed their own mares, but will also put him up for stud for the public to obtain a one-time breeding right. The 2021 stud fee for a one-time use breeding right for American Pharaoh is $100,000. (source)
2. Justify
Born all the way back in 2015, Justify is just starting his retirement at stud in the fall of 2018. He is a stunning chestnut-colored American Thoroughbred racing horse. He won the American Triple Crown in 2018 and never lost a single race in his short racing career, an extremely rare accomplishment.
Due to his young age, his offspring have not had a chance to prove themselves on the racetrack, so his stud fee is relatively low but it could increase in future years. The Coolmore Stud group paid $75 million dollars for exclusive breeding rights for Justify in 2018! (source)
In 2021, his stud fee with Coolmore is $125,000 for a live foal. (source)
3. War Front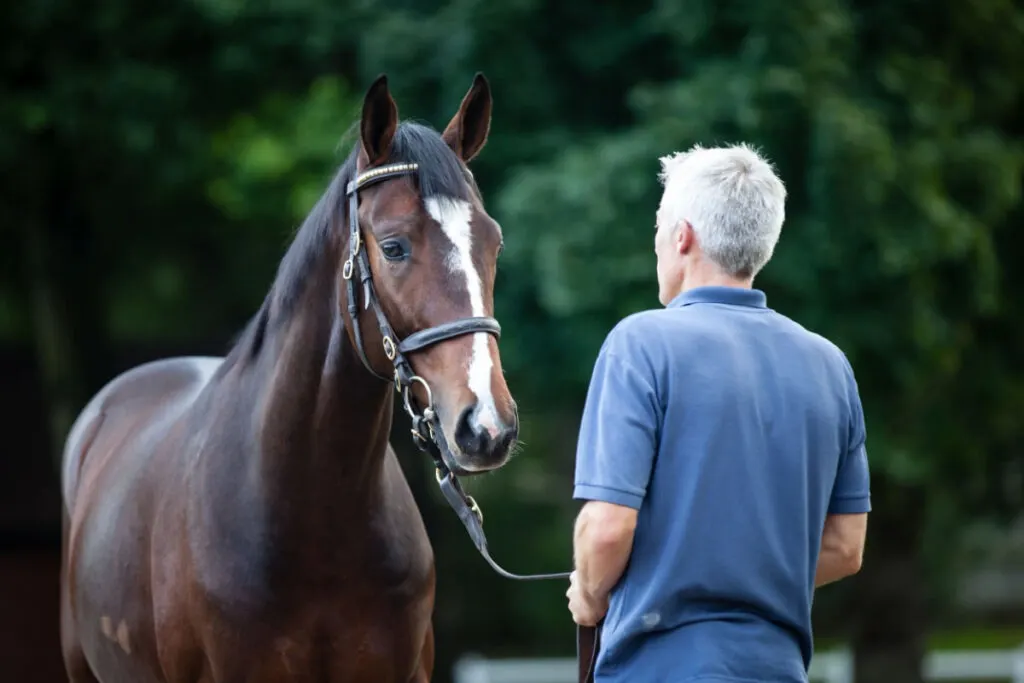 An elegant bay American Thoroughbred, War Front had an impressive win at the Alfred G Vanderbilt Handicap race in 2006, but eventually retired to stud in the same year.
He was retired to stud on the same farm he was born on so there were no exclusive breed rights sold. He was not expected to overperform as a stud and his stud fee was only $10,000 in the beginning.
Over time, he shocked everyone when some of his offspring began winning coveted horseraces across the country. His stud fee reached $250,000 in 2019 but has leveled off at $150,000 for the 2021 season. (source)
4. Medaglia d'Oro
Medaglia d'Oro is a breathtakingly beautiful dark bay American Thoroughbred that dominated the horse racing world in 2002 and 2003. He sports a gorgeous white star on his head and 3 white socks on his legs.
Not only is he appealing visually, Medaglia d'Oro also has a plethora of successful racing offspring, making him an extremely valuable racehorse sire. (source)
His stud fee started at only $35,000 until he became a proven racehorse sire. (source)
Today, his stud fee is $150,000 for a live foal. (source)
5. Quality Road
Although he is a gorgeous bay American Thoroughbred, Quality Road did not have a smooth ride to success. As a 3 year old, he won the Florida Derby but suffered hoof injuries that sidelined him from every race included in the Triple Crown.
As a 4 year old, he had a relatively successful year winning numerous races throughout the racing season but suffered an abscess in his last race putting him in 12th place.
While he saw moderate success in racing, Quality Road finally reached paydirt as a racehorse sire. His offspring have been very successful on the track, winning numerous prestigious races.
Today his stud fee for a single use breeding right is an impressive $150,000 for a live foal. (source)
6. Uncle Mo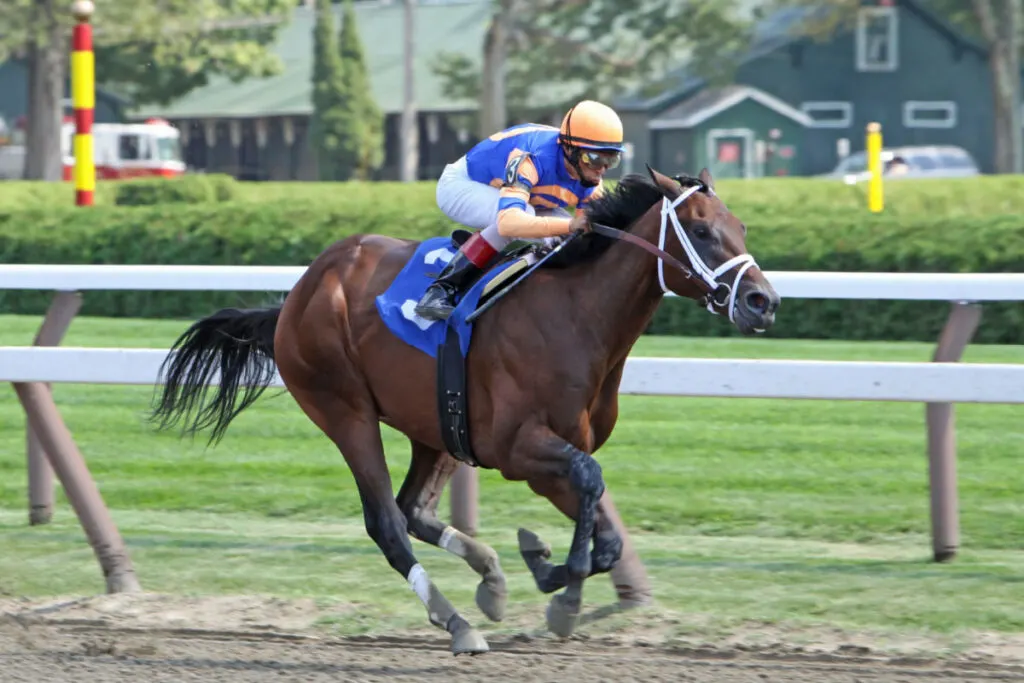 Uncle Mo is a sleek bay American Thoroughbred that broke onto the horse racing scene like a hurricane, winning the title of 2010 American Champion 2-year-old.
He won one race by a shocking 4 lengths and had all eyes on him expecting a successful racing future ahead. Unfortunately, he suffered debilitating gastrointestinal issues as a 3 year old that eventually led to his retirement. (source)
As a stud stallion, Uncle Mo has cemented his place in racing history. His offspring has been extremely successful in the racing world. He is so successful he serves as a shuttle stallion between different farms.
His stud fee currently stand at $175,000 for a live foal. (source)
7. Curlin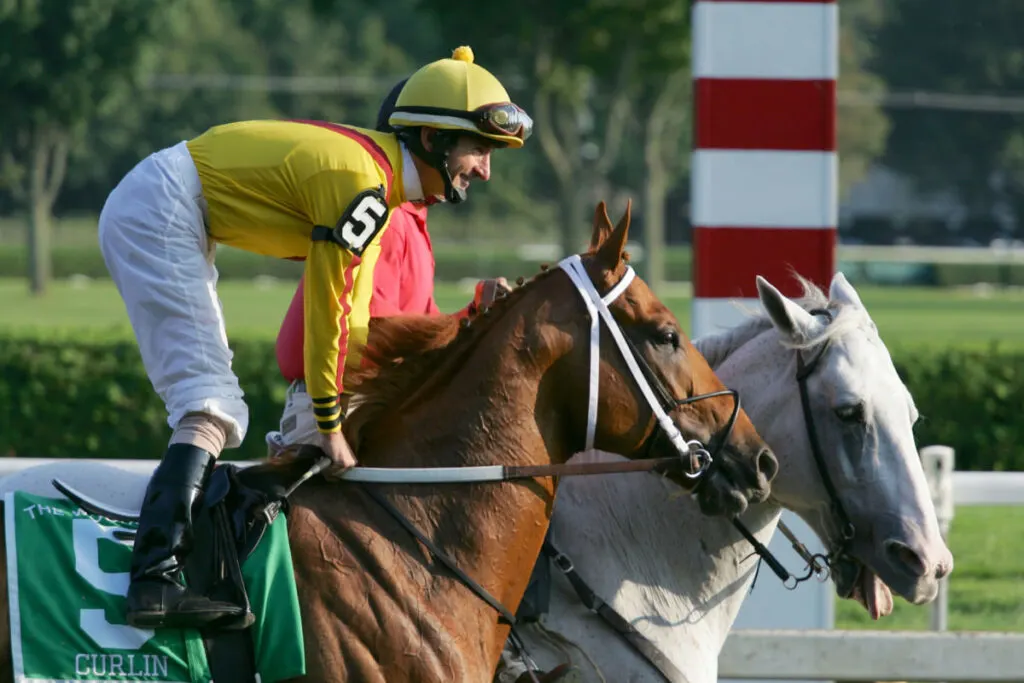 An exquisite chestnut American Thoroughbred, Curlin barreled onto the racing scene in 2007 as a 3 year old.
During the Preakness Stakes race Curlin started shaky, but when the leading horses lost their wind, Curlin made a run for the money and in the final stride he clenched the win.
He won numerous races and took home the title of Horse of the Year in 2007. As a 4 year old, he became the leading racehorse money earner in North America.
He retired to stud in 2009 and has a leading racehorse sire in North America. He stud fee initially was $75,000 but the success of this offspring has doubled the fee. (source)
The stud fee for Curlin is currently at $175,000 for a live foal that can stand and nurse the mother. (source)
8. Tapit
A gorgeous gray American Thoroughbred racehorse, Tapit only took home the top prize in just 3 out of the 6 races he competed in. He suffered from shin issues as well as a seemingly chronic lung infection and was retired from racing at the young age of 4.
Despite his own mediocre performance in the race world, his offspring dominated the racetrack, catapulting Tapit to the one of the leading racehorse sires in North America!
Today, one share for Tapit goes for a staggering $2.8 million and comes with a breeding right while he remains at stud. This means that the total cost for exclusive breeding rights to Tapit would be upwards of $140 million dollars. (source)
In 2016 his stud fee was a whooping $300,000 but today it is currently $185,000 for a live foal that is able to stand and nurse. (source)
9. Into Mischief
A stunning bay Thoroughbred stallion, Into Mischief won just 3 of the 6 races that he participated in, but he did take home second in each of the others.
When he was retired at age 4 in 2009, he become a stud horse. Over time, his progeny begin to climb the ranks of the race horse world.
You may be familiar with one of his offspring named Authentic, who took home first place in the 2020 Kentucky Derby!
Today, the stud fee for Into Mischief is $225,000 for a live foal that stands and nurses. This guarantees the purchase the right to rebreed if the foal is stillborn or expires shortly after birth.
10. Galileo
An international racehorse that hails from Ireland, Galileo is a beautiful bay Thoroughbred stallion that won 6 out of the 8 races that he competed in.
He is considered one of the most popular if not the most popular racehorse stud that is active today. He has been the leading sire in both Ireland and Great Britain since 2008!
Although he is not located in North America, Galileo extremely expensive breeding rights deserve our attention.
Although his stud feed has remained private since 2008, it is rumored to be somewhere between 400,000 euros and 600,000 euros or between $480,000 and $730,000 based on a current exchange rate!
If this is true, that is by far the most expensive single-use breeding rights to a horse.
11. Fusaichi Pegasus
While you can no longer obtain breeding rights to this horse, it is probably one of the most expensive breeding rights ever purchased, if you consider the lack of return.
Fusaichi Pegasus is a beautiful bay American Thoroughbred that showed a lot of promise, winning the 2000 Kentucky Derby but he failed to win the Preakness Stakes.
The same year, Coolmore Stud purchase him and his exclusive breeding rights for somewhere around $60 million!
Unfortunately, Fusaichi Pegasus did not perform well as a sire apart from a few successes.
When compared to the extremely high price that was paid for him and the lack of return on the stud farm, his are probably the most expensive breeding rights ever purchased.
Final Thoughts
Horse breeding rights are where the real money lies, especially in when it comes to racehorses. Horses can be unsuccessful or only moderately successful but produce high quality racing offspring, making their value as a stud increase exponentially.
Horses that are successful on track also are not necessarily successful as a stud. Nonetheless, breeding rights to these horses are expensive but the potential for a turnaround profit does exist and it seems to be well worth it to many equestrians and investors across the country.
Resources
https://www.bloodhorse.com/stallion-register/stallions/130614/into-mischief+