Finally ready for your first schooling show, but you have no idea what to wear? No matter what your discipline is, this guide will help shed some light on choosing the right attire for your first schooling show – especially if you're just starting out in the showing world.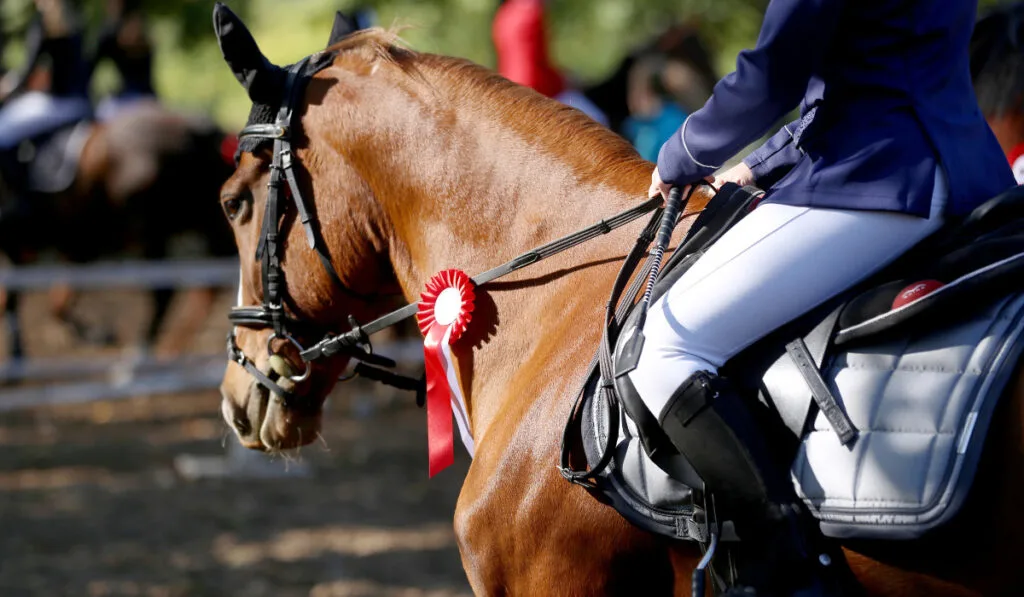 General Rules for Attire
No matter what discipline you practice, a schooling show is a good chance for you to show off your skills. Whatever you wear, it should be neat, clean, and in good condition. Give your boots a shine, press your pants, and make sure there aren't any errant threads or tags.
Double check all your tack, too! Making sure that your horse is well-groomed and putting his best foot forward can help your confidence – and your score.
But luckily, that doesn't mean you need to break the bank either. Using hand-me down items, shopping at thrift stores or consignment shops, or borrowing items is a less expensive way to build your show day look, especially for a casual schooling show. These competitions often take place at local barns, and they often have more lax attire rules than higher-level shows.
If you're still not sure, contact the show's organizers and find out what they're specifically looking for in the classes you plan to enter. Every organization is different, and you'll want to be prepared.
Remember, a schooling show is generally supposed to be relaxed, fun, and a good introduction to the world of showing. The judges won't expect you to look perfect, but they will expect you to give it your best effort.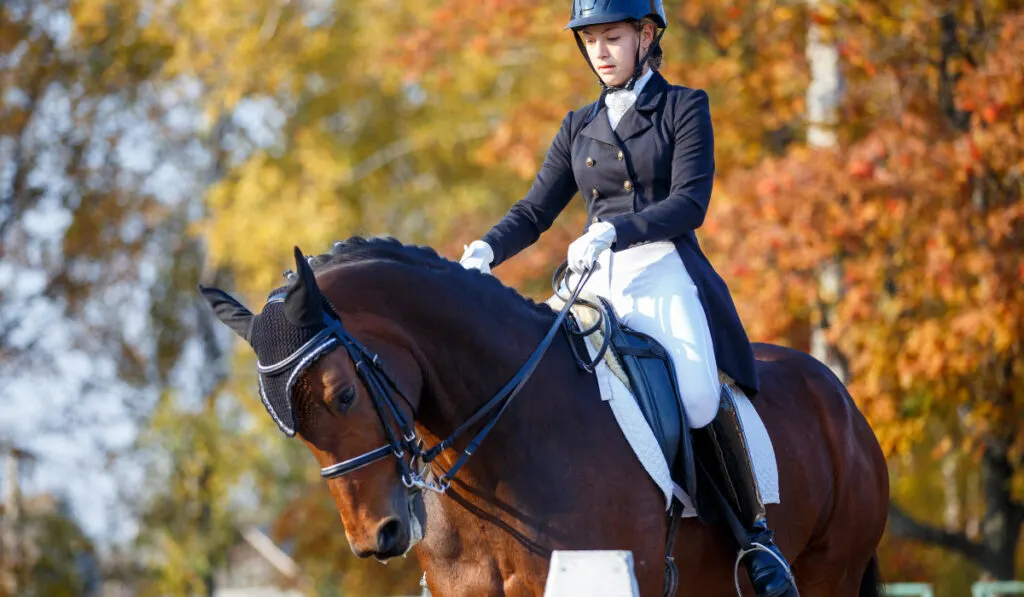 English Show Attire
Depending on the time of year, a show's attire rules may vary. Conservative colors (black, brown, beige, gray) are generally a better choice than bright colors. You can also try matching your saddle pad to your show shirt for an inexpensive upgrade to your turnout.
Here are some general attire guidelines for different English schooling show classes:
In general, all riders should be wearing approved safety helmets. For a formal show, a nice velvet cover can upgrade the look of a basic schooling helmet, but any approved helmet is allowed.
Informal schooling show:
Polo shirt or solid-colored sweater
Breeches or Jodphurs
Boots. If you're not wearing tall boots yet, nice half-chaps and short paddock boots may also be acceptable.
Formal schooling show:
White button-down collared shirt (conservative pastel colors may also be acceptable, but white is traditional)
Tailored jacket
Well-fitting tall boots (front-lacing field boots are common)
Accessories can vary slightly different for children and adults. Children may generally wear short boots with garter straps and large hair bows.
Adults will want to keep their hair neat, so using a hair net under a helmet is preferable. Other accessories to consider based on personal preference: classic belts, gloves, and/or matching saddle pads.
In the Hunter Ring: A more formal Hunter show ring will likely have stricter attire rules than an informal schooling show, or a jumper ring.
Hunter attire is usually more conservative so that the judges can see the horse and rider's form over fences – and aren't distracted by wacky clothing.
Choose a neutral polo shirt color for an informal show, such as black, navy or white. Make sure to tuck it in, and add a classic belt for a polished look.
A more formal hunter ring will require a show shirt, jacket, and correctly fitted appropriate tack. If the weather permits it, jackets may be excused, and always double-check the rules and make adjustments as necessary.
For the jumpers: Show jumping is all about speed, not perfect form. Flashier attire is allowed, such as colorful belts, saddle pads, or tack. Still, you want to look polished and put together. You can never go wrong with a classic hunter look with a flashy belt for some flair.
For a Dressage Test: For higher levels of competition, a longer coat and top hat is required. For a schooling show, a regular jacket will do (or polo shirt, if it's an informal show).
According to the USEF (United States Equine Federation): "Riders through First Level may wear half-chaps, gaiters or leggings in solid black or brown, without fringe, matching the color of their boots, and made of smooth leather or leather-like material". (source)
For an informal schooling show, just make sure your jodhpurs or breeches are clean, and you can't go wrong with a conservative, muted color.
Saddle Seat: Saddle seat show attire is completely different from the hunter/jumper world. At a basic just-for-fun schooling show, a polo or knit sweater and traditional bootcut jodhpurs are acceptable.
At the Academy level, a show shirt, vest, tie, Kentucky show jodhpurs (and some bling!) are standard.
Children under 12 must wear helmets, but older riders are strongly encouraged to wear them as well. Riders at higher levels will wear a full suit with a show shirt, vest, tie, long coat, and top hat. Fancy!
Driving: Driving classes pose unique dress issues – clothing doesn't need to be as functional as if you were riding. In general, your attire should complement your horse – not take away from him.
From the American Driving Society: "Traditionally carriage driving attire is described as classy conservative; the objective is to create a harmonious picture and put the emphasis on the horse.
For a small schooling show, a nice polo shirt, clean slacks, and polished boots will do just fine. A more formal show may require a traditional lap robe/apron/rug, gloves, and a hat.
And remember, helmets are always in style!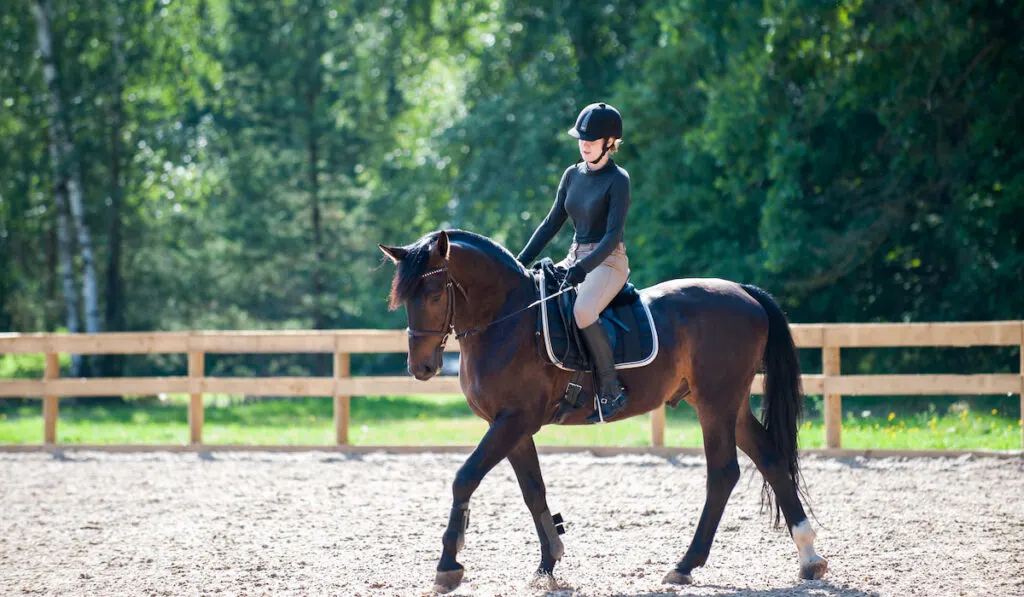 Western Show Attire
There is more room for flair when it comes to western showing, but there are still rules that dictate dress for different events. Pay attention to the rule book of the show you're participating in, but a casual schooling show will probably accept this attire:
Jeans (with or without chaps as needed)
Long-sleeve button-down shirt or blouse
Western cowboy hat or helmet
Cowboy boots
More accessories to consider: a vest, tie, belt, belt buckle, blazer, jacket, gloves, or spurs.
Horsemanship, Equitation: Because the rider is being judged on his form and ability to handle the horse, you don't want to wear something over the top that will distract from your performance. Choose form-fitting garments, but you can skip the accessories for a casual show, if you want.
Western Pleasure: In these classes, the horse is being judged on his manners and movement. Wear colors that complement him, and consider coordinating your saddle blanket as part of your ensemble. At higher levels, you can add more bling with sequins or fancy trims.
Trail, Reining, Cutting: These are working horse events. Make sure your clothing isn't too restrictive, but still looks smart. Skip the fancy trim in favor of looser, more casual clothing. At a low-level schooling show, a nice western shirt, jeans (with or without chaps, depending), good boots and a hat is all you need.
Western Hat or Helmet?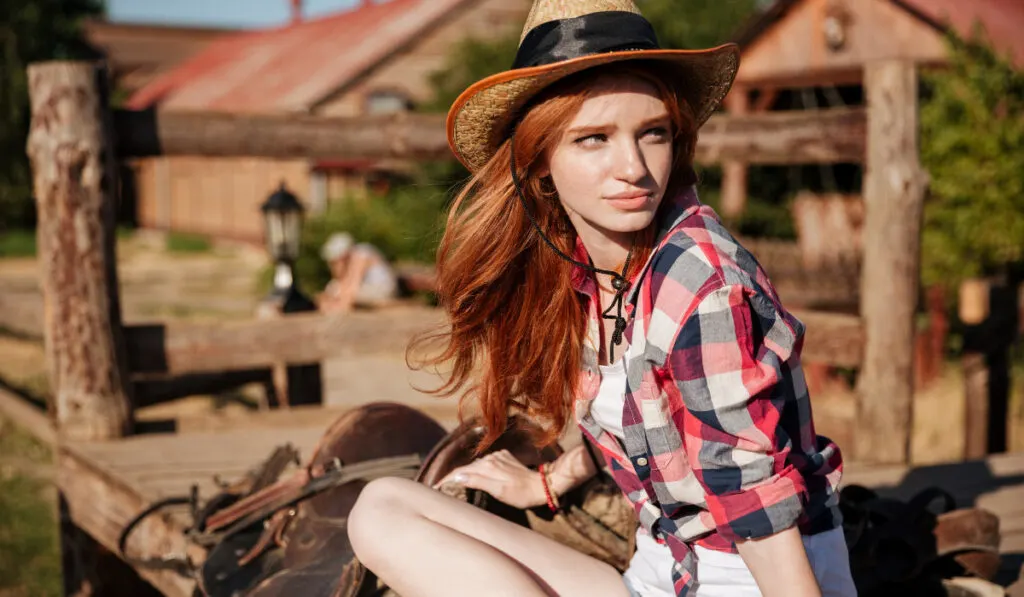 There is always debate over helmets in the Western world. There can be a stigma surrounding wearing a helmet, as some feel that it's not traditional. Others are more concerned about rider safety.
In some states, children under 18 are required to wear a helmet, regardless of discipline.
When riding horses, wearing a helmet is always the safest option and points should not be deducted for deciding to do so.
There are several options if you're still unsure. Some western cowboy-style hats offer hard hat protection, but look like traditional cowboy hats.
If you've decided not to wear a helmet for your schooling show (presuming you're of age and it's legal in your state), a simple straw hat is an acceptable choice. Choose one that suits your style, and the formality of the show. There are many different variations to choose from!
In-Hand or Halter Classes
If you're just showing your horse or pony in-hand, you'll want to dress according to the formality of the turnout of the class.
| | | |
| --- | --- | --- |
| | Informal | Formal |
| English | Polo, riding pants, boots | Show shirt, jacket, breeches, boots |
| Western | Jeans, blouse, hat, boots. Simple vests, blazers, or short jackets may also be appropriate. | Jeans or show pants, show shirt, tie or scarf, boots, belt, buckle |
Hair
In any discipline, having your hair pulled back and out of your face is important. Make sure that it's not obscuring your number, and you can't go wrong with some neat braids. Specific hair requirements will vary between disciplines and classes, so check the rulebook before deciding on a look.
Makeup
For flashier classes where presentation is key (such as Western Showmanship, Pleasure Classes, or Saddle Seat), a little makeup goes a long way. Consider a more bold look than you might wear out and about. It's easier for the judges to see a relaxed and happy smile through a bright lips color.
Even children can wear some eye shadow and lipstick – it's part of the performance, and just for fun! There's no need to go full-face glam (unless you want to!)
Remember, schooling shows are supposed to be fun. It's not about the attire as much as it's about the skills and horsemanship that you'll gain from competing at your first horse show experience. Good luck, and have fun!
Source:
https://americandrivingsociety.org/portals/ads/New_Drivers/troubleshooting_Turnout.pdf