If you've never been horseback riding before, the process can seem daunting. You might be concerned about what to wear. Do I need special gear? Is it expensive? Where do I buy it? Don't worry! This guide will tell you all you need to know about what to wear horseback riding – for the first time and beyond.
Basic riding attire
Luckily, you don't need much to safely get into the saddle for the first time. Regardless of which discipline you've chosen, most beginner programs require these three basic items – and you may already have some in your closet!
These are the items you'll need for your first ride:
Helmet
Long Pants
Sturdy closed toe-boots or shoes with a well-defined heel
If you're still unsure, call the barn. They'll make sure you know what you need for your first ride. Many private stables and programs have different rules for attire, but these basic items are probably all you'll need at first.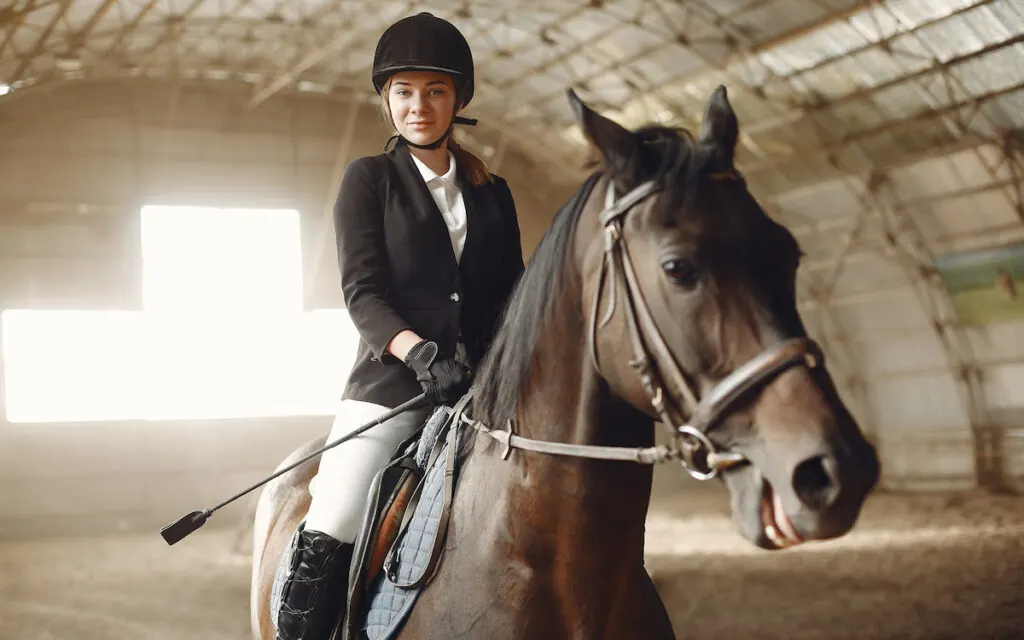 Helmets
Horseback riding can be a dangerous activity. To minimize your risk of head injuries, always wear an SEI/ASTM certified equestrian helmet (not a bike helmet or hard hat).
"An equestrian helmet offers additional protection to the back of the head and the sweatband area of the helmet. Equestrian helmets are tested by the Safety Equipment Institute (SEI) for Chinstrap retention, penetration by a sharp object, and for impact absorption. These tests are specifically for horseback riding related accidents."
Most riding schools should have helmets for you to borrow at first. However, the integrity of a helmet degrades over time, and they should always be replaced after a fall.
If you purchase your own helmet, you know what it's been through – also, you'll always have a great fit. Your helmet should be snug but not too tight, and the chinstrap should fit securely without sliding.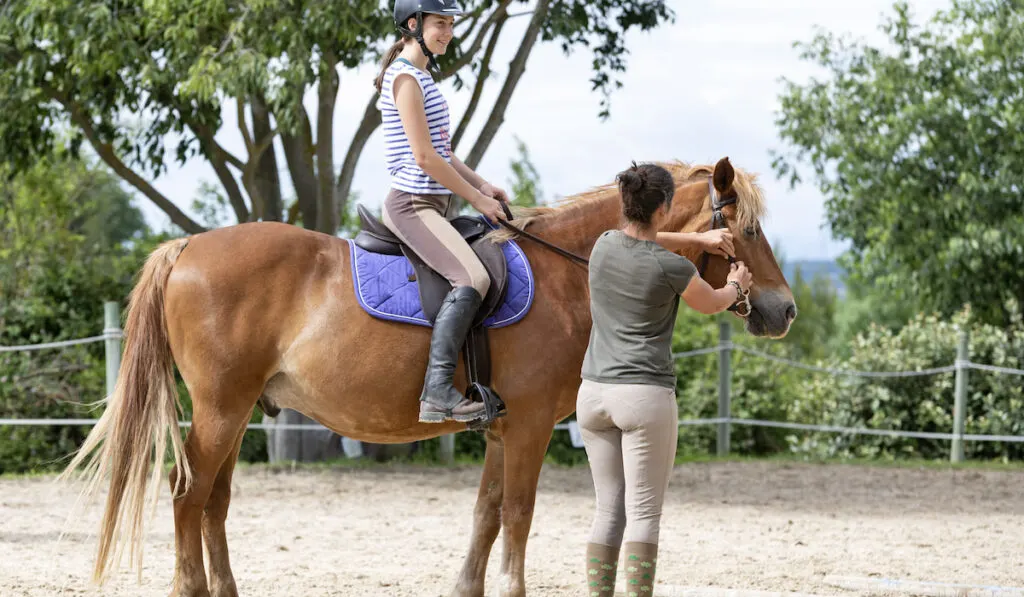 Riding Pants
Saddles are made of leather, so you'll want to make sure to wear long pants to prevent uncomfortable chafing.
Jeans will work well for Western riders. Just make sure your legs can move freely and that they fit well. English riders can use leggings instead – the seam on the inside of jeans can be a bit uncomfortable against the close contact of English saddles.
Once you commit to long-term lessons, you may want to consider purchasing a pair of specific riding pants. Depending on your discipline, here are some styles to consider.
Western
Jeans. Luckily, cowboys still ride in jeans all the time. If you're comfortable wearing a pair from home, continue to do so. If you want a pair specifically for riding, consider a pair of jeans blended with some spandex to give you a little more room to move. Check the length too – if your jeans are a little long, they'll cover your boots better once you're in the saddle. Otherwise, your ankle might be exposed to uncomfortable chafing.
Bootcut breeches. These come in a variety of styles and materials. Breeches have leather or suede patches on the knees (and sometimes the seat) to help keep you in the saddle. There are also weatherproof varieties for trail riding or fleece-lined varieties for cold weather.
English
Breeches. These traditional riding pants fit tightly through the leg and calf, and they usually have patches or grippy material on the inside of the knees. You can also purchase a pair with grips throughout the seat and legs. These pants are best worn with taller boots or half-chaps as they tend to hit above the ankle, especially if you're tall. The seams on breeches are usually on the outside to limit friction on the saddle.
Jodhpurs. Similar to breeches, these riding pants are tight throughout the leg and have patches on the inside of the knees. However, they are longer and can require cuffing at the ankle. They're a great option for children who are still growing, or riders who don't want to commit to tall boots just yet.
Riding tights. These come in a variety of colors and styles, and often look more like athletic leggings than breeches. Some have pockets for cell phones, or special material in the grip areas, or come in bold colors or wacky patterns. They're not usually acceptable for shows, but they can be great for casual riding. They have the same outside seams (or none at all) as breeches and jodhpurs, and the pull-on elastic waistband is comfortable for riding.
Kentucky jodhpurs or bootcut breeches. While these are normally worn by saddleseat riders, they're handy if you're still deciding which discipline you like the best. Comfortable in a western saddle but still functional in an English saddle, these are a versatile riding pant for any discipline.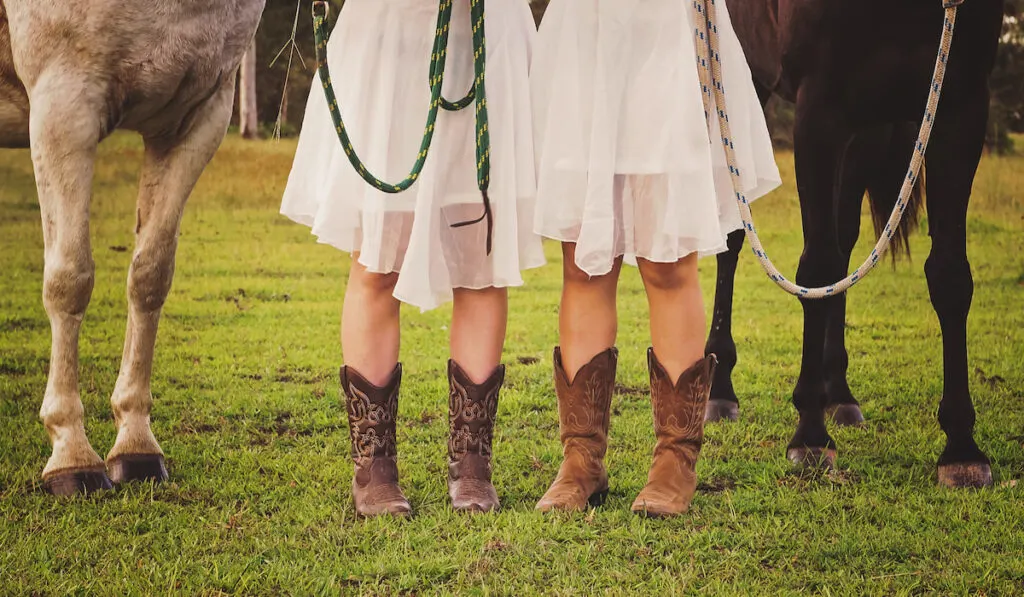 Boots
While English riders can use cowboy boots, and Western riders can use English boots, you may want to find a pair more suited to the discipline you're pursuing. Boots can be expensive, so once you decide to purchase a pair – choose carefully. Consignment shops or private online sellers often have lower prices for used gear.
Before purchasing a pair of boots, consider your needs carefully.
Competitions and shows. Consider whether or not you'll be using your equipment in a show. Boots that are appropriate for casual riding may not be accepted in the ring.
Weather and climate. Do you have access to an indoor arena? Does it get cold in your area? If winters are harsh, consider leaving a bit of room in your boots for thicker socks in the colder months – or invest in an insulated pair.
Western
Cowboy boots. There are tons of traditional cowboy boots to choose from. These boots usually have the following features: mid-calf height, pull-on design, relatively narrow toe area, and they come in a variety of styles and colors to suit any taste.
Terrain boots. If you're serious about endurance riding or trail riding, you might want to consider an all-terrain boot. These boots are designed for hiking and exploring the outdoors – but they have the necessary heel-cut outs to keep your feet safely in the stirrups.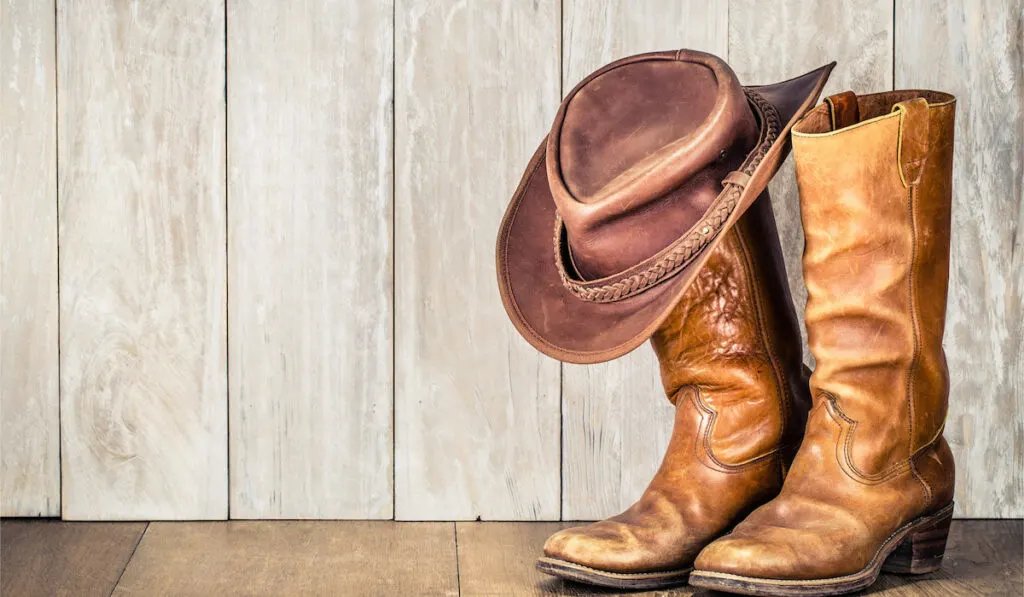 English
Paddock boots. These are great starter boots for adults or children. They're easier to fit than tall boots, and you can find them in a variety of price points to suit your needs. You can choose from lace-front or zip-up styles, and they're usually made with leather or synthetic material. Later, you can add a pair of half chaps or full-seat breeches for extra grip.
Tall boots. If you're committed to English riding and paddock boots aren't doing the job for you, it may be time for tall boots. For your first pair, you may want to go to a tack shop to get a professional fit. Tall boots give you the extra grip you need over your calf, and they are usually worn over breeches.
Show attire
Depending on your chosen discipline, the requirements for competition attire can vary wildly. Many equestrian consignment shops will have show attire available at a lower cost, especially if you're new to the competition ring.
If you think you may want to participate in competitions right away, consider the regulations before purchasing your everyday gear – many items can be used on a day-to-day basis and at shows.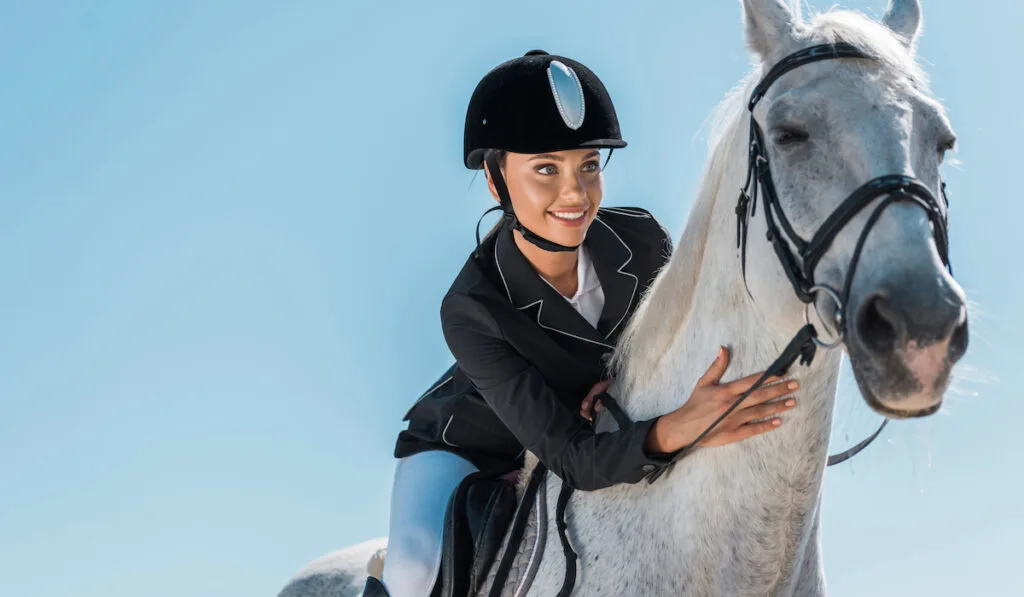 Other riding accessories
There are plenty of other riding accessories that you can purchase or borrow to make your rides more comfortable, but they aren't necessary for the casual rider.
Gloves. Reins can become slippery from sweat or rain. Gloves protect your hands and give you extra grip and warmth.
Chaps. These leg covers fit over your riding pants and secure with zippers or Velcro. Depending on the style, they'll give you extra protection and grip where you need it. Half-chaps end just below the knee, and they fit well over paddock boots. Full chaps for western riders are fitted over the entire leg and secured around the waist.
Jodhpur clips or boot straps. These inexpensive clips secure the bottom of your riding pants to prevent them from riding up and exposing your ankles. They work best on jodhpurs, jeans, or bootcut breeches.
Jodhpur garter straps. Children often wear these during schooling shows. Garter straps are worn just under the knee – they keep jodhpurs from riding up and twisting.
Safety vest. If you're venturing out of the arena or learning to jump, a padded safety vest can protect your vital organs if you fall.
Long-sleeve athletic shirts. If you are riding outside, consider shirts that wick sweat and offer UV protection from the sun. Outdoor arenas and mountain trails can get pretty hot and dusty!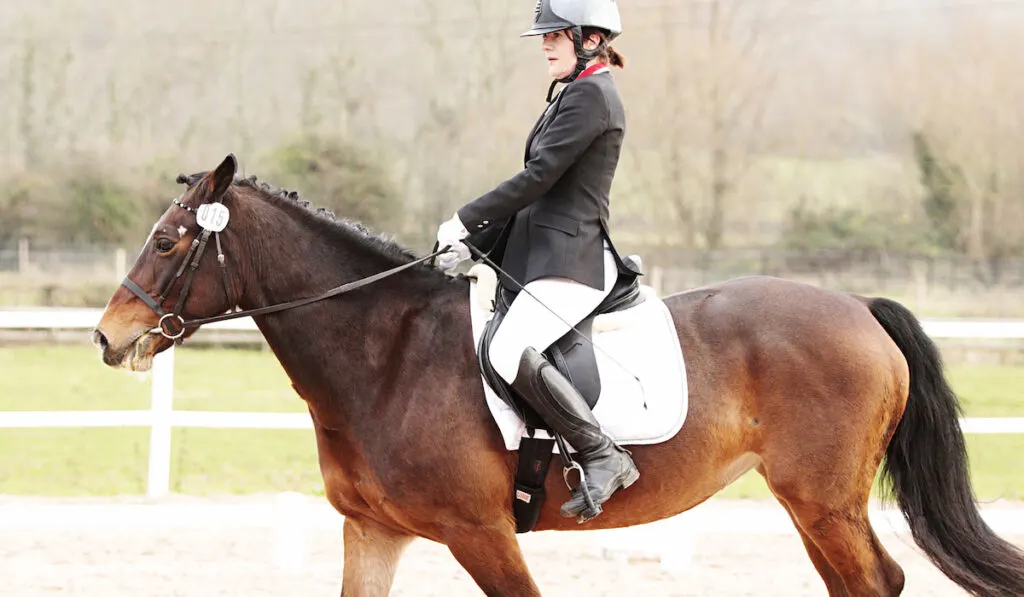 Maintain your riding attire.
It's important to take care of your riding gear. Keeping your boots clean and dry will extend their longevity, so consider picking up some leather cleaner or boot bags. Replace your helmet after 5 years or so, depending on how much you use it – and always replace it after a fall. Always give your attire and tack a quick checkup before every ride, just to make sure it stays in good shape.
You may have to experiment a bit to see what riding gear works best for you. Always check consignment shops or online sales for a good deal!
Related Posts