*This post may have affiliate links, which means I may receive commissions if you choose to purchase through links I provide (at no extra cost to you). As an Amazon Associate I earn from qualifying purchases. Please read my disclaimer for additional details.
As seasoned equestrians, we acknowledge the significance of selecting the appropriate saddle for your horse, particularly for endurance riding.
The most frequently used endurance saddles are traditional western-style, English-style, and Plantation endurance saddles.
Following extensive research, we came up with a list of 7 noteworthy endurance saddles. Each one offers distinct features and benefits, and you must choose the saddle best suited to your horse's requirements and your personal riding style.
This article aims to provide insight into various types of endurance saddles, assisting you in making an informed decision.
Furthermore, we'll elaborate on different materials, saddle fit, and design characteristics that ensure each saddle is appropriate for endurance riding.
1. Wintec Pro HART (Best Overall)
The Wintec Pro HART saddle is a popular English-style saddle choice among endurance riders for its innovative design and superior comfort.
Here is a short video on HART design:
The Wintec Pro HART saddle also boasts a remarkable characteristic: its adaptive gullet mechanism.
This impressive feature enables equestrians to tailor the saddle's fit specifically to their horse's distinct form for optimal comfort and support.
Moreover, the Wintec Pro HART saddle's streamlined design and lightweight construction offer ease in maneuverability and handling, even over long distances.
As a result, this saddle is an exceptional preference for endurance riders who prioritize performance, versatility, and comfort.
Pros
Provides high comfort
It is versatile
Lightweight
Airy with a great cooling effect
Cons
2. King Trekker Synthetic
This saddle ranks second due to its lightweight and durable design. Its synthetic leather construction makes it easy to clean, maintain, and withstand long rides.
The King Trekker Synthetic saddle's abrasion-resistant nylon and neoprene fenders protect against wear and tear.
King Trekker Synthetic also features a deep seat and padded panels, providing a secure and comfortable ride for the rider.
Additionally, the saddle has adjustable rigging and stirrup positions, allowing customization fit for both horse and rider.
Overall, the King Trekker Synthetic saddle is a reliable and comfortable option for endurance riders looking for a durable and lightweight saddle.
Pros
Suede leather seat
Fair price
Resists abrasion
It has shock-absorbing endurance stirrups
Cons
3. Rubicon Endurance Saddle
The Rubicon endurance saddle represents a significant advancement in the equestrian sport of endurance riding.
Notably, the open pommel and swept-back tree points of this saddle facilitate a liberating riding experience. The design eliminates any constraints that may have existed with conventional saddle designs.
Furthermore, the center position of the Rubicon's stirrup bars provides riders with a relaxed and pleasant leg position for extended periods. The stirrup bars also have hinges to alleviate any strain on the horse.
Pros
Very comfortable
Durable
Alleviates strain on horses
Cons
4. Tucker River Plantation Endurance Saddle T46 and T49
The Tucker River Plantation saddle is a classic choice for riders who value comfort and security while on long rides.
With a narrow twist and deep seat pocket, this saddle allows for a close contact feel with your horse while also providing a secure seat for the rider.
The absence of a horn provides greater freedom of movement for the rider and allows for a more natural riding position.
The Tucker River Plantation saddle also sports a design that places the rider's comfort in mind, featuring a Gel-CushTM seat and ergonomic stirrups.
Pros
Offers a smooth and luxurious ride
Secure for long rides
Has an ergonomic design for comfort
Cons
Stiffness with stirrups rubbing
5. Tucker Horizon Outpost 179
The Tucker Horizon Endurance Saddle 179 is a premium-quality saddle exclusively engineered for endurance riding. It has a Gel-Cush™ seat guarantees unbeatable comfort and assistance during extended rides.
Thus, it guarantees optimal comfort for both the rider and the horse for the duration of the ride.
The Tucker Horizon Endurance Saddle 179 also has premium-grade components like fiberglass-reinforced DURAhide™ coated wooden tree and English bridle leather. These components lend to its sturdiness and quality.
In addition, it stands apart from the rest with its distinctive, adaptable rigging system that enables riders to personalize the saddle's fit to their horse's unique structure.
Given its exceptional comfort, resiliency, and customizable properties, it remains an excellent preference among dedicated endurance riders.
Pros
Comfortable and shock-absorbing seat
Versatile fit
Cons
6. Zaldi Endurance Saddle Z950 Carbon
The saddle also features a deep seat and high cantle, providing riders with a secure and comfortable ride even over rough terrain.
Additionally, the saddle is equipped with various D-rings and attachment points, making it easy to carry all the necessary gear for a long ride.
Pros
Very durable
Secure and comfortable
Cons
7. Big Horn Flex Tree Endurance Saddle
The Big Horn Flex Tree is widely popular among endurance riders due to its distinctive structure that facilitates maximum contact with the horse.
The saddle also features aluminum, rubber-padded endurance stirrups that provide a comfortable and secure grip.
The Big Horn Flex Tree has hydro- and oleo-repellent wool fabric felt lining on the skirts that help to absorb moisture and prevent chafing for long rides.
The high endurance front and extra padding on the seat and skirts provide additional comfort and support for both horse and rider.
Pros
Improves contact with the horse
Provides maximum comfort
Cons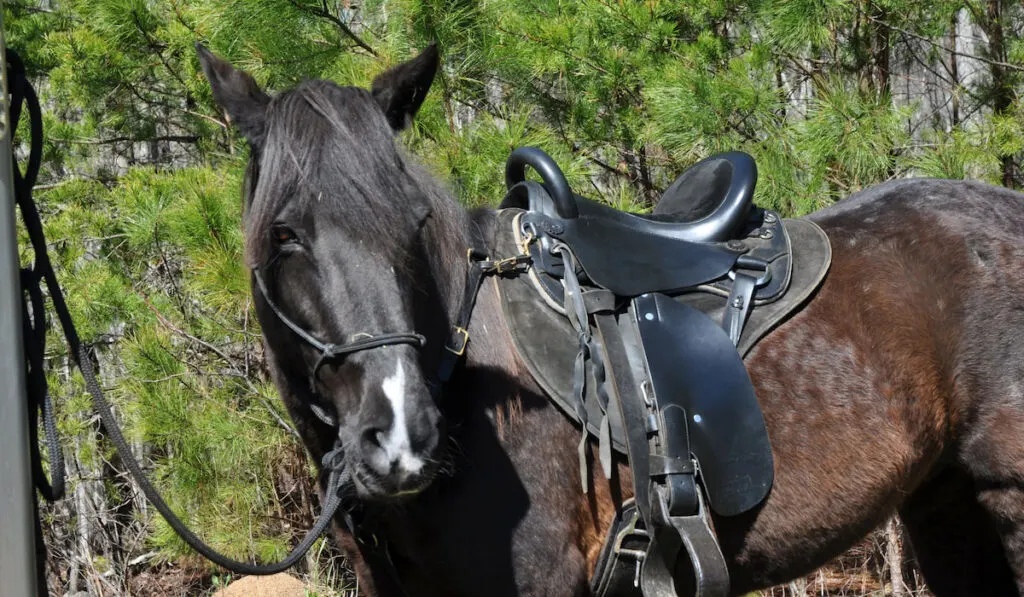 FAQs
What Are the Best Endurance Saddles?
These saddles typically feature a variety of design elements that make them well-suited for long rides, such as:
Lightweight construction.
High-quality materials.
A deep seat that helps to distribute the rider's weight evenly.
How Do You Size an Endurance Saddle?
Endurance saddles are designed to provide comfort and support for the rider and the horse during long-distance rides. Therefore, it is crucial to select the right size to ensure a comfortable and safe ride.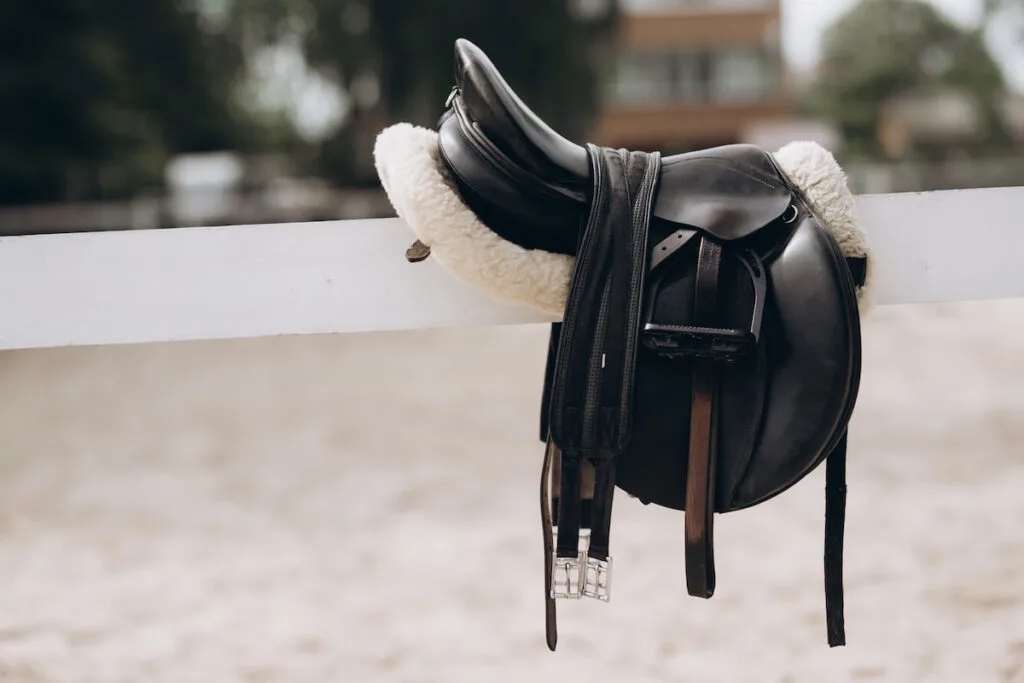 What Is the Difference Between an English and an Endurance Saddle?
English saddles are for horse riding disciplines such as dressage and jumping, while endurance saddles serve long-distance riding over varied terrain with a deeper seat and relaxed fit for comfort.
Final Remarks
Finding the right endurance saddle for you and your horse is crucial for a successful and comfortable ride.
There are many factors to consider, such as your riding style, horse's conformation, and personal preferences.
A well-fitted saddle can prevent discomfort and injury, allowing you and your horse to enjoy many miles of riding together.
With the above seven listed endurance saddles, there is sure to be one that meets your needs and helps you achieve your riding goals.
Resources