*This post may have affiliate links, which means I may receive commissions if you choose to purchase through links I provide (at no extra cost to you). As an Amazon Associate I earn from qualifying purchases. Please read my disclaimer for additional details.
A saddle pad is a small blanket that rests between the saddle and your horse's skin.
Saddle pads are designed to protect your horse from friction and irritation and keep your saddle in place while you ride.
Some styles can help alleviate various other problems your horse may be having as well.
With thousands of different saddle pads available to purchase, it can be tricky to know which one will work best for you and your horse.
When choosing an English saddle pad for your needs, consider the following: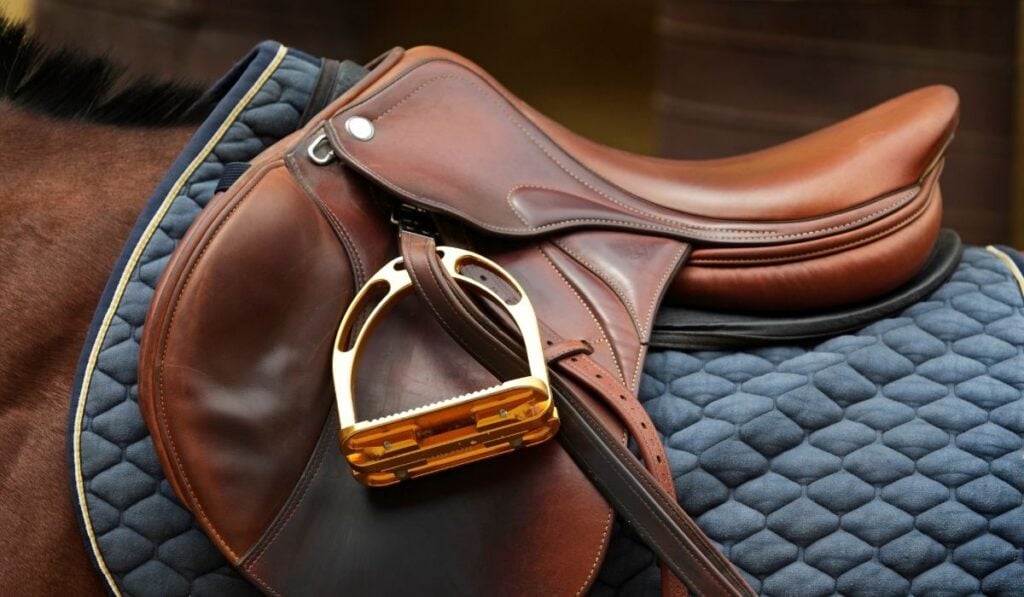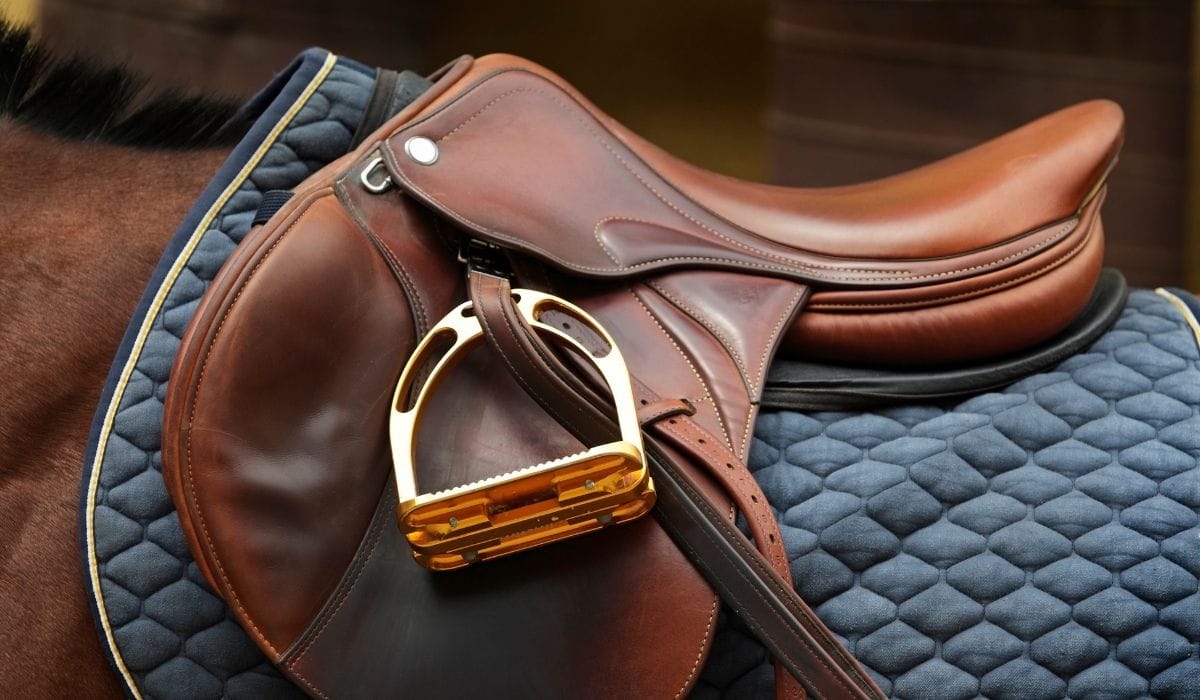 Discipline. Dressage riders will need different saddle pads than show jumpers, although there are some basic styles that work for most disciplines.

Showing vs schooling. If you plan to compete, you'll want to make sure your horse has the right outfit for the show ring. It doesn't matter as much if you're just practicing at home.

Material. Saddle pads are usually made of wool, fleece, cotton, polyester, or other synthetic materials. This will affect their quality, price, temperature, comfort, durability, and more.

Function. The right saddle pad can provide support where you need it most, depending on your discipline, saddle fit, and riding style.

Horse conformation. Horses with high withers or low backs may need special saddle pads to suit their needs. If your horse gains or loses weight easily, you may also need a pad to help your saddle fit its best.
Different Types of English Saddle Pads
There are three general types of English saddle pads:
Square/rectangular pads
Shaped/contoured saddle pads
Specialty pads (this includes half pads)
Basic square or shaped pads reduce friction from the saddle, whereas specialty pads can correct or alleviate different problems.
Here are the most common types of English saddle pads you can buy and where to find them: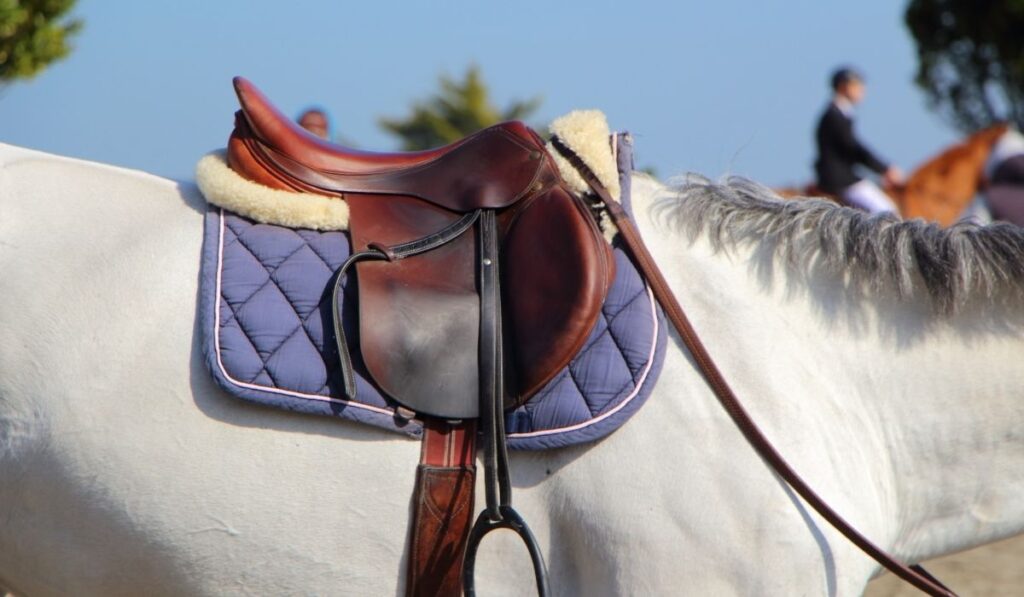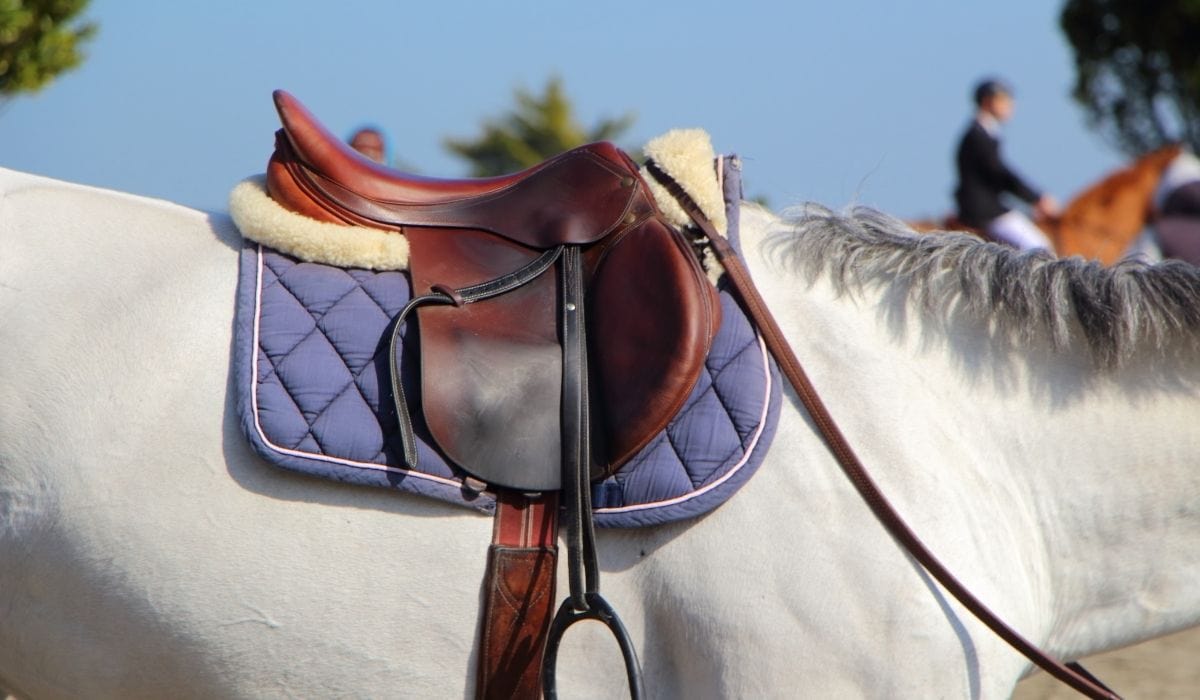 1. All-Purpose Saddle Pad
Suitable for most disciplines, these rectangular or square quilted saddle pads will give you plenty of protection without any extra bulk.
They're relatively inexpensive unless you're adding custom monogramming or stitching, and they come in tons of different color options.
All-purpose pads are usually made from some blend of cotton and polyester, and may include a layer of moister-wicking fabric as well.
Many styles also have billet and girth straps to keep your saddle in place, and they may also be fitted with foam or gel inserts to provide extra support along the spine.
Some all-purpose pads are contoured to fit the shoulder area of a horse with high withers.
"Dressage saddle pads" are rectangular saddle pads that accommodate the longer length of a dressage saddle's flaps.
Fitted properly, these pads give your horse plenty of coverage both in front and behind the saddle.
And may be decorated to show off your barn's colors or logo at a show.
Price: $
Where to Buy: Amazon
Dover Saddlery Quilted All-Purpose Piped Saddle Pad
2. Shaped or Contoured Saddle Pad
For a saddle pad with a lower profile, contoured pads are designed to fit your saddle and leave only a few inches of surrounding extra space.
They're great for jumping or general schooling, especially in hot weather or to show off your horse's movement.
They can be made from fleece, cotton, or a blend of materials depending on your needs.
Many shaped pads are quilted in the area underneath the saddle and lined with fluffy fleece around the border.
Some contain pockets for foam inserts that can provide extra support where you need it.
Price: $$
Where to Buy: Amazon
Derby Originals Fleece Padded Contour All Purpose English Saddle Pad
3. Correctional Half Pad
Some horses need a little extra support underneath the saddle; and a half pad can be a great addition to help correct issues with fit, heat, or trauma.
Half pads will fit lengthwise beneath the saddle, but they have a 12" drop – half the length of the saddle flaps.
They're often used in conjunction with full saddle pads, but be careful not to add too much bulk or you can compromise the fit.
Correctional pads with removable foam inserts are especially handy because you can tailor your pad to suit your horse's needs – such as gaining or losing weight easily.
You can also find simple versions of these pads that just provide a little extra support to the withers area or along the spine.
Price: $$
Where to Buy: Amazon
ECP All-Purpose Diamond Quilted Cotton English Half Saddle Pad
4. Riser Pad
These lightweight foam pads provide extra support to horses with high withers or back issues, and can correct the issue of a tilted saddle.
They're designed to absorb shock and provide support by lifting the saddle off of your horse's spine (either in the front or the back, depending on the style).
These pads are often used in conjunction with a flat saddle pad for friction protection.
However, make sure that your saddle isn't overcorrected and tilting forward or backwards too much, as that can create uncomfortable pressure points (especially if the saddle's tree is too narrow).
Price: $$
Where to Buy: Amazon
Wintec Comfort Saddle Pad Lift Front, Exselle Comfort Riser Saddle Pad
5. Anti-Slip Pad
For some horses, a regular saddle pad isn't enough to keep the saddle from slipping forwards or backwards.
If your horse is particularly rotund or he has flat withers, these silicone pads can help keep your saddle in place if he suddenly stops short.
Or, it can keep you from sliding off the rear end of hot high-withered horses.
Some riders prefer them for competition because they are clear and harder for judges to see.
But make sure to check with individual class regulations to make sure they're allowed.
Price: $$
Where to Buy: Amazon
Ovation Perforated Silicon Anti-slip
6. Gel Saddle Pad
Basic gel pads are useful for absorbing shock, preventing chafing, or adding extra support for your saddle.
They're made from durable silicone gel which molds to your saddle and your horse's back.
While they aren't fancy or especially contoured, they're perfect for throwing under your saddle and giving your horse's back some extra support without creating bulky pressure points.
Price: $$
Where to Buy: Amazon
Ovation Comfort Gel Standard Equestrian Black Saddle Pad
7. Endurance Saddle Pad
Endurance riders spend long days in the saddle, and they need a saddle pad that can stand up to the rigors of long-distance riding.
A good endurance pad should be lightweight but tough, and made from durable yet breathable materials.
They can also generally be used for jumping and cross-country, as they're designed to absorb shock, dry quickly, and stay put.
Price: $$$
Where to Buy: Stateline Tack
T3 CoolBack Endurance Pad Extreme-Pro Impact
8. Trail Riding Pad
English riders love to hit the trails just as much as their Western-riding counterparts and having a good saddle pad to do the job is necessary for a fun time out in the fields.
Made of lightweight neoprene, these pads dry quickly and provide good shock support for long days out on the trail.
They also feature handy pockets to hold the necessities without adding cumbersome saddlebags.
Price: $$
Where to Buy: Amazon
Professional Equine Horse English Endurance Non-Slip Neoprene Dressage Saddle Pad w/Pockets