*This post may have affiliate links, which means I may receive commissions if you choose to purchase through links I provide (at no extra cost to you). As an Amazon Associate I earn from qualifying purchases. Please read my disclaimer for additional details.
Dressage is an elegant sport that shows off the true partnership between horse and rider in a test of obedience and training.
It's hard to achieve a high score without the right equipment for the job.
And using the right type of dressage saddle pad can mean the difference between a happy, healthy horse and a sour cranky one in the competition arena.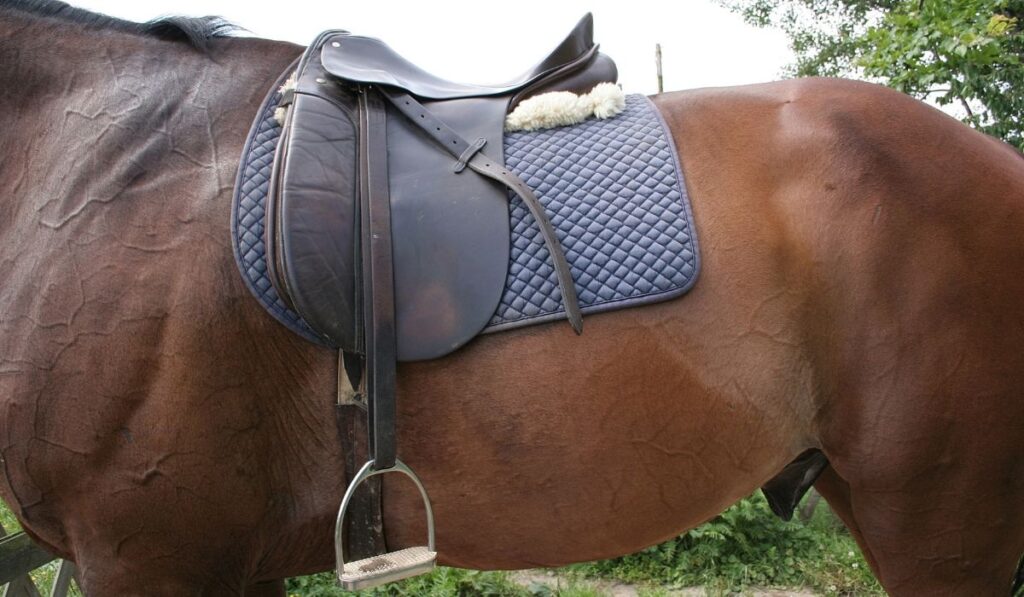 Here are some of the specific types of saddle pads that can help you achieve your dressage dreams.
All-Purpose Quilted Dressage Saddle Pad
Most dressage saddle pads are square in shape to accommodate the longer flaps of a dressage saddle.
This gives length to a rider's leg and provides closer contact for more efficient communication – one of the pinnacles of dressage.
Basic all-purpose quilted dressage pads are perfect for schooling or for showing.
A basic polyester quilted pad is fairly inexpensive, but you may want to invest in a high-quality version for competition.
They come in many different colors and sizes, so you're bound to find one that suits your taste and needs.
Price: $
Where to Buy: Amazon
Dover Saddlery Quilted Dressage Square with Piping
Half-Lined Dressage Saddle Pad
While dressage is a close-contact sport, some horses need a little more support under the saddle to protect their sensitive spines.
A half-lined dressage saddle pad looks like a normal square pad from the outside, but the underside is partially lined with fleece.
This provides some extra cushioning beneath the saddle, as well as some extra grip for a particularly slippery horse or saddle.
Using a pad like this can also help prevent pinching in sensitive areas without adding too much bulk.
This is useful especially if your horse is sensitive to an ill-fitting saddle.
Price: $$
Where to Buy: Amazon
Derby Originals Semi Fleece Lined Dressage Saddle Pad
Half-Pad
Half-pads are used in a variety of equine sports to absorb shock and provide cushioning beneath the saddle.
They may be made of fleece, foam, or gel depending on your needs.
Fleece and foam will help provide cushioning, and gel will provide air circulation and prevent slippage.
These pads are designed to provide support underneath the saddle, but are generally used in conjunction with a traditional dressage saddle pad.
While this can be helpful for ensuring a good saddle fit on horses that have trouble maintaining condition, they may be a bit bulky with properly fitting tack.
Price: $$
Where to Buy: Amazon
Kavallerie 3D Air-Mesh Half Pad/Saddle Pad
Corrective Dressage Saddle Pad
A corrective square dressage saddle pad can provide extra support without increasing the bulk.
Many of them feature additional foam inserts that can be removed as your horse gains or loses muscle condition.
Traditional half-pads are great for correcting issues with saddle fit, but a full corrective saddle pad has a lower profile and offers a versatile performance.
Price: $$
Where to Buy: Amazon
ECP Correction Dressage Saddle Pad
Shaped Pad
While most dressage saddle pads are square in shape, you can find shaped pads that are designed to fit the unique contours of a dressage saddle.
They have a lower profile, which is helpful for reducing heat and allowing your horse's movement to speak for itself.
You'll want to measure your saddle carefully to make sure the saddle pad will fit, and many of them also have fleece trim and cutouts for wither support.
Price: $$
Where to Buy: Amazon
Derby Originals Shaped Wither Relief Dressage English Saddle Pad
High-Rise Dressage Saddle Pad
A basic dressage saddle pad is fairly square, and doesn't give enough clearance for horses with high withers.
The pad will lay awkwardly flat, and it might not even cover your saddle flaps properly.
If your horse is blessed with a couple of shark fins, a tapered high-rise saddle pad can help quite a bit.
Its higher rise in the front is designed to give high-withered horses a little extra room underneath the saddle.
You can find them in basic inexpensive polyester versions, or high-end performance models with corrective inserts.
Price: $
Where to Buy: Amazon
Roma High Wither Quilted Dressage Pad
Single-Sided Dressage Pad
Like half-lined pads, single-sided dressage pads are also lined with breathable non-slip silicone – but the lining rests underneath your saddle rather than on top of your horse's skin.
There's still a layer of soft material between you and the horse, but your saddle won't be sliding around.
Higher-end versions also contain memory foam for extra support, but without the extra padding of an additional half-pad.
Price: $$$
Where to Buy: Dover Saddlery
LeMieux X-Grip Single-Sided Dressage Pad
Western Dressage Saddle Pad
While western saddles for western dressage don't typically have the unique longer flaps of their English counterparts, some saddle pads are better suited for the discipline than others.
A good western dressage saddle pad will have a low profile and classy look.
And it'll keep your horse cool and comfortable without slipping.
Competition rules for western dressage tack may vary from show to show, but schooling with a close-contact and comfortable saddle pad is always a good bet.
Price: $$
Where to Buy: Amazon
Lettia CoolMax Western Saddle Pad