*This post may have affiliate links, which means I may receive commissions if you choose to purchase through links I provide (at no extra cost to you). As an Amazon Associate I earn from qualifying purchases. Please read my disclaimer for additional details.
From ropers to riders, we know cowboys for their classic western boots. But what sets them apart?
Let's dive into the world of boot heels and learn more about this critical component of a timeless look.
Western boot heels include: Fowler heels, roper heels, walking heels, fashion heels, cowboy heels, and riding heels.
Whether you're an experienced rider or it's your first pair, this article offers a few insights. Join me as I delve into the various types of western boot heels and what differentiates them.
Moreover, I break down each class so you can find your perfect fit.
Let's get started!
The 6 Western Boot Heels
We categorize cowboy heels according to style and height.
Heel Height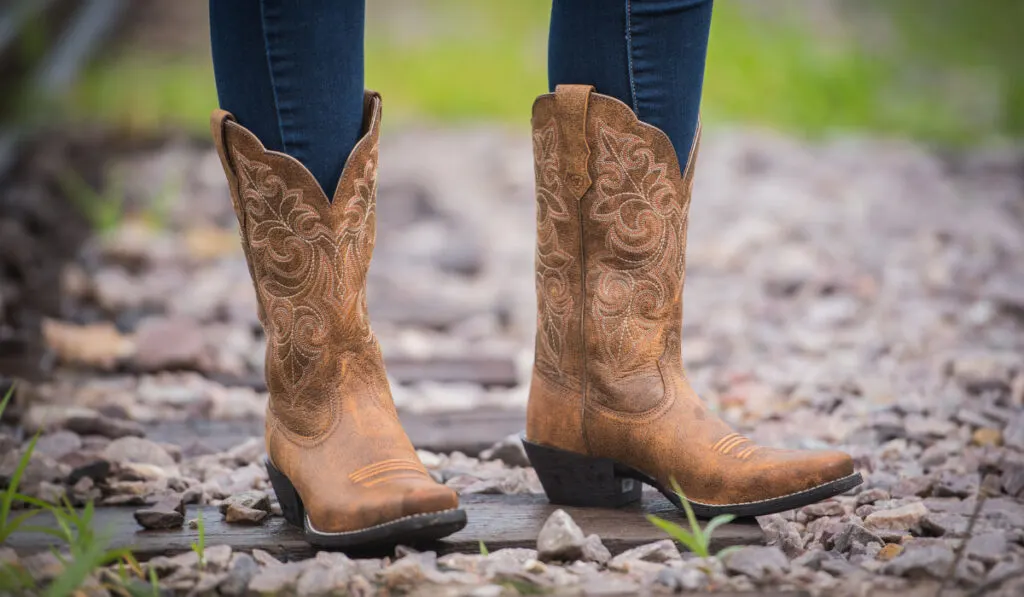 We measure heel height from the base of the heel up to where the side seam begins.
The categories of heel heights include;
Low Heel
These are one and a half (1 ½'') inches in height. The low-heel boot is ideal for walking, ranch work, and horseback riding.
Standard Heel
These are one (1″) to one and a half (1 ½'') inches in height, with flat bottoms. They have a clean look and are ideal for everyday wear, ranch work, and horseback riding.
It is more comfortable than the two (2'')-inch.
High Heel
These are two (2'') or more inches with flat bottoms. They are ideal for everyday wear, ranch work, and horseback riding since they fit well in stirrups.
Heel Style
The heel plays an essential role in shaping the boot. Thus, consider looking into the various boot heels first to find the right pick.
BOOTTYPE
SHAFT HEIGHT
HEEL HEIGHT
HEEL SHAPE
TOE
SOLE
Cowboy Boots
Mid-calf area.
11- 12 inches in height.
1 ½ inch
Angled
Pointed, flat, rounded
Smooth leather. It may have a heel cap.
Riding Boots
12-13 inches in height.
From the mid to upper calf area.
2 inches
Angled
Pointed, rounded
Smooth leather.
Roper Boots
It is 7-10 inches in height.
Between the ankle and mid-calf area.
1 ½ inch.
Squared
Rounded, squared
Variable. It often has tread and traction rubber.
Walking Boots
It is 7- 10 inches in height.
Mid-calf or lower ankle area.
1 ⅜ inch
Variable
Rounded, slightly tapered
Variable. It often has tread and traction rubber.
Fashion Boots
Variable.
2 inches or more
Variable
Variable
Variable. It often has tread.
Fowler Boots
Tall and narrow.
1 ⅛ inch
Angled
Variable
Smooth. It often has a metal shank.
Table 1: Summary of the different Boot Heels and their attributes.
These include:
1. Fowler Heels
These are one and an eighth (1 ⅛'') inches.
They are tall and narrow in appearance with a slight angle. This angle gives a more formal look and a subtle lift, which is ideal for western riding. Also, it offers excellent stability while still providing some flexibility.
Moreover, they often feature a metal shank that offers more stability and support.
Top tip 1: Your boot is different from your shoe size. Try the boots on to find the best fit.
If you want to learn how to fit your western boot properly, below is a YouTube video explaining the steps. https://www.youtube.com/watch?v=-IMDJg1nOD8&ab_channel=KirbyAllison
2. Roper Heels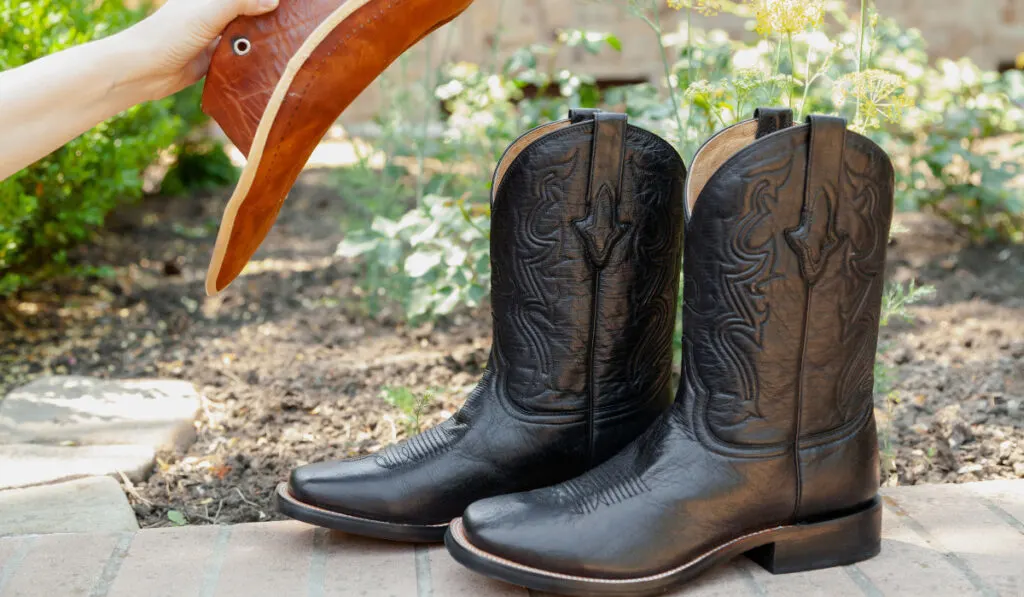 These heels are one (1'') inch in height.
They are shorter and broader than Fowler heels, with a rounded appearance. This heel style is trendy among ropers due to its enhanced stability and durability.
Its edgy aesthetic is perfect for any western outfit or rugged terrain.
Top tip 2: The elderly should go for lower heels because they offer more comfort, especially on the knees.
3. Walking Heels
These heels are one and three-eighths inches (1 ⅜'') in height. They're lightweight, have a broader base, and have a less pronounced pitch. These low-cut heels offer versatile wear and are great for everyday use.
This boot heel-type design is lightweight while providing plenty of traction on urban sidewalks or dirt paths.
Top tip 3: The taller the heel, the more mass it has and, thus, the louder sound it makes when walking.
4. Fashion Heels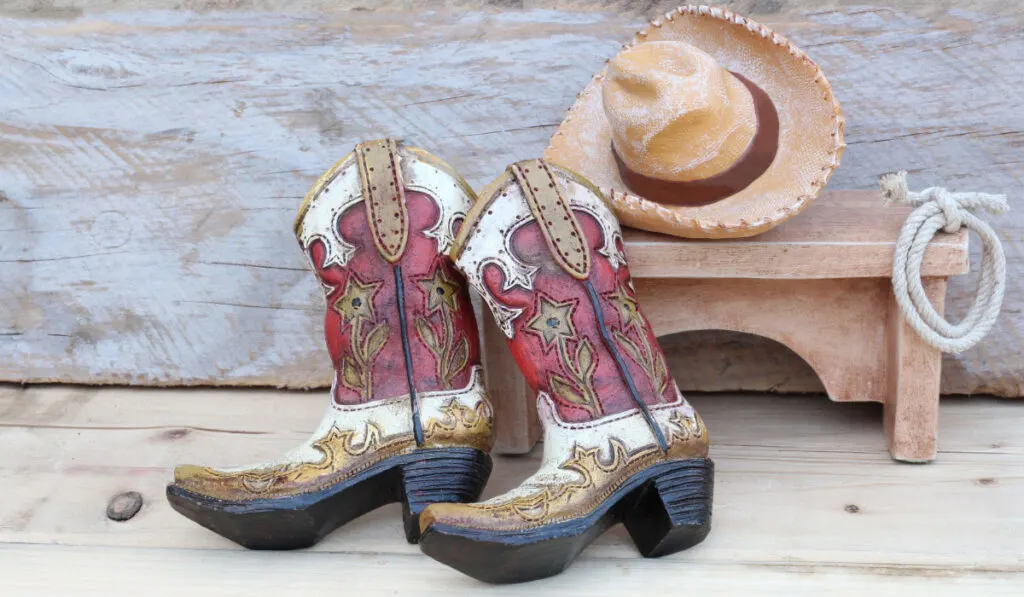 From wild prints to colorful embellishments, fashion heels come in various styles and designs to suit any taste. You can go all out or keep it simple. It's all up to you.
Fashion heels are two (2'') inches or more, with a steeper pitch than the others. These trendy styles feature standout details like:
Cutouts
Fringe
Studs
Metallic finishes
All these features give the boot a bold and polished look.
Top tip 4: Rubber soles allow for a bouncier and softer footfall, enhancing the comfortability of the boot.
5. Cowboy Heels
For those that prefer a more traditional look, cowboy boots with classic cowboy heels are the way to go. With its clean lines and understated design, this style is perfect for anyone looking for that authentic western flair.
Cowboy heels are one and a half inches (1 ½'') in height. However, they are narrower than the walking heel but not as thin as the riding heel.
It has a sturdy construction and traction sole that helps keep you grounded even on slick terrain. As a result, the boots are more comfortable and durable, perfect for riding and everyday wear.
Top tip 5: Cowboy boots pair well with a sleek jacket and belt. For social wear, pair with relaxed jackets and trousers.
6. Riding Heels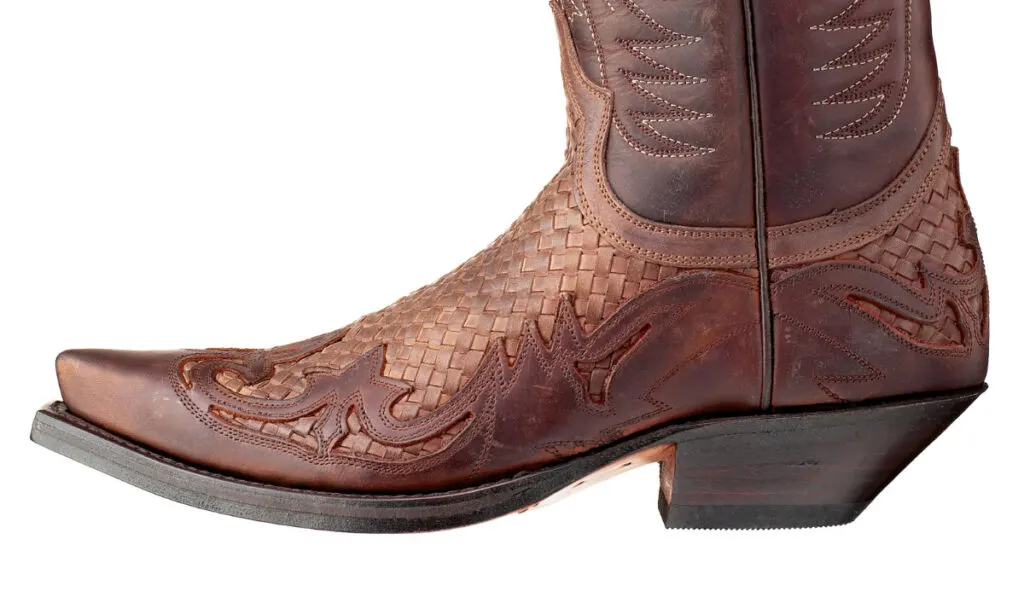 These heels are more suitable if you're looking for a more luxurious option. These sophisticated boots feature fine detailing like decorative stitching and metallic hardware, making them the ideal choice for dressy ensembles.
With a broader toe box for lasting comfort and an elegant silhouette, riding boots are sure to add style and sophistication to any outfit.
They are 2 inches in height with a noticeable slant, making them not suitable for walking long distances or periods. In addition, they are longer and thinner than other boot heel styles, providing a smooth ride and maximum stability.
Top tip 6: The heel will slip in the back when you first walk with a new boot. Don't panic; this is a regular thing.
Top tip 7: If your toes pinch you when trying on a new boot, you may have the wrong size.
Top tip 8: Western boots should fit snugly across the boot's instep.
Resources