Have you been thinking about decorating your horses stall? Do you want a customized stall sign but need it on a budget? This tutorial is for you!
This post contains affiliate links. Please read my disclaimer for more information about affiliate links.
Customized Stall Sign Tutorial:
Customized Horse Stall Sign
Materials:
Step 1:
Assemble supplies.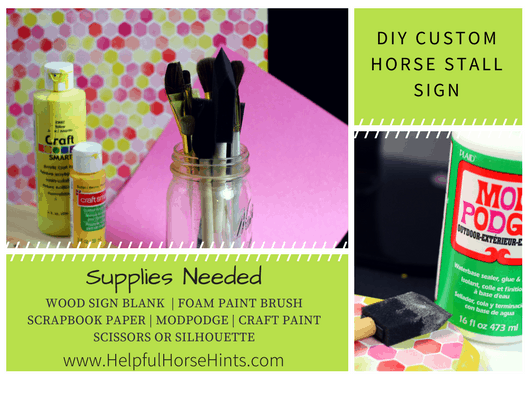 Step 2:
Apply a coat of paint to the face and edges of the sign blank and allow to dry. Sand any rough edges.
Step 3:
Use your scrapbook paper to emboss the outline of the sign face onto the piece of scrapbook paper you intend to use as your background. Using a lead pencil, lightly rub the paper to define the edge lines where you should make your cuts.
Step 4:
Cut out the background image and apply to stall sign using ModPodge and foam brush. Allow to dry.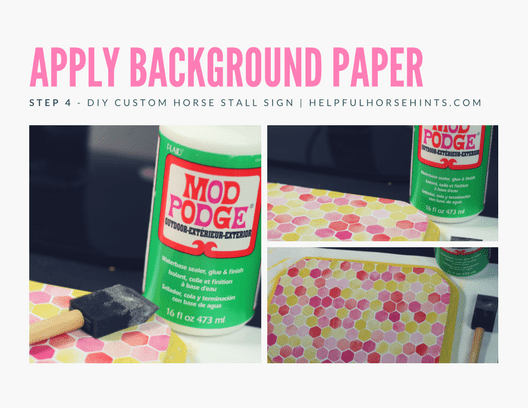 Step 5:
Determine font and style for your horses name for the front of the image. If using a scrapbook paper, trace and then cut out horse's name. In my example, I used a silhouette cutter to print the horse's name.
Step 6:
Because my background did not stand out well, I used my silhouette to cut out an additional strip to accent the horses name.
Step 7:
Adhere all pieces to the sign blank with Outdoor modpodge.
Step 8:
Apply at least 3 coats of Modpodge before hanging on horses stall!
Enjoy your new customized stall sign!