*This post may have affiliate links, which means I may receive commissions if you choose to purchase through links I provide (at no extra cost to you). As an Amazon Associate I earn from qualifying purchases. Please read my disclaimer for additional details.
Are you on the search for delicious homemade horse treats? There are so many awesome recipes that work well for horses. These easy DIY horse treats are a combo of bake and no-bake horse treats.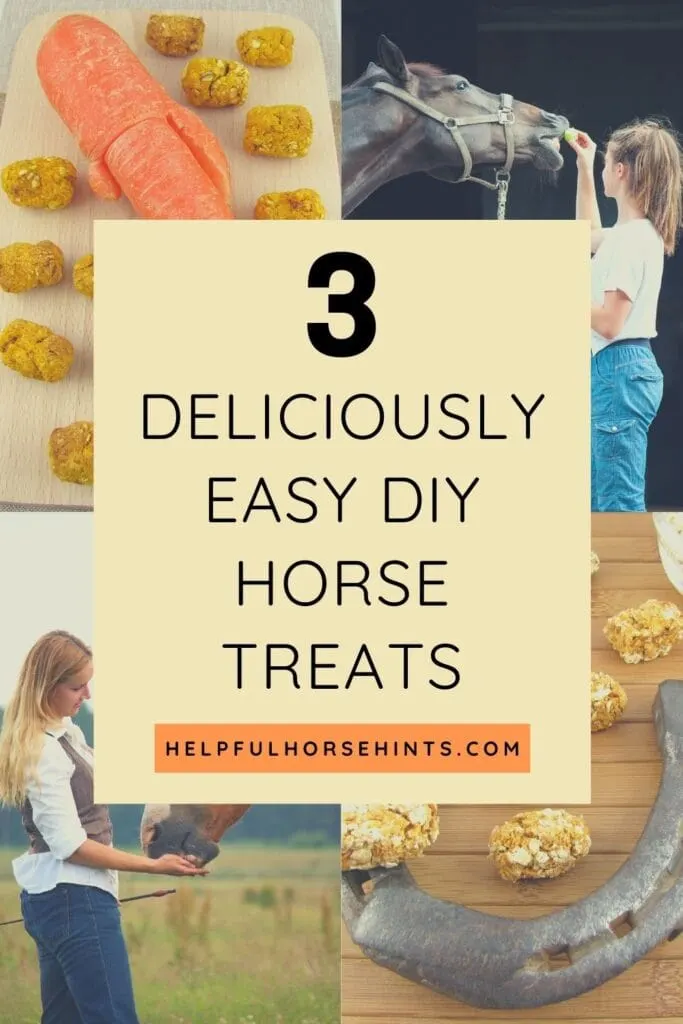 In this list of horse treat recipes, we were sure to include horse treat recipes with no molasses for horses that shouldn't have it. In addition, keep in mind that peanut butter in horse treats can typically be replaced with almond butter or eliminated altogether if you use more molasses for binding.
Here is a list of some truly yummy treats that your horses are sure to enjoy.
Rice Krispies Delight – No Bake Horse Treat
We all love Rice Krispies, and our horses are no exception! These treats are quickly made, require no baking, and are absolutely loved. Let's get started.
You will need (for 15 treats):
3 cups sweet feed
5 cups mini marshmallows
3 cups Rice Krispies
2 tbsp butter
Recipe
Melt the butter in a pot over medium heat and add marshmallows. Mix well and turn off the heat.
Add sweet feed and Rice Krispies and stir properly until well-mixed.
Spoon the mixture in a greased cake pan and spread uniformly.
Let cool and then cut into small pieces of desired shape.
Feed to your horse right away, or store in the refrigerator for later use.
Apple and Oats Mini Cakes
This hearty treat is the perfect blend of nutrition and taste, supplying plenty of fiber to your horse. It tastes delicious and your horse is sure to love it.
You will need (for 20 treats):
1.5 cup oats
1.5 cup cereal
0.5 cup applesauce
0.25 cup whole wheat flour
0.25 cup brown sugar
Recipe
Pre-heat your oven to 350 degrees.
Combine the ingredients together and mix well using a blender.
Make small cakes out of the dough and stack them on a cookie tray.
Bake for 15 minutes and let cool.
Offer the cooled treats to your horse and if any are left, save for further use by storing in the refrigerator.
Hearty Fibrous Muffins
This recipe is a miracle for horses because it packs them with instant energy. Although the recipe includes peanut butter, you may replace it with additional molasses if you or your four-legged friend is allergic to peanuts. Either way, they will be super-tasty. Here's how they are made.
You will need (for 20 muffins):
1 cup sweet feed
1 cup whole wheat flour
0.5 cup peanut butter
0.5 cup molasses
0.25 cup water
Sprinkles for garnishing
Recipe
Preheat your oven to 350 degrees.
Combine peanut butter, sweet feed and flour in the mixing bowl and add water and molasses to it while mixing.
Once mixed, use your hands to make small balls and garnish with sprinkles.
Place the balls on a baking tray and bake for 10-12 minutes.
Let cool before serving.
Ingredients
These three recipes are tested and loved by horses. Although these recipes are great, you could also try to create your very own signature horse treat at home. Here are some horse-safe ingredients that you could use for this purpose:
Flour, cinnamon, oatmeal, molasses, honey, carrots, grated apples, bananas, pumpkin, corn syrup, eggs, peanut butter, applesauce, butter, sunflower seeds (without the shell), marshmallows, sesame seeds, ice cream cones, gingerbread.
There are lots of things horses can eat although some may be picky and slow to try new things. For example, BLM mustangs fresh out of the wild can be hesitant to try carrots.
When introducing new foods to your horse, you may want to try a small piece and give it a day or two to ensure your horse is not allergic.
Bring out your creativity and innovation with these ingredients and make some awesome, tasty DIY horse treats of your own. Don't forget to share your recipe if your experiment turns out good!
Best of luck!
RELATED POSTS