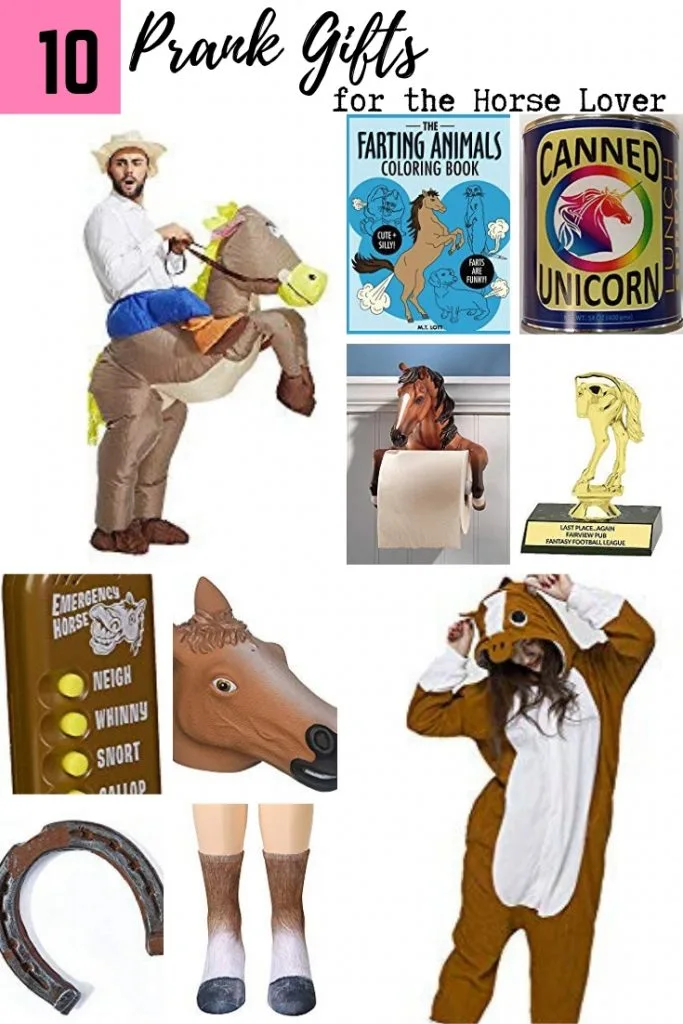 *This post may have affiliate links, which means I may receive commissions if you choose to purchase through links I provide (at no extra cost to you). As an Amazon Associate I earn from qualifying purchases. Please read my disclaimer for additional details.
It's getting to be that time of year again. April Fool's day is rapidly approaching. It is so fun and amusing to prank our family and friends. This April, think outside the box with Equestrian / Farm Specific pranks for the loved one in your life.
We've carefully curated the following items on Amazon. Most are even available with Prime shipping! They are sure to get a few weird looks, and maybe some laughs!
1. Canned Unicorn Meat
Nothing says "You're the best" like a can of Unicorn Meat. This gag could be played so many ways!! Invite a couple friends over for dinner. Have a chat as you cook some meat on the stove and maybe just happen to have the can open.
Best thing is, if you don't "give" it as a gift…you can reuse it year after year. If you do give it…try a gift basket with crackers, carrots and other assorted goods!!
2. Everybody Loves Socks
Animal Paws Socks
Material: 80% Polyester,10% Cotton and 10% Spandex, excellent elasticity, comfortable and funny to wear.ONE SIZE FITS MOST – Comfortably fits most feet up to men's size 13. FUN COSTUME – Wear them as the finishing touch on that animal costume.
Different pattern options-There are 10 different animals for you to choose, Cat, Dog, Elephant, Tiger, Horse, Eagle, Pig, Donkey, Zebra and Dinosaur.With the paw socks,TURN YOUR FEET INTO PAWS – Hilarious socks turn your feet into the paws of your favorite animal.Size:Around 33*9cm(13*3.6inch)
Socks are a great gift. Especially in April! Things are still cool enough to need them and they can really make a statement. That is even truer with these awesome 3D printed socks!!
Have a dog lover, cat lover, pig lover in your family? Most of the vendors below have lots of options for the whole family!
Creative Men Women Fun Socks 3D Print Animal Feet
Material: Polyester
Size: Fits socks size 8-14; men shoes size 7-13 / women shoe size 7-12.5.
Animal Feet Design: The unique animal feet design makes your feet eyes catching, adds much fun to your life.
3. Horse Pajamas
Unisex Adult Animal Pajamas Soft One-Piece Costume
BREATHABLE POLAR MATERIAL – Made from very high quality breathable material so that you can feel comfortable wearing for hours at a time
DETAILS – The adorable and eye-catching animal One -Piece designs all feature a hood with eyes , teeth, and nose for full effect.
Comfy and cozy. Isn't that what everybody wants to be when April showers hit? Your loved one will look super fabulous in this awesome adult sized onesie. It even comes with a matching tail. Who wouldn't want this superbly fashionable pajama??
4. A New Horse
Sale
Inflatable Horse Costume for Boy
Includes a free cowboy hat
100% polyster; one size fits all (adults)
Requires 4 x AA Batteries (not included); It must be 4 AA batteries or it will not be powerful enough to fully inflate the costume
What girl (or guy) doesn't want a new horse! I mean c'mon. You can never have too many right!! Here is how I see this prank going:

You prepare a beautiful envelope with a nice little gift card. Something sweet and to the point. Maybe a quote like:

No hour of life is wasted that is spent in the saddle.



Winston Churchill
Then something sentimental like…I know you didn't NEED a new horse, but I felt like this was the "right" horse for you.
I don't know, I'm not good at all that cheezy stuff but you get the gist. Then you hand over the box and voila…laughter ensues!
P.S. On a side note, this one doubles as a great desensitizing "obstacle" for the real horses. Throw somebody in this costume at your next training session and voila…instant obstacle (and GREAT fodder for Facebook!)
Sale
Inflatable Horse Costume for Boy
Includes a free cowboy hat
100% polyster; one size fits all (adults)
Requires 4 x AA Batteries (not included); It must be 4 AA batteries or it will not be powerful enough to fully inflate the costume
5. Horse Head Squirrel Feeder
You know you want to see this out at the barn right!! Whether your barn has regular squirrels or ground squirrels, this gift is sure to make your friends LOL!
Think of all the different places you can hang this and the hilarious photos that are soon to follow!
6. Farting Animals Coloring Book
Farts are funny. With all of the adult coloring books out there on the market, make sure the one you gave as a gift is the one that will be remembered.
Horses, squirrels, cats…they all fart. Don't ignore it! This gift is awesome paired with colored pencils or crayons!
The Farting Animals Coloring Book
Lott, M T (Author)
English (Publication Language)
43 Pages – 10/13/2016 (Publication Date) – CreateSpace Independent Publishing Platform (Publisher)
7. Horse Toilet Paper Roll Holder
Stallion Bathroom Toilet Paper Holder
ROUND EM UP & ROLL EM OUT – Our Steady Stallion horse statue stands at the ready to dispense toilet tissue paper perfect for your cowboy themed rustic bathroom decor
THE TOILET PAPER DISPENSER FOR MUSTANG RIDERS – Let our equine horse statue hold your toilet tissue paper in a barn decor rustic bathroom, or as the ultimate gag gift for a mustang loving friend
Great for the barn bathroom or just to bring the joy of horses into the home. This horse toilet paper makes sure you are thinking of horses EVERYWHERE!
With a little bit of patience you could even customize this awesome gift by repainting the markings to match your loved ones own horse. Pair it with some unicorn toilet paper and voila…complete gift package ready to go!
Unicorn Toilet Paper Novelty Bathroom Tissue
HAPPINESS BY UNICORNS: Watch pink unicorns prance over rainbows while doing your business and feel instantly happier!
MAGIC & FRIENDSHIP: Bring magic and friendship into your bathroom, with this cute toilet paper. But beware! Once you've used a unicorn to clean your butt, you'll never want to use anything else.
8. Horse's Rear Trophy
Horse's Rear Loser Trophy
PARTICIPATION: Ah, the classic horse's rear trophy… Everybody loves the loser! Reward your loser with this horse butt trophy!
CUSTOMIZE: Click on Customize Now: 4 Lines of FREE personalization! For no customization, simply put "no engraving" in line one and we will send your engraving plate separately.
LASER-ENGRAVED: Professionally engraved and polished gold plate included
Is your horse friend really good at some things? Snarky replies, witty comebacks? Give him/her the recognition they deserve with this customizable Horse's Rear Trophy.
With four lines of free personalization, this gift is sure to be memorable! Be sure to order a little early so the vendor has time to print your perfect message!
9. Chocolate Horse Shoe
You really can never go wrong with chocolate and this gift is no exception! Really, it's perfect for any occasion but we think it is a great gag gift too! Whether you get one or a full set, this will be the gift they talk about for years to come!
10. Emergency Horse
Does that special person in your life LOVE horses but has to go to that four letter thing called work? Maybe your friend travels often or (gasp) has a non-horse loving spouse and has to spend time AWAY from the barn!!
You can help ease their pain with the emergency horse. It makes four different sounds so your friends can feel like they carry a little bit of the stable with them.
As an aside, this pairs nicely with a horse mask, horse pajamas or the horse costume!
We hope you have enjoyed this guide full of prank gifts for the horse lover. If you haven't done so already, check out some of our other equine themed gift guides!