In the north western United States you'll find a little town called Burns, OR. Dubbed the gateway to the Steens, this quaint town was established in 1891. What makes it remarkable for readers like you is that it is home to a BLM Wild Horse Holding Facility.
Located on U.S. Highway 20, 2 miles west of Hines, OR. The facility can hold up to 775 animals although they may have more or less at any time due to horses being gathered and released or transferred to other facilities.
Visiting the Burns, OR Facility
The Burns, OR facility is typically open to the public Mon – Fri from 8 am to 3 pm. Visitors do not need an appointment to do the auto tour and look at animals.
If you are traveling long distances it is always a good idea to double check the facility is open as they do sometimes close early or get time off prior to a Holiday weekend.
Visitors can contact Patti Wilson at 541-573-2748 for additional information and to confirm facility hours.
Adopters should have an approved application before setting up an adoption appointment. Once approved, adoption appointments can be setup with the facility manager at 541-573-2930.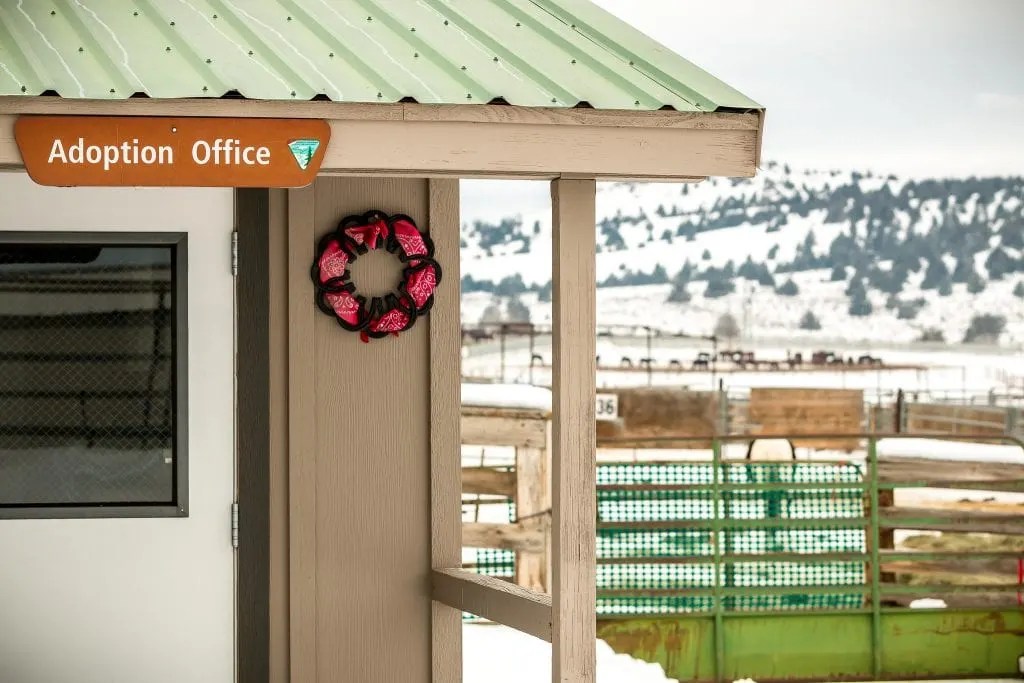 Adoption Process at the Burns, OR Facility
Like most off-range corrals, the Burns, OR facility allows for in-person adoptions as well as online adoptions via the Wild Horse and Burro Online Corral.
For information on how to adopt a horse (or burro) from the Burns, OR facility, contact the office at 541-573-4400 or check out the BLM website for more information.
Statistics for the Burns, OR Wild Horse Facility
This data below was accurate as of April 25th, 2019. It is no longer accurate and only meant to serve to give the reader a general idea of what a possible breakdown at a BLM facility might look like. Facility inventory changes on a day to day basis and statistics like these are impossible to update on that frequency.
All the Pretty Mustangs
Individuals looking to adopt a mustang from any facility often wonder "what's available". The answer to that can change very quickly, especially at processing facilities like Burns. Once horses are processed, they can be sent at any time to another facility. This means that inventory is ever changing.
This also means we can't know for sure on any given day what is available and what isn't. What we can do is take a look at the facility inventory for a moment in time. A snapshot. That is where these statistics originated.
If you are looking for a specific color or type of horse, the best thing to do whenever possible is to visit the facility. If you are unable to visit, call and ask the staff. Keep in mind that, depending on the time of the year, they may be very busy but they will do their best to help when they can.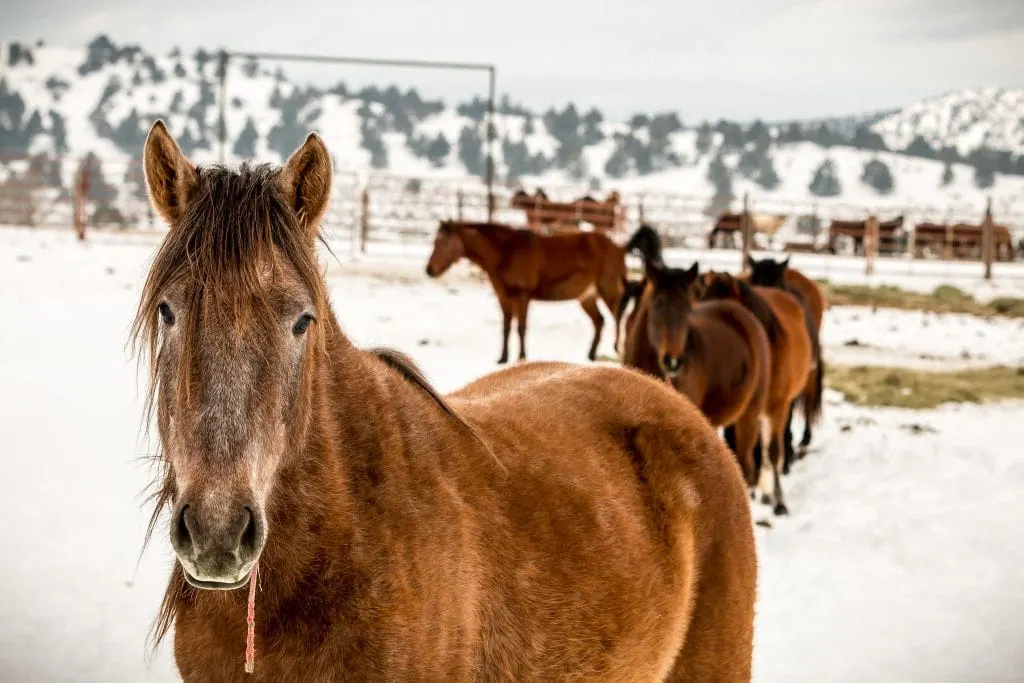 Mustang Age Distribution
If you are looking for a young prospect, you should have no trouble finding what you need. Mustang foals and yearlings are great for first-time adopters to get started with. Typically they are easier to gentle and, because of their age, you are less likely to feel the need to rush through their training and get them under saddle.
How many foals and yearlings are available just depends on the time of year. Nothing is cuter than a little mustang baby. Show him the ropes and he'll become a great breed ambassador.
Here are some age related statistics pulled for the Oregon BLM Holding Facility on
# of Horses Aged 0-3 = 385
# of Horses Aged 4-7 = 250
# of Horses Aged 8-10 = 80
# of Horses Aged 11-15=89
# of Horses Aged 15+ = 11
Total # of Horses = 815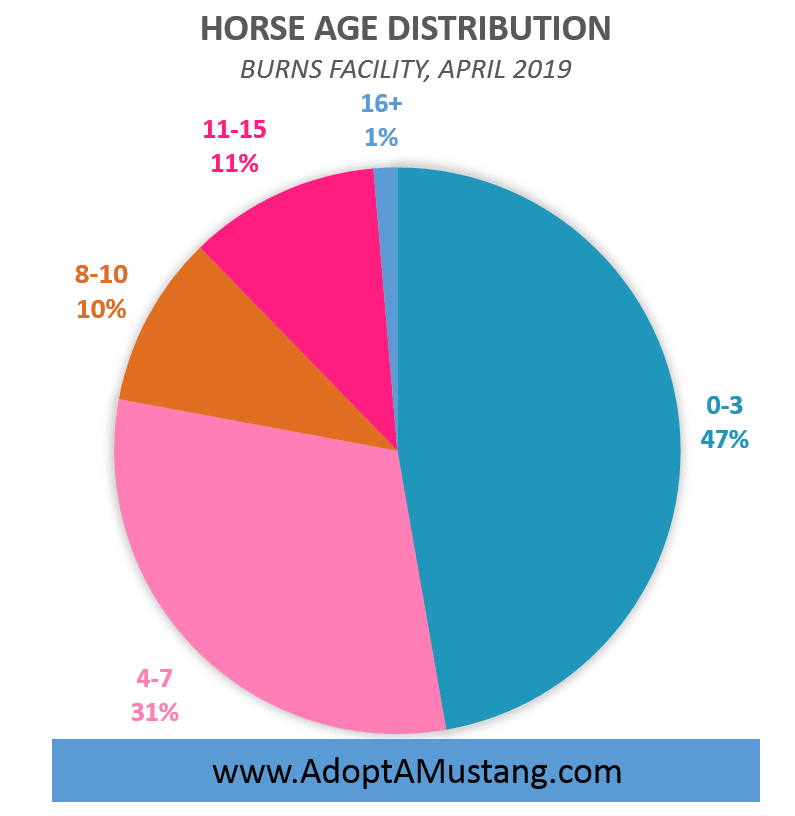 Burros at the Burns, Oregon Corrals
Burro availability can be limited at the corrals in Burns, Oregon. The Oregon facility doesn't really process burros since they aren't found on nearby HMA's. The facility sometimes has them available for adoption. If you are in Oregon or a surrounding state and want to adopt a burro, it is best to let the facility know as far in advance as possible. This will help to ensure they have a burro available for you when they next receive them.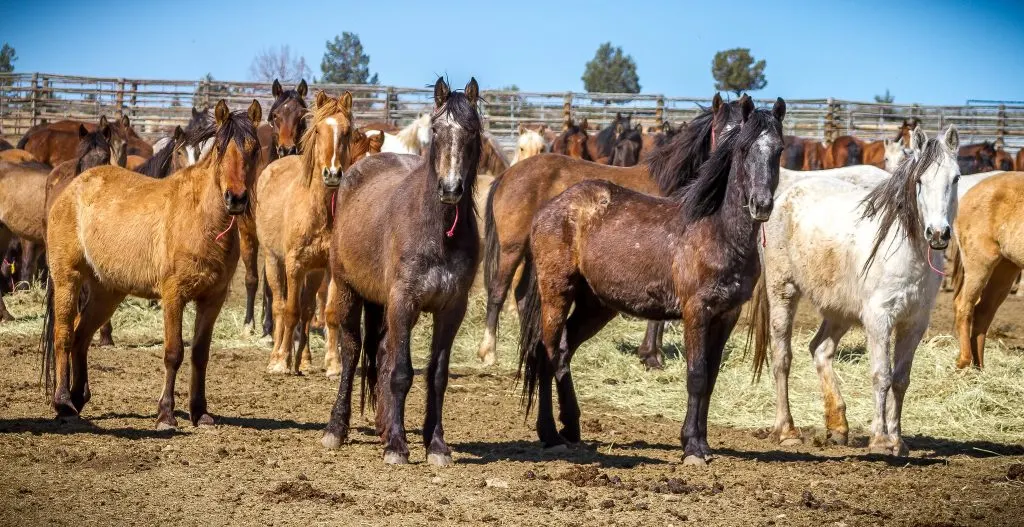 Horse Color Availability
Who doesn't love a Palomino? Glistening gold body with a beautiful white mane and tail? What about a glorious grey. Every girl feels like a princess on a gray horse with a sparkling white coat, mane and tail. No matter your color preference, you should be able to find the mustang of your dreams.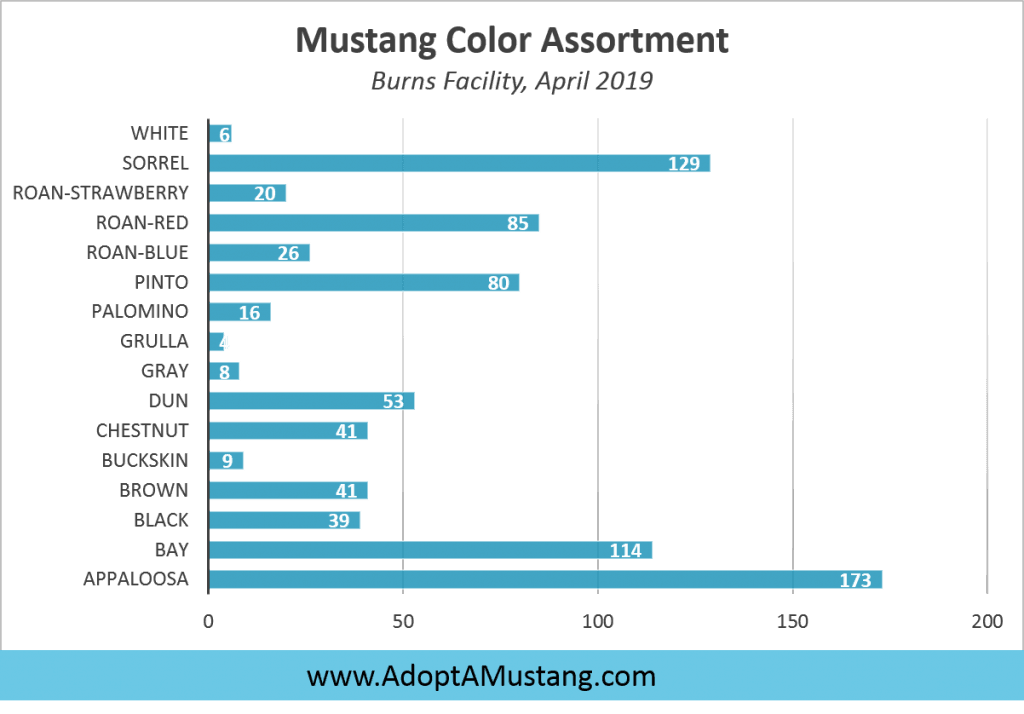 Here are the statistics for color breakdown of the horses at the Burns, OR Wild Horse Facility in April 2019.
Appaloosa Mustangs = 173
Bay Mustangs = 114
Black Mustangs = 39
Brown Mustangs = 41
Buckskin Mustangs = 9
Chestnut Mustangs = 41
Dun Mustangs = 53
Gray Mustangs =8
Grulla Mutangs = 4
Palomino Mustangs = 16
Pinto Mustangs = 80
Roan-Blue Mustangs = 26
Roan-Red Mustangs = 85
Roan-Strawberry Mustangs = 20
Sorrel Mustangs = 129
White Mustangs = 6
Now, keep in mind when looking at these colors that the classification isn't always accurate. BLM might report a horse as buckskin because they couldn't see the lineback for the dun. Or maybe they reported a horse as bay because it came in as a foal and then roaned out. It's also possible a horse that is going gray looked like an Appaloosa when it came in but now it is all white.
If you are really looking for a horse of a specific color, its best to visit the facility nearest you to see their selection. On this day in Oregon, the above is what you may have seen.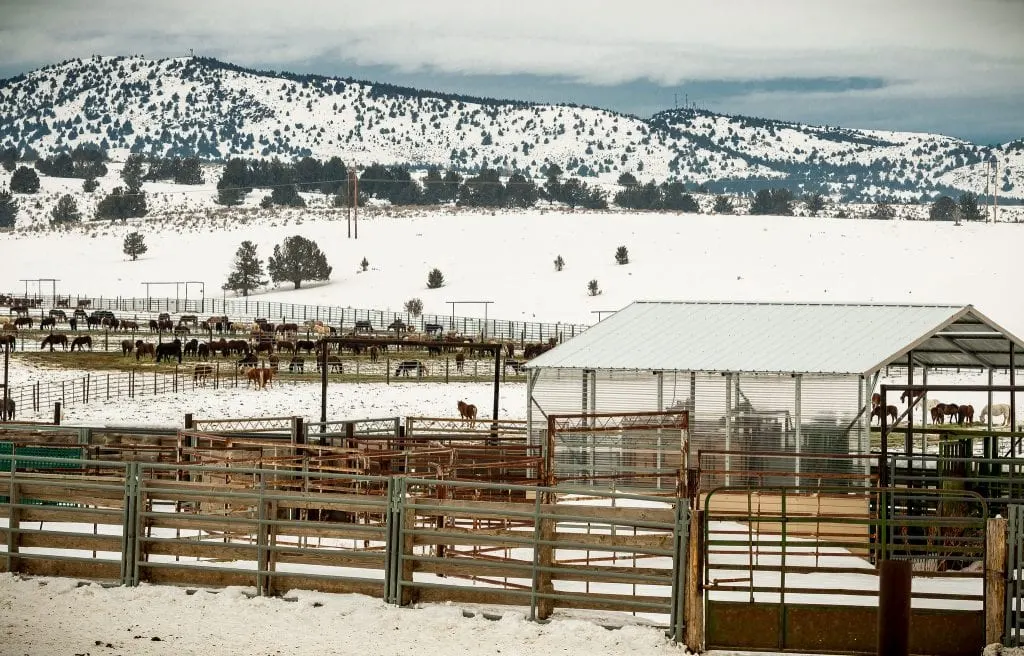 HMA Distribution
HMA means Herd Management Area. It is the area that BLM gathered a specific horse. When wild horses are gathered by the BLM, their HMA is noted. Oregon is particularly known for the highly desirable Kiger mustangs. The Kiger horse exhibits strong Spanish type. They are often dun with beautiful long manes and tails.
Of course, there are other herd areas as well. Because Burns is a processing facility, the HMA's available there at any given time is going to be highly dependent on which areas were most recently gathered. In this case, it appears Warm Springs was just gathered based on the data. The BLM website confirmed my guess, Warm Springs had been gathered 6 months prior in October 2018.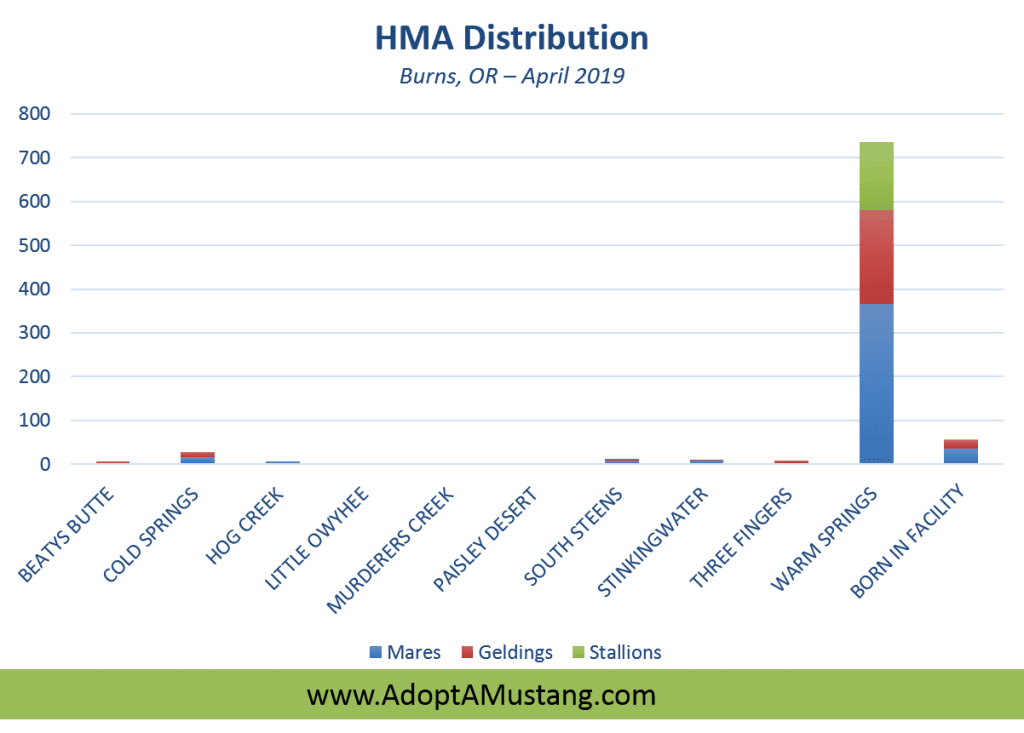 The graph above makes it hard to see the distribution of the other HMA's so I created this one that excludes Warm Springs.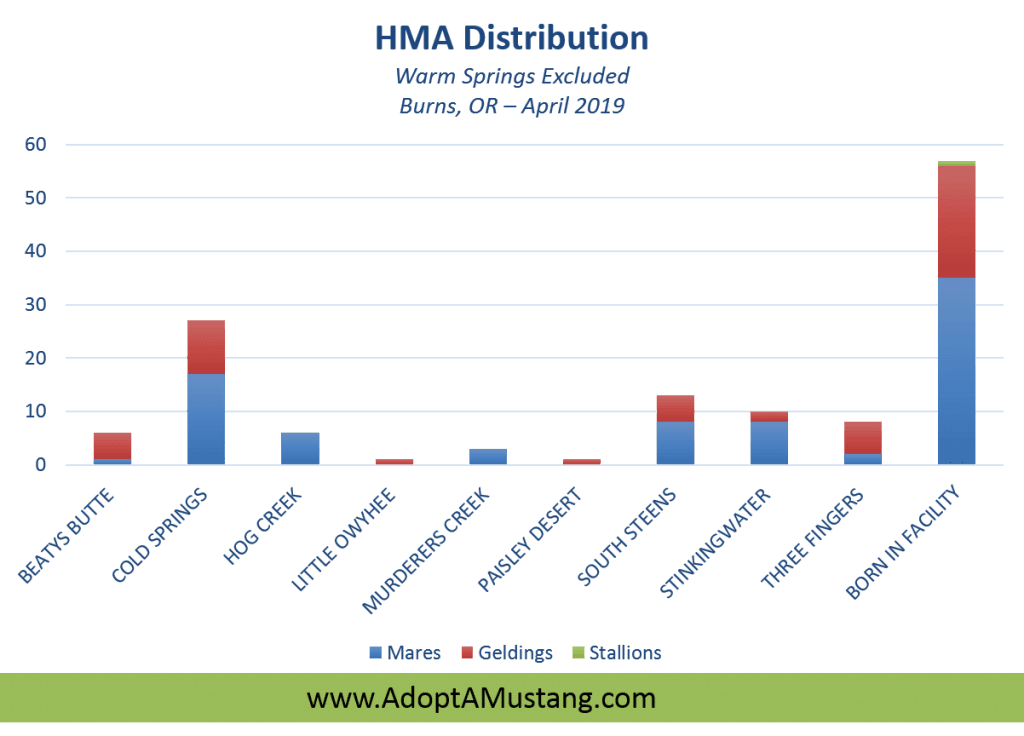 If you are ever in search of a selection of horses from a particular HMA, it is best to call the facility ahead of time and see how many they have. In this case, if you were looking for a gelding from Hog Creek, you would have been out of luck. All six hog creek horses were mares. Finding those six among 446 other mares would have been quite an undertaking as well.
The HMA Breakdown for horses at Burns, OR corral as of April 25, 2019 was as follows:
Beatys Butte Mustangs = 6
Cold Springs Mustangs = 27
Hog Creek Mustangs = 6
Little Owyhee Mustangs = 1
Murderers Creek Mustangs = 3
Paisley Desert Mustangs = 1
South Steens Mustangs = 13
Stinkingwater Mustangs = 10
Three Fingers Mustangs = 8
Warm Springs Mustangs = 735
Born in Facility Mustangs = 57
Gender Distribution
Are you a mare person? Do you prefer geldings? Girls are my favorite but, of course, every horse person has their own preference. The thing about the wild is things stay pretty even.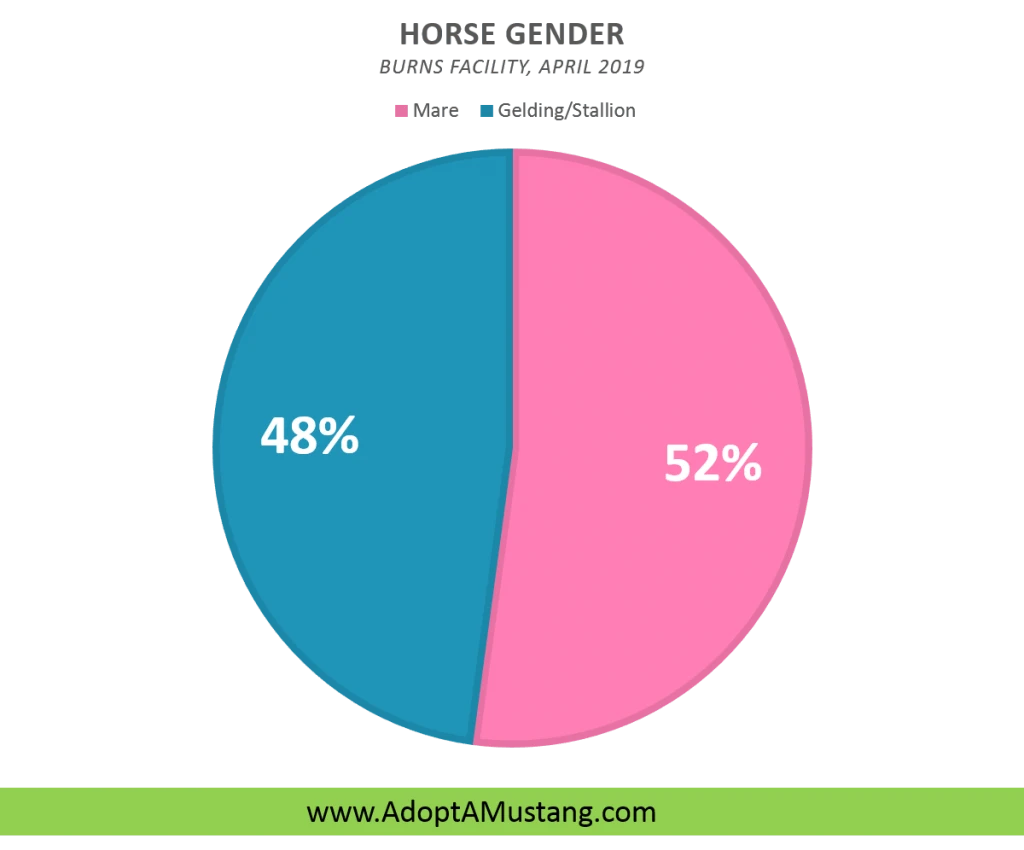 The gender breakdown for horses at Burns, OR corral as of April 25, 2019 was as follows:
Mares = 440
Geldings = 249
Stallions = 155
Stallions & Geldings = 404
Mustangs for Sale in Oregon
Wild mustangs can be adopted or purchased directly from the BLM facility. The pricing is typically $125 but can vary. If you are looking to purchase a trained animal, there are several great places to start your search.
Local TIP Trainers
The Mustang Heritage Foundation has a program where trainers take in horses and provide them with basic halter training so that they are better able to find adoptive homes. The program is called the Trainer Incentive Program or "TIP" for short.
Not everybody is equipped to handle a wild mustang and these TIP trainers take time to gentle each horse. When it's training is complete, the horse should be able to be haltered, lead, load into a trailer and pick up all four feet.
The great thing about this program is that the adoption fee is still just $125 for horses that go through this initial training. It's a win win for the horse and the adopter.
For a list of TIP trainers in the Oregon area, contact the Mustang Heritage Foundation. They will have a list of the trainers active in a given area.
Teens and Oregon Mustangs
Founded in 2009, Teens and Oregon Mustangs is a 501(c)3 organization that provides an opportunity for Oregon youth to participate in training and competing with wild mustangs. Adults can compete as well, in the adult division that was added in 2014.
Horses are picked up completely wild from the Burns Corral and trained for the competition. Adults and teens will compete for prizes. At the end of the event, many horses will be re-homed via a competitive live auction.
Auctions like these are a great place to adopt a mustang horse. You get the opportunity to own a very well trained horse that has experience traveling and competing. Some of the things horses are trained to do at this competition are absolutely amazing.
The trade off here is that it is a competitive bid. While horses start at $125, the most popular horses can be adopted for thousands.
This organization has provided a great opportunity for youth and adults to learn about training a wild horse. Competitions like these also serve as a great way to increase public awareness. Whether you want to participate in the auction or not, attending the event can give you a plethora of inspiration of the things you can accomplish with your BLM mustang.
Purchasing Privately Owned Mustangs
Privately owned mustangs can be found just about anywhere else you'd look for a "regular" horse online. This can include Craigslist, local Facebook groups, horse magazines, feed store flyers, etc.
The BLM adoption period is 1 year. During that time a horse can't be sold or given away without the new owner filling out adoption paperwork with the BLM. Once the adoption period has passed, the adopter can apply for "Title" to the BLM horse.
If you are in the market for a BLM mustang, be sure the horse is titled and the seller can transfer ownership. If the horse isn't titled, no need to worry, BLM can help you with the process of getting the horse switched into your name.
Contact Info for Burns Corral
Bureau of Land Management
28910 Hwy 20 West
Hines, OR 97738
541-573-2748
541-573-2930
References
Welcome to the City of Burns-Home. (n.d.). Retrieved May 28, 2019, from https://ci.burns.or.us/
Photos used with permission from BLM – Retrieved June 17, 2019 from BLM Oregon Flickr Album – https://www.flickr.com/photos/blmoregon/albums/72157679952475476/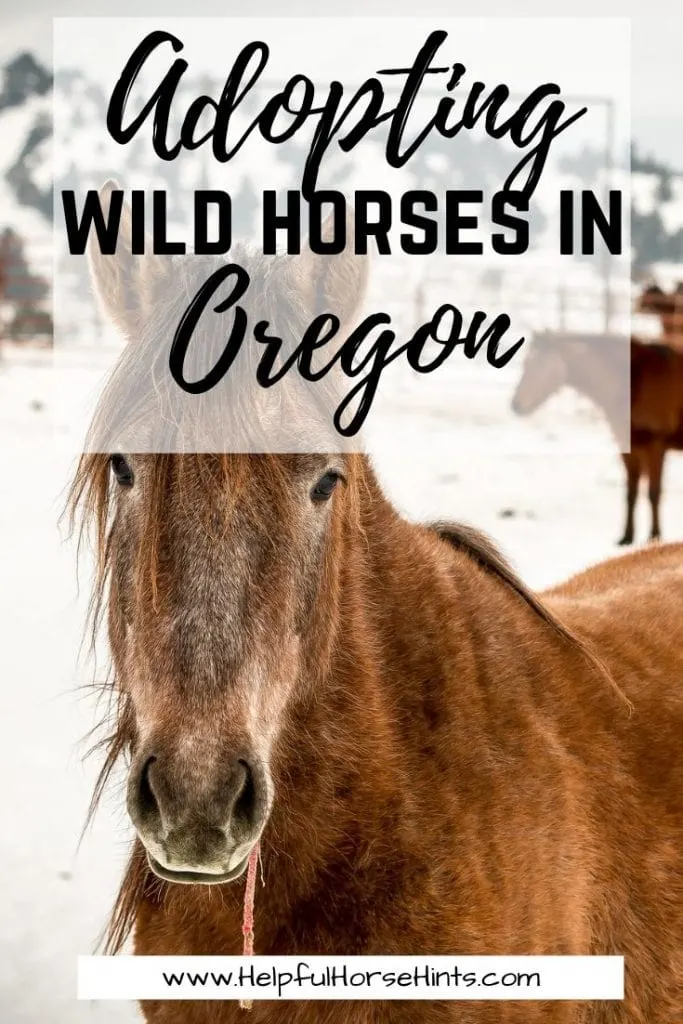 RELATED POSTS
Resources
https://ci.burns.or.us/%20