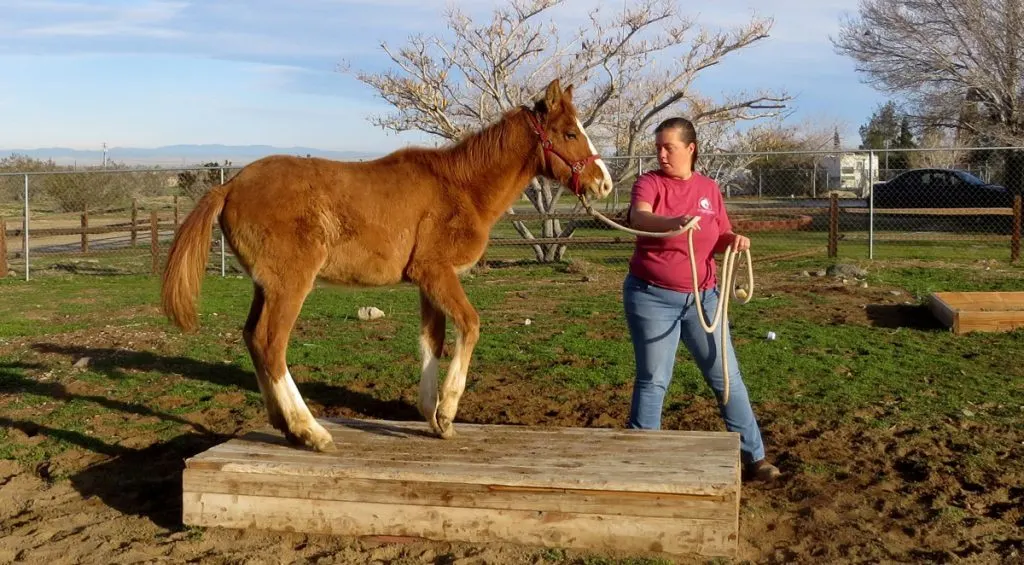 January 2013 was the year I first started training horses for Mustang Heritage Foundation's Trainer Incentive Program (TIP). If you had told me then what would follow I wouldn't have believed you.
I went from one horse to four to getting 10 horses at a time. I became a "storefront" facility and founded a non-profit that has, to this day, adopted out over 200 animals.
Still, even though the program has been around for many years, I see lots of people with lots of questions about how to get started.
I don't work for the BLM or for the Mustang Heritage Foundation but I was involved with both for years. My hope is that this post will help you make a decision on whether or not to become a TIP trainer.
Keep in mind that these are my personal opinions based on my personal experience training over 100 mustangs and burros via the TIP program.
I'll generically use the term mustang or horse in the text below but everything I say should also apply to burros.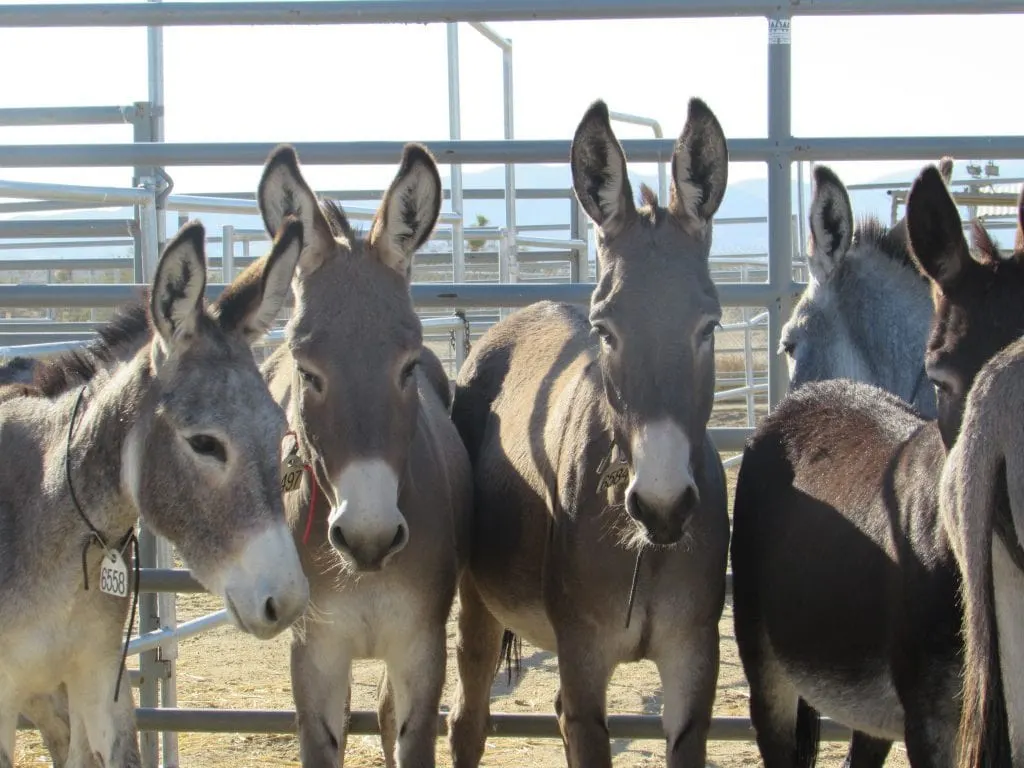 Should You Become A TIP Trainer?
The truth is, I can't answer this question for anyone. My gut answer is that every person should try their hand at training a mustang. Whether you do that on your own or as a trainer is up to you.
There are several factors involved with TIP training. You need the right truck to pull the right trailer, you need to have 6′ tall fencing if you want to train horses and 5′ for burros. Experience with horses (or burros) is a must, it's required for the program but also necessary for success. In fact, the more horse's you have trained in your equestrian career, the more likely you are to be successful at training wild mustangs.
So, you can do the training, OK…you have to be able to market your animal to find an adopter. That means placing ads, getting the word out, answering stupid questions people will ask like "can my kid ride this horse".
Aside from marketing is the expense. It's all up front out of pocket expenses for you. Your gas, your trailer, your hay, and your vet bill if something goes wrong.
The rewards though, in my experience, make it all worth it. At the end of the day you were able to provide your chosen mustang or burro with a positive training environment, you were the one who picked them to lead a life that includes all of the wonderful things having your "own" human comes with.
When it is all said and done, you were the one that helped a human who wanted a mustang to find a mustang who needed a human.
Let's take a look at my opinion of the type of experience you should have and a basic walk-through of the process, start to finish, you might expect if you decide to become a TIP trainer.
Your Equestrian Background
I think having a background in horses is very crucial to being able to be successful as a TIP trainer. The more horses you have handled, the better you will be able to handle different situations presented by mustangs (or burros).
The question is, how much horse experience is enough?
The answer is going to vary from person to person. Here are some training situations you should be comfortable with or be willing to potentially pay another trainer to help you deal with if you encounter them.
Halter breaking an adult horse (they are a lot stronger than babies)
Teaching a horse who has never had its feet touched to accept touch and then accept picking up the feet…while at the same time not getting yourself kicked.
Instilling confidence in a horse that rears or strikes out of fear.
Instilling confidence in a horse that bites or kicks out of fear.
Teaching a horse at liberty to turn into you instead of turn into the fence (this is very helpful).
Understand how to be soft and light and respond positively to pressure.
Facility Requirements for BLM Horses
In order to adopt a mustang, or participate in the TIP program, the US Government wants to make sure you have the appropriate facilities to house and care for a wild horse.
For horses over 1 year of age this means that you need to have a minimum 400 square foot pen (20'x20′) that is six foot tall. (source)
Standard panels are typically 5′ tall so this 6′ requirement is often the first hurdle a soon to be TIP trainer must cross.
If you have questions about setting up your facility or meeting requirements, contact your local BLM corrals. They are likely the ones that are going to be reviewing your application and they will help you ensure you have the facilities you need to get started.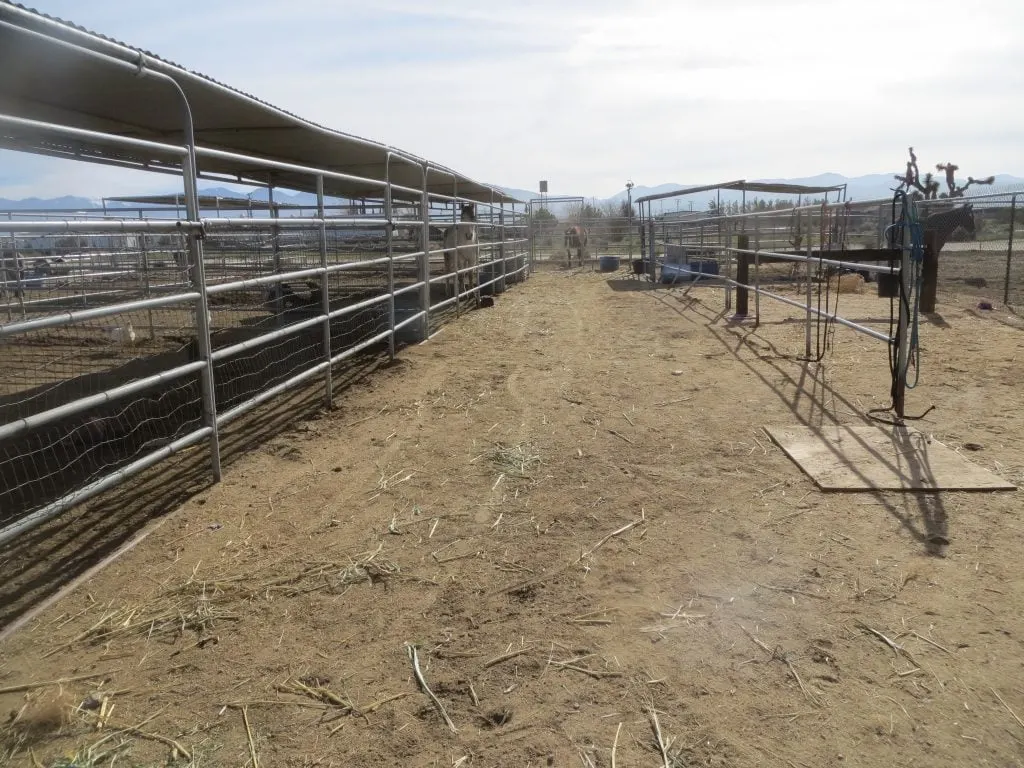 The Application Process
For me, the application process was easy. I went to the Mustang Heritage Foundation website and filled out the application. At the time it was a PDF form that I submitted.
Looking back through my emails I actually applied in September of 2009. It didn't take long to get approved, about two weeks start to finish.
Granted, that was 10 years ago but the process should still be reasonably quick depending on the time of year and where the MHF is in their makeover schedule.
They now have an online application available here: TIP Application
It's OK to followup but remember that you want to establish good, positive relationships. If you don't think you have heard back in a timely fashion, a polite call or email asking for status update is awesome. If they don't have one, ask when would be a good time to followup again and set a reminder for that date.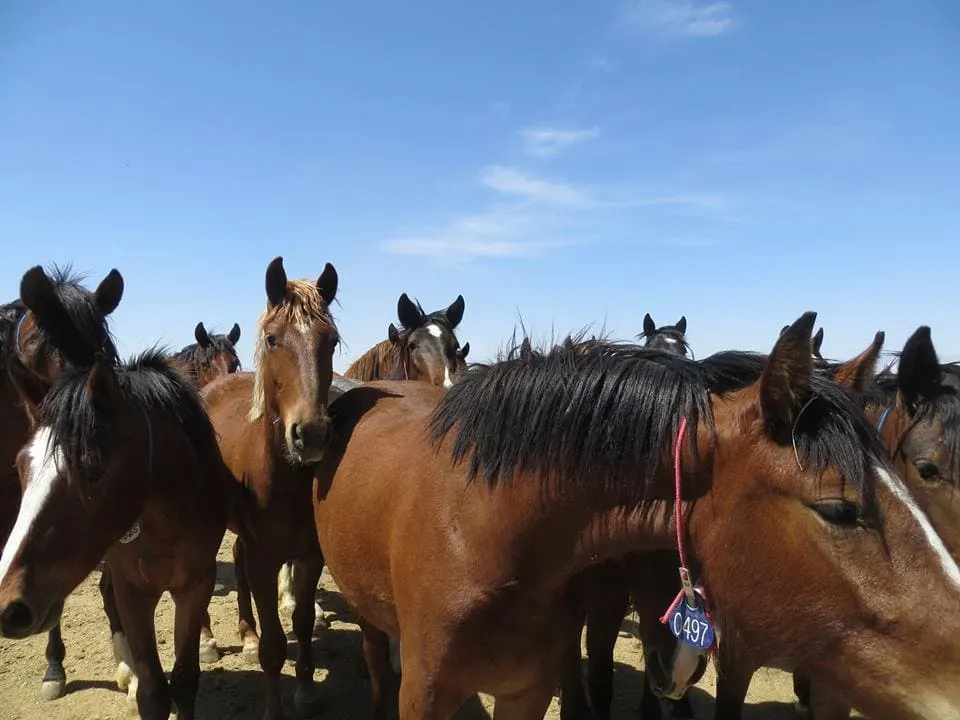 Picking Out Your First TIP Horse
Before you make your TIP pickup appointment, think about what you want in your first prospect. In my experience, taller horses are easiest to find homes for but maybe your corrals has a 12 hand pony mustang that would be easy for you to place with contacts in the driving community.
It's best to have a checklist of things you would like and things you for sure don't want. For example, I preferred not to have mares within 1 year of gather (that could be pregnant) and I preferred not to take horses that had been returned. Here are some ideas of things you should look at for your checklist:
Height
Body Size
Conformation
Color
Age
Gender
HMA
Time in Holding
Sale Authority or Not?
Previously Adopted / Returned
Friendly / Curious
If I can stress one thing it's when you pick out your very first horse, if the facility operates like Ridgecrest and a BLM employee goes out with you to view the available mustangs, listen to their impressions of horses and temperament. They have seen tens of thousands of mustangs. They work with them daily and may even have some insight on individual animals that are particularly friendly.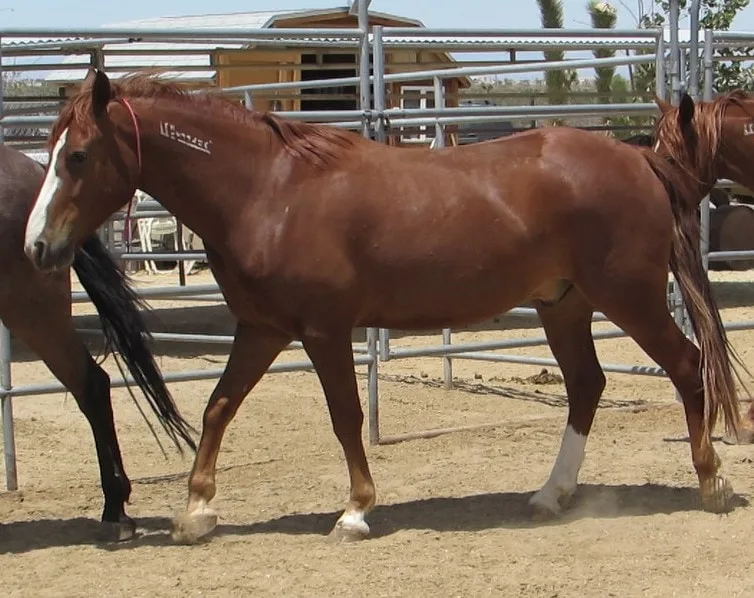 Halter or No Halter
I've done it both ways. For starting out, if you have never gentled a mustang before and your corral is safe so the rope won't get snagged, I recommend a halter and drag line to start.
Your horse will start to teach itself the basics of pressure and release as it steps on the lead rope. That will also help to get the horse used to movement on the ground and touching his front legs.
When I first started I found it helpful to be able to start teaching a horse to lead by picking up the lead rope. I'd ask the horse to yield a couple times and if I could get a couple good responses I'd quit for the session.
Having that halter and lead rope on is a crutch that can be very beneficial when you are first getting started.
As I got better, more confident I started having just the halter on, and eventually nothing.
If you don't feel comfortable having a halter and/or leadline on that is OK too. Just realize that training might take longer to get to that stage BUT, you will probably have a stronger relationship with the horse that way.
There are pros and cons to each.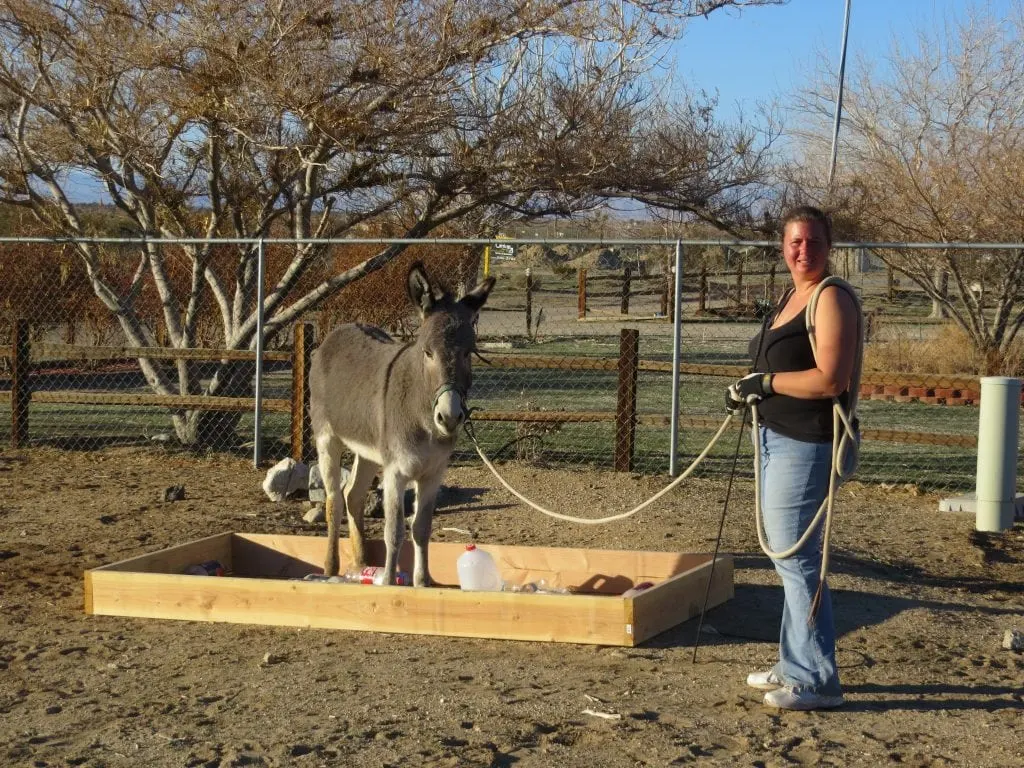 The Training Process
This is going to differ from horse to horse. At a minimum, you'll need to work with the horse until it meets TIP requirements which are:
Halter and lead.
Load into a trailer.
Pick up all four feet.
Remember these are minimums. Any additional training you provide the horse will increase its chances of having a successful post-facility life. Some additional behaviors you may want to consider adding:
Tying
Ponying off another horse.
Obstacles
Accept a Saddle Pad
Accept Fly Spray
Wear a Fly Mask
Bathing
Of course the list is endless but the above are some good basics and easy enough to do while the horse is in your care.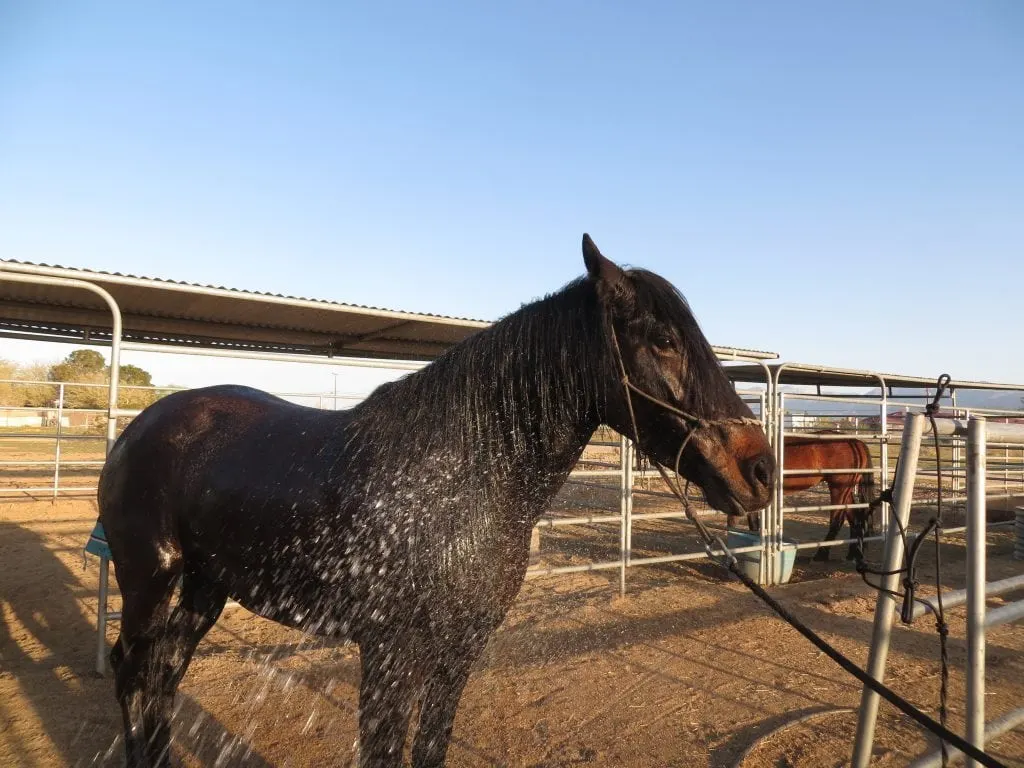 Finding an Adopter for My Mustang
One thing I found to be extremely helpful is to start a blog of some sort for your mustang where you can post training updates.
Posting regular photos and videos of a horse allows people to see the progress. It also allows them to "bond" virtually to the horse. From the day you bring it home start advertising that you have the horse and make sure you spell out the steps necessary for adoption.
You can even setup a "interest list" so you can reach out to interested parties once the horse meets requirements.
Keep in mind that the TIP program specifies the horse can't be adopted until all training requirements are met.
Hopefully, once the horse meets his requirements, you'll have a few serious people on your interested list and the horse will be ready to find a home.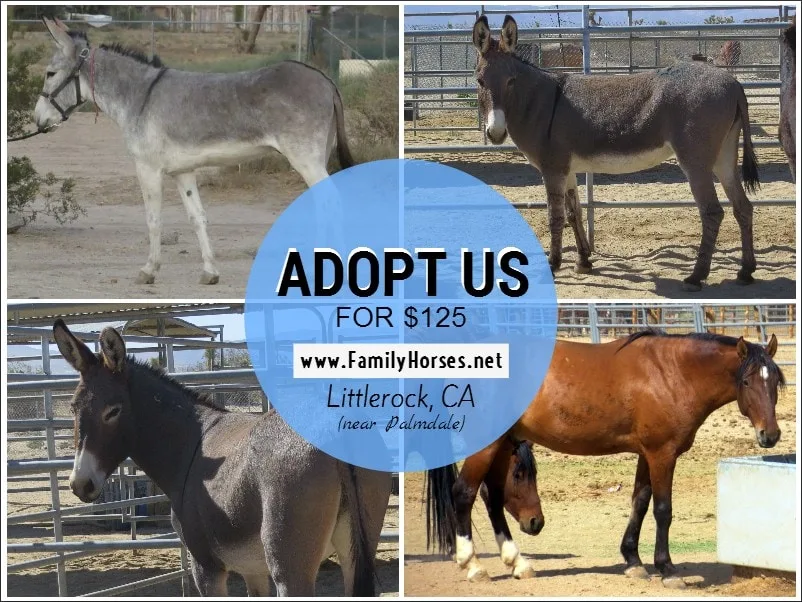 Where Can I Find Adopters for My TIP Mustang?
There are a variety of places you can advertise. In fact, you can advertise your horse just about anywhere you would advertise any other horse for sale. Some places I used are:
Facebook Groups
Craigslist
Tack Store Flyers
EquineNow
My Own Website
Funny enough, most of my successful adoptions came from Craigslist though that will probably vary from region to region.
When you advertise your mustang, be sure to follow the rules regarding listing the horse for adoption or for sale. If you are ever worried about your advertisement wording, contact the Mustang Heritage Foundation or BLM and double check with them.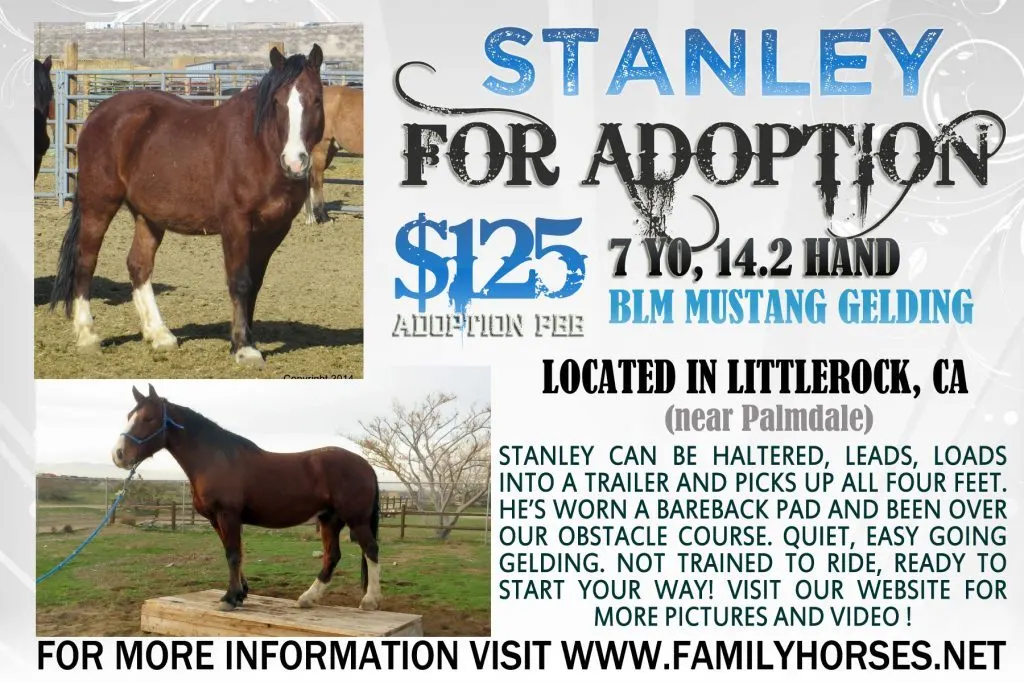 My Opinion on the MHF Rule for Advertising
I personally always listed animals on these websites within a couple of days of arriving at my facility. The MHF program rules do specify the following:
Before soliciting an adopter/purchaser for the mustang/burro(s) the trainer must meet the minimum training requirements as listed below (animals must be leading, loading in a trailer, allowing human contact for grooming, picking up all 4 feet)
In my personal opinion, waiting to advertise until a mustang meets training requirements severely jeopardizes the animals chances of finding an adopter. Especially so if that animal takes longer than 30 days to meet requirements.
Think about it, you have 90 days to gentle the animal. If it takes 87 for the mustang or burro to finally learn how to pick up his feet, you have 3 days to find an adopter. It isn't feasible or reasonable.
That being said, contact the MHF and ask them their recommendation. I can only tell you what I did for over a hundred horses and burros, but I can't tell you to do the same because it is technically against their rules.
Additionally, this text contradicts the fact that you can adopt out a horse or burro that doesn't meet requirements (for a reduced incentive).
I recommend contacting them and asking for explicit clarification on the above rule before advertising a horse that does not meet training requirements.
Ideally they will modify the wording on this rule to state that an adoption application should not be submitted until training requirements are met vs. the general statement that seems to indicate you can't solicit potential adopters / purchasers.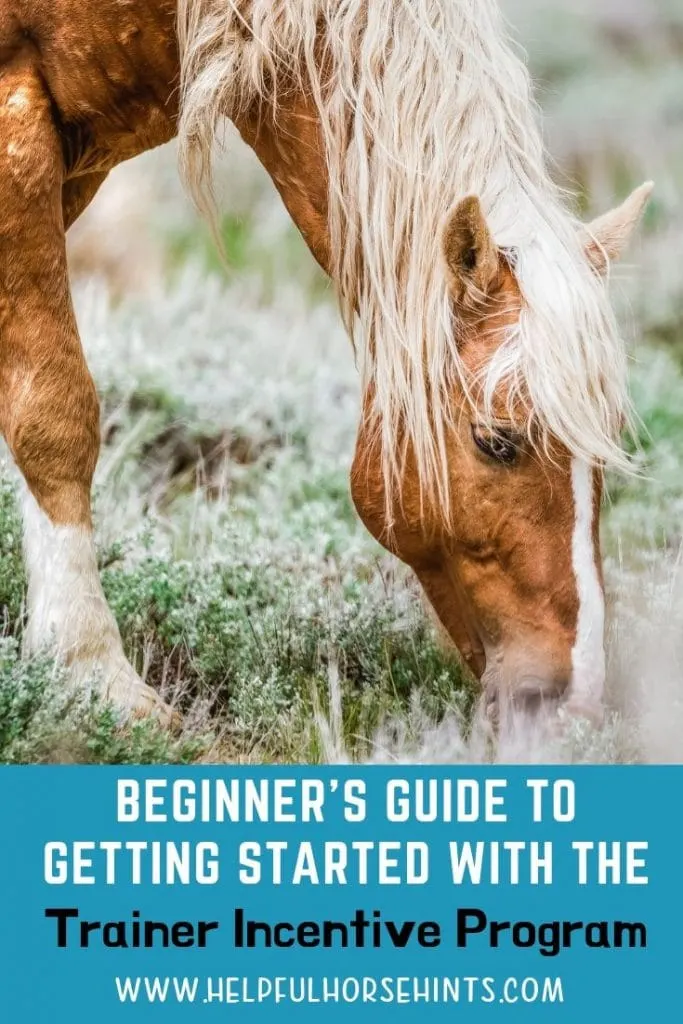 Mustang Training Graduation Video
Once your horse has completed all of his minimum requirements, I highly recommend that you film a video of the horse performing all required tasks. Ideally, with as few edits as possible.
It's good practice for you and, if there is ever a dispute of whether the horse met requirements, you have a video showing it did. Hopefully you'll never need it but it is good to have.
This video ALSO helps adopters. Sometimes they will get home and approach the horse in a different way or use a different technique that won't work. Reviewing your video will allow them to see how you did it and possibly find a different approach that will allow them to be successful with their horse.
BLM Adopter Approval & Pickup
Once your horse's training is complete, you will want to have the adopter finalize the adoption with the BLM. BLM should notify you when the horse is OK to release. It is important to get this confirmation from BLM to make sure there are no issues with the paperwork.
You should coordinate a time for your adopter to pick up the horse. Ideally this will be during daylight hours so your adopter can watch you do the required tasks with the horse and sign off on paperwork.
Be sure to let your adopter know any specifics about pickup. For example, I made sure my adopters knew that the horses could not travel with a divider. My stock trailer didn't have one and, since I couldn't train for it, I didn't allow them to go home with one.
Also decide whether you will send the horse home with a halter and lead rope or if you need the adopter to bring one. I typically purchased rope halters and lead ropes in bulk and sent one home with the horse. How you handle it is up to you just be sure to let the adopter know.
If you are delivering the horse to the adopter, work out any delivery fee before hand. Also be sure to look up the address on Google maps when possible to scout out areas to turn around or potential issues for your truck and/or trailer.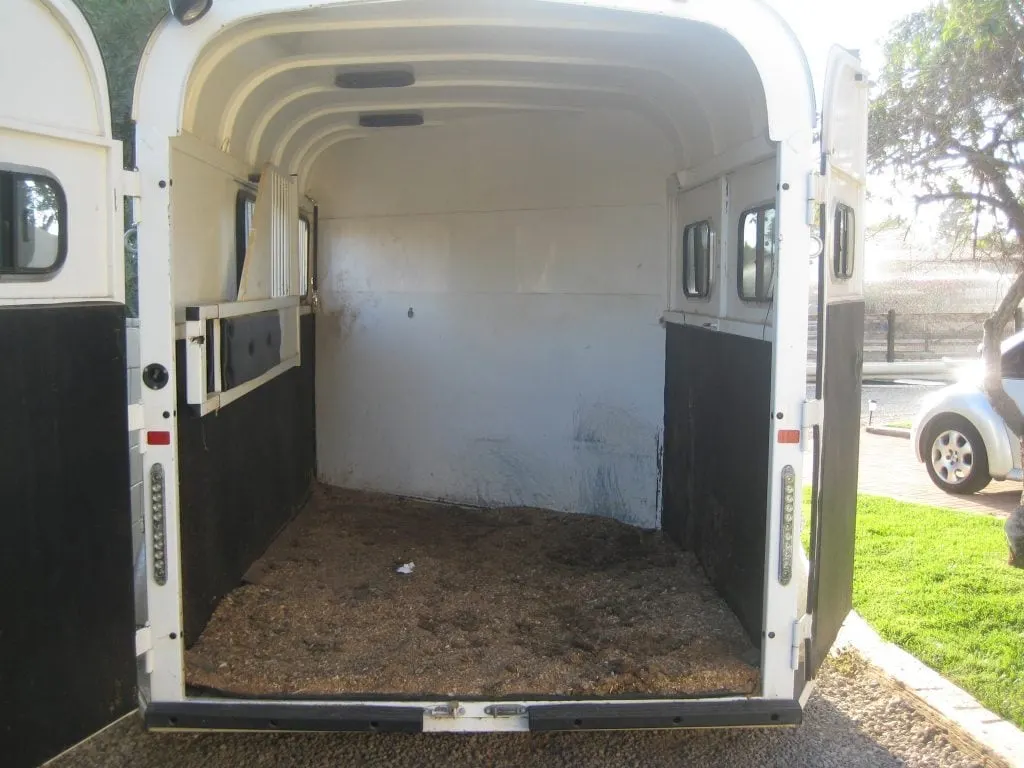 Getting Paid
Now that all of your hard work is done the next step is getting paid. I used to email my invoice and training form directly to MHF. They were always pretty good about confirming they received the email and paying quickly.
Planning for Future Pickups
If you plan on doing more TIP horses, it's a good idea to write down numbers of horses you want to pick up next. That way if you are in a time crunch or BLM staff is busy, you can just let them know which horses you want and they can pull them up during the week. I'm not sure how all facilities work but this worked well for me at Ridgecrest.
Additionally, it is good to keep records of your TIP horses so you can look back and compare. Some things you may want to chart are:
Age
Color
Height
# Days to Find an Adopter
# Days to Complete Requirements
# Days to Adoption
Expenses
Payment
Profit
$ / Day (Profit / # Days You Had Horse)
Additionally, you may want to consider setting aside a portion of any profits for unexpected expenses and facility improvements. Let's say you make a $600 profit on a horse. It wouldn't be unreasonable to set aside $60 for an emergency vet/farrier fund and another $60 for facility improvements (like a second training pen). Of course that is optional, but it's an idea.
You'll also want to talk to your tax guy. MHF will 1099 you at the end of the year so you will want to be prepared to pay taxes on the income you receive. It's easy enough to spend the money but that tax bill can hurt at the end of the year if you haven't set money aside for it. Your tax professional can help you estimate your tax liability so you can save.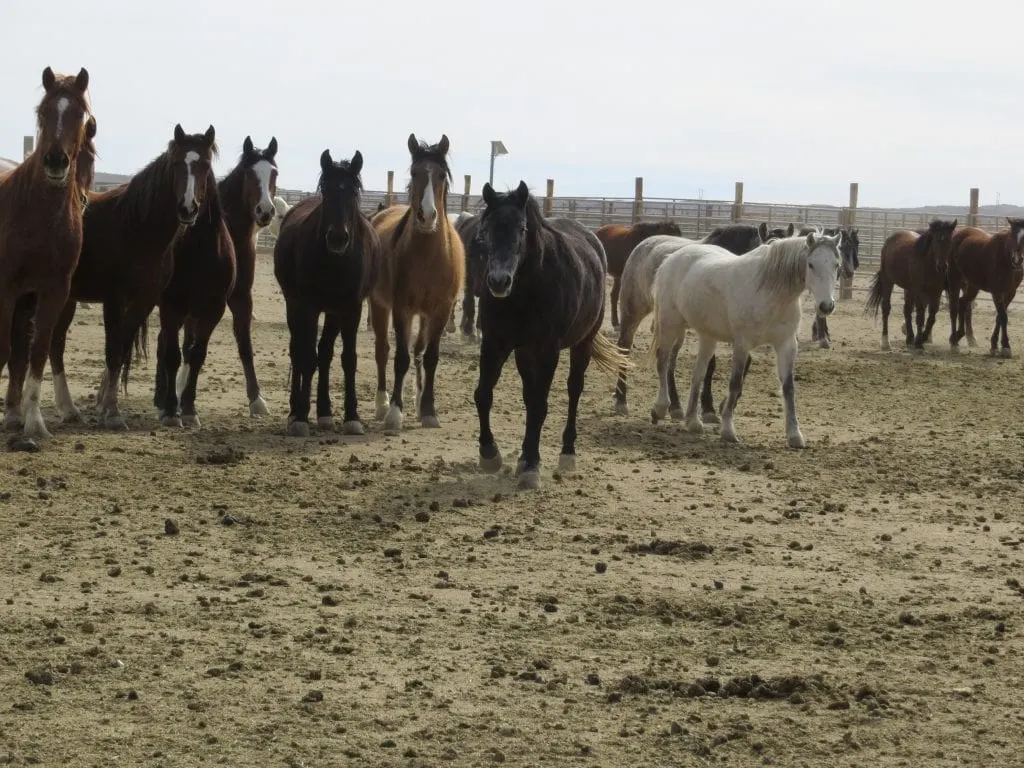 Related Questions
Can I become a TIP trainer if I have never trained a mustang before?
Yes you can. There is nothing in the program rules that requires previous experience with mustangs. It certainly helps but isn't a requirement.
If you have experience with horses, especially problem horses, you may be fine. If you are not sure if training a mustang is right for you, try adopting a yearling. They are typically easier to start and it can help get your feet wet.
Can I charge more than $125 for the mustang or burro?
Yes, you can charge a "training fee" but it must clearly be advertised as such. Keep in mind that doing so may limit your ability to find an adopter for the horse.
Will the BLM or MHF reimburse me for "x"?
The answer is 99.9% of the time no for whatever you want to put in the blank for x. The exception to that is that the MHF will pay $2/day/animal for unadopted animals that have to be returned to the corrals.
Your TIP payment is all the compensation you will receive. Veterinary bills, farrier bills, advertising fees, feed, etc is your responsibility. You need to be able to pay for these items up front and wait for your check once your animal is adopted.
With any venture, there is risk. If your mustang colics in your care, you are responsible for calling the vet out and paying him. If he winds up needing euthanasia you are responsible for that fee as well as disposal.
I don't mean for that to scare you but it is a reality. I personally never had an issue but I have heard of trainers that did. It is just something to be aware of.
Do you have additional questions that haven't been answered here? BLM and MHF are good places to start but I'm happy to answer reasonable questions from a TIP trainers perspective. Just leave your questions in the comments.
RELATED POSTS