Paint horses are some of the most eye-catching and captivatingly beautiful horses that you will find. While they are easy to look at, beauty is just one small piece of the puzzle when it comes to paint horses. They are one of the most popular horses on the planet and they have a lot to offer the equine world. Here are just a few of the many eye-opening facts that you may not know about the American paint horse.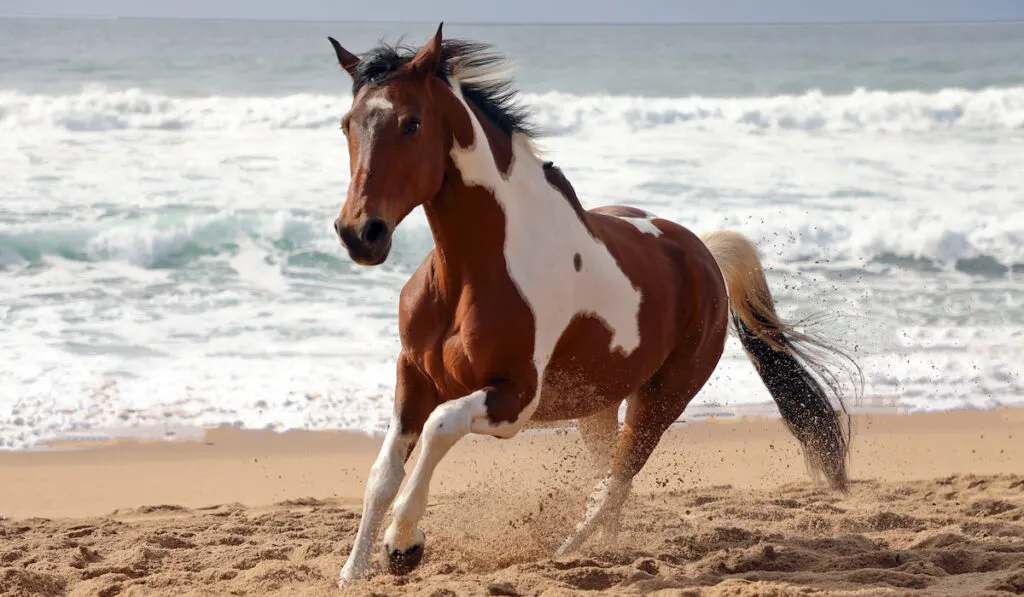 1. They Are Closely Related to the American Quarter Horse.
The American Paint Horse is actually a combination of a few different horse breeds. When Spanish explorers came to North America in the 1600s, they brought with them a mixture of Barb, Arabian, and Andalusian-bred horses. These horses are all known for their multi-tone coat colors.
Later on, thoroughbreds were added to the mix, as well as quarter horses. Paints in the 1940s and 1950s were often just American quarter horses that had 'too much' white coloring on them to be registered. (source)
2. The American Paint Horse Association (APHA) Was Started out of Necessity.
In the 1940s, the American Quarter Horse Association (AQHA) was established and it did not allow horses that had "excessive white" coloring to be registered.
Therefore, paint horses with exceptional lineage, that were legitimately born to registered quarter horses could not be registered in the AQHA. These horses were known as "cropout" horses.
Despite this, these horses were extremely popular and had a large following. In the early 1960s, the American Paint Stock Horse Association and the American Paint Quarter Horse Associations were formed to accommodate these unreasonably outcast horses.
Both of these paint horse associations combined forces in 1965, creating what we now know as the American Paint Horse Association or APHA.
3. They Are Extremely Intelligent and Are Known to Have Calm Dispositions.
Their popularity is not based solely on their appearance. American paint horses are world-renowned thanks to their calm nature and unwavering intelligence. They are quick learners and tend to be obedient in nature.
Paint horses are easy to train and work well for beginner riders. Many equestrians prefer paint horses, not only for their coats, but for their eagerness to compete and gracefulness in the arena. (source)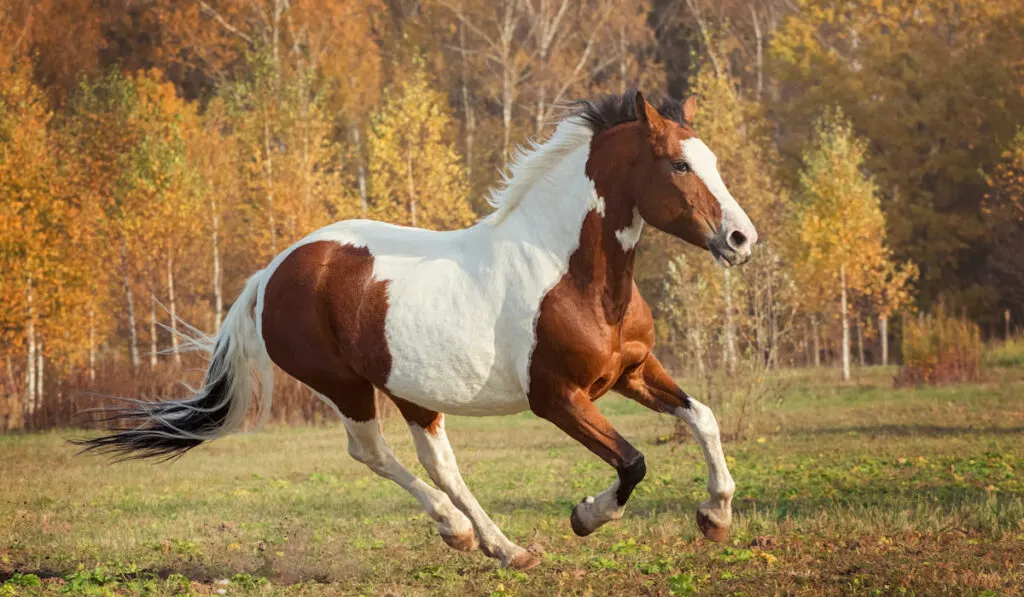 4. They Are Wildly Popular.
The APHA is growing rapidly. In 1997, it became the second-largest horse breed registry in the world. Today, the association includes over 1 million registered paint horses across the globe.
They have grown tremendously since they began over 50 years ago with less than 4,000 registered horses. Each year, the association adds approximately 15,000 new paint horses across the world.
American Paint Horses compete successfully in a vast array of equine sporting events. Their calm demeanor and physical attributes make them one of the most popular horse breeds in the world.
5. They Participate in Many Different Equine Sports.
Thanks to their stocky builds and muscular attributes, the American paint horse can be successful in a variety of sports and disciplines. They are used extensively in western pleasure events as well as reining, barrel racing and show jumping.
Many paints also enjoy working cattle and are often used in cutting, team penning and team sorting events. American paint horses are also extremely successful in the world of horse racing. Their beauty helps them stand out, but their competition skills set them apart from the rest of the herd.
6. Their Coat Colors Are Unique.
The American paint horse can have a variety of coat patterns and colors. While some may appear to look very similar to one another, you will never find two paint horses that have the exact same dual-colored pattern.(source)
The possible combinations of colors and shapes on a paint make this impossible. The American paint horse comes in 3 main patterns including tobiano, overo, and tovero. There are some exceptions and yes, they can even be solid-colored.
Each pattern differs based on the amount of white, the shape and appearance of the darker colors, head markings, and tail colors. Their coats can come in a vast array of colors including black, chestnut, cremello, brown, bay, palomino, bay roan, blue roan, red dun, red roan, buckskin, sorrel, grey, grullo, and perlino. (source)
7. Their Eyes Can Be Different Colors.
While most horses tend to have brown eyes, horses that have coats that are patterned, like paints, are more prone to having blue eyes. While most people think that blue eyes are colored blue, the opposite is actually true.
Blue eyes are simply the result of a lack of pigmentation. Due to the lack of pigmentation derived from their genetic predisposition, paint horses can lack melanin in their eyes. This causes us to see the blue 'color' which is just a shade that is not pigmented.(source)
Paint horses can have 2 blues eyes, 1 blue eye and 1 brown eye, or they can even have eyes with both brown and blue colors. Cremello-patterned paints, light tan and white, can even have ice blue eyes, lighter than the typical blue eyes that are seen in some paint horses.
These striking blue eye colors make paint horses that much more unique and captivating. It is a myth, however, that blue-eyed horses tend to have more eye issues and diseases. (source)
8. They Are an Award-Winning Breed.
In 1977, the National Cutting Horse Association inducted the first registered paint horse into their Hall of Fame. Almost a decade later in 1986, Delta Flyer, a registered paint horse, became the first of its breed to take first place in the NCHA Open Super Stakes.
In 2001, a registered paint horse named RR Star broke records as the first paint horse to win the NRHA Open Futurity. Color Me Smart, a registered paint sire, has produced offspring that won almost $3.5 million in various cow horse competitions.
The colts and foals of Texas Hero, another award winning paint sire, have managed to earn over $2 million, which brought his value to $3 million in 2007.
Fleetstreet Max has accumulated over 31 world titles and holds the record for the highest number of world championships won by one horse. Bonnie Smoke is an inductee in the National Reined Cow Horse Association Hall of Fame. (source)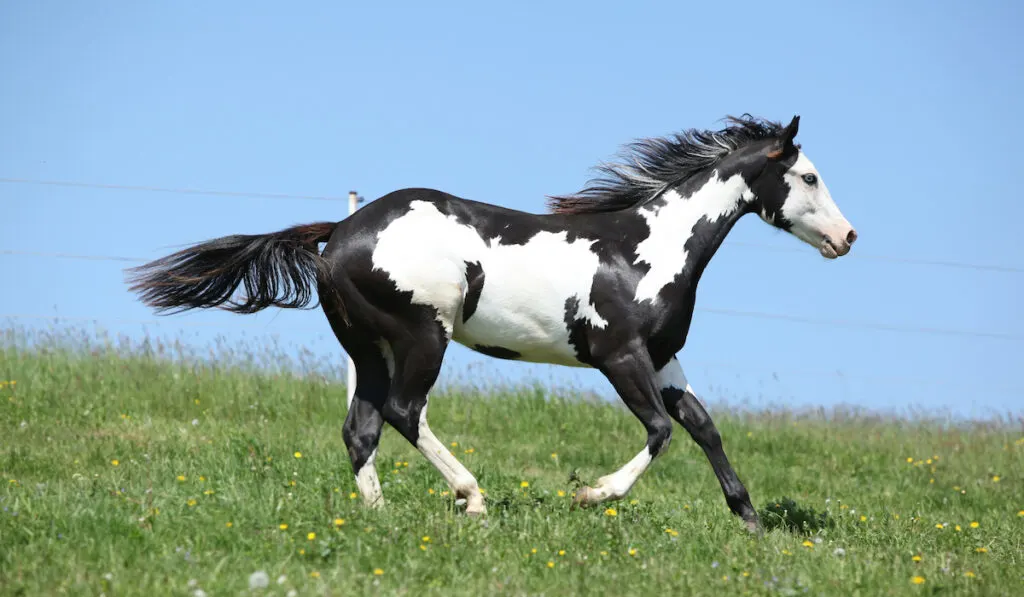 9. They May Be Pintos, but Not Every Pinto Is a Paint.
The word pinto comes from the Spanish word pintado, meaning painted. While mainly people use the terms pinto and paint interchangeably, they actually are not the same thing.
Pinto is a term used to describe a horse of any breed that has a multi-colored coat. Since the APHA was established in the 1960s, the term paint is the actual name of a well-developed breed of horses.
Unless a paint is solid-colored, they are technically considered to be pinto as well. A pinto, however, can be a variety of breeds and is not limited to a paint. Just because a horse has a colorful coat, it does not mean that they are an American paint horse. (source)
10. They Can Be Successful Movie Stars.
Five American paint horses starred in the movie Hidalgo. In 2003, the movie was released by Walt Disney Studios. The movie centered around a real life cowboy who lived during the end of the 19th century.
The title character of the film is a pinto-colored mustang that accomplishes near impossible feats of victory during a long-distance race overseas. To film the movie, they needed multiple similar looking pintos to handle the filming schedule and various stunts.
They chose 5 different American paint horses that were registered in the APHA including RH Tecontender. That particular paint horse, also known as TJ, was eventually purchased by the main actor in the movie, Viggo Mortensen for allegedly 1.5 million dollars. (source)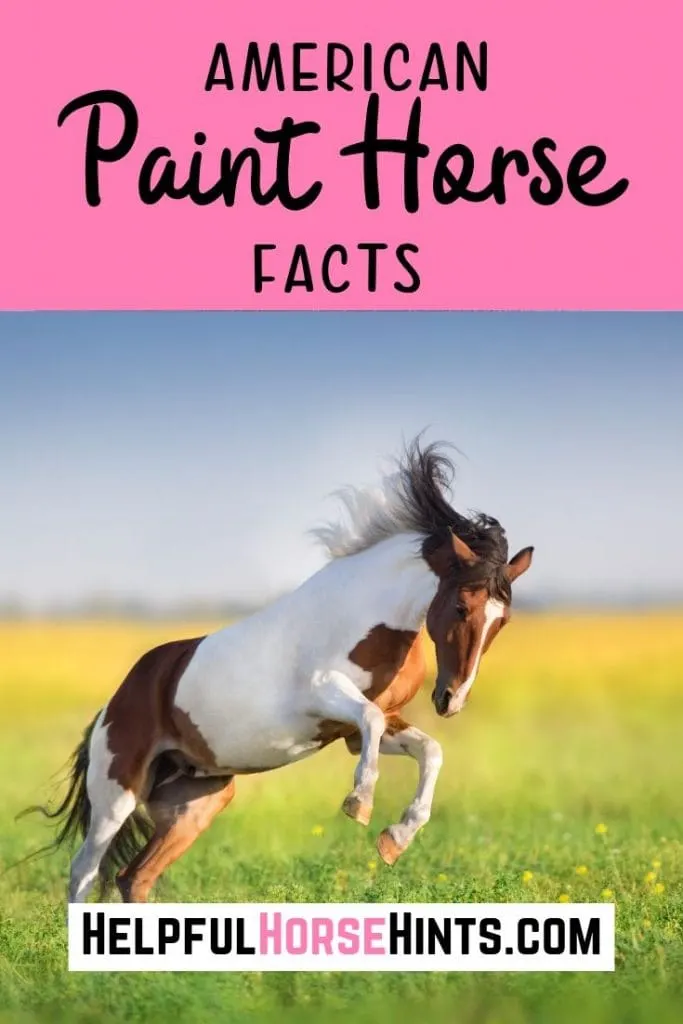 Final Thoughts
Paint horses were once considered the outcasts from the blossoming world of registered horses. Today they are the second-largest registered bred in the world. Thanks in part to its well established popularity before and during the 1960s, the American paint horse essentially cemented its own place in the horse community. While its beauty is undeniably captivating, the true hallmark of the American paint horse is its unwavering ability to succeed in every corner of the equine world.
Related Posts