You finally have the horse of your dreams, a beautiful all-white horse. Now, all you need is the perfect name to go with him. Whether you own an all-white Arabian, a gorgeous Andalusian or even a beautiful white Mustang, I'll help you come up with some great name ideas.
These names were specifically chosen because they are best suited for white horses. I'll add to the list as I can but, here are 143 white horse names to get you started!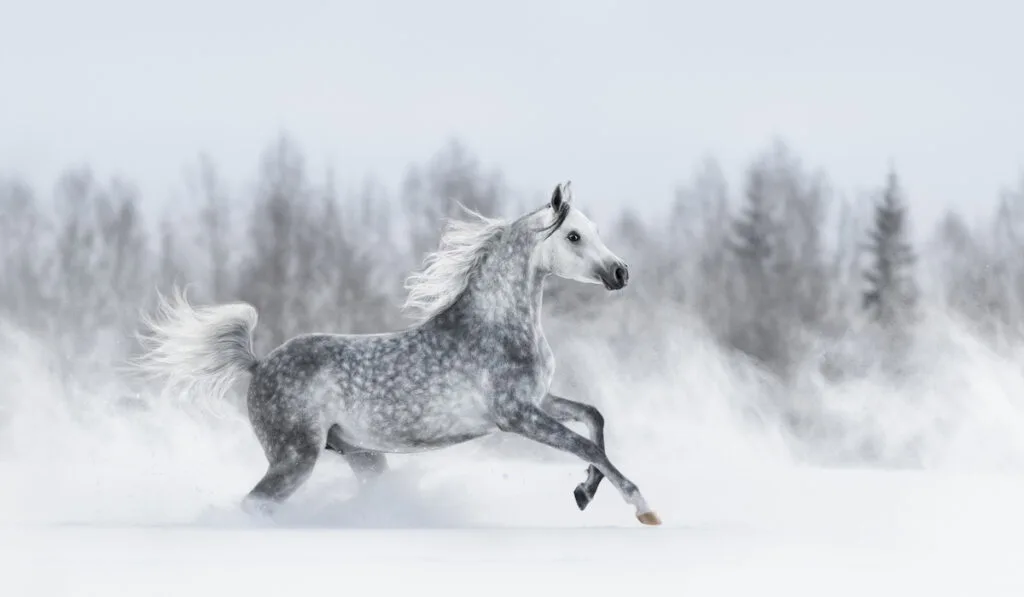 50 Barn Names for a White Horse
These names are designed to be short and simple. Usually one word, sometimes two, but no more than that.
Alaska
Angel
Arctic
Artax
Casper
Cloud
Coconut
Cotton
Crystal
Gem
Ghost
Glacier
Greyjoy
Lily
Luna
Magnolia
Milky Way
Pegasus
Polar
Powder
Princess
Puff
Quartz
Queen
Shadowfax
Shimmer
Siberia
Sirius
Snow
Snowball
Star
Starlight
Starshine
Storm
Sugar
Swan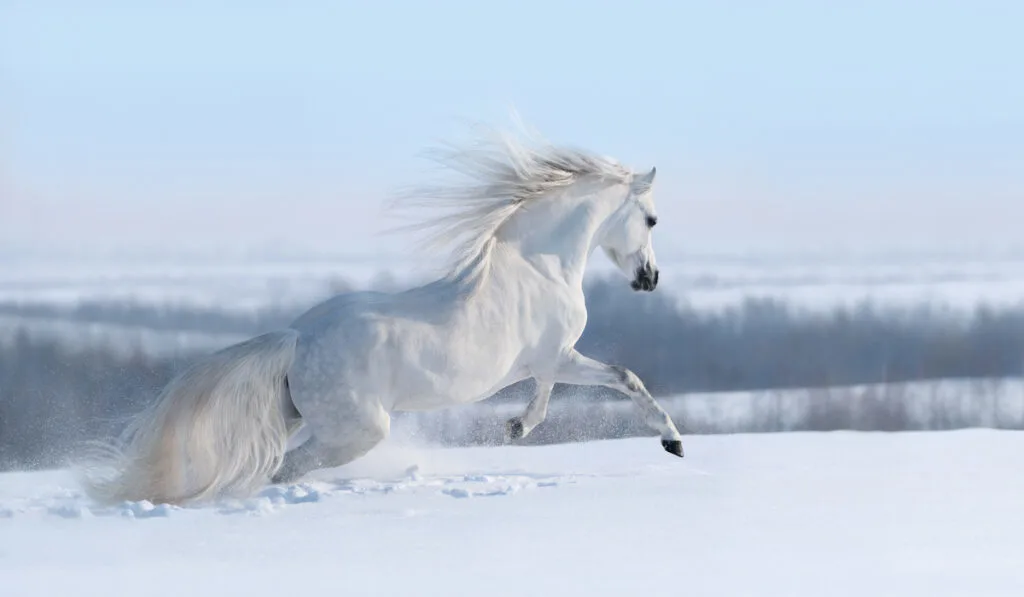 93 Show Names for a White Horse
Alpha Angel
Angelic Heart
Angel Without Wings
Blizzard Bay
Breath of Dawn
Breezy Beach
Bride to Be
Calm Storm
Canary Moon
Cascading Moonlight
Castle in the Clouds
Cloud Cover
Cloud Dancer
Coconut Cowgirl
Coconut Grove
Colored Like Cotton
Cotton Top
Crystal Cowgirl
Crystal Empress
Crystal Moon
Dakota Milkshake
Dance in the Storm
Darkside of the Moon
Dazzling Disco
Desert Moonlight
Diamond Bachelor
Diamond Conquest
Elegant Swan
Elusive Angel
Epic Snow Storm
Evening Twilight
Flawless Diamond
Fly to the Moon
Glacial Bay
Glacier Creek
Glimmer by Moonlight
Half Moon Bay
Harbour Twilight
I'm No Snowflake
Ice Cold and Fabulous
Jamaican Snow
Just A Little Salty
Kiss an Angel
Klondike Kate
Lady Snowbird
Lunar Eclipse
Magical Bride
Magic Moonglow
Magnolia House
Marshmallow and Marmalade
Marshmallow Dreams
Midnight Storm
Misty Melody
Moon Beam Delight
Moonlit Sunday
More Sugar Than Spice
Northern Diamond
North of Alaska
No Salt Pure Sugar
Omega Storm
On a Sugar Rush
Once in a Blue Moon
Pale Starlight
Polar Expedition
Princess on a Mission
Quasar Moon
Queen of Diamonds
Remember the Milk
Royal Bling
Shimmering Sea
Siberian Summer
Snow Angel
Starlight Lounge
Star Lily
Storm Chaser
Stormy Dancer
Sugar Plum Fairy
Trip to Alaska
Twilight Dancer
Ultimate Thunder
Ultra Bright White
Vacation in Alaska
Valkyrie's Ride
Valyrian Steel
Wedding Crasher
White Caps
White Lightning
Wishing on a Star
White Zinfandel
Yara Greyjoy
Yesterdays Storm
You Got the Silver
How to Choose a Name for Your White Horse
Choosing a name for your white horse can be difficult. There are a lot of factors to consider. Do you want something fun or something elegant?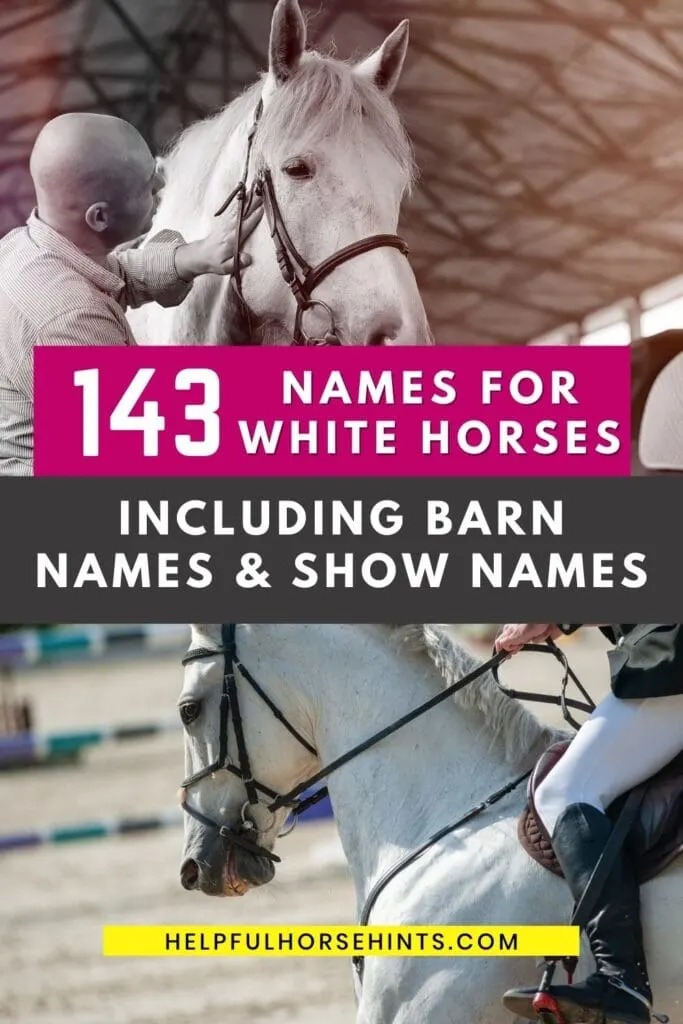 With white horses, a lot of the time they are still going grey and maybe kind of a smoky grey turning white. You may find a name that incorporates weather like "Cloud" or "Storm" best fits the bill.
Perhaps your horse is already all white. She has finished the graying process is pure white. In that case names like "Angel", "Lily" and "Alaska" might be a good fit.
Of course, a barn name is different from a show name. When you are choosing a show name, think about how it might sound when the announcer reads it.
You will generally want to choose a name that is easy to spell and easy to say. This will help ensure your horse's name can be heard as you enter the arena.
Adding Descriptive Words to Your Gray Horse's Name
When you look at the list of horse names above, or any of the show names, think about how you can modify the name to better suit your horse and/or his pedigree.
Maybe your farm has a ton of walnuts, you could name your horse Walnut Wedding or Walnut Winter. Likewise, you could add in names from your horses pedigree.
If you have a stock horse breed, for example, maybe your horse descends from Three Bars. In that case, you could think about names like "Three Storms" or "Three Bar of Silver".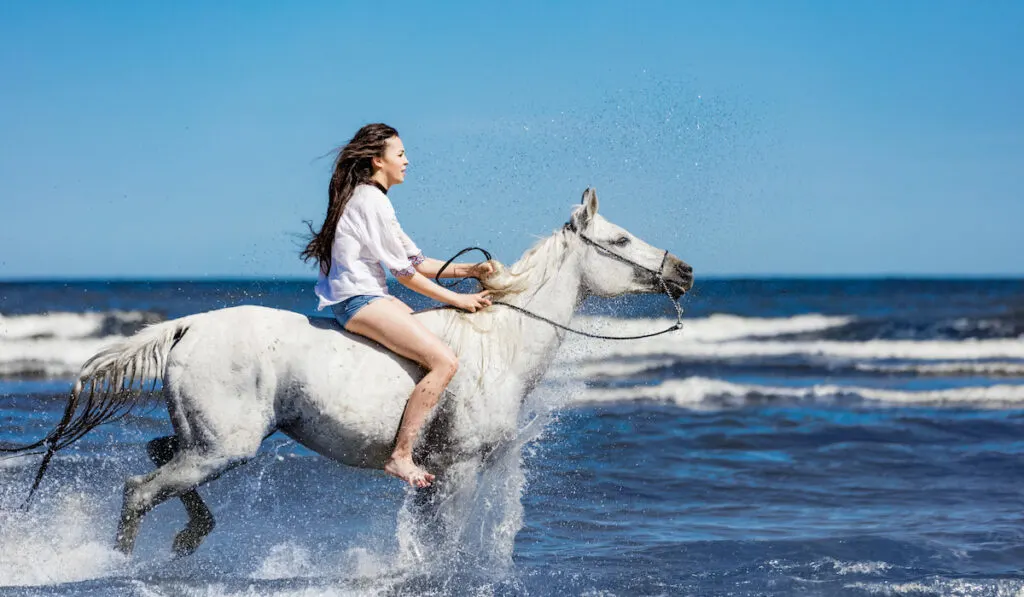 6 Famous White Horse Names
Let's not forget some of the famous white horses out there. The most famous of which, due to recency, is probably Shadowfax. This beautiful Andalusian horse was ridden by Gandalf in the Lord of the Rings movies.
Milton the Millionaire is another white horse not to be overlooked. He's most famous for his illustrious show jumping career.
I surely can't be the only one out there that remembers Starlight. He was Rainbow Brite's mount and a favorite of children everywhere! Beautiful white horse but with a dazzling rainbow mane and tail.
Speaking of cartoons of the eighties. She'Ra's horse was named Swift Wind. When not in his pegasus form, Adora called him Spirit.
In the 1980's Zorro was one of my favorite TV series. I'd sit down and watch him every chance I got on the Disney channel. While his main steed was Tornado, a black horse, he also rode a white horse named Phantom.
In the 1930's, Hopalong Cassidy and his white horse Topper were famous. They stared in both movies and TV series.
Final Thoughts
Choose your horse's name wisely. Feel free to have fun. Try out a few names. See how they sound and how they fit your horse's personality. Poll your friends for ideas as well.
Hopefully, this list of white horse names will help to get your creativity flowing and on your way towards a wonderful name for your mount.
Related Posts