Barrel racing is a fun, exciting sport. There aren't many things that can compare to the thrill you experience racing down an arena towards your first barrel other than nailing all three turns and running full speed towards the finish line.
Let's look at some quotes and sayings that are perfect for the barrel racers in the family! Best of all, these are all shareable so be sure to grab them and post them on your Facebook, Instagram or Pinterest. Just remember to leave my watermark so others can find the awesome content too!
1. A Winner Is A Dreamer That Never Gave Up.
Dreamers dream but winners do. This quote reminds us that in order for our dreams to come true, we have to work for them. You can't win your first barrel race if you never enter the arena. Write down your goals, make a plan and achieve your dreams!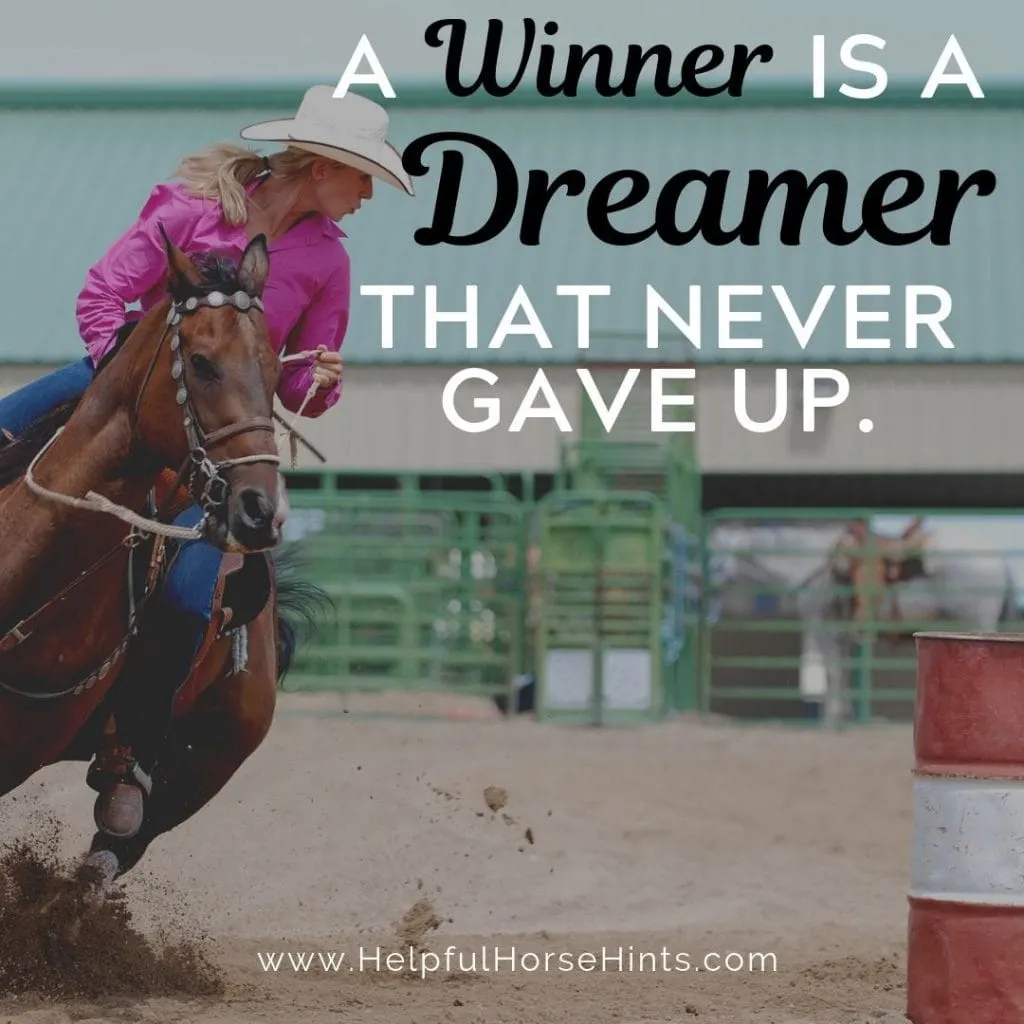 2. The Only Thing Crazier Than A Barrel Racer is Her Horse
We know barrel racing isn't limited to girls. There are some awesome dudes out there that can turn and burn too. But let's face it, the majority of the barrel racing population is female. Some people call horse girls crazy. Are barrel racers crazy? I don't think so but, then again, they do decide that running a 1200 lb horse full speed and making tight little turns around barrels is fun..so there is that!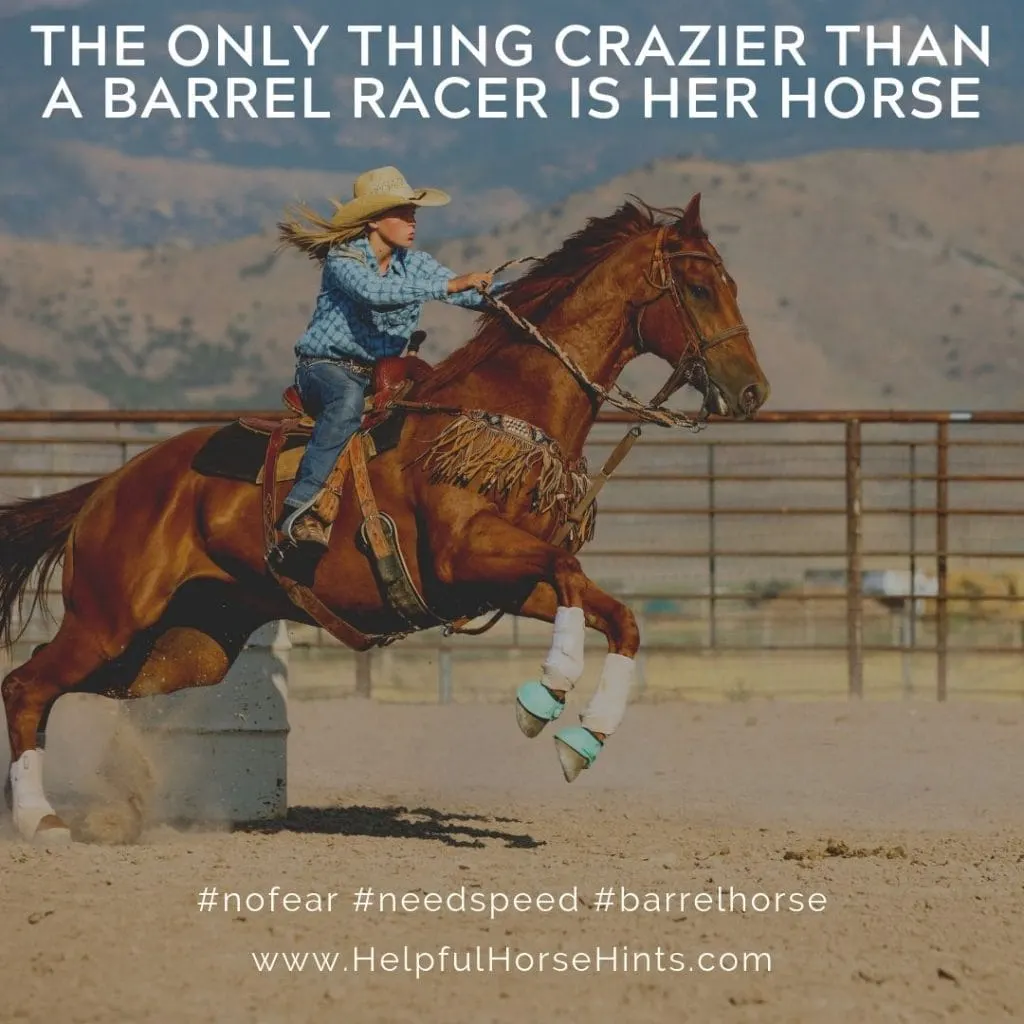 3. Let's See You Ride a 1200 Pound Animal at Full-Speed, Turning Barrels on a Dime and Still Keep Your Balance.
Have you ever had a non-horse person tell you "that looks easy"? You probably would roll your eyes just as hard as I would. Some people feel like they can compare their hobby to ours. They say horseback riding is easy, anyone can do it, all you do is sit there. Uh huh…let's see you try.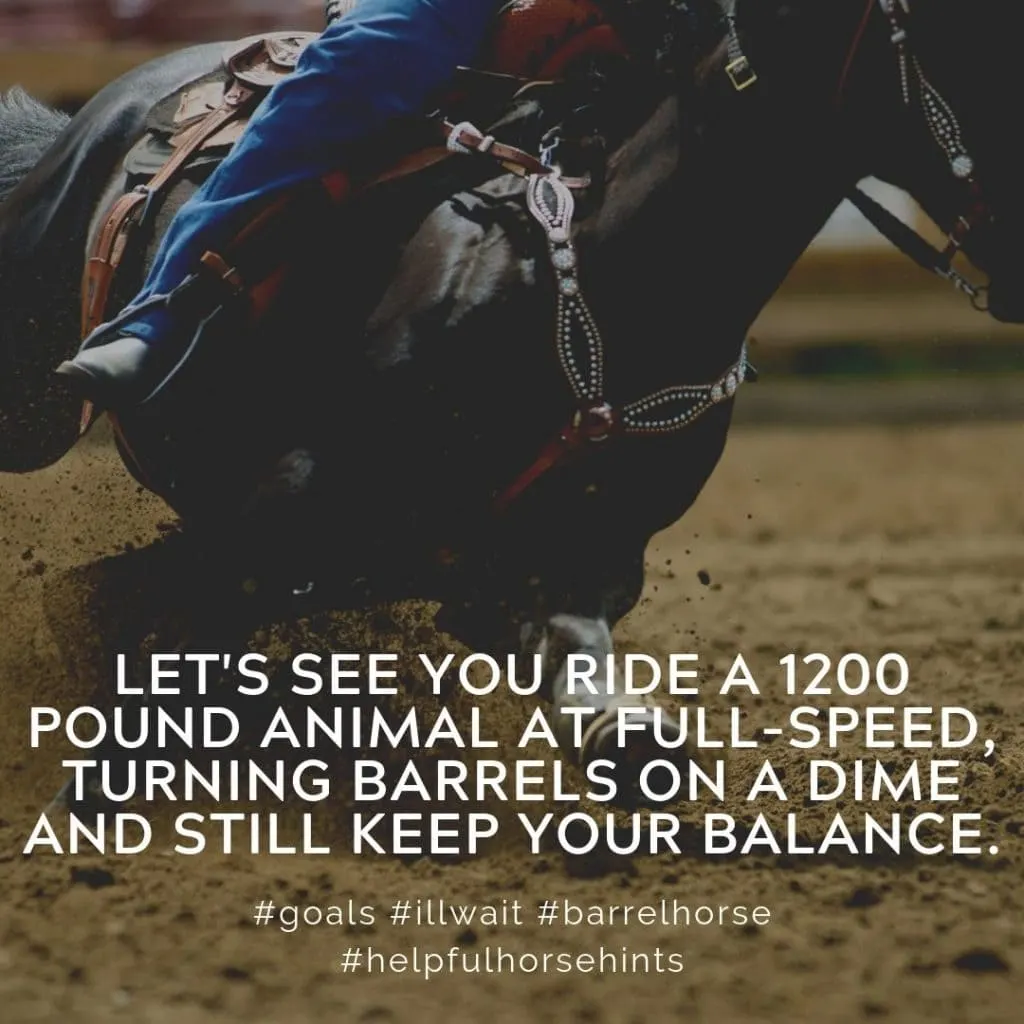 4. Addictive As Caffeine, Much More Expensive.
Some girls have their Starbucks addiction, us girls have our horseback riding one. Let's face it, when you line up at the arena gate before your run, your heart starts pumping and your adrenaline starts flowing. Then you and your horse take off, headed towards that first barrel. In just a few seconds, your run is done. Caffeine Schmaffeine…you're a barrel racer!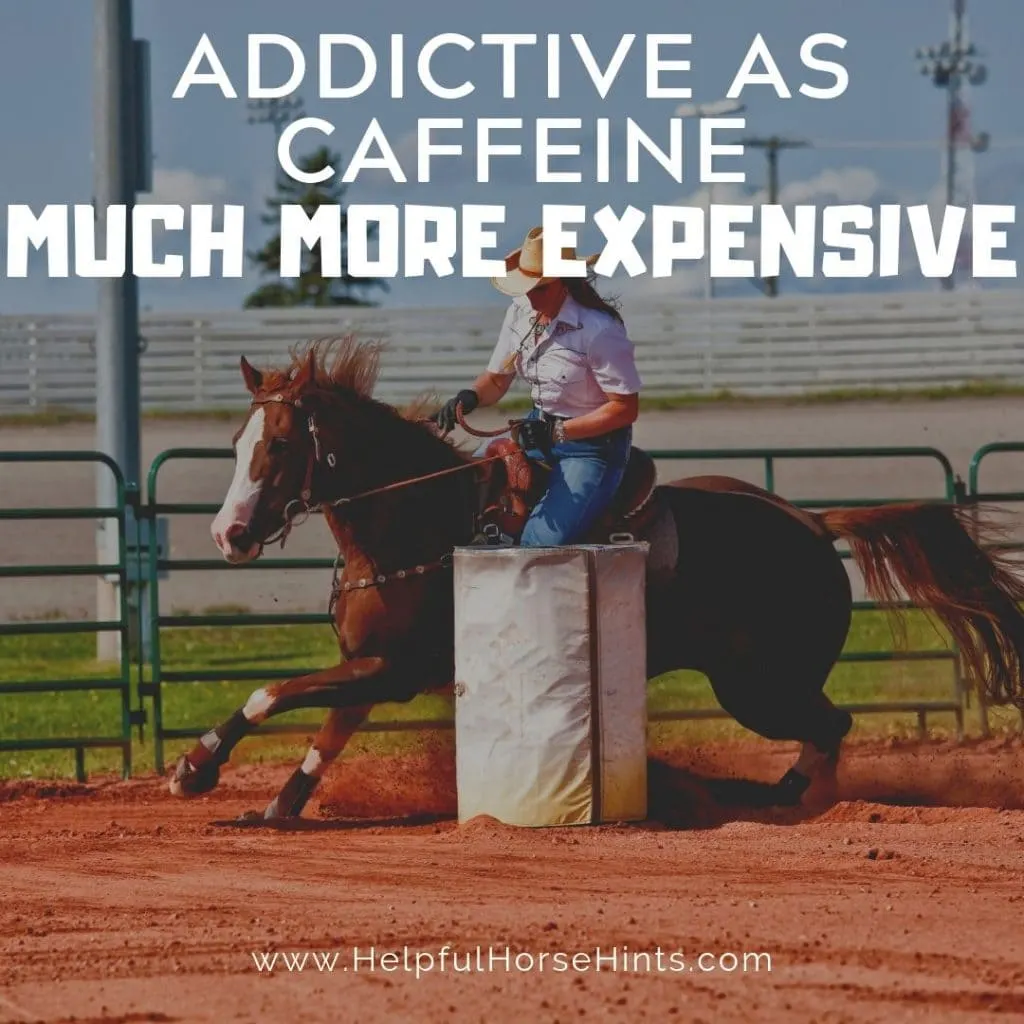 5. If It's Not Fast, Fun and Dirty…Then I Don't Do It
Barrel racers like it fast, we know it's fun and with horses, everything gets dirty. That's the nature of the beast and that's how we like it. There is no room for prissy pansy's at a rodeo.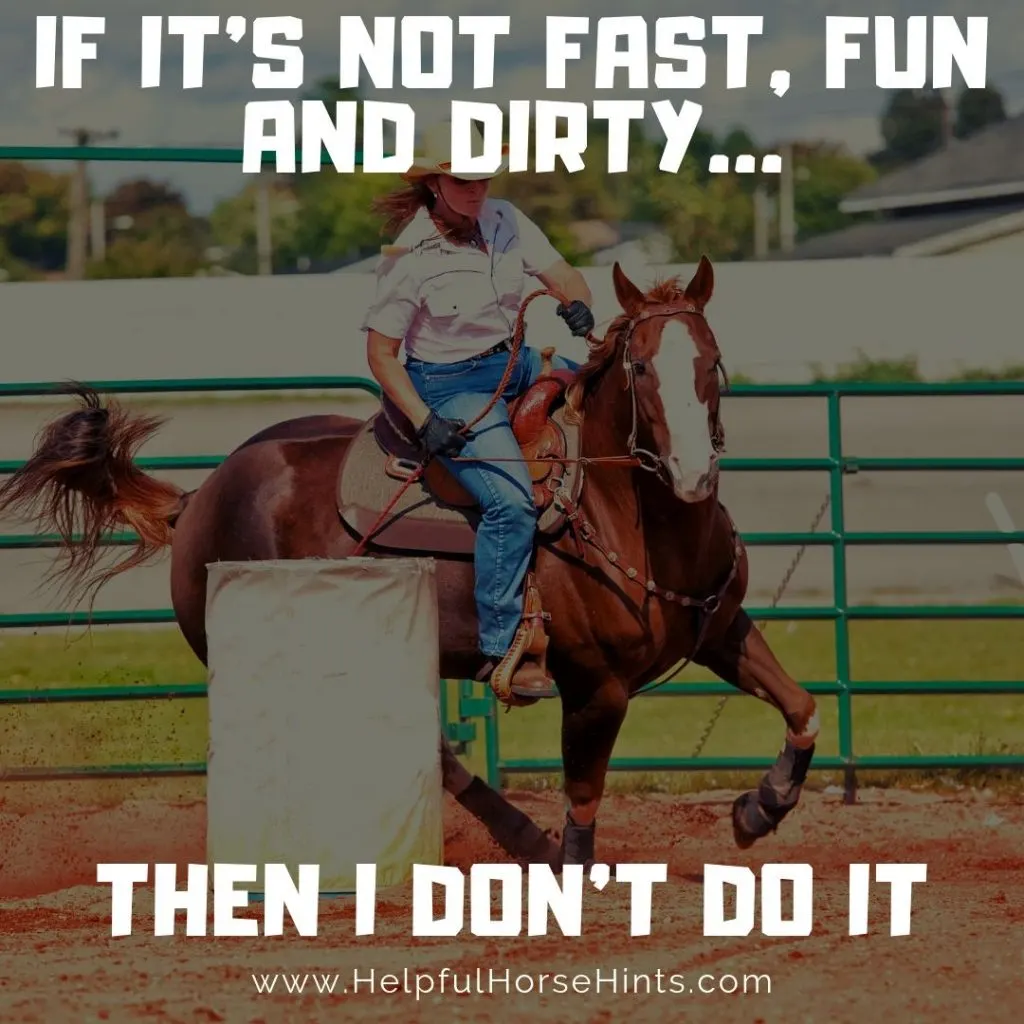 6. Ride It Like You Stole It.
When you think of movies like Gone in 60 Seconds you may remember the thrill of the drive. Car chases, fast turns and adrenaline pumping action. Lucky for us horse people, you can get all that and more while mounted in the saddle. Barrel racing is a sure fire reason to ride your horse like you stole it!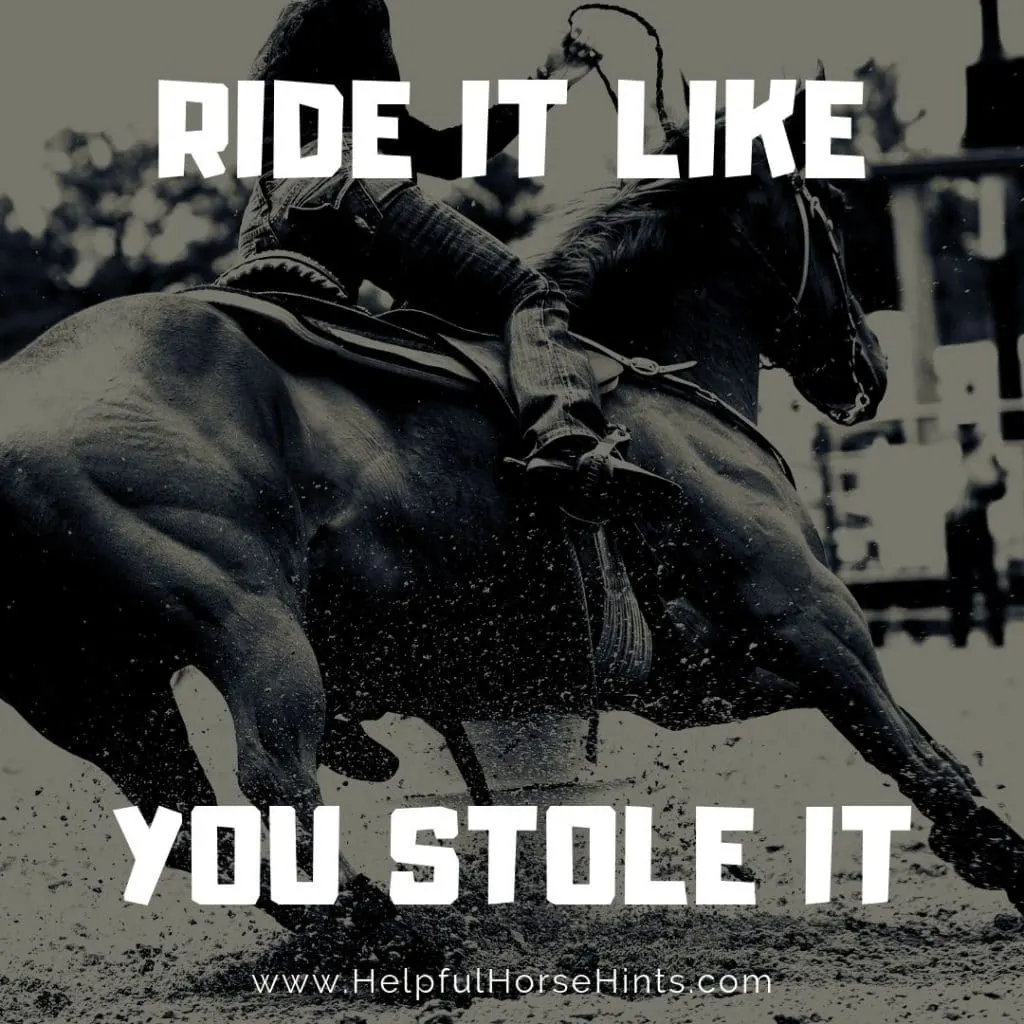 7. Sometimes All You Need is 15 Seconds of Courage
Barrel racing is an equestrian event that reminds us that sometimes in life, all you need is 15 seconds of courage. Have courage, get in the arena, run your heart out and get out. That's all you gotta do.
Of course, we can apply the same principles to other aspects of our life too. Interviewing for a new job, introducing yourself to a group of strangers or standing up to give a speech or presentation. All you need is a bit of courage!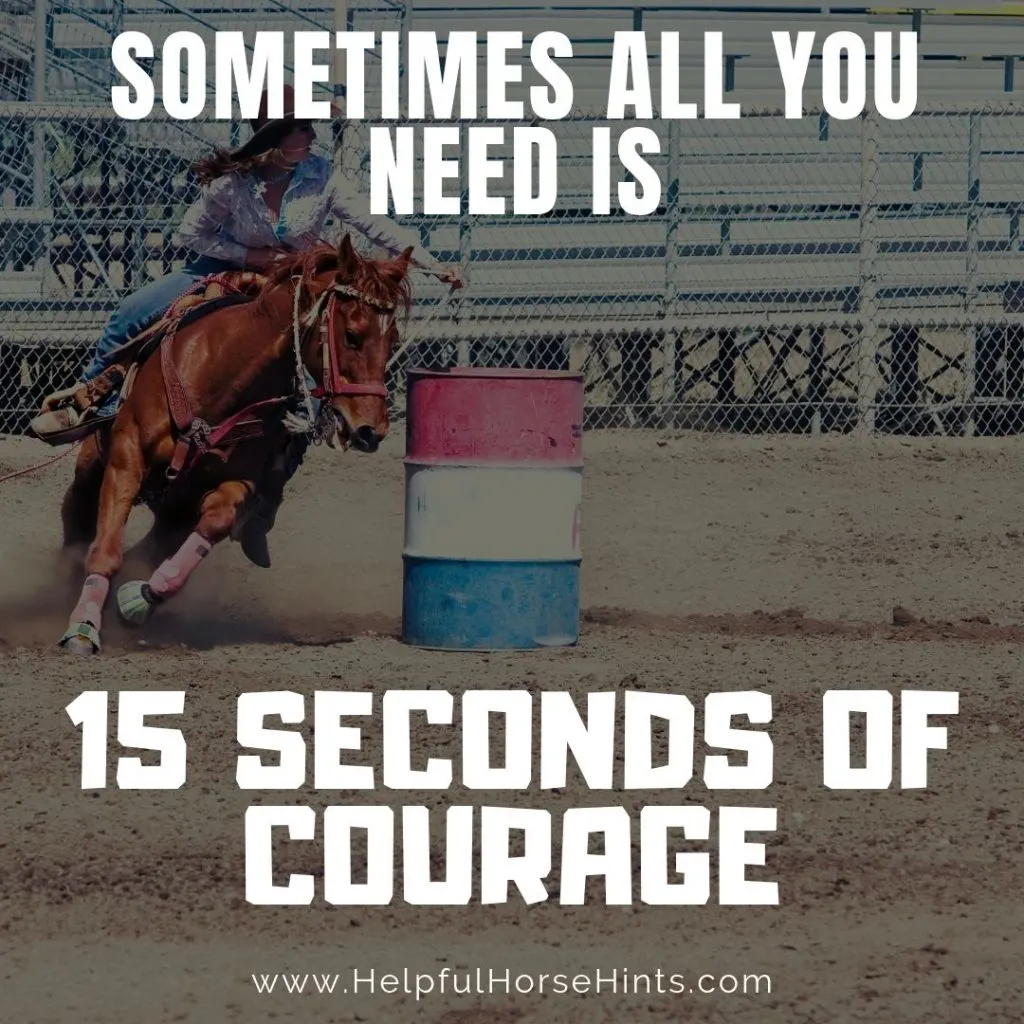 8. Barrel Racers: Cowgirls With a Thing for Bling and Speed
Barrel racers like things colorful, shiny and fast! What better way to express your creativity than dressing up for a barrel race. We see it all from shiny shirts with metallic fringe to rhinestones and studs in the barrel arena. As long as you meet the dress code minimums, most events let you take your outfit to the extreme!
It doesn't stop with your outfit though. Your horse's attire can be designed to match. From studded browbands and breast collars to custom saddle pads, reins and even matching sports boots, barrel racing horses can shine in the arena just as brightly as their riders.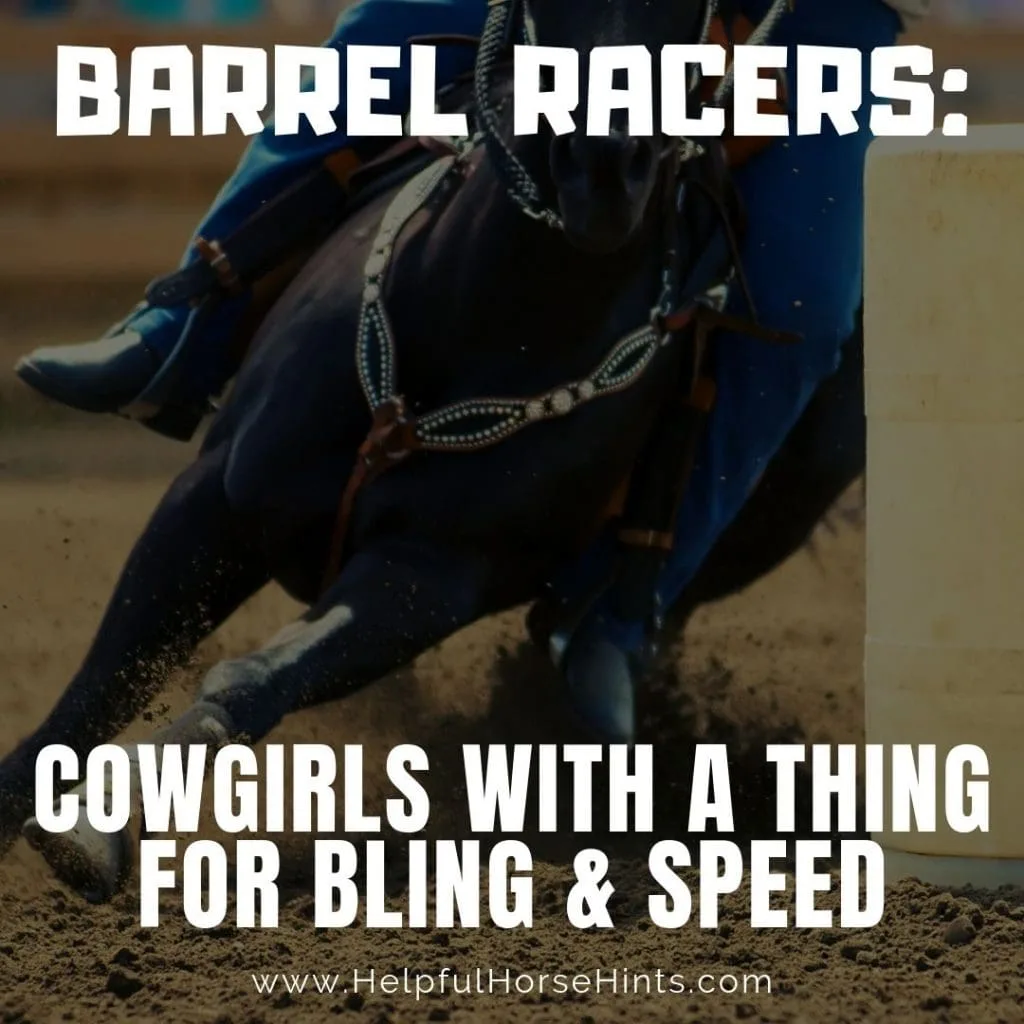 9. I'm A Barrel Racer: What's Your Super Power?
Girl's and guys who run barrels are tough. Our superpower is being able to stay balanced on a 1200 lb animal running as fast as it can to circle three barrels in an arena. In an event where race-horse speeds can be reached and high-velocity turns are the norm, the barrel racer's superpower is being able to stay on and wanting to do it again!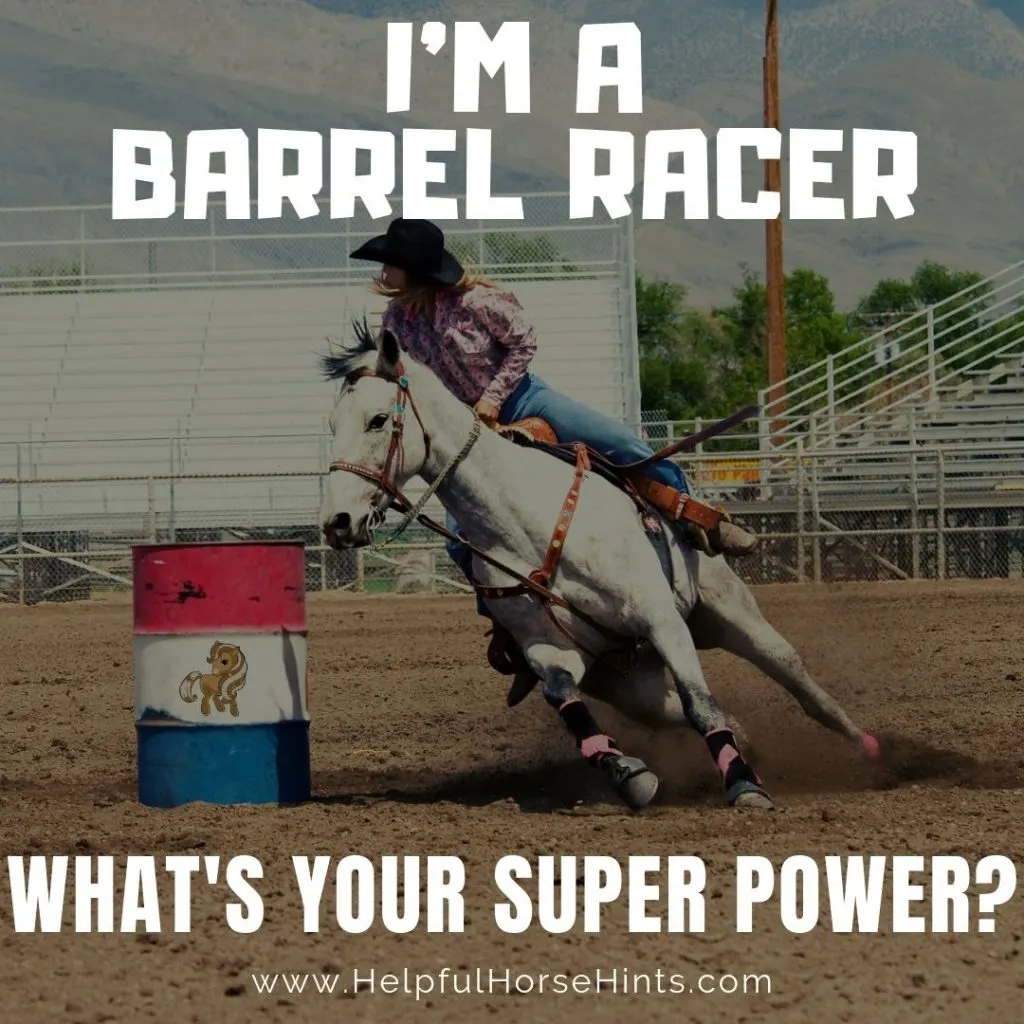 10. Your Kid Plays Violin? That's Cute.
Everyone loves to brag about their kid right. Little Johnny is a master at karate, little Susie is doing so well with the violin. When your six year old can outrun the competition on her barrel horse, now that's a kid with grit.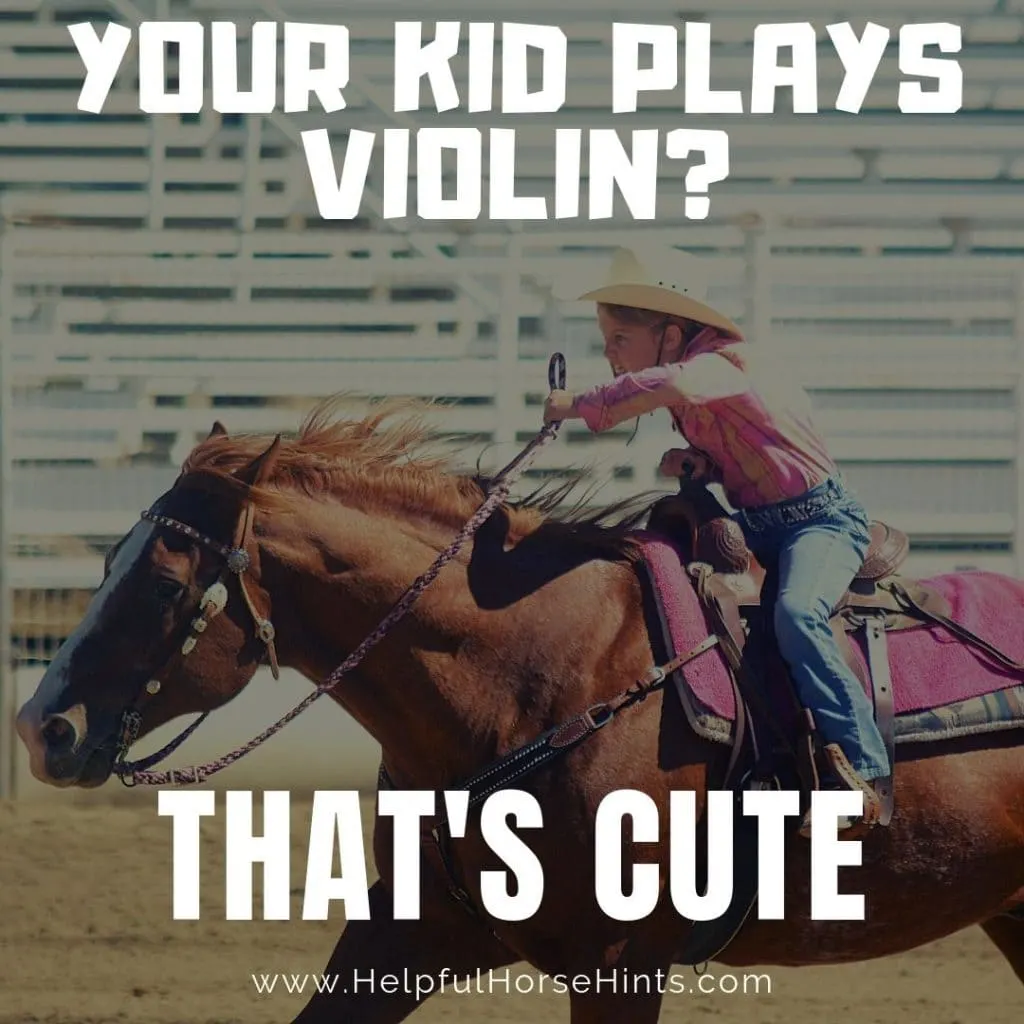 11. Our Family is Just the Right Mix of Barrel Racing & Love
Let's face it. The family that barrel races together stays together. There is nothing like horses to strengthen the family bond. Whether it's at home making sure everyone gets fed, on the road excited for a new event or arena side cheering each other on, barrel racing is a sport the whole family can enjoy.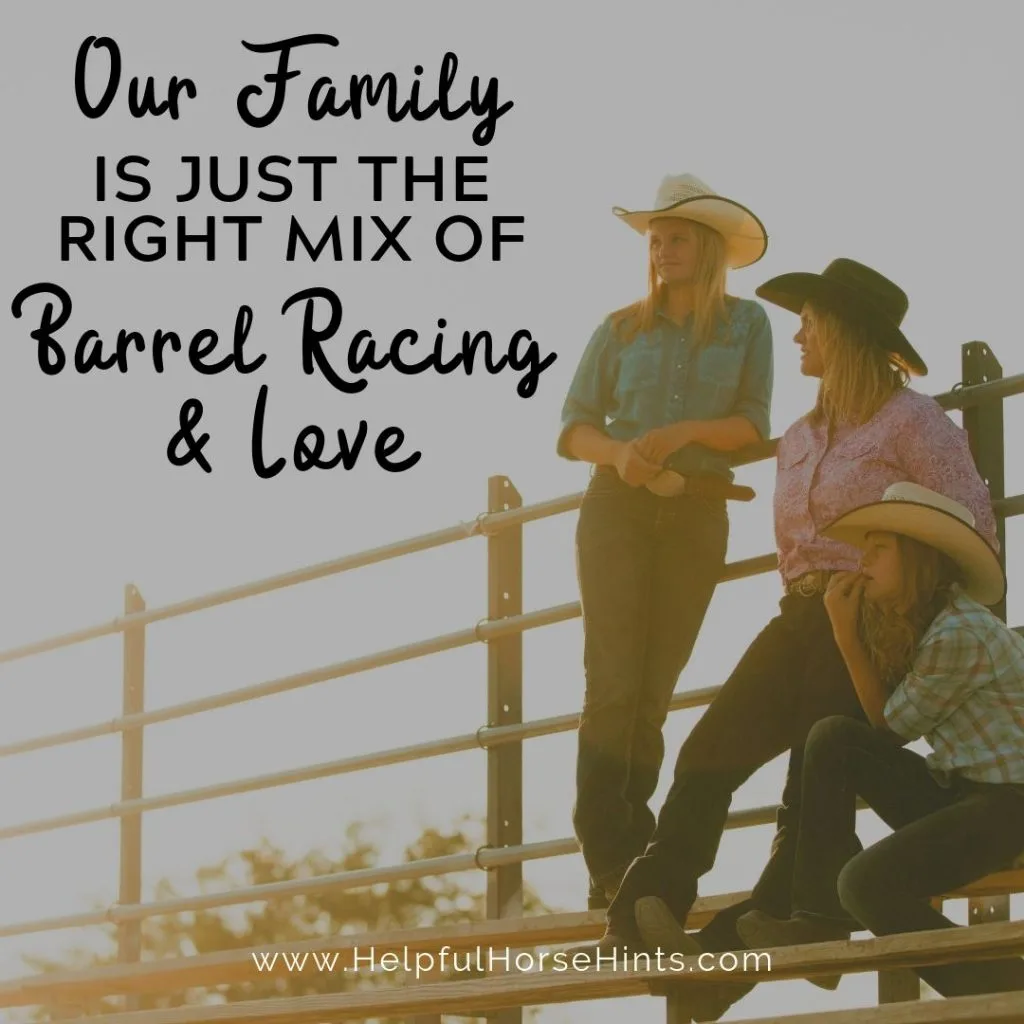 12. If Aren't Afraid of the Speed, You're Not Going Fast Enough
In order to be the best, you need to beat the best and that means riding a fast horse. While you may get used to it over time, there is nothing like riding a horse giving you it's all.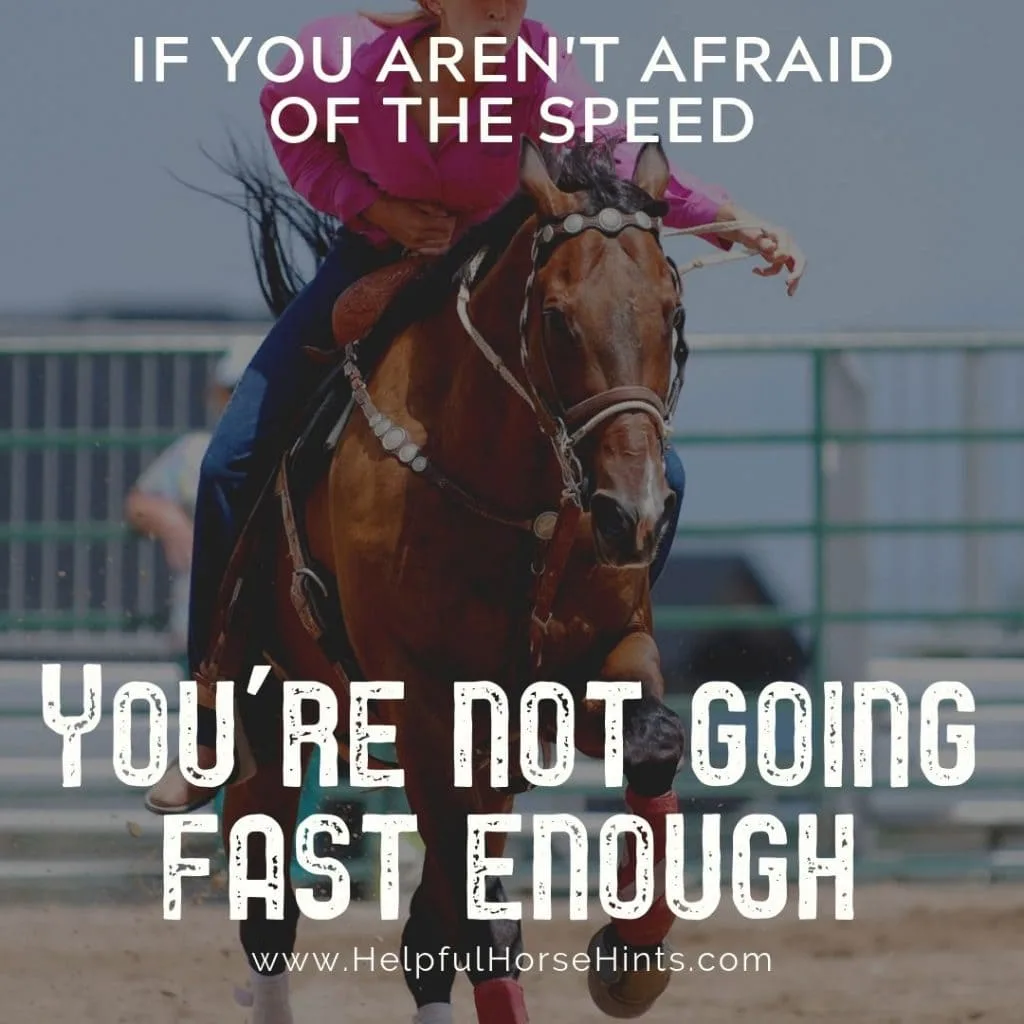 13. You Know You Are A Barrel Racer When: Your Horse Wears Nicer Leather Than You Do
Hey, nobody ever says horses are cheap right! We know you can rock that imitation vegetable-tanned plastic the department stores call "leather" but, when it comes to your barrel horse, nothing but the best is good enough.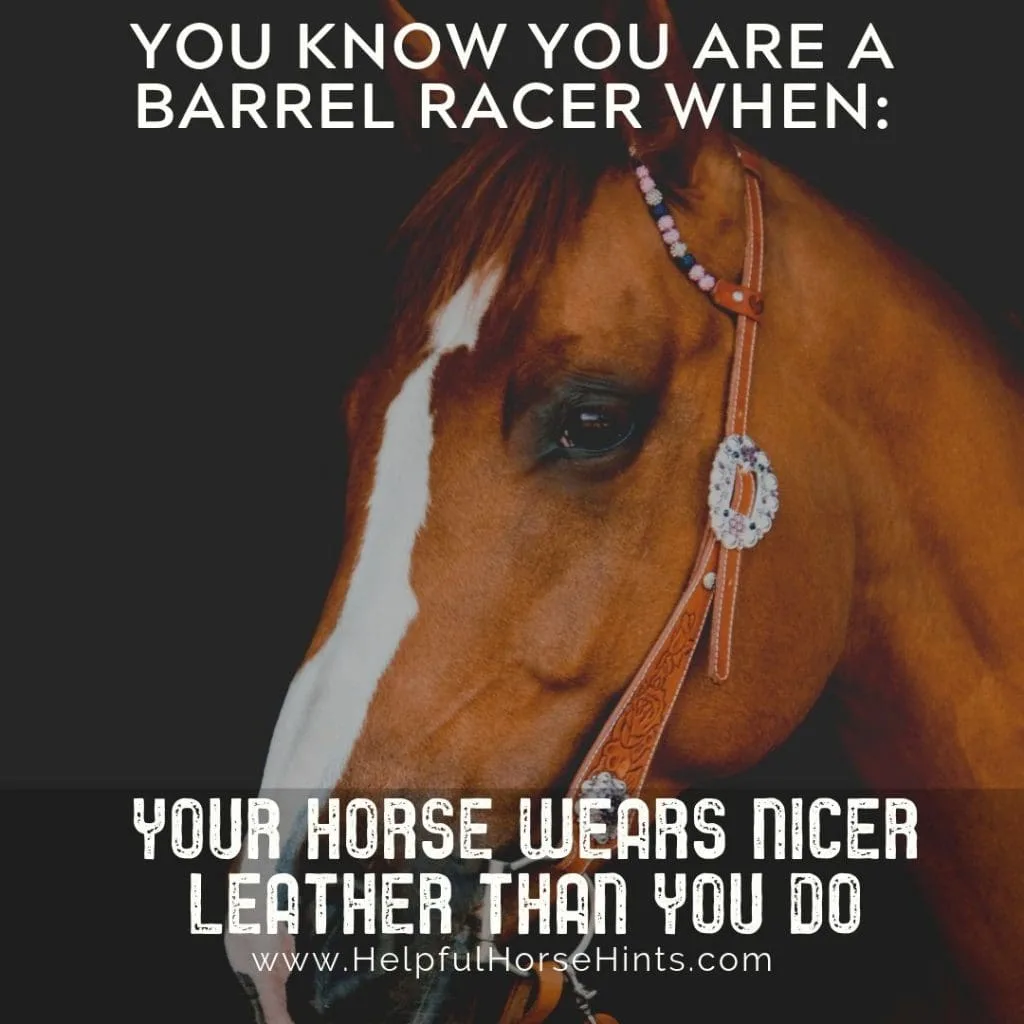 14. I Used To Have Money: Now I Have a Barrel Horse
As I said, nobody said horses were cheap. That $100 payout at your last barrel race won't make a dent in the price of the truck, trailer, gas, training, equipment, and horse that got you there. That's OK though, money doesn't matter when you cross that timing line.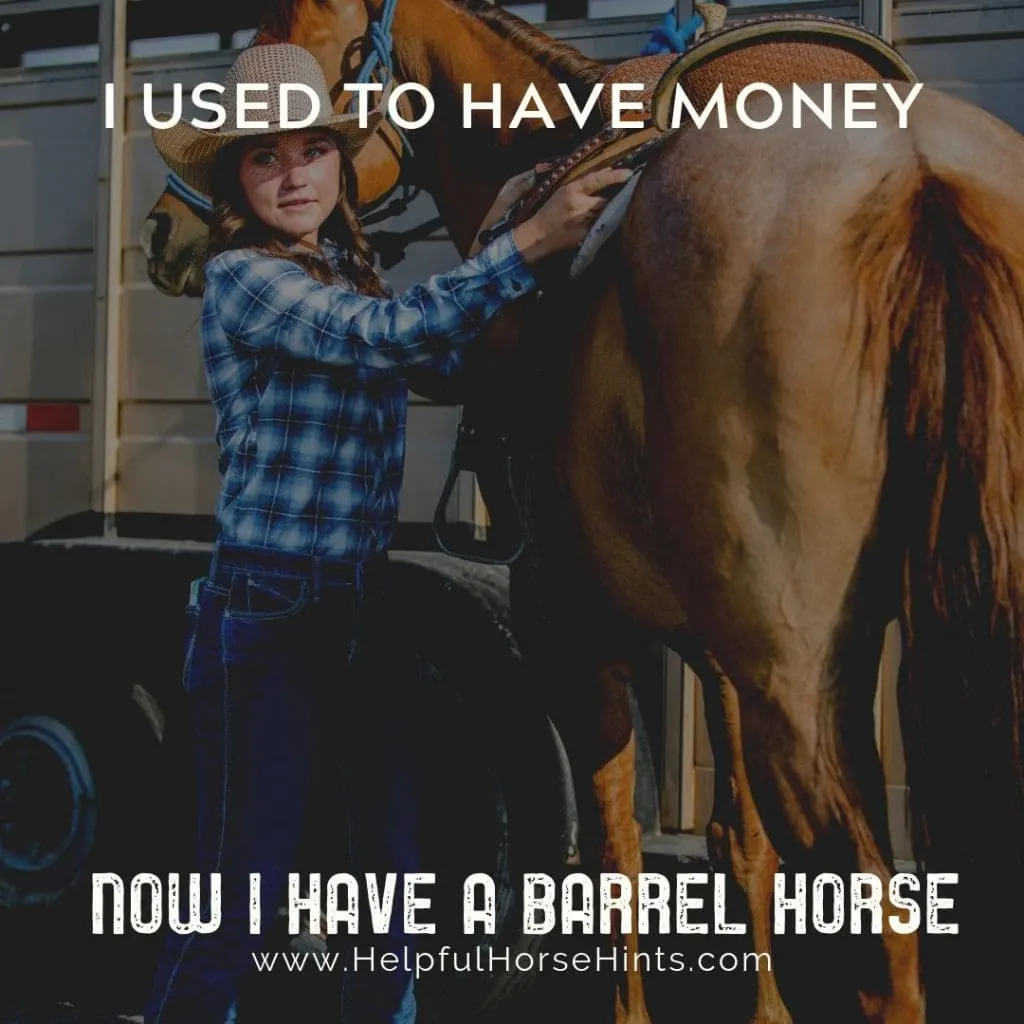 15. Barrel Racers Start 'Em Young
Have you ever seen anything cuter than a bitty pair of cowboy boots?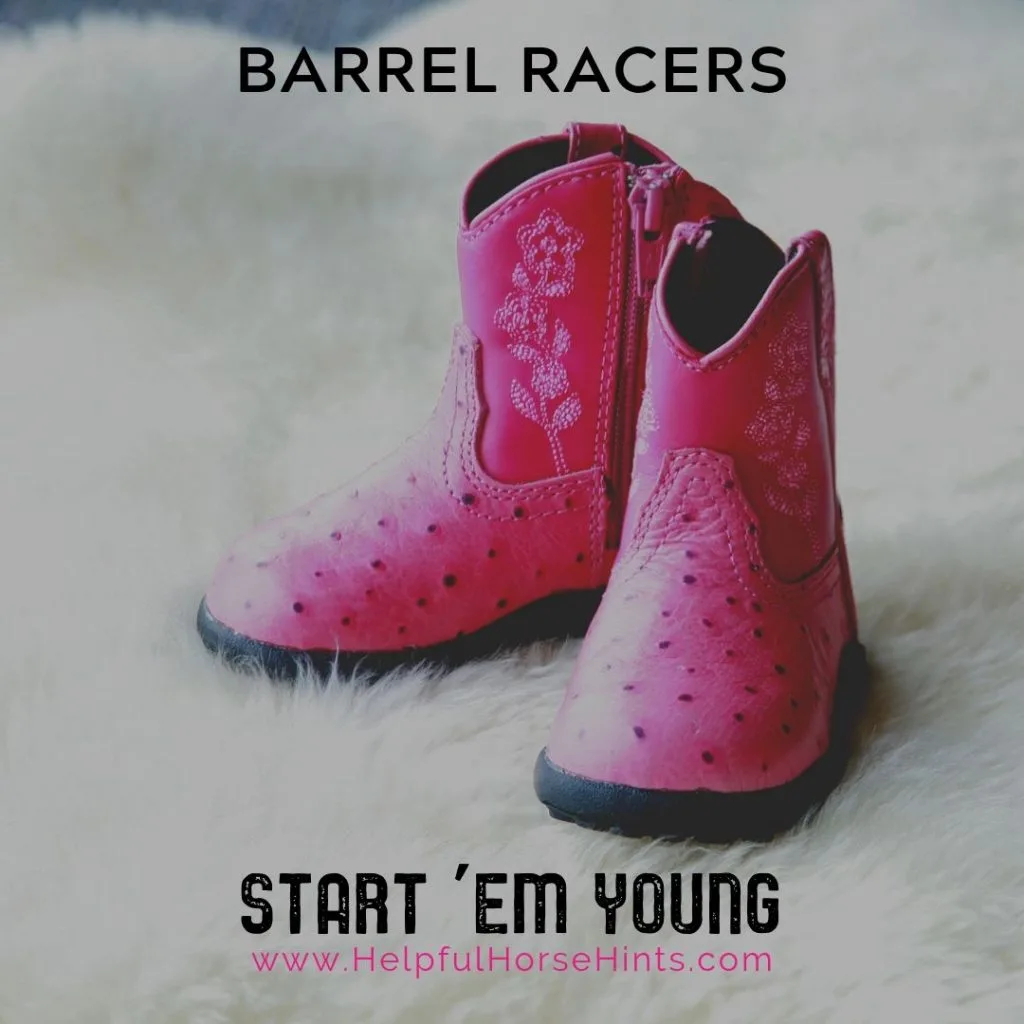 16. Some Girls Like Heels: I'm Not Some Girls
You aren't some girls. Remember that. You are unique. Any guy worth his weight knows a barrel racer who prefers her boots over a pair of high heels any day.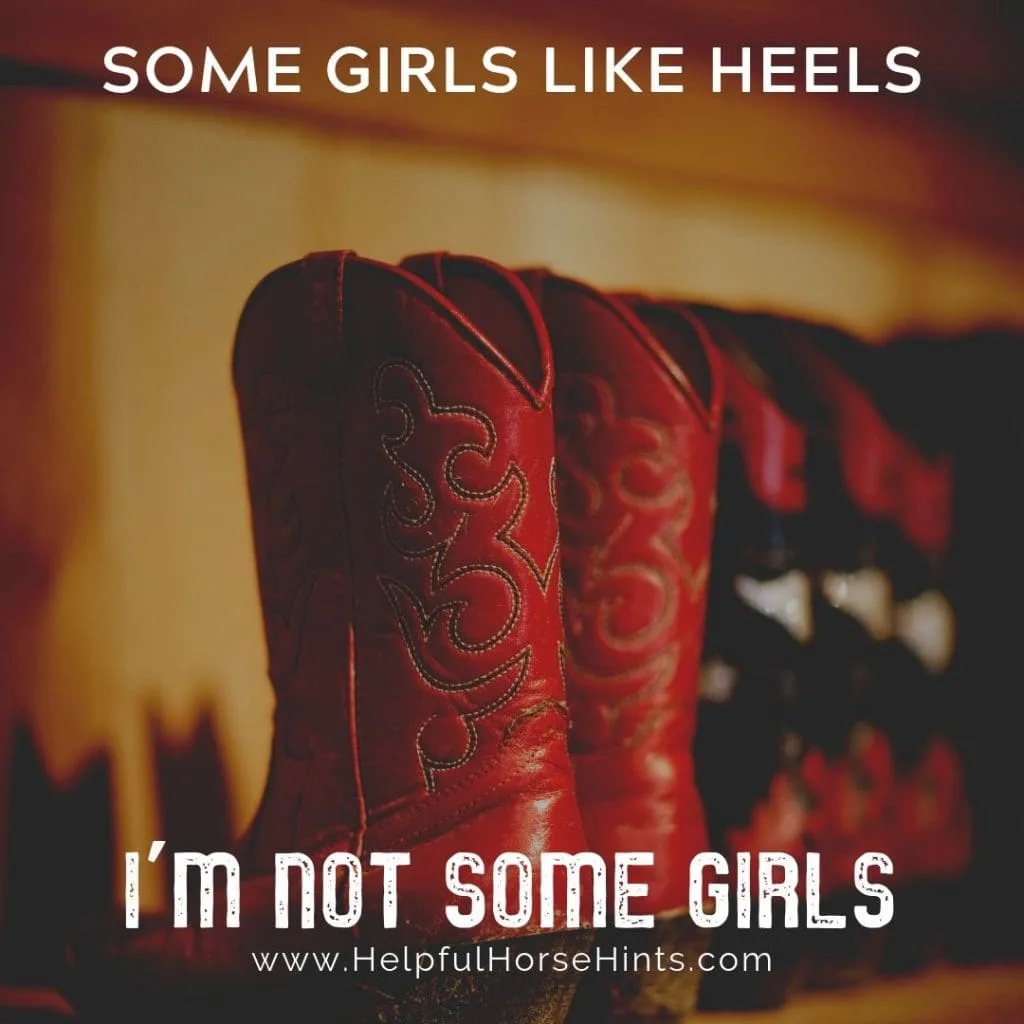 17. Barrel Racing Is Not An Event, It Is A Way Of Life
Barrel racing is a sport that starts out as something fun to try and can develop into a passion. For some, it even becomes a way of life. Sure, you may have coworkers that like to spend their free time hiking or kayaking or even crocheting, they don't know what they don't know.
Barrel racing may not be for everyone but everyone who hasn't tried it is missing out!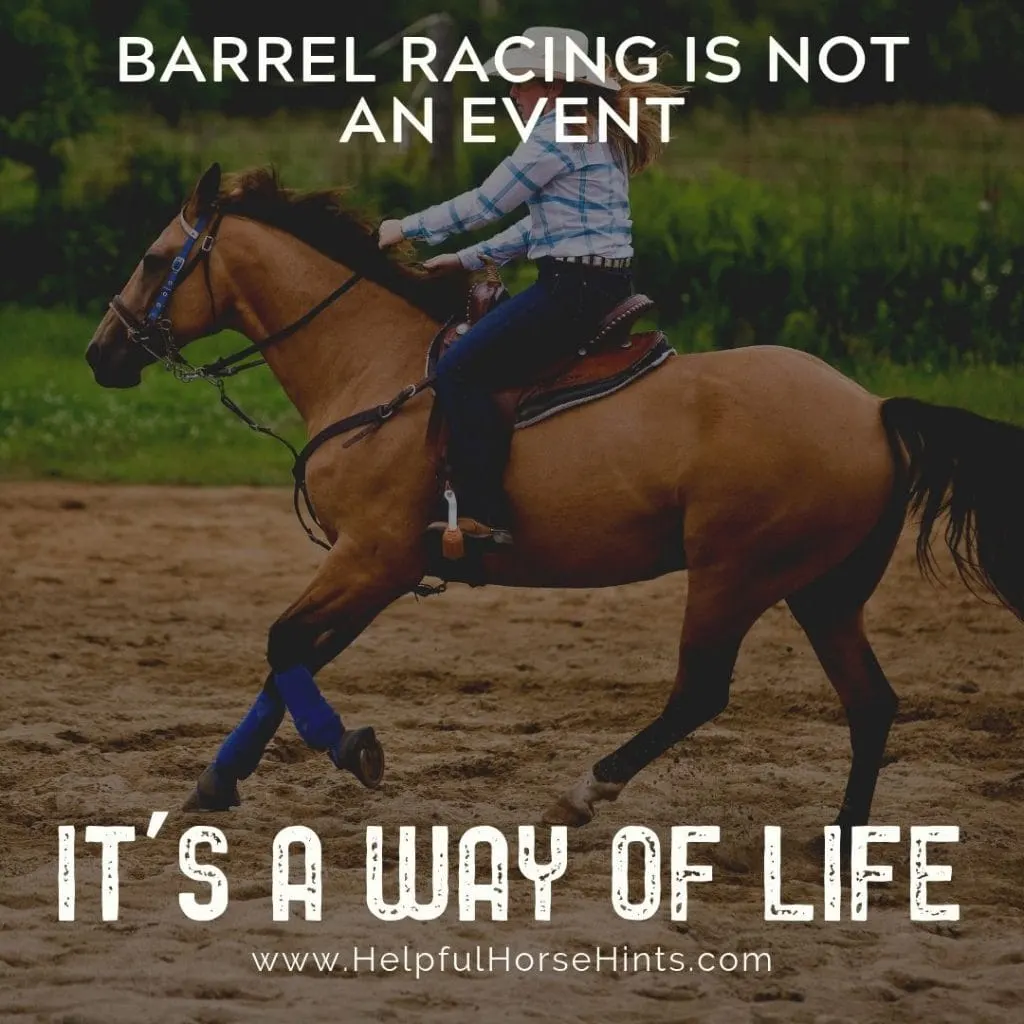 I hope you have enjoyed these barrel racing quotes and sayings. Remember you are free to share them all. Spread the love on social media, post them to your Instagram and pin to Pinterest.
Just be sure to leave the image as it is here with my watermark intact so people know where they can find awesome sharable content like these!
Related Posts
26 Groundwork Exercises for You and Your Horse