*This post may have affiliate links, which means I may receive commissions if you choose to purchase through links I provide (at no extra cost to you). As an Amazon Associate I earn from qualifying purchases. Please read my disclaimer for additional details.
There are plenty of animal-loving celebrities, but did you know that many of them are accomplished equestrians? Whether they became horse-crazy as children or added a horse to their menageries years later, here are 21 celebrities that have their own horses.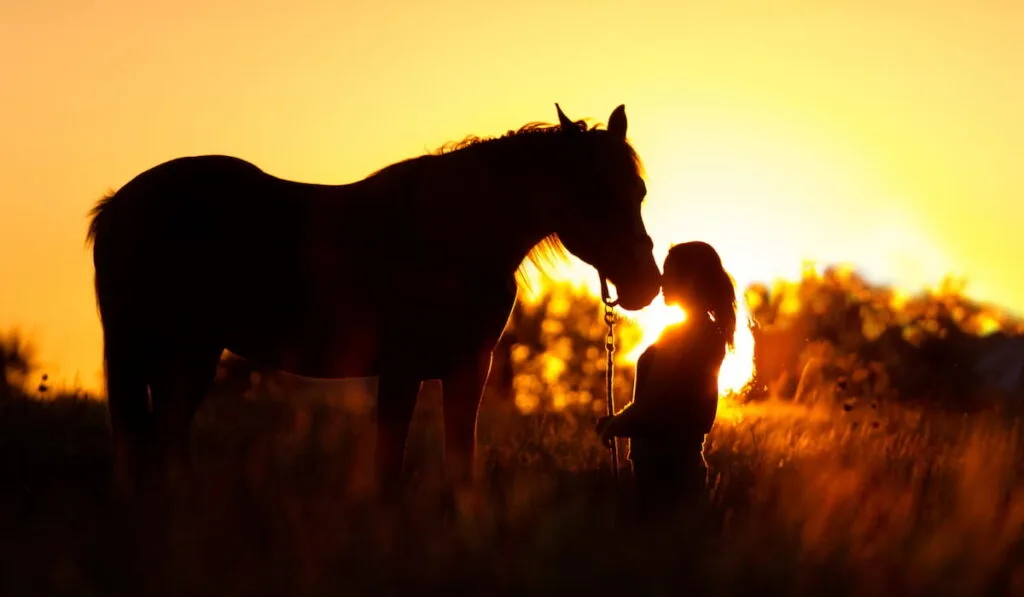 | | | | |
| --- | --- | --- | --- |
| Celebrity | Most Famous For | Horse Breed(s) | Horse Name(s) |
| William Shatner | Star Trek, Directing | Quarter Horses, American Saddlebreds | Sultan's Great Day, Revival |
| Tom Selleck | Magnum P.I., Blue Bloods | Quarter horse, Warmbloods | Spike |
| Viggo Mortensen | Lord of the Rings | Paint, Dutch warmblood | TJ, Uraeus, Kenny |
| Bella Hadid | Modeling | Warmbloods | Blue |
| Jamie Foxx | Ray, Django Unchained | Quarter Horse | Cheetah |
| Richard Gere | Pretty Woman | Appaloosa | Drukpa, |
| David Letterman | The Late Show with David Letterman | Unknown | Woody |
| Kaley Cuoco | Big Bang Theory | Warmbloods | Happy Hour, Charon, Netty Pie, Zena, Vulcan, Poker Face, Sammy |
| Miley Cyrus | Hannah Montana, Singer/Songwriter | Miniature Horses, | Pumpkin & Dumplin |
| Johnny Depp | Acting | Andalusian | Golden Eye |
| Zara Philips | British Royalty | Irish Draft | High Kingdom |
| Lady Gaga | Singing, Songwriting | Arabian | Trigger, Arabella |
| Christie Brinkley | Modeling | Polo Pony, Quarter Horse | Belle Star |
| Shania Twain | Singing, Songwriting | Tennessee Walking Horse | Tango, Meme |
| Steven Spielberg | Directing | Thoroughbred Racehorse | Atshwatimtalkingabout |
| Robert Redford | Acting/Directing | Quarter Horses | Rising Star, Charm |
| Martha Stewart | Home decorating, cooking, crafting | 5 Friesians, 1 Fell Pony | Rutger, Meindert, Rinze, Ramon, Sasa, (Banchunch) |
| Selma Blair | Cruel Intentions | Warmblood | Skytop |
| Joe Perry | Guitarist for Aerosmith | Friesians | Franz, Orien, Magnum |
| Brendan Fraser | Acting | Percheron | Pecas |
| Mary-Kate Olsen | Acting, Fashion | Dutch Warmblood, Selle Francais, Belgian Warmblood | Dunotaire V, Prem' Dollar Boy, Feu d'Amour, Virginia, Naomi, Fatum |
| MC Hammer | Rapper | Racehorse Thoroughbreds | Lite Light, Dance Floor |
| Dennis Quaid | Actor | Paint Horse | Jupiter Ray |
| Arnold Schwarzenegger | Terminator, Body Building | Miniature Horse, Miniature Donkey | Whiskey, Lulu |
| Sheryl Crow | Singer/Songwriter | Tennessee Walking Horse | Lady C (donated) |
*Deceased
Bella Hadid
Although Lyme disease sidelined supermodel Bella Hadid from the Rio Olympics in 2016, she still spends time with her warmblood Blue on her mother's farm in Pennsylvania.
Blue is often the subject of posts on Bella's Instagram, which boasts more than 30 million followers. Bella competed internationally in show jumping for many years before her modeling career skyrocketed her to the fame she knows today. Her little sister, Gigi Hadid, is an accomplished equestrian as well! (source)
William Shatner
William Shatner has an impressive career in the entertainment industry that spans over 50 years, but did you know he's also an accomplished and celebrated equestrian?
Shatner received the NRHA Dale Wilkinson Lifetime Achievement Award in 2018 for his dedication to the sport of reining (source), and is a successful breeder and exhibitor of Quarter Horses and American Saddlebreds.
In his 2017 book "Spirit of the Horse: A Celebration in Fact and Fable," Shatner reveals his lifelong passion for horses by describing his own experiences and retelling classic horse folk tales.
He also founded the annual Hollywood Charity Horse Show, which supports his charity Ahead with Horses, which is a therapeutic riding organization for children and adults with disabilities.
Viggo Mortensen
Viggo Mortensen is not only an actor, but an avid equine enthusiast. In fact, he has purchased several of his equine costars over the years including TJ, the American Paint Horse from the film Hidalgo.
He also purchased horses from the Lord of the Rings trilogy: a Dutch Warmblood named Uraeus and a chestnut named Kenny. He also purchased Arwen's horse, an Andalusian named Florian (source), for Liv Tyler's stunt double in the film and friend, Jane Abbott. (source)
Lady Gaga
Unlike many celebrities, Lady Gaga never rode as a child or exhibited much interest in horses until she moved to California. Her record label gifted her an Arabian mare named Arabella (who has sadly since passed away).
She said she quickly bought Arabella a "boyfriend" – a stallion named Trigger. Lady Gaga enjoys hitting the trail and galloping off into the sunset with her horses, claiming they teach her "balance, strength, and persistence." (source)
Tom Selleck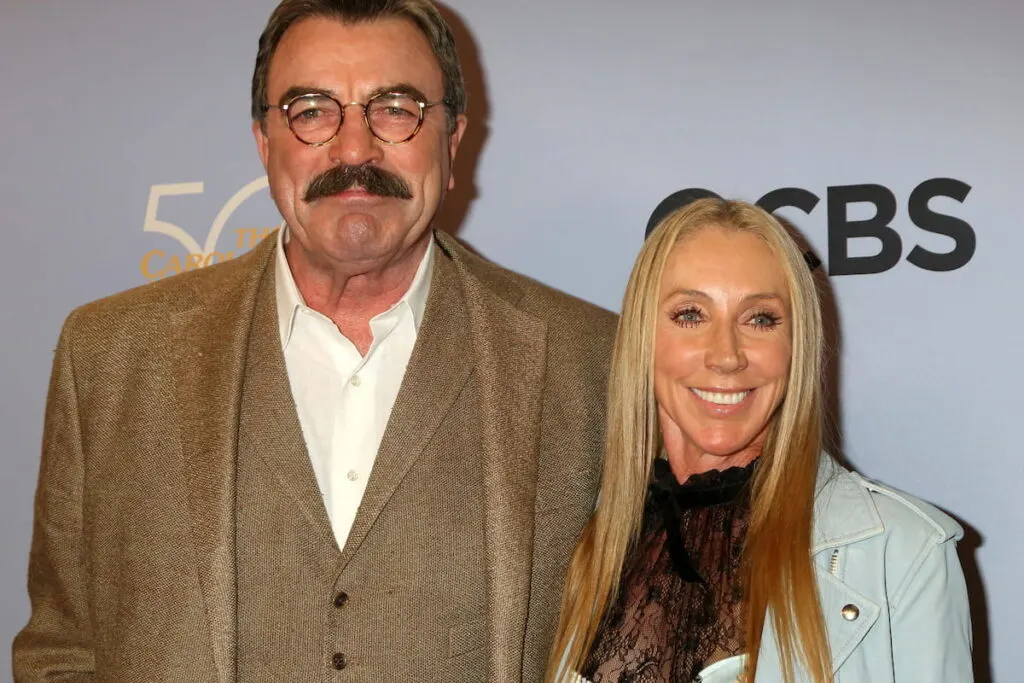 Tom Selleck is a longtime equestrian. According to Cowboys and Indians magazine, Selleck has always had an affinity for playing characters "wearing hats and boots, riding horses, and living off the land" (not to mention, he's appeared on their cover five times!).
In fact, Selleck rode a plucky little Quarter Horse named Spike in the films Quigley Down Under and the Last Stand at Saber River. He grew so attached to Spike that the film's handlers gave him to Selleck as a gift.
While Spike has since sadly passed away at the ripe old age of 30, Selleck's daughter Hannah is a Grand Prix equestrian rider, and they even have a horse breeding business together (source).
Shania Twain
Shania Twain learned to ride at the age of 12, when a friend let her borrow her mare. (source) These days, the singer/songwriter spends a lot of time on horseback – even bringing them on tour!
Her horses also steal the show at her residency in Las Vegas, as well as during performances at home on her farm. (source)
Her horse Meme made a guest appearance in the 2020 ACMA's, and her Tennessee Walking Horse Tango makes a regular appearance on her Instagram.
Kaley Cuoco
When Bing Bang Theory star Kaley Cuoco isn't filming a hit tv series, you'll often find her at the barn with her plethora of rescue animals. Kaley's been riding since she was 15, and she's currently making the rounds in the show jumper circuit.
Her husband is a professional show jumper, and the equestrian couple even said their wedding vows in a beautifully decorated horse stable! Her newest horse, a gray warmblood named Happy Hour, routinely makes appearances on her popular Instagram feed.
David Letterman
After retiring from The Late Show with David Letterman in 2015, popular TV host David Letterman enjoys spending time at his Montana property with his dogs and his horse, Woody.
Letterman featured horses on his program Late Night with David Letterman several times over the years, riding down the streets of NYC with the likes of Madonna and Harrison Ford.
He even gifted Conan O'Brien a "crazy" paint horse named Dave – which Conan kept for two years before finally donating it to an equine massage therapy school. (source)
Johnny Depp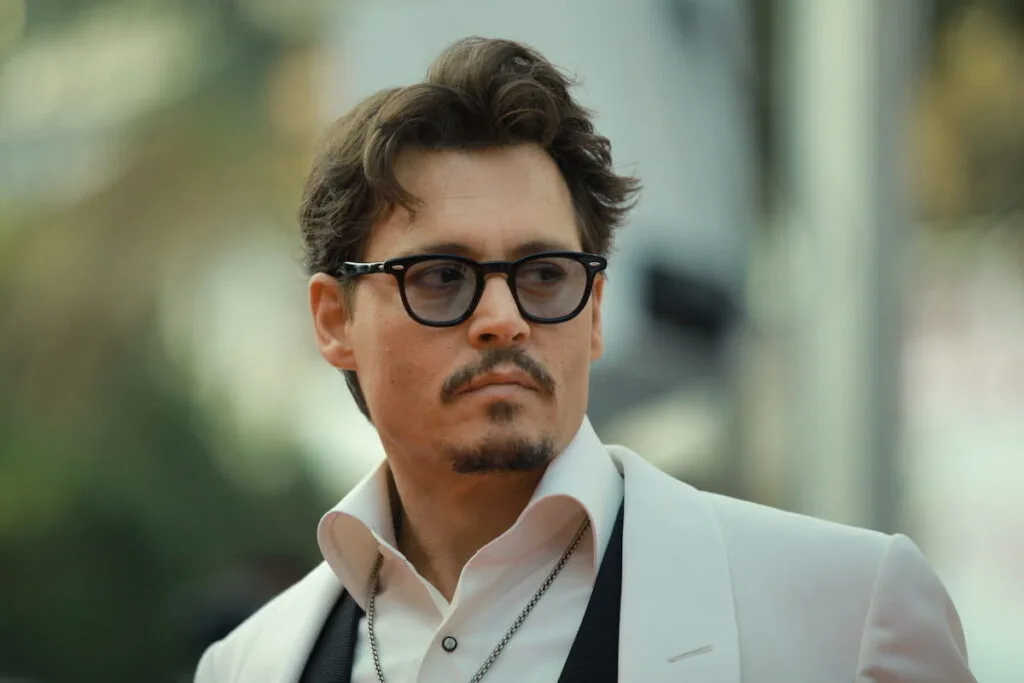 Johnny Depp has taken many roles over the years that involve working with horses, from Sleepy Hollow to The Lone Ranger. In 1999, he adopted Golden Eye, the equine costar who played Gunpowder (Ichabod Crane's horse in Sleepy Hollow).
Golden Eye is reportedly an Andalusian gelding with only one eye, "destined for the glue factory". While there is no real evidence to corroborate this claim, Depp did in fact adopt Golden Eye, and it makes a good story nonetheless.
Depp does many of his own equestrian stunts, and was nearly trampled during The Lone Ranger! (source) He also purchased a sprawling 41-acre equestrian property, where his mother lived until she passed away in 2016.
Miley Cyrus
Miley Cyrus has always been a country girl at heart. She lived on a quiet ranch in California with a 10-stall barn with various horses and rescue animals from 2014 to 2018. (source)
Miley's fictional alter ego in the Hannah Montana series owned a horse named Blue Jeans, who traveled all the way from Tennessee to live with them in Malibu. In real life, Miley often rode horses at her father's estate, a hobby that she enjoys to this day.
Mary-Kate Olsen
The child actor turned billionaire fashion mogul Mary-Kate Olsen spends her free time competing with her many warmblood horses.
She's competed in show jumper rings around the world, and is often seen riding in competitions at the Hamptons or Palm Beach (rubbing elbows with other famous equestrians).
A horse girl at heart, Mary-Kate has been riding since she was 6 years old. (source)
Kevin Costner
Kevin Costner's favorite movie genre is the Western, and it's easy to picture the award-winning actor galloping around on his former ranch in Santa Barbara, California.
His acting and directing work often includes horses, and he even taught fellow actor Bobby Cannavale how to ride!
Richard Gere
Richard Gere fell in love with horses while researching the Nez Perce people for his role in the 1970s play, Killer's Head. He purchased his first horse, an Appaloosa named Drukpa, and is quoted as saying, "First horses are like your first girlfriend. You never forget."
Gere became deeply involved with the Chief Joseph Foundation in the early 1990s – "an organization that promotes the Nez Perce cultural preservation primarily through community activities involving the Appaloosa breed." (source)
Dennis Quaid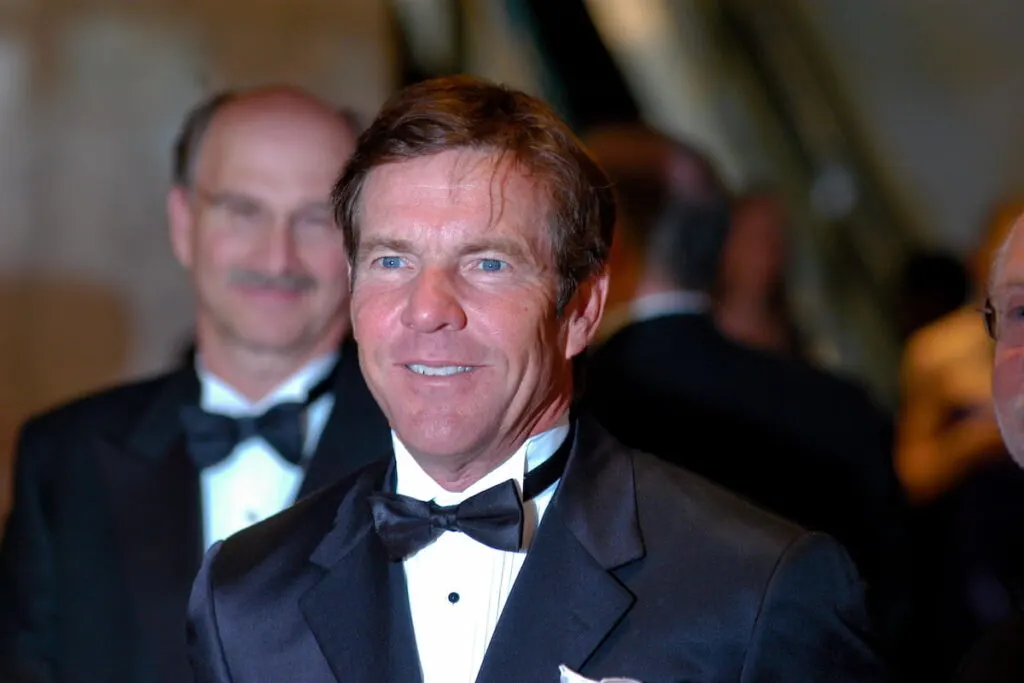 When he's not acting in movies, Dennis Quaid spends time on his Montana ranch with his five horses. A cowboy at heart, Quaid designed the property himself calling it "a boy's heaven," (source) perfect for spending time in the great outdoors with his horses.
He and his wife previously lived on a luxurious equestrian farm in LA, and they even bought the land next door to add space for their pampered equines. According to journalist Jill Rappaport, Quaid is "all 'hands-on'. He takes care of his horses himself and enjoys hanging out with them." (source)
Arnold Schwarzenegger
Arnold Schwarzenegger was photographed several times with his enormous white Andalusian. He and his former wife Maria Shriver owned horses together in the 80s and 90s – Maria was an avid equestrian herself. (source)
Today, Schwarzenegger has opened his home to his smaller equine friends Whiskey (a miniature horse) and Lulu (a miniature donkey). They often appear in his videos on Instagram and even spend time inside Schwarzenegger's lavish home – talk about spoiled pets! (source)
Martha Stewart
Martha Stewart has always had a taste for farm life, beginning with some chickens in her backyard. Now, she keeps several Friesian horses on her sprawling 153-acre equestrian property in Bedford, New York.
Her Friesians are friendly, comfortable to ride on a large system of trails, and provide manure for the farm. She also has some Sicilian miniature donkeys in the barn as well. Even the barn has a gourmet kitchen in it – of course! (source)
Selma Blair
Before multiple sclerosis sidelined the actress from riding in 2018, Selma Blair was an avid show jumping competitor. (source)
While her health is still her priority, Selma hopes to make a comeback to the jumper ring soon with her gray warmblood, Skytop (also affectionately known as Mr. Nibbles).
She purchased the warmblood gelding after the birth of her son, Arthur. According to an article in People Magazine, "Blair said that during her horse search, her main "prerequisite" was that her steed could "handle kisses."
Joe Perry
When he wasn't touring with the rock band Aerosmith, the guitarist spent many years breeding majestic Friesian horses. In the early 1990s, he and his wife Billie became Friesian enthusiasts by adding their beloved horses Magnum, Nico, Franz, and Orien to their ranch just outside of Boston.(source)
In 2009, Joe accepted a Reader's Choice award in absentia – he was too busy taking care of his horses to attend the ceremony. While the couple sold the ranch in 2015, Joe remains a lifelong equestrian enthusiast.
Christie Brinkley
A lifelong equestrian, model Christie Brinkley is a bona fide cowgirl! Her love for the sport began on family vacations at various dude ranches. Her first horse was a gray plucky polo pony named Belle Star. (source)
Eventually, Christie shifted her sights towards cutting, a Western sport that uses horses to separate cattle from the herd. She even took home first place at the NCHA Championships in 1992!
While her favorite cutting horse, Goodbar Miss, passed away in 2013, Christie still shares her love of horses with her family today.
Jamie Foxx
Jamie Foxx began riding after receiving a chestnut Quarter Horse named Cheetah for his birthday. Once he secured the part in Django Unchained, he insisted that Cheetah be featured in the movie.
Cheetah played the role of Tony, a little horse with a "big character." Jamie spreads his love for horses his friends as well – he gifted Robert Downy Jr. a horse for his birthday in 2010. (source)
Robert Redford
Actor Robert Redford has "become a name synonymous with horses and Hollywood." Redford began riding as a child, and his love for horses only continued to grow as he moved through his entertainment career.
He did all his own riding for the 1979 film The Electric Horseman, and kept his costar Rising Star for 18 years. While he no longer maintains his large Quarter Horse breeding operation on his Utah ranch, he still works with horses as often as he can.
Source:
https://vmagazine.com/article/lady-gaga-strips-joanne/