Have you been thinking about decorating your horses stall? Do you want a customized stall sign but need it on a budget? This tutorial is for you!
Custom stall signs are typically painted or engraved. Painted stall signs are easy enough but in this tutorial I am going to show you how to make a DIY stall sign out of gorgeous scrapbook paper. The whole stall sign can be made for under $10 in most cases depending on what supplies you have on hand.
Customized Stall Sign Tutorial:
Materials:
Step 1: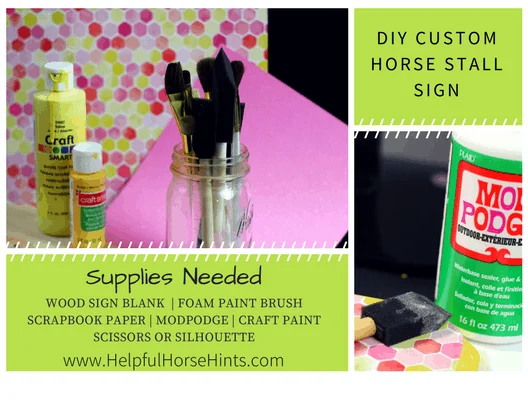 *This post may have affiliate links, which means I may receive commissions if you choose to purchase through links I provide (at no extra cost to you). As an Amazon Associate I earn from qualifying purchases. Please read my disclaimer for additional details.
Assemble supplies.
Step 2:
Apply a coat of paint to the face and edges of the sign blank and allow to dry. Sand any rough edges.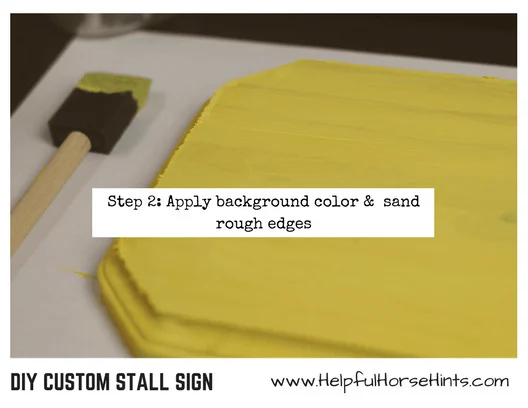 Step 3:
Use your scrapbook paper to emboss the outline of the sign face onto the piece of scrapbook paper you intend to use as your background. Using a lead pencil, lightly rub the paper to define the edge lines where you should make your cuts.
Step 4:
Cut out the background image and apply to stall sign using ModPodge and foam brush. Allow to dry.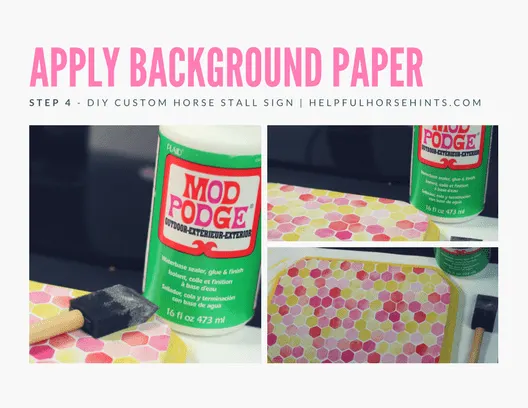 Step 5:
Determine font and style for your horses name for the front of the image. If using a scrapbook paper, trace and then cut out horse's name. In my example, I used a silhouette cutter to print the horse's name.
Step 6:
Because my background did not stand out well, I used my silhouette to cut out an additional strip to accent the horses name.
Step 7:
Adhere all pieces to the sign blank with Outdoor modpodge.
Step 8:
Apply at least 3 coats of Modpodge before hanging on horses stall!
How to Hang Your Custom Stall Sign
Barn / Box Stalls
Mounting will really depend on what type of stall your horse lives in. If he lives in a box stall, use a picture hanger or two on the back of the sign. Then you can hang in on a couple of screws. The best solution I have found for box stalls, though, is using command strip velcro. That way you don't damage the wood and, if your horses switch stalls often, it is easy to swap out the stall plates to match.
Sawtooth Picture Frame Hanging Hangers Double Hole with Screws
★ APPLICATION WIDELY — For photo frame, wedding, digital painting, cross stitch, picture frame, Chinese painting, exhibition painting, fashion wall clock and etc.
★ SEAMLESS WALL NAILS — Have very small nails, nailed to the wall will not damage the wall. Almost no trace of the outside, the wall is also very small damage.
Pipe Stalls
On pipe stalls, using something like two small eye hooks will allow you to attach the stall sign with a piece of rope or twine. Add a small snap to one side to make it easy to move if your horse changes stalls!
100x 12mm (1/2") Zinc-Plated Eye Hook Screws
STRONG AND DURABLE PACK OF 100x 12mm (1/2") ZINC-PLATED EYE HOOK SCREWS – This excellent value, premium quality pack of 100x 12mm (1/2") Zinc-Plated Eye Hook Screws is a must-have accessory in all keen DIY enthusiasts tool boxes or utility cupboards, offering excellent strength and versatility for hanging lightweight items on a range of walls and surfaces.
EASY TO INSTALL IN LESS THAN A MINUTE – Thanks to its easy-to-use screw thread, these eye hook screws can easily be screwed into most household surfaces by hand, being especially useful on plasterboard and drywall. Where you wish to install on harder walls a pilot/guide hole may need to be drilled first and small rawl plug inserted
Enjoy your new customized stall sign!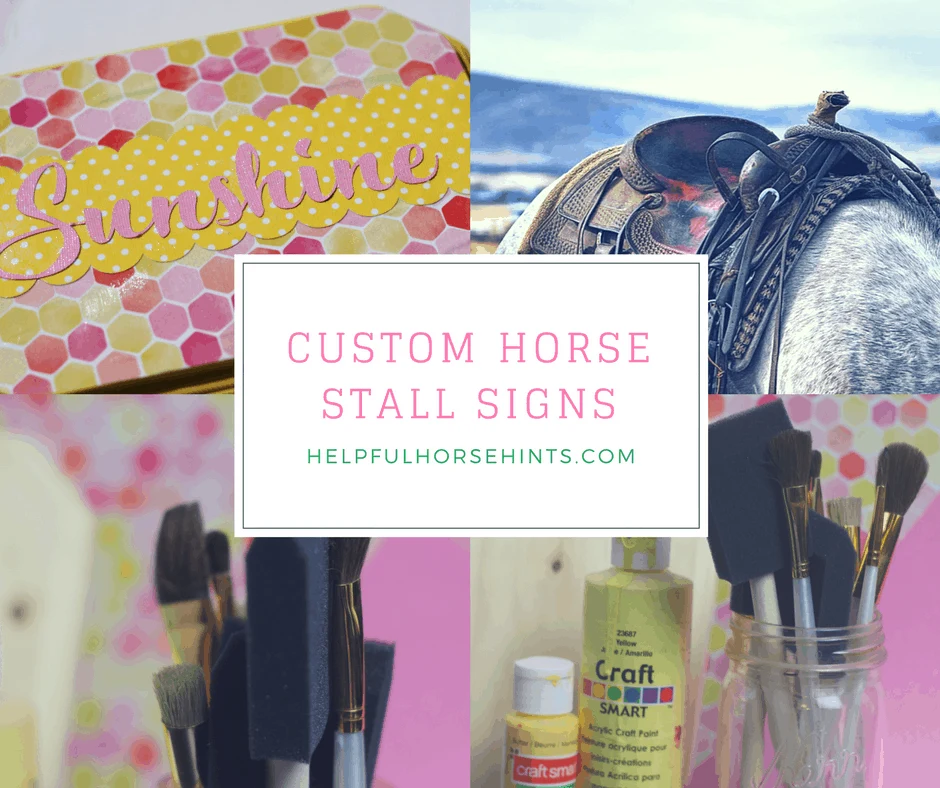 RELATED POSTS