*This post may have affiliate links, which means I may receive commissions if you choose to purchase through links I provide (at no extra cost to you). As an Amazon Associate I earn from qualifying purchases. Please read my disclaimer for additional details.
The folder method of recordkeeping is best used for somebody who wants an individual file for each horse that they can just grab and go, or for somebody that has only one horse. When a horse sells, I can just pull their folder, make any necessary copies and hand it off to the new owner. for this reason, I currently use this method for all of my horses.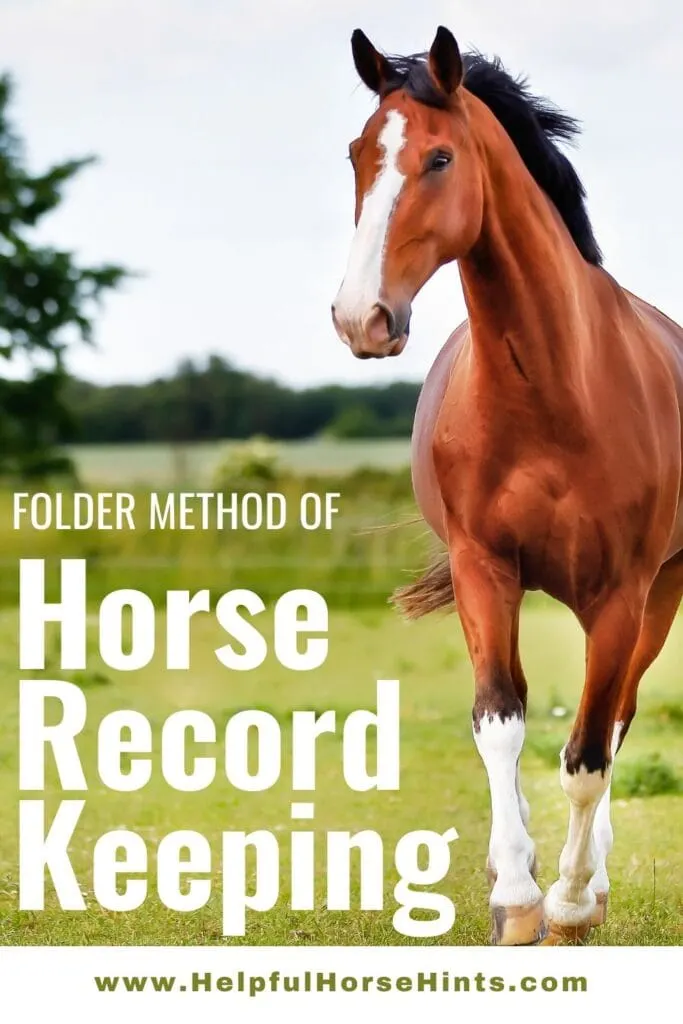 Materials Required
Printer
Pen
Permanent Marker
Super Glue*
All relevant paperwork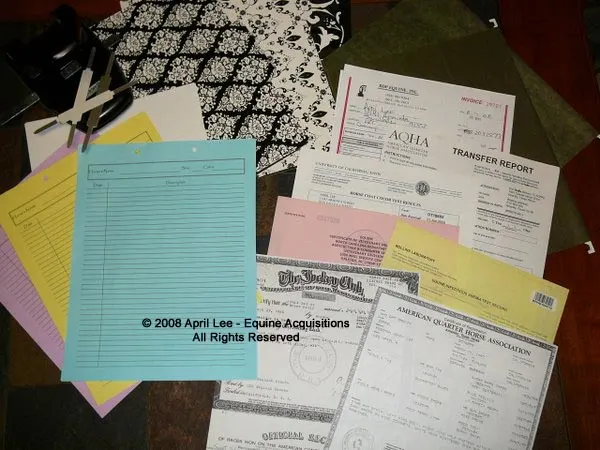 Directions
1. Assemble all of your supplies.
2. Print out copies of blank forms you wish to use.
Some examples will be added to the "Printables" section of the website at a future date (please send your friends to the website to get their own copies!). You can also create your own and print as desired.
3. Punch holes in all documents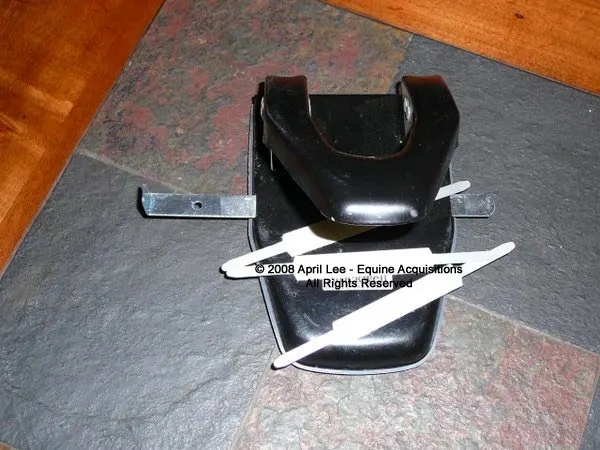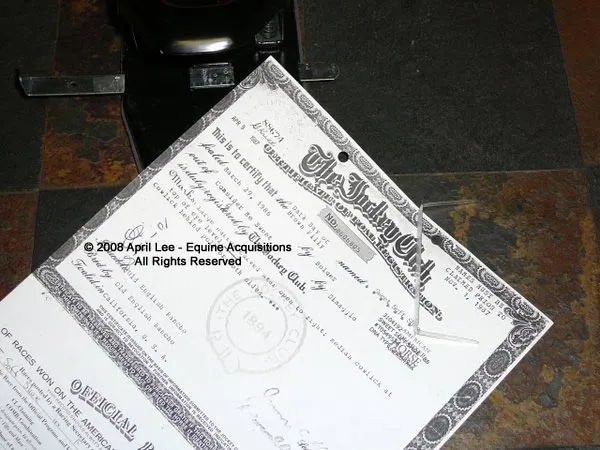 4. Assemble documents in order you wish to place them in your folder.
There are two sides available, the left and the right. We put about 5 blank log sheets on the right side and organize all the other information on the left hand side. We always put the vaccination history on top of the stack on the left side. This way, if you open one of our folders, the most recent log is on the right side and the horses vaccination/health history is on the left side. Usually when were checking records, that is all the information we need at a glance.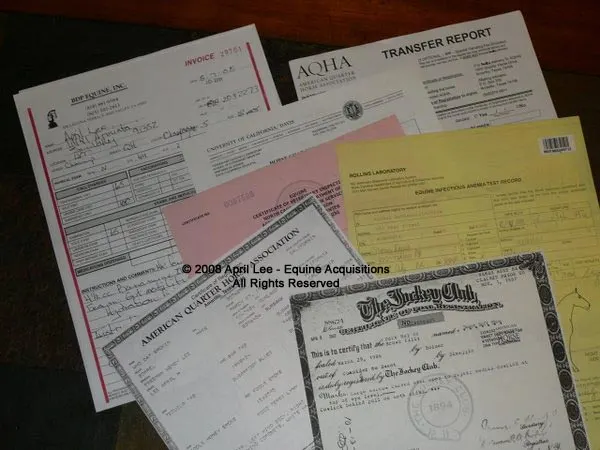 5. Attach Fastener & Add Paperwork
Next, we use a self-adhesive prong fastener to attach the documents to the inside of the file folder. We purchased a box of 100 2″ fasteners from our local office supply store for around $5. To do this, first, fold up each prong to a 90-degree angle. Then just slide your documents onto the prongs. Leave the prongs in the upward position, we'll use them to guide our documents into the proper position inside our file folder.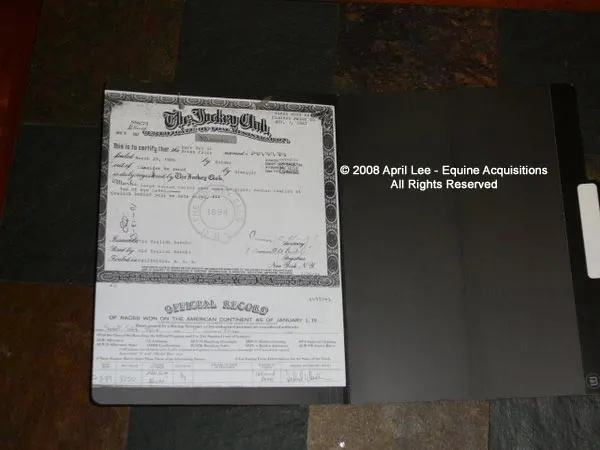 Remove the paper backing from the prong fastner and position into the left side of the file folder. Once the proper position has been ascertained, simply press down on the area between the two prongs. This will adhere the adhesive to the folder thus securing the prong fastner. Note: If you don't take papers in and out a lot, or aren't using specialty folders with a coating like the ones I have pictured, you'll probably be fine. If you find that your fastner is detaching…we use Super Glue to fix that problem!
Repeat for the right side..be sure that you will be able to see the label portion of the file folder clearly!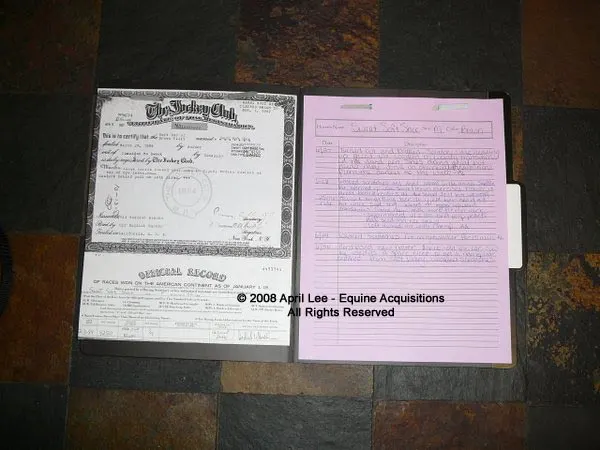 6. Label Folder with Horse's Name
Write in the horse's name on the label tab and your done! The folders are ready to be placed inside hanging folders and inside a file cabinet. We use a portable file box we keep in the office at the ranch. We can easily access each horses file, pull it out and fill in needed information. In addition, if need be, we can take the whole box home and work on files or transfer information to our computer record keeping system as necessary.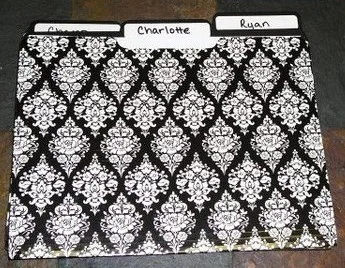 Your completed folder should look something like this. For the horse logs, we always write on the top sheet. When that sheet has been used we pull a blank sheet from the front and put on on top. That way, the most recent information is immediately visible and you don't have to go hunting through multiple pages for it.
Since we have so many horses, we also identify gender by the color of the log sheet. Blue for Colts/Stallions, Yellow for Geldings, and Pink/Purple for Mares/Fillies. I suppose if you have a bunch of horses you could also use different colored file folders. It's completely up to you.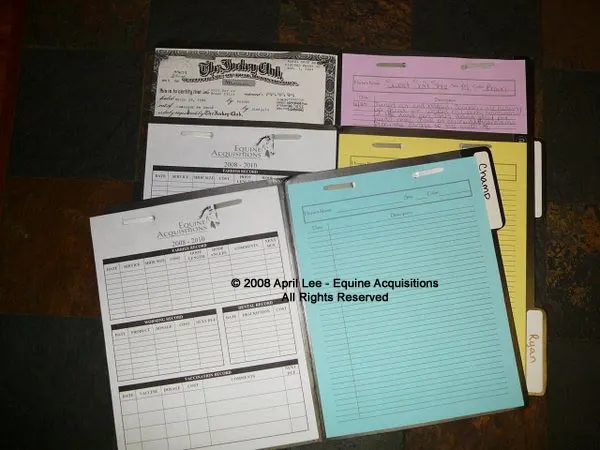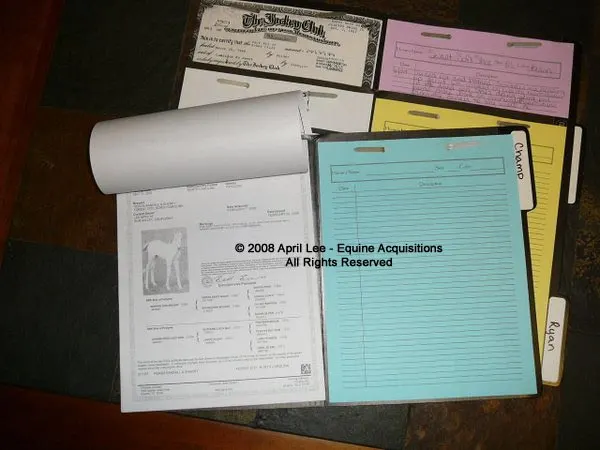 Supplies for Horse Record Folder Project
Sale
12 Pack Geometric File Folders
Decorative File Folders: Organize loose papers, important documents, notes, and bills in style in this set of 12 geometric file folders
6 Vibrant Designs: Our tab folders feature 6 assorted polka dot, geometric triangle, and herringbone patterns
Sale
ACCO Self-Adhesive Fasteners
Just peel and stick inside file folder to bind loose papers; strong tin plated steel construction; 100 fasteners per box
Coined edges are smooth and safe; 2 3/4″ size prong to prong; 2″ capacity
To view our other FREE printable forms and other topics in the record keeping category, visit the Record Keeping Archive page where you can find all kinds of horse forms.
RELATED POSTS