Going on a camping trip with your favorite trail horse can be one of the most exciting adventures you will ever experience. It is the perfect opportunity to truly bond with your horse and to really enjoy everything that nature has to offer.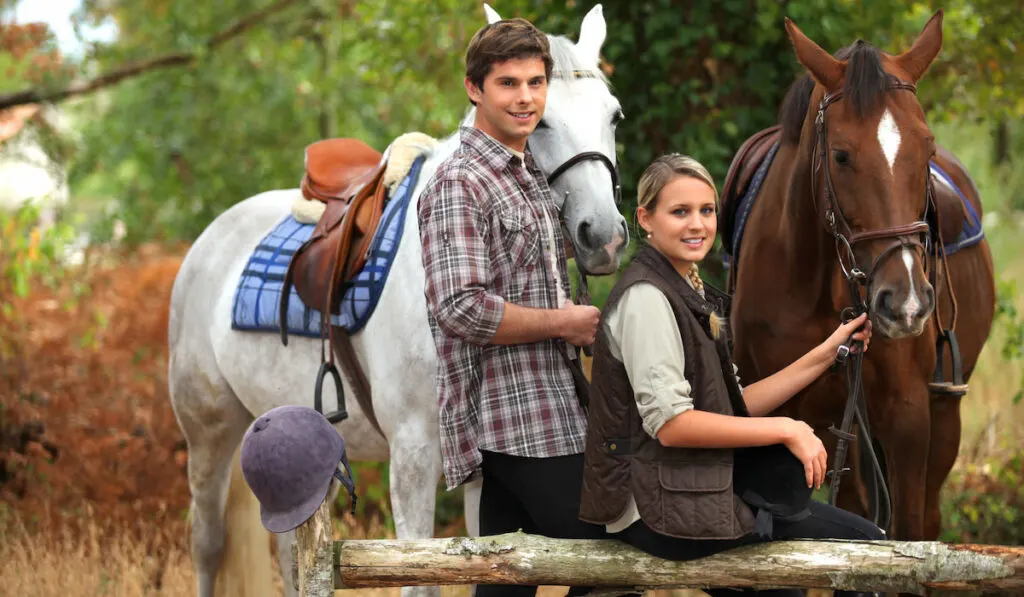 Finding the perfect destination is essential when it comes to planning a camping trip with your horse. You will need to make sure that you bring everything that you and your horse will need. With the right planning and preparation, you can make your camping trip a rewarding and memorable experience.
Daydreaming about going camping is far different from the reality of camping out in the wilderness. With the right information and the tips found in this article, you can rest assured that you will be more than prepared to embark on your camping expedition.
Decide What Kind of Camping You Want to Do
The first and most important part of planning your horse-centered camping trip is to decide what type of camping adventure you want to do.
Experienced riders that have camped out numerous times before and are well-prepared will be fine in a wilderness-based, multi-night camping situation.
They typically scout out trails to ride on and they simply set up camp somewhere along the trail. Everything they need, they carry with them on their horse.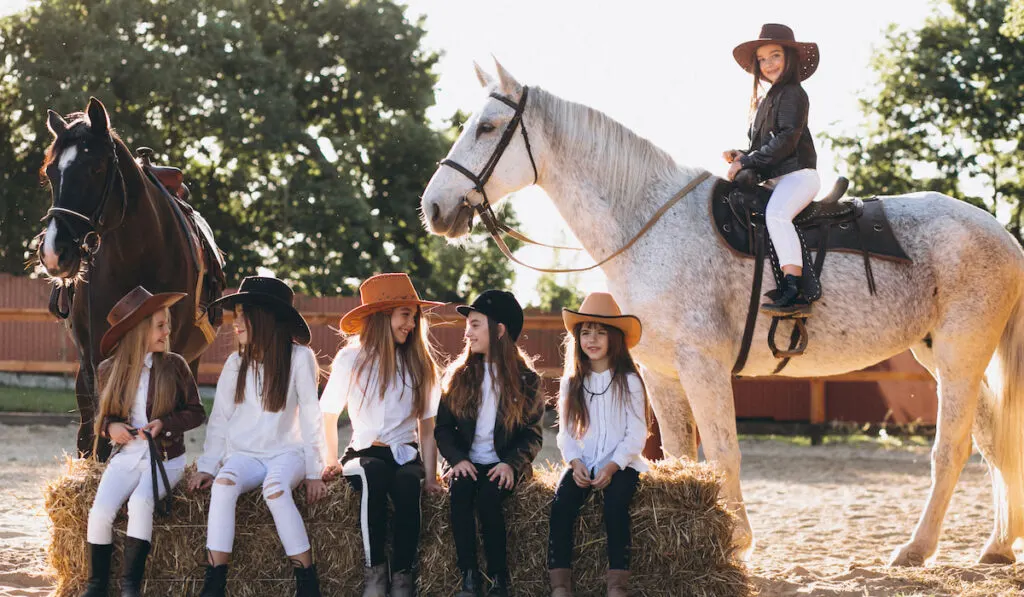 Beginners should not try this on their first horse-camping journey, especially without an experienced guide. Instead, they should start out with something simple, like an overnight ride with a guide who knows the area and who can teach them the ropes.
Some beginners may even prefer to set up camp at a campground, only riding trails throughout the day and returning to the campground in the evenings.
Regardless of which type of camping you decide to do, make sure that you are open and honest with your guide or fellow horsemen. Feel free to ask for help when you feel like you are in over your head.
Amenities to Look for When Picking an Equestrian Campground
Find the right campground for you and your horse can make the difference between a successful camping adventure and a failure. Luckily, most campgrounds can be researched online nowadays, making the preparation for your trip way easier than it was in the past.
You can even read reviews and find out if the campground has the specific amenities that you need or prefer. Make sure that the campground you choose checks all the right boxes on the following list.
Are they horse-friendly?
Make sure the campground you are looking at is horse-friendly. Not all campgrounds are created equal and not all of them allow horses on their property. Thankfully for us, there are plenty of campgrounds that love horses! They offer horse trails and are catered specifically to horse riders.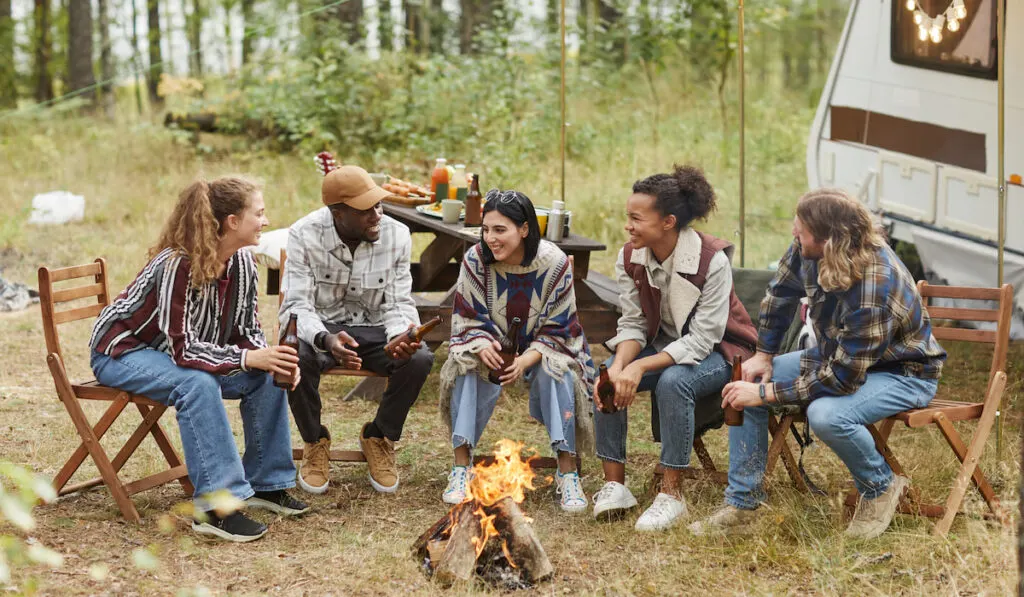 Do they have stalls, corrals, or pens for your horse?
Find out if the campground offers containment areas for your horse. Many campgrounds have multiple stalls available for horses to stay in overnight. Some have corrals, arenas and/or pens available for you to put your horse in. They may offer tie-out rails if they do not have pens or stalls available.
RV Electrical Hook-Up vs Primitive/Tent Sites
Some campgrounds offer electrical hook-ups for RV's. Others offer primitive campsites for tent camping only. Some offer a selection of both. Either way, you should verify what your options are before you drive all the way to the campground. The last thing you want to do is find out that they do not allow your RV or that they don't have an electrical connection for it.
Are there bathrooms and showers on-site?
Many campgrounds have some kind of bathhouse on site for you to use the bathroom and shower if needed. Others do not. It is imperative that you find out what your campground offers so that you can prepare accordingly or select a campground that better suits your needs.
Are reservations required or can you just show up?
Most campgrounds prefer you to call and make a reservation beforehand. This is especially true during holidays and high-volume seasons. It is always best to make a reservation if possible, just to make sure that you have a spot when you arrive. It would be devasting to arrive and find out that there is no room available for you.
What kind of parking is available?
It is important to know what type of parking is available at the campground you choose. Some are relatively small and may not have enough room for multiple vehicles for each person in your party.
They also may not have room for long horse trailers or large parties at one campsite. It is in your best interest to find out what type of vehicle or vehicles you can have on-site before you head out on your adventure.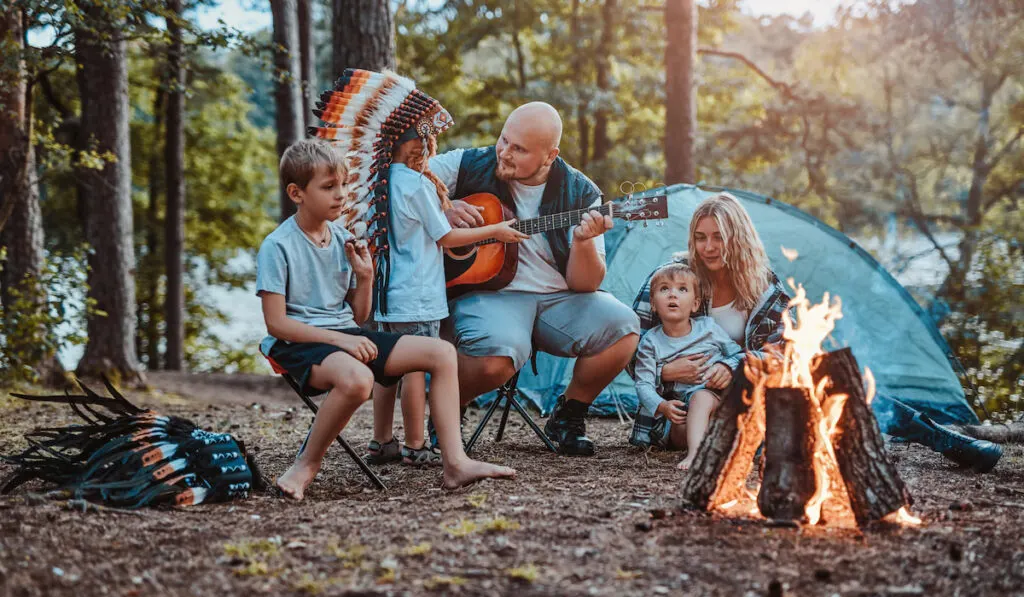 How is the weather in that area this time of year?
If you are looking at a location that is outside of your hometown, you will need to check the weather before you make any definitive plans. Really, it is a good idea to check the weather before any trip you take with your horse.
It may be significantly warmer or colder there than it is where you live. This will help you decide what to take with you when packing. You may need to take extra blankets or jackets to be ready for colder weather.
Rain may even be in the forecast or even snow. No one can predict everything, but checking the weather can help you to be more prepared, just in case. (source)
Are they dog-friendly?
If you love horses, there is a good chance you love dogs too. You may even want to take your dog with you on your camping trip. If you do, make sure that the campground you are looking at allows dogs.
Not every campground allows dogs or recommends you taking them on the trails. It may simply be a safety issue that you are unaware of, so make sure you ask before you just take your dog with you.
There are plenty of campgrounds that do allow dogs, so don't fret if this one doesn't. You can easily find one that will let you bring your canine friend along for the ride.
Do you need proof of a negative Coggins test?
Depending on what state you are in and the specific county, you may need to show proof of a negative Coggins test. A Coggins test determines whether your horse carries a rare but highly infectious disease called Equine Infectious Anemia (EIA).
You should ask the campground what, if any, papers are needed for your horse. Regardless of whether they require them, you always should carry your horse's recent (within 12 months) Coggins test result with you when you travel anywhere with your horse. Some states require them, so you may need them when crossing state lines. (source)
Getting Prepared for Horse Camping
Make sure that you and your horse are mentally and physically prepared for a camping trip. You want to take a horse that is used to trail riding and preferably one that enjoys it. This will make your trip a lot easier in the long run.
You also both need to be in good physical shape so that you can handle the trails with ease. Try to ride your horse regularly in the weeks and days leading up to the trip. This will help you and your horse avoid muscle tears and strains.
Make sure they are used to being around streams and bodies of water without getting spooked easily. You don't want to find out mid-trip that your horse hates trails and refuses to cross small creeks. (source)
Things to bring for your horse
Food, Water and Warmth
You will want to bring plenty of water, feed and hay for your horse for the duration of the trip. Always stick with the regular food that you feed your horse on a daily basis.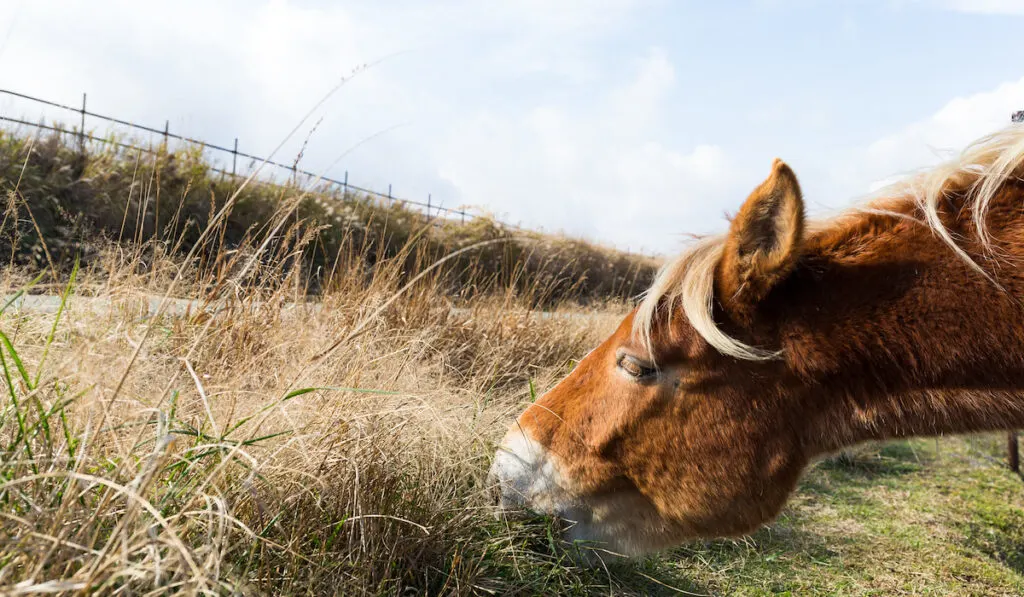 Don't suddenly add treats or new foods that your horse is not used to eating. The last thing you want on your trip is a horse experiencing digestive issues.
Also, don't forget your horse's water bucket and food tub. You will need something to provide water and food in while you are at camp. If there a chance that temperatures will drop overnight, you should also bring along your horse's blanket.
You always want to make sure they are as comfortable as possible in unfamiliar places. (source)
Portable Corral or Fence
You always need some way to keep your horse safely held during the night and during breaks. If you need to bring your own corral or fence, you can purchase them online.
Most of them can be easily hauled inside or attached to the outside of your trailer. Portable corrals and electric fences can be quickly set up around your horse trailer or beside your campsite.
If you decide to do this, practice setting it up at home and letting your horse get used to being in it.
Regular tack and backup tack
While it may seem like a no-brainer to remember to bring all your tack, many people don't think of bringing backup tack with them. Always bring additional lead ropes, bridles, reins, girths, saddle pads, and halters.
You never know when something might break or get lost along the way. You will never regret bringing an extra set of anything when you are miles and miles away from home.
First-aid Kit
Don't forget to bring a basic first-aid kit for your horse in case of small injuries. Your kit should include equine bandages, dressings, scissors, wound cleaners, gauze, clean rags, and antiseptic creams or sprays. Make sure it is small enough to pack on your horse so you can take it on your trail ride.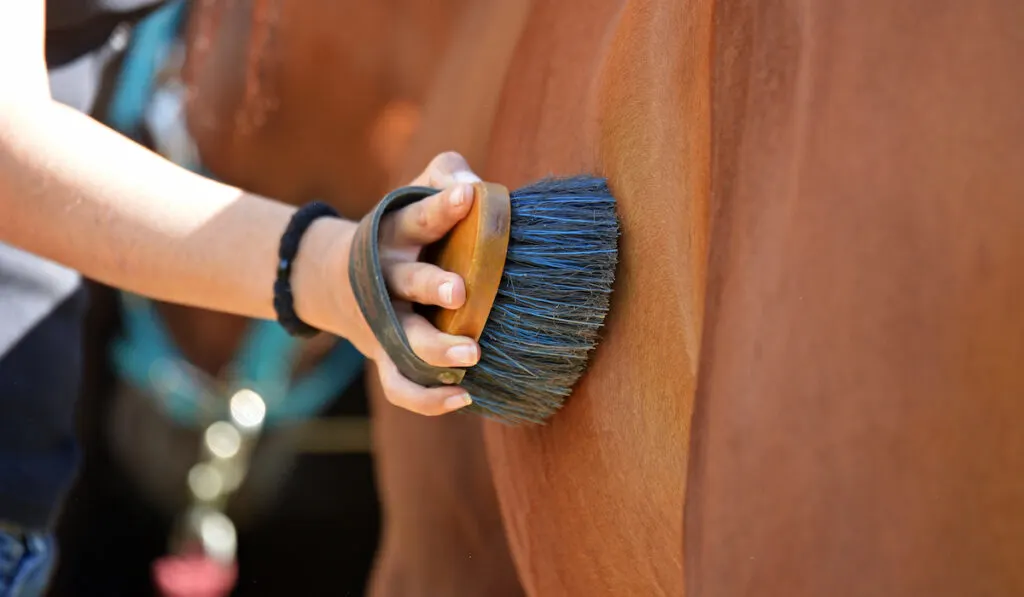 Grooming Supplies
After a long ride, you will probably want to groom your horse when you unsaddle them for the evening. Make sure you bring your brush and sweat scrap with you on your trip. This will help your horse feel refreshed and ready for the next day's adventures.
Things to bring for yourself
Food, Water and Warmth
Don't forget to pack plenty of food, water and warming clothing for yourself as well. Sometimes we get so focused on our horses, we forget about ourselves.
You will want to bring food that is easy to prepare and doesn't require cooking. Granted, a fire may be available at some point during your camping excursion, but it won't always be an option. You will want something you can grab while riding and eat easily if needed.
If the temperature is going to be under 70 degrees at any point, consider bringing a jacket. If it is calling for even colder weather, bring thermals and a warm coat.
Camping Supplies
You will want to bring everything that you need for camp. A small tent, pillow, sleeping bag, and blankets will be your basic camping supplies.
If you intend on camping out back at the campground, you can take more supplies like lounge chairs and cooking supplies.
If you plan on camping out during the trail ride, you will need to make sure you can carry all of your supplies on your horse.
A lightweight raincoat and rain pants
It may rain at some point during your trip, so it is always a good idea to carry a lightweight raincoat and pants. You will want something that you can easily pack on your horse because you will want to keep them close by.
If it were to start raining on the trail, you will be able to stop quickly and put it on. You can easily finish your trail ride in the rain if you have adequate rain protection.
First-aid Kit
You will need to bring yourself a first-aid kit as well. Pack small bandages, antiseptic creams, anti-itch cream, and ace bandages.
You never know what you will encounter on your trip, but most small injuries can be treated with the supplies in your kit. Make sure it is small enough to pack on your horse so you can take it on your trail ride.
Spare Tires
Sometimes the last thing we think about is our trusted truck and trailer. Before any trip, especially long-distance ones, make sure that you check your tires and that your spare tires are loaded and full of air.
Make sure you have your tire jack kit as well. The last thing you need is a flat tire ruining your entire trip because you left the spare sitting at home.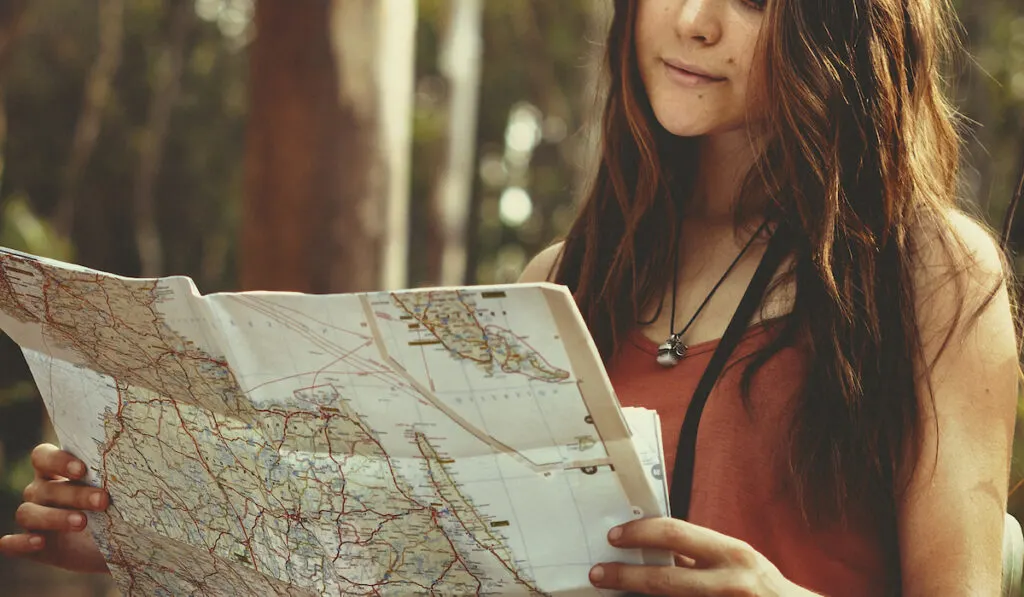 Map
If you can find one, try to always carry a paper map with you of the area you are riding in. Mark your starting point on the map before you head out on the trail.
This is a good habit to get in and it could very well save your life. Cell reception doesn't always work out in the wilderness and you have to know how to get back to the campground or starting point without your phone if needed. (source)
Choosing a Horse Campground
Be sure to find a campground that suits your needs and your level of expertise. There is no shame in asking for help or requesting a guide on a trip. With the right preparation and help from your equine friends, you will find camping with your horse to be a relaxing, exhilarating and memorable experience.
Here are just a few of the best horse-friendly campgrounds across the United States. (source)
True West Campground, Stables and Mercantile – Jamestown, TN
True West Campground, Stables and Mercantile
Jamestown, Tennessee
http://www.truewestcampground.com/
This campground welcomes RVs and horseback riding enthusiasts. It offers 10 different trails that vary in length and skill level. They are open year-round but they recommend avoiding the area during icy weather conditions. They have 67 stalls and 33 different campsites available with water access and electricity. They have a cafe on the grounds that offers breakfast and dinner. There is also a store on site that sells clothing, supplies, and tack.
Elkins Creek Horse Camp – Ironton, OH
Elkins Creek Horsecamp & Tack Shop
Ironton, Ohio
https://www.elkinscreekhorsecamp.com/
Located beside the Wayne National Forest, this horse-centered campground offers access to 46 different trails and 70 campsites that are either primitive or have electricity hook-ups.
They have 106 stalls to accommodate everyone and they also offer cabin rentals. The owner lives on the grounds and is available to help whenever needed. There is also an outdoor arena available for guest usage when needed.
Mammoth Cave Horse Camp – Mammoth Cave, KY
Mammoth Cave Horse Camp
Mammoth Cave, Kentucky
https://www.mammothcavehorsecamp.com/
This horse-friendly campground sites on the edge of the Mammoth Cave National Park and has a whopping 65 different scenic horse riding trails available for you to discover. Some even include views of waterfalls and rivers.
The campground itself shady sites available for camping and 50 covered stalls for your horses. There is a store with various supplies located on-site. They also have an outdoor arena that includes an obstacle course for guest use.
Caney Mountain Horse Camp – Big Flat, AR
Caney Mountain Horse Camp
Big Flat, Arkansas
https://www.caneymountain.com/
This campground offers access to an astounding 85 different well-maintained trails of varying difficulty. There are horse pens located at each of the multiple campsites.
There are no electrical hook-ups but there is water access for your horses. A solar-powered bathhouse is on-site and they allow generators for campers but request that you turn them off at night.
They promote a natural, wilderness type of camping experience, free from modern irritations. The campground is surrounded by a national forest and there is a plethora of scenic views and majestic trails.
Horse-Friendly National Parks
Northeast California
This park has over 100 miles of trails that allow horses, ponies, mules, and even llamas. There are horse campground facilities located around the park and there are even some guided horse riding tours available.
Central California
There are a large number of scenic trails in this park since over 95 percent of it is pure wilderness. Gorgeous trees and world-renowned waterfalls are just a few of the many mesmerizing features of this park.
A nearby horse stable and hotel, Wawona Hotel, offers year-round shelter. There are multiple campgrounds and horse-boarding facilities in the areas around the park.
Colorado
With over 260 miles of horse-friendly trails, you are sure to find this park to be more than sufficient for your trip. There are designated backcountry campsites just for horseback riders.
There are stables nearby that also offer guided tours, two of which are located inside the park itself. Each trail offers breathtaking views of the surrounding alpine park.
Located in parts of Wyoming, Idaho and Montana
This park allows horses during the spring, summer and early fall. It has herds of bison and elk that travel frequently throughout the park. Backcountry campsites are available for horseback riders. Safe viewing areas of frequent geyser eruptions are located within the park.
Final Thoughts
There is no end to the possibilities of exploring the wilderness on horseback. The key is to take the steps necessary to research locations ahead of time, pack what you need, stay safe and enjoy the ride. Horse camping is something that allows us to get away from the day to day hustle and bustle of city life, explore our great country and enjoy time with our equine partner. Where will you camp next?