There are many fun equestrian disciplines out there for you to try with your horse that extend well beyond the basic riding school arena. Whether you're looking to become a top competitor or you just want to try something new, here are more than 25 different riding styles for you to explore!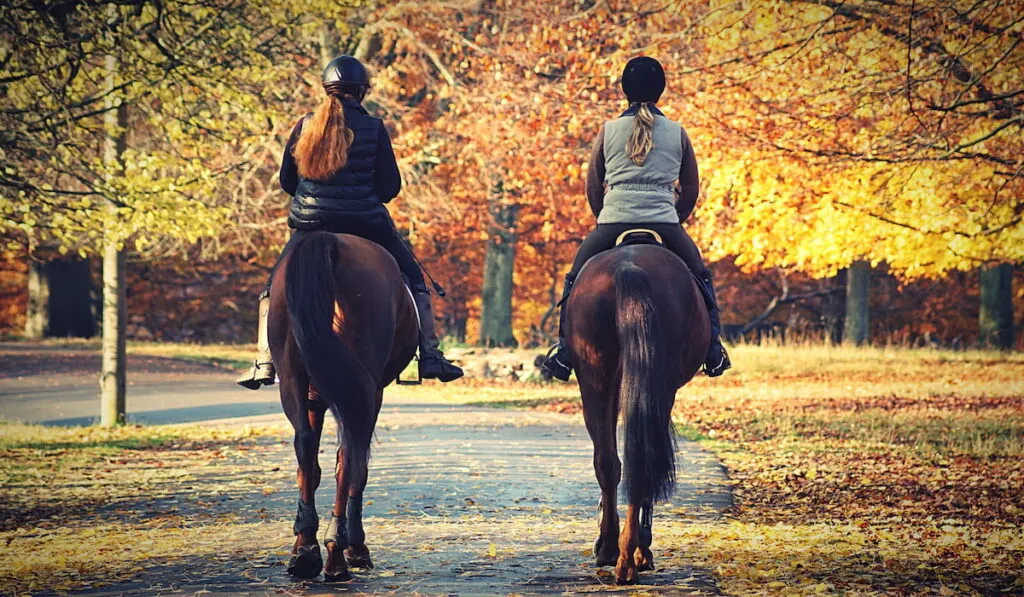 Pleasure Riding
Breeds to Consider: Any horse that you click with!
Whether you just want to frolic in the fields behind your barn or ride daily with a trainer's instruction, pleasure riding is the backbone of most equestrian disciplines. Many horse people have no desire to compete, and are just as content to spend some time on horseback – however it happens.
Pleasure riding is just that – riding for fun! You can participate with any tack – whether it's English, Western, bareback, or somewhere in between.
Once you've mastered the basics, you may find yourself drawn to a particular competitive discipline, but plenty of lifelong equestrians never set foot inside a show ring.
Pleasure Trail Riding
Breeds to Consider: Quarter horse, Arabian, Appaloosa, Mustang, mule or large donkey
Any horse can make a good trail horse, but if you plan on taking your steed out into the great, wide, open – make sure he has a good head on his shoulders.
Trail riding can be an excellent way to experience sights that would be hard to access on foot. Make sure you're properly supplied and educated before heading out with your horse for the first time, and a good experienced mount can really boost your confidence.
Show Pleasure
Breeds to consider: Quarter horse, Appaloosa, Paint, Saddlebred, Morgan, Arabian
If you wish to dip your toes into the world of competition, a Pleasure class might be a good start. Pleasure classes judge the horse's attitude – whether he has good manners, if he's relaxed but collected at the gaits he's exhibiting, and whether or not he likes his job!
Competitors can use Western or English tack depending on the show and the style that you ride. If you have a flashy horse that doesn't get rattled in the show ring, choosing to ride in pleasure classes may be a good bet – especially if you're just starting out.
Competitive Showing
Breeds to consider: Any (depending on the show requirements)
Whether you want to ride English or Western, these classes judge a horse and rider's form, skills, and willingness to perform.
Horsemanship. This Western show class gives riders a chance to exhibit their horsemanship skills:
"Horsemanship is judged on the rider's appearance and position in the saddle, and his ability to control his horse, as indicated by the horse's performance in the maneuvers prescribed in the class. The horse should move naturally, quietly and smoothly throughout his performance."
Hunter under saddle. This English class judges a horse's form. Whether on the flat or over fences, judges are checking to see how well the horse behaves, and how well he carries himself.
Equitation. Equitation classes focus on the rider – body position, skill, and how well he uses his aids.
Dressage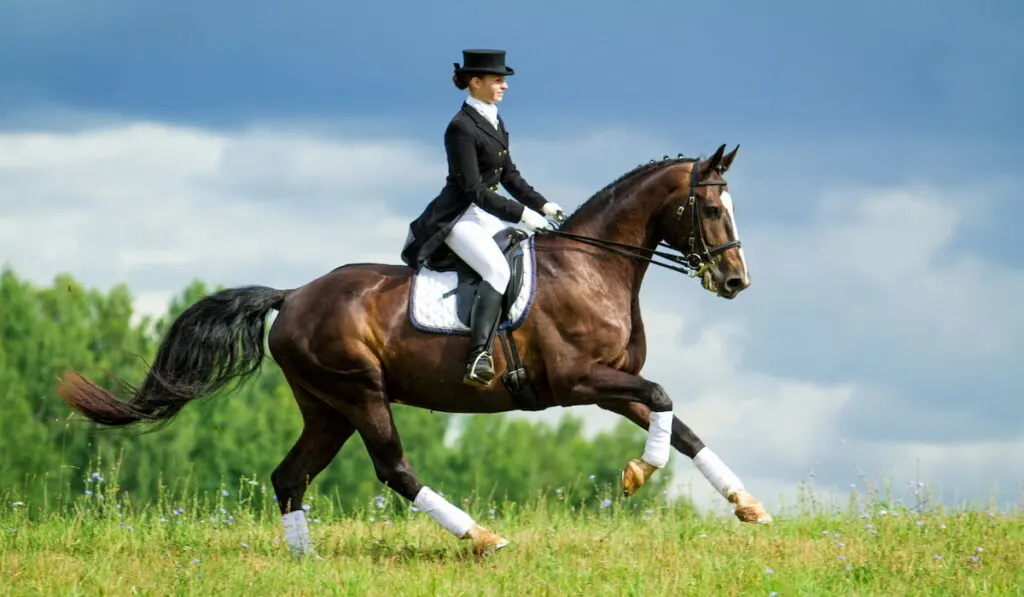 Breeds to Consider: Warmbloods, Thoroughbred, Andalusian, Friesian, Arabian, Lusitano, Paso Fino
The modern style of English riding began for the battlefields. A well-trained warhorse could perform difficult maneuvers with subtle cues from its rider – necessary for a good cavalry horse in a hectic situation.
Now, dressage is an Olympic sport that tests the grace, athleticism, and communication between horse and rider. It is the ultimate training test – riders ask their horses to perform a series of specific movements, and they are judged on their willingness and athletic ability.
Western Dressage
If you're a Western rider at heart, give Western dressage a try! Any breed may participate, and you can show off your training and skills.
The main difference between classical dressage and western dressage is the goal – the purpose of Western dressage is to "to develop better Western horses and offer additional rider education through the understanding and use of principles of Dressage and good Horsemanship".
Jumping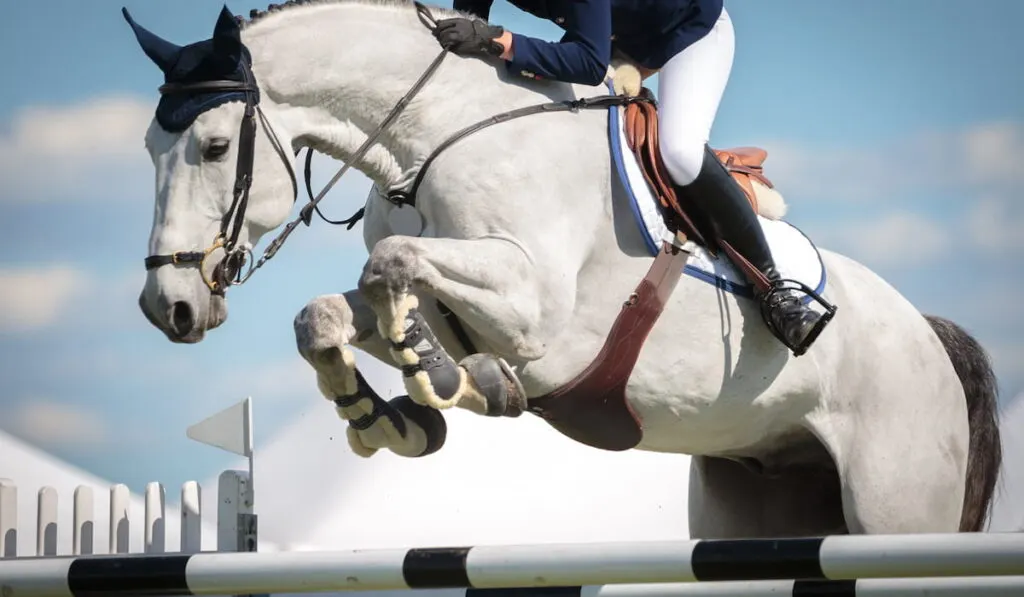 Breeds to consider: Thoroughbred, Warmbloods, Arabian or Quarter horse crosses
If you want to jump your horse around a course of obstacles, here are some basic jumping events to consider.
Show jumpers. In these competitions, riders tackle a series of jumps designed in a specific pattern to test the competitor's skills. The horse and rider pair with the fastest time and the fewest amount of penalties wins.
Hunters. Judges evaluate a horse and rider's form over fences. Speed is not as important as clearing the course with style, enthusiasm, and skill.
If your horse loves to jump high, he may be cut out for free jumping or Puissance (equestrian high jump)!
Team Jumping Events
Breeds to consider: Thoroughbred, Warmbloods, Arabian or Quarter horse crosses
There are also other group jumping events to try, such as team chasing, steeplechase racing, or foxhunting.
Cross-Country
Breeds to consider: Arabian, Thoroughbred crosses, Warmbloods
In cross-country, a horse and rider tackle a series of jumps set up in an outdoor course through forests and fields. Jumps are designed to look like natural obstacles such as banks, creeks, or fallen logs. The team with the fastest time and fewest penalties wins.
Eventing
Breeds to Consider: Warmbloods, Thoroughbred cross, Arabian
In Eventing, horse and rider teams participate in separate events over the course of 3 or 4 days: dressage, show jumping, and cross-country.
Eventing horses must have excellent speed, stamina, and athletic ability – the same horse and rider team will compete in all 3 events!
Saddle Seat
Breeds to consider: Saddlebred, National Show Horse, Morgan, Tennessee Walking Horse, Friesian
Saddle seat is a fancy English style of riding that shows off a horse's grace, manners, and high-stepping knee action. These classes often feature gaited horses, such as the Tennessee Walking Horse or the Saddlebred.
If your horse has a little pep in his step, but you're not interested in jumping, saddle seat may be for you!
Endurance
Breeds to consider: Arabian, Appaloosa, Paint Horse, Quarter Horse
If you love trail riding and your horse has excellent stamina, endurance riding may be for you. Horse and rider teams tackle a long-distance trail ride between 50 and 100 miles long.
The route may include mountainous terrain or other obstacles, and horses must pass periodic checks by a veterinarian to ensure their health and safety.
Competitive Trail Riding and the Extreme Cowboy Race
Breeds to Consider: Arabian, Appaloosa, Paint Horse, Quarter Horse
Competitive trail riding is similar to endurance riding, except that there are more scoring criteria – and the winner is not necessarily the first to finish.
Horses are evaluated by veterinarians for soundness and stress levels. Riders are judged on their ability to maneuver common trail obstacles – mounting and dismounting, stepping over large logs, performing a sidepass or backing up to a tree, etc.
The Extreme Cowboy Race is similar in that horse and rider teams must approach a variety of obstacles, and are scored based on how the horse and rider handle each obstacle, as well as overall horsemanship and speed. Also, any breed may participate!
Mounted Orienteering
Breeds to consider: Mustang, Arabian, Appaloosa, mule or large donkey
If your horse loves to explore the great outdoors, and you want to test your navigational skills – try mounted orienteering. Formal competitions may require riders to find certain objects or navigate a certain route or course using only a compass, a map, and your wits!
Reining
Breeds to consider: Quarter horse, Appaloosa, Paint
This western sport tests a horse's ability to perform specific movements necessary for working cattle, such as circles, flying lead changes, galloping to a sliding stop (rundown), spins, rollbacks or backups. As with dressage, the cues from the rider must be subtle, and the horse must be responsive and willing to perform.
Barrel Racing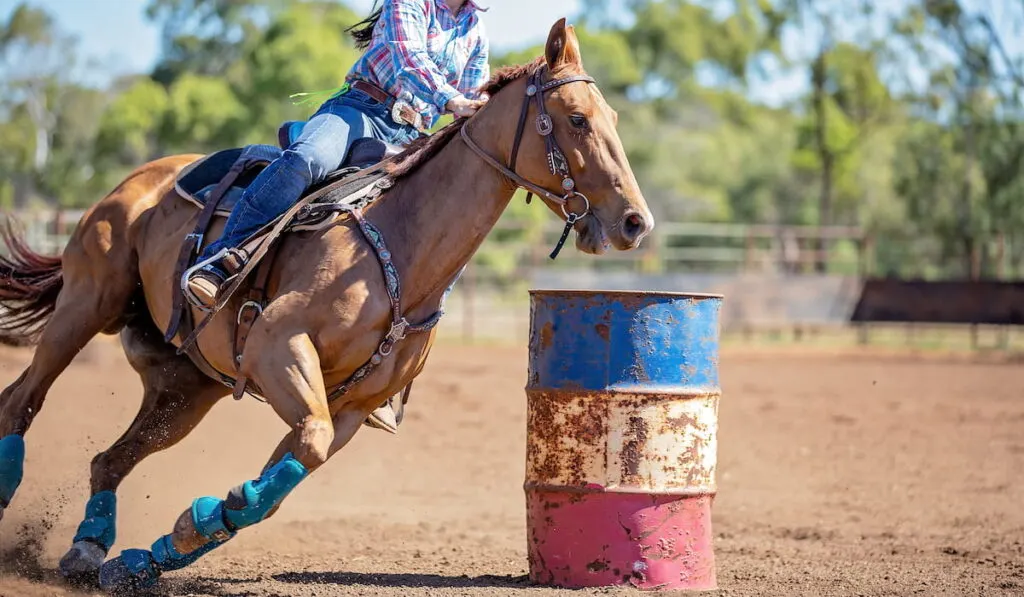 Breeds to Consider: Quarter horse, Appendix, Appaloosa
This exciting sport involves running a timed cloverleaf pattern around three barrels. The pair with the fastest time wins!
Cutting
Breeds to Consider: Quarter horse, Appendix Quarter Horse, Appaloosa, Paint
If you want to work with cattle, cutting is a competitive sport that tests a horse's "cow-sense" – how well he handles separating a cow from a herd. Out on the range, ranchers rely on good horses to work with herds of cattle, and these skills are showcased in cutting competition.
Ranch Sorting and Team Penning
Breeds to Consider: Quarter horse, Appaloosa, Paint, any good stock or cow horse breed
Like cutting, this sport involves riders and cattle. Horses and riders work together to separate numbered calves from the herd, and drive them into different pens.
Mounted Shooting
Breeds to Consider: Quarter horse, Paint, Appaloosa, Mustang
In the spirit of the Old West, mounted shooting is a popular event at rodeos. Riders aim their pistols (loaded with blanks) at ten balloon targets. The rider must navigate a specific course or pattern, and the rider with the fastest time (and fewest penalties) wins.
Pole Bending
Breeds to Consider: Quarter horse, Paint Horse, Appaloosa, Mustang
This timed event is a mounted competition in which a rider and his horse weave through a series of 6 poles, as quickly as possible. If this event sounds like fun, consider entering your horse in a local 4-h show or gymkhana!
Gymkhana
Breeds to Consider: Quarter horse, Paint, Appaloosa, pony breeds
A gymkhana is an event with a series of mounted games such as pole bending, relay races, keyhole race, or anything else that the event organizers dream up. Local gymkhana events can be a great way to dip your toes into the world of timed racing without becoming a professional thoroughbred jockey or barrel racer.
Polo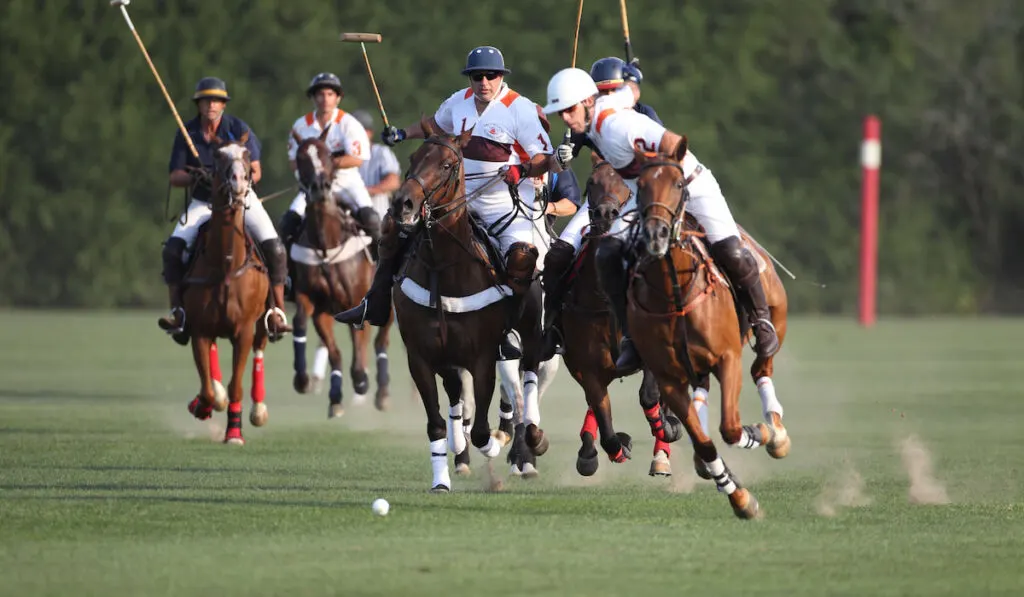 Breeds to Consider: Polo pony, Quarter horse, Thoroughbred, Criollo
This ancient team sport is played by two opposing teams of three or four. Riders carry a mallet and use it try to whack a small ball into the other team's goal.
Vaulting
Breeds to Consider: Morgan, Appaloosa, Thoroughbred, Friesian, Quarter horse, Percheron, Belgian, Warmbloods, draft crosses
If you're more gymnastically inclined, and you prefer a steady draft horse as your mount – consider vaulting. On the back of a steady horse traveling in a circle on a lunge line, A vaulter performs a gymnastics routine set to music.
Driving
Breeds to Consider: Morgan, Saddlebred, Thoroughbred, Friesian, Haflinger, Quarter horse, Warmbloods, Ponies, Miniature horses, draft breeds or draft crosses
Still working on your riding skills? Or maybe you'd rather enjoy your equine companions from the ground (or perhaps they're too small to be ridden). Consider one of the many different driving events, instead! Here is just a sampling of some of the different equine driving sports.
Combined driving is an Olympic sport that includes three separate driving events.
Driving dressage. Horses and drivers navigate a pattern and are judged on form and obedience.
Marathon. A cross-country course in which horses speed through obstacles such as water or steep hills.
Obstacle driving. Teams must navigate a tight course marked with cones within the time allotted.
If you live in a cold climate, consider skijoring. It's a winter sport that involves a horse pulling a driver, but instead of a cart, you're on skis!
Sidesaddle
Breeds to Consider: Any
This style of riding developed so that proper ladies could ride without spreading their legs over the horse. If you enjoy Victorian era historical re-enactments, give sidesaddle a try!
Whichever discipline you choose, make sure to do your research. Some horses enjoy different disciplines more than others, and if your horse isn't having fun – neither will you. So make sure that your mount is suited for the discipline you choose, and get out there and try something new!