*This post may have affiliate links, which means I may receive commissions if you choose to purchase through links I provide (at no extra cost to you). As an Amazon Associate I earn from qualifying purchases. Please read my disclaimer for additional details.
Don't you just hate when you get done grooming your horse before your ride and now you are covered in hair? Sometimes the shedding process can be so rewarding. Watching chunks of hair come off as your horse magically transforms into that slick coated, shiny riding companion you love. What to do about the hair though? That is where a grooming apron comes in handy. I found them all on Amazon (with Prime shipping) and my top choice is this one.
There are different styles of grooming aprons and your choice is going to depend on what function you need the apron to serve. Do you need it to hold rubber bands, brushes, and your fly spray bottle? Do you need it to just keep the hair off your clothes? Do you want something fabric and cute or nylon and functional?
I've rounded up my top choices for grooming aprons. Some have more function than others but all of them are going to look great at the barn!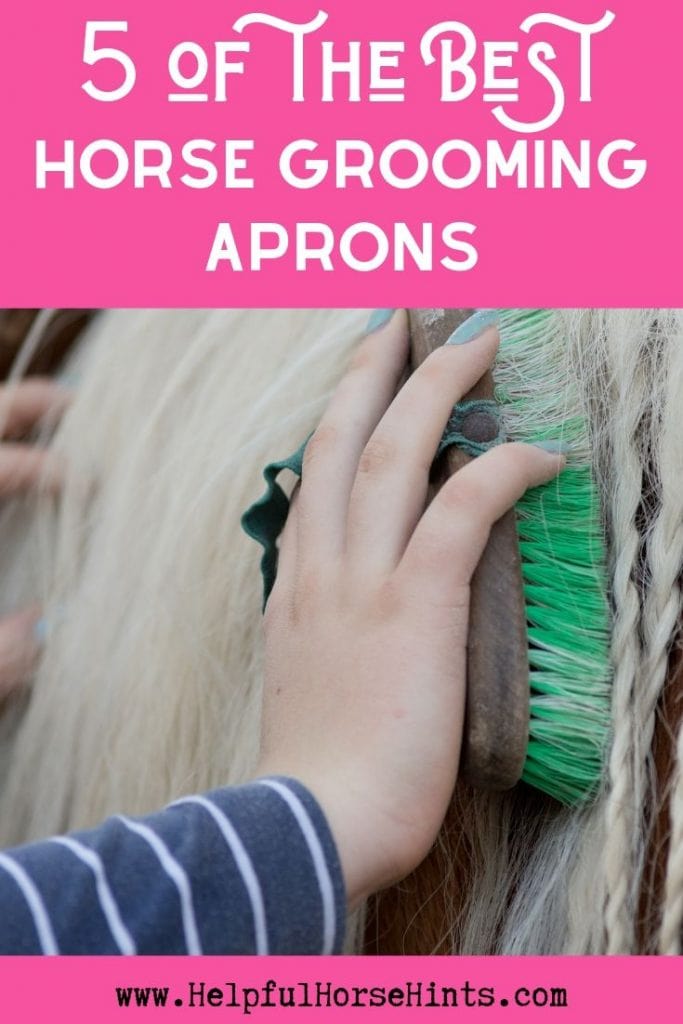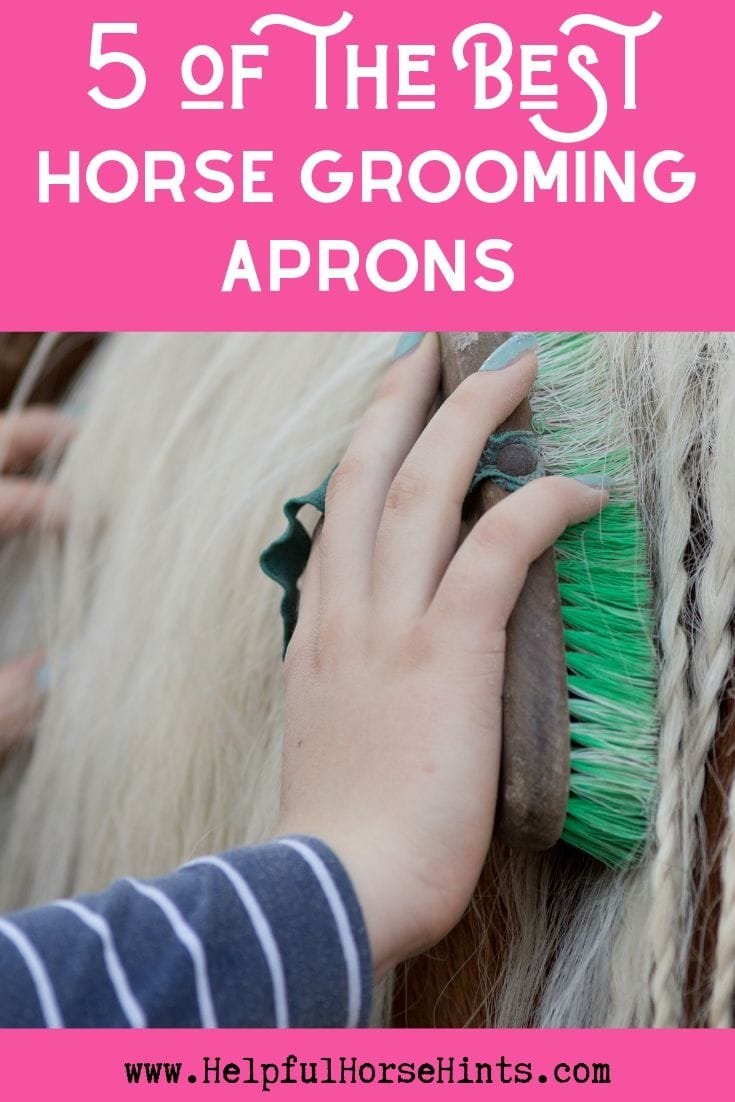 I finally settled on this guy as my number one. It has good sizing options and is made out of a strong waxed canvas. That means it will be fairly water resistant for bathing and should still allow hair to drop pretty freely. Tons of pockets and loops give you a place to store just about everything. This guy in the picture has a hammer, that's where I'd hang my spray bottle. The disadvantage of this one is that it doesn't come as high up as I'd like it to in the front. I guess you could play with the straps a bit. Overall I chose this one as the #1 for the ample pockets, varying sizing and waxed canvas material. Check it out on Amazon, read some reviews and see if it might work for you!
https://amzn.to/3fHE4HUIf you are going to be bathing horses or doing anything that involves water, this is probably the best choice for you. Body clipping or shedding out horses? This is also an excellent choice. This vinyl coated apron will help keep you clean while you groom your horse. Loose hair and dirt slide right off the slick front. It has a great length to keep most of you clean. Tuck your jeans inside your boots and you'll be pretty well covered. Best of all, it's economical. View more details including reviews on Amazon.
This one is a good choice if you have a few horses you need to groom back to back. If you have a smaller figure, you may find it too big for you though so that is definitely something to keep in mind. This apron has some nice pockets to hold your brushes. The "tool" loop is great for a fly spray bottle and the towel loop can hold your finishing cloth. It isn't as easy of an on and off as I'd like though but still makes a great option for the barn. View on Amazon.
OK, ladies, this one is just cute. It's a nice neutral color with awesome gingham trim. Easy on the pocketbooks and looks absolutely darling. Heck, you could get one for home too! It has good coverage. Looks high enough to keep stray hairs from going down your tank top during the summer and will definitely get you noticed at a horse show! View on Amazon.
---
This grooming apron isn't going to win any awards for cuteness but what I love about it is that it has more coverage on the sides and NO ties. That means easy on, easy off with nothing hanging for your horse to grab a hold of and play with. It has two side pockets for storing rubber bands and maybe your cell phone. If you are on the crafty side you could take this in to be embroidered, use an iron on or even add some nifty pockets in a fun contrasting fabric. Heck, you might even try tie-dying it! View on Amazon.
Final Thoughts
Choosing the best horse grooming apron really comes down to what your preferences are. Are you more concerned with function or style? Do you need pockets or are you OK without them? I love the idea of having one apron hanging near the wash rack to use when bathing or clipping (that's where I do body clipping). I'd personally like a second apron in the tack room with my grooming kit that is always dry and always there.
While we're on the topic of grooming, you may want to check out these other helpful articles I've written:
If you enjoyed this article on horse grooming aprons, please take a moment to share it with your friends or pin one of my images to Pinterest!