*This post may have affiliate links, which means I may receive commissions if you choose to purchase through links I provide (at no extra cost to you). As an Amazon Associate I earn from qualifying purchases. Please read my disclaimer for additional details.
Table of Contents
Winner: The best horse shedding blade
The SleekEZ was by far the clear winner. This tool has a seemingly simple design. A comfortable, wooden handle and a wave pattern blade that performs the shedding work. It has an amazing 4.5 stars with over 4000 reviews on Amazon. Here is the product description:
Sale
Want to see it work? This YouTuber tests out several products but here is her using the SleekEZ. I love the fact that you don't have to "empty" it as you do with so many other tools.
The second best horse shedding tool
The hands-down runner up in this post was Betty's Best StripHair Gentle Groomer. This is a great non-metal alternative to the shedding blade winner above. It shares similar product features to that of the SlickEZ but in a non-metal tool.
StripHair Gentle Groomer – Shedding Grooming Massage
StripHair 6-in-1 Gentle Grooming Brush is a unique multi-purpose tool that can Shed – Groom – Shine – Shampoo – Scrape and Massage the coat and body… Horse and dogs love how The Gentle Groomer feels! MADE IN USA by Betty's Best, Patent Number USD841900S1
Remove Shedding Hair Blade-Free. StripHair was designed for comfort with flexible rubber, rounded corners, wedged ends, exfoliating diamonds and Gentle Grooming Edge for safely removing loose hair and skin while adding shine and protection to the coat
Factors in Choosing the Best Shedding Blade for Your Horse
COST
The tool has to be worth the cost. How does its purchase price reflect the value it provides. Does it save money in time? Function? Ease of use? Cleanup?
Ease of Use
Shedding a single horse can take hours over several days. Whichever tool you choose, you want to make sure it is easy to use.
Comfort for the Horse
Most horse shedding tools are comfortable for use over the large, muscular portion of the horse's body. We have to take in mind the comfort level when shedding out the sensitive areas of the horse like the face and legs too.
If you have a horse with particularly sensitive or "thin" skin you may want to opt for a rubber or plastic shedding tool rather than a metal one.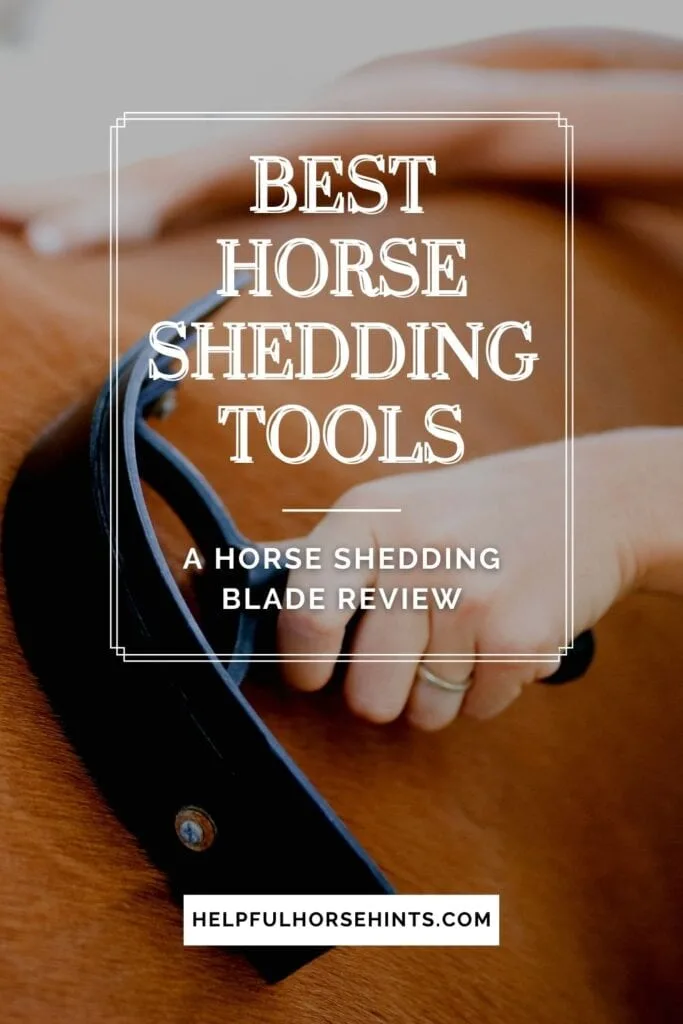 How Much Hair it Removes
The more horse hair a shedding tool can remove with each stroke the faster we are going to be able to shed out our horse.
Ease of Cleanup
With each stroke, a horse shedding tool should remove quite a bit of shedding hair. To make shedding faster, that hair should easily detach from the blade so we can take a second stroke.
Facebook Poll
A Facebook user recently asked our SoCal Horse/Tack Swap group the seemingly simple question:
What is the BEST shedding tool you use on your horse that REALLY works?

Post on SoCal horse/tack swap Facebook Group

Over 130 comments on this single post in 2 days made it clear that this is a hot topic for horse owners. There were all kinds of opinions but two very clear winners according to these users! Here is a breakdown of the top results: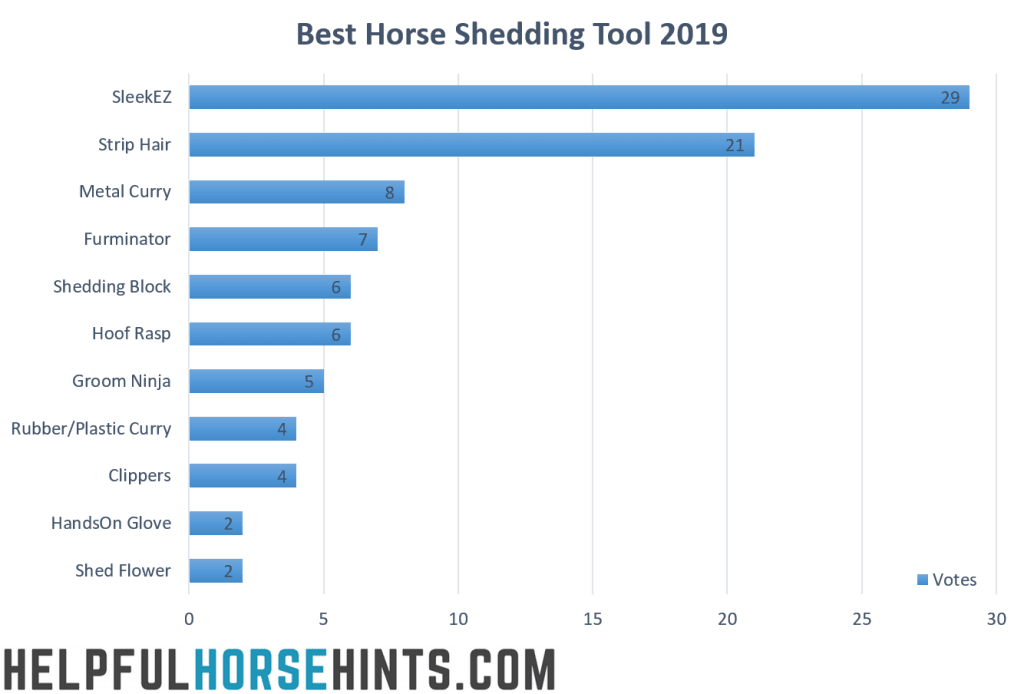 As you can see, the SleekEZ and StripHair are the clear winners. After those tools it's a mix of standard accessories. There were over 130 comments on this thread in just 2 days!
Keep in mind this post wasn't something I solicited on Facebook. It just naturally happened in a group I am in and I found the results very interesting. Before reading this post I hadn't even heard of the StripHair!
Runners up – Popular Horse Shedding Tools
Sale
Farnam Slick 'N Easy Horse Grooming Block
EASY AND COST EFFECTIVE way to remove dirt, dust, and hair from your horse's coat
GROOMS UP TO 12 HORSES and made of durable fiberglass which can be restored again and again when rounded by rubbing the long edge on concrete
HELPS YOUR HORSE HAIR SHED their winter coat, and also helps keep them clean between baths
Sale
HandsOn Pet Grooming Gloves
Works on Dogs, Cats, Horses, and More – Whether you're dealing with hair removal, bathing, or massaging these gloves are flexible enough for all your pet care needs. Gentle bristles allow for an effective grooming experience without causing uncomfortable friction. No hair type is a challenge for these grooming gloves, easily handling short, medium, long, and coarse fur with equal efficiency
The Original Patented Pet Grooming Glove – Groom your pet in comfort with our lightweight gloves, designed with rubber nodules for soothing massages mimicking the gentle touch of flexible bristles. Built to suit all pet personalities & tough enough to withstand baths, playful nibbles, and lots of love!
Metal Curry Blade for Shedding Horses
I lumped both standard metal curry combs into this category. There is the spiral one and the sweat scraper or looped blade. I've used both and, between the two, much prefer the spiral curry. The disadvantage of this one is that you have to routinely clean it by banging it against the tie rail or your shoe to loosen hair.
On the plus side, its easy to find!
Furminator
I think the Furminator works OK at shedding but I've experienced blade clogging issues with it. Unlike the metal curry above, you have to actually pull the hairs out. This causes you to lose time shedding.
Shedding Block
I grew up with these guys! I do hate the sound they make as they scrape the hair off but they work pretty decently for me. I always had one in the tack trunk but never used it enough to go through a whole block.
Old Hoof Rasp
I have to admit this was the first time I've heard of a hoof rasp for shedding horses. Kind of a neat idea. Makes me want to try it to see how well it works. It wouldn't work for the head and legs for sure but over the body? May be worth a try if you have a dull one laying around.
Groom Ninja
I actually did some research on this one. It is pretty much the SleekEZ. Based on this public information, I'd go with the SleekEZ personally.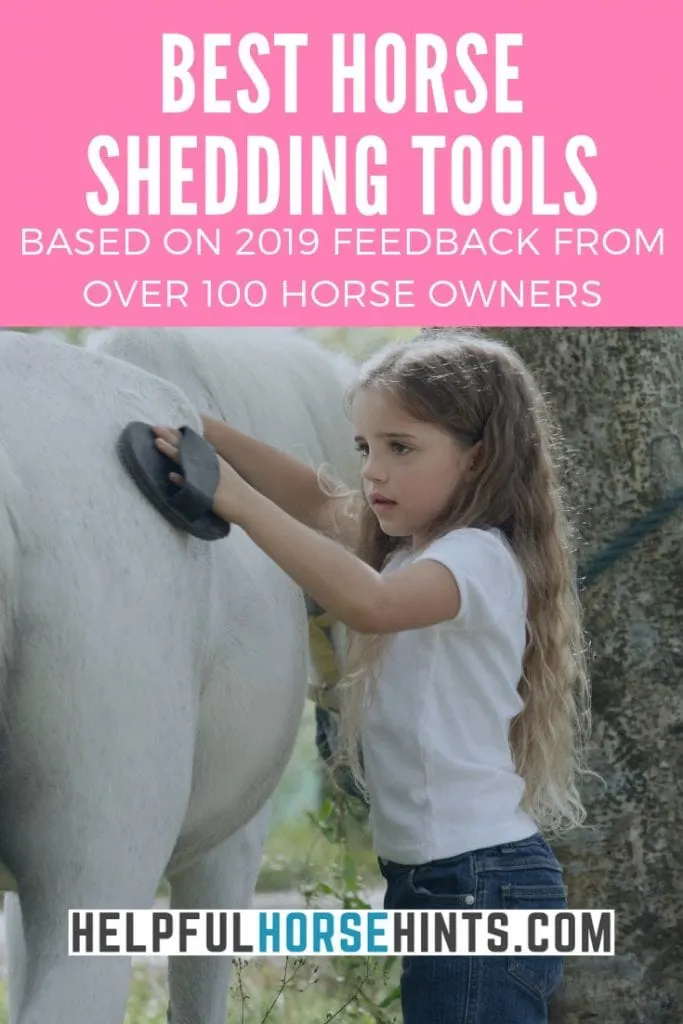 Rubber / Plastic Curry
Nothing will ever replace the rubber curry mitt in my grooming bucket. It has so many great uses from shedding to bathing. I lumped any reference to a standard curry mitt or curry brush in this category. The great thing about a curry is you probably already have one in your grooming tote. If you are on a budget, elbow grease and your curry will work wonders for shedding out your horse.
Clippers
I think by the time shedding season gets here and you are reading this post it is probably too late for clippers! If you want to consider clipping (now or for next year) check out this awesome review post we did on the best horse clippers.
HandsOn Grooming Gloves
There are many different variations of this product available on the market and I've heard they are great for horses, dogs and cats. That makes it a really versatile item you can use at the barn during shedding season and keep at home the rest of the year. I haven't tried them though. Have you?
Shed Flower
The great thing about these little plastic grooming tools by Epona is that they are cute and colorful. Two of the people responding to the Facebook question recommended the shed flower.
Other Tools Mentioned
Some other horse shedding tools mentioned were:
Hacksaw Blade (2) – WOW, seems dangerous! I wouldn't recommend this at ALL.
Magic Hands (1) – Grooming Glove
Bread Knife (1) – Again, probably not wise to use a knife on your horse's coat. I would avoid this one as well.
Force Dryer (1) – Like the professional dog dryers your groomer might use.
Shed Gloves (1)
Miracle Brush (1)
Conclusion
The best horse shedding tool of 2019 is the metal edged SleekEZ shedding tool. The runner up is the non-metal StripHair gentle groomer shedding tool. There are many different factors that you need to consider when choosing the best shedding tool for horses. These include price, design, functionality and comfort for your horse.
Shedding season can be annoying. Horse hair will be in your mouth, hair, car and and you'll probably be pulling it out of your dryers lint trap for weeks! Make things easier this year and try out a new shedding tool!
Do you have a favorite? What is it? We'd love to hear your thoughts!
RELATED POSTS