While horses are one of the most expensive and time-consuming companion animals (both in starting costs and care taking costs), the overall cost of equine ownership can vary wildly. If you want to own a championship competitive performance horse, it will cost you significantly more than a pasture puff living in your backyard.
No matter what your goals are for your new equine companion, here are 11 of the most expensive horse breeds money can buy.
Friesian
Cost: $7,000 – $100,000
For a purebred show prospect, Friesian horses are one of the most expensive breeds out there today. These beautiful horses are elegant, amicable, and perform well in a variety of disciplines. But they are not cheap, and can often suffer from expensive genetic diseases as well.
Because of rigorous breed standards, a registered Friesian with good conformation and solid bloodlines can fetch between $7,000 – $10,000 – just for a foal!
If you wish to purchase a well-trained and show ready Friesian, be prepared to pay upwards of $40,000. Top-quality breeding stallions have sold for more than $100,000, and many are invaluable as studs.
Quarter Horse
Cost: $500 – $50,000
Expensive Horses: Moonin The Eagle, $2.1million (source), Sixy Brown Eyes, $180,000 (source)
The Quarter horse is one of the most versatile and most popular breeds in the United States. You can find them almost anywhere, at almost any price point.
However, these horses often perform at top levels in the rodeo arena and racetrack. With top earning potential comes a top price tag – a well-performing rodeo quarter horse can fetch $25,000 – $50,000 or more.
On the racetrack, Quarter Horse youngsters can easily sell for $2,000 – $200,000 at auction, depending on racing records and bloodlines. These horses are often sold to private owners who train them for western stock work, and the cost only increases from there.
However, because Quarter horses and quarter horse crosses are so plentiful, you can generally find a suitable Quarter horse to meet your needs at $1,000 – $5,000 (sometimes less!).
Thoroughbred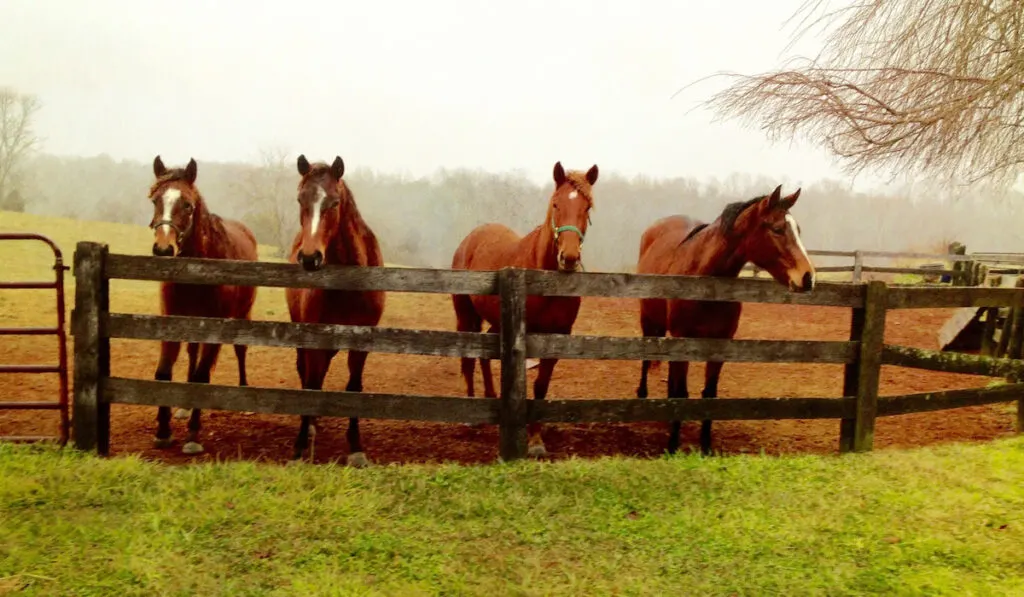 Cost: $500 – millions
Expensive Horses: Fusaichi Pegasus $70 million (source), Green Monkey $16 million (source)
Thoroughbreds are bred for speed and stamina. Professional racehorses with proven track records can fetch hundreds of thousands of dollars at auction– or even millions!
However, most Thoroughbred racing careers are short. These horses retire from racing and move on to different disciplines such as jumping, eventing, or pleasure riding. Because of this, the cost of a Thoroughbred can vary wildly depending on training and talent.
Some Thoroughbreds are rescued off the track for a few hundred dollars, and others have winning careers in the show ring. If you're looking for a relatively inexpensive pleasure horse that may just need a little work, adopting an "off-the-track-Thoroughbred" may be your best bet.
Arabian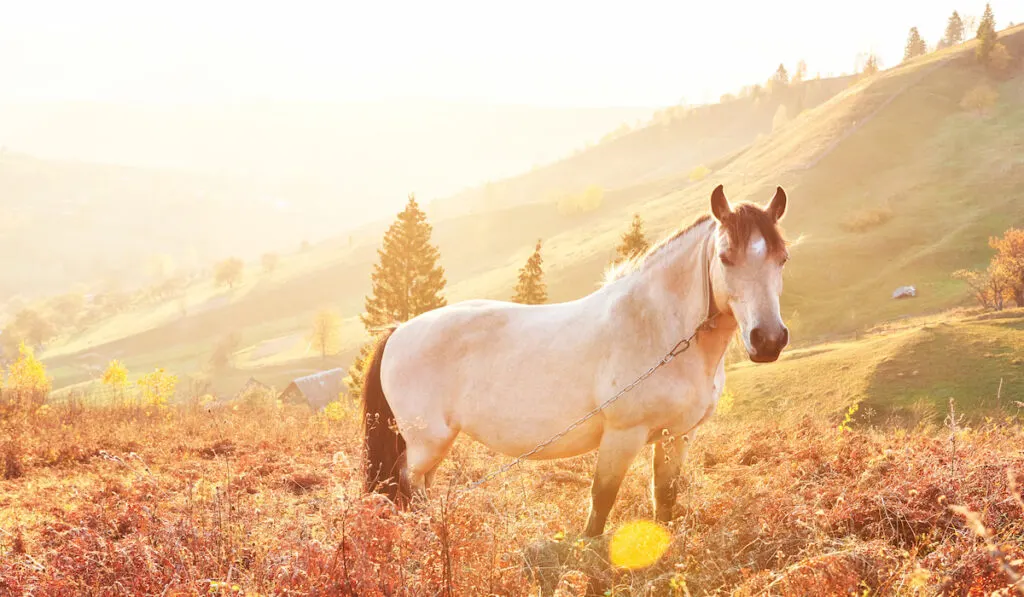 Cost: $1,000 – $100,000
Expensive Horses: Pepita 1.5 million (source), Sefora $350,000 (source)
Arabians have always had the reputation of being beautiful, versatile – and expensive. This ancient breed was refined over centuries of dedicated meticulous breeding, and those bloodlines still influence the breed today.
In the 1980s, during the "Arabian boom" horses were fetching hundreds of thousands of dollars – upwards into the millions! People collected majestic Arabians like fine art – investing millions into broodmares and producing top-quality foals.
Today, a championship foal or broodmare in the US can cost upwards of $30,000. However, there are many Arabians and Arabian crosses available for a much lower cost. If you're looking for a seasoned trail horse, rescue companion, or pasture puff, you can usually find an Arabian for less than $1,000.
Andalusian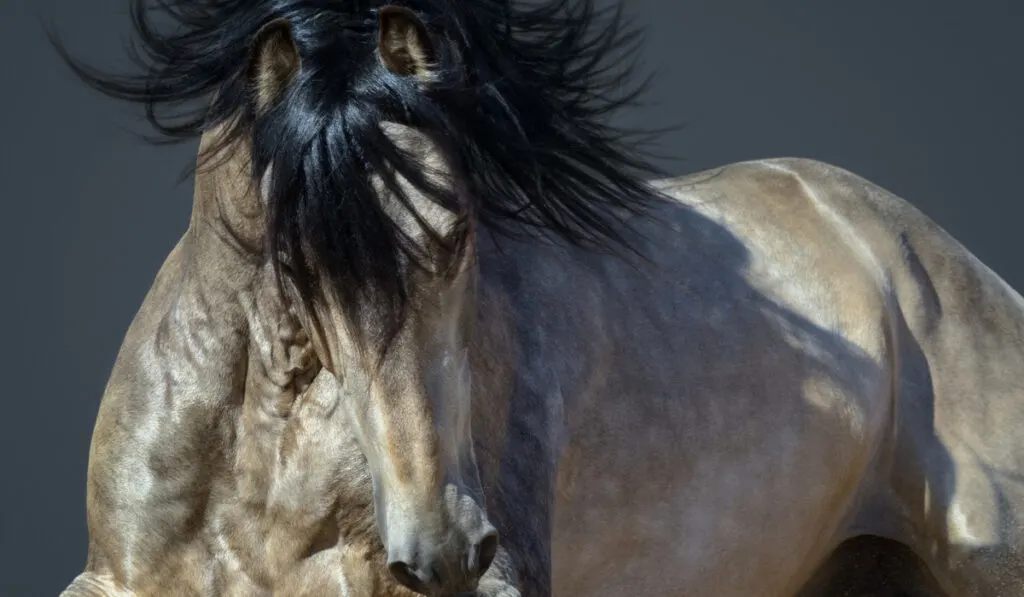 Cost: $3,000 – $60,000
The regal Andalusian is a Spanish horse with a long flowing mane and tail, and he commands an audience wherever he goes. These beautiful, versatile, and gentle horses fetch a high price, even as foals.
Unregistered Andalusians and Andalusian crosses start around $3,000 but the price only increases from there.
Also, many top Andalusians are imported from Spain. Be prepared to pay $50,000 or more for a ready-to-show Andalusian.
Gypsy Vanner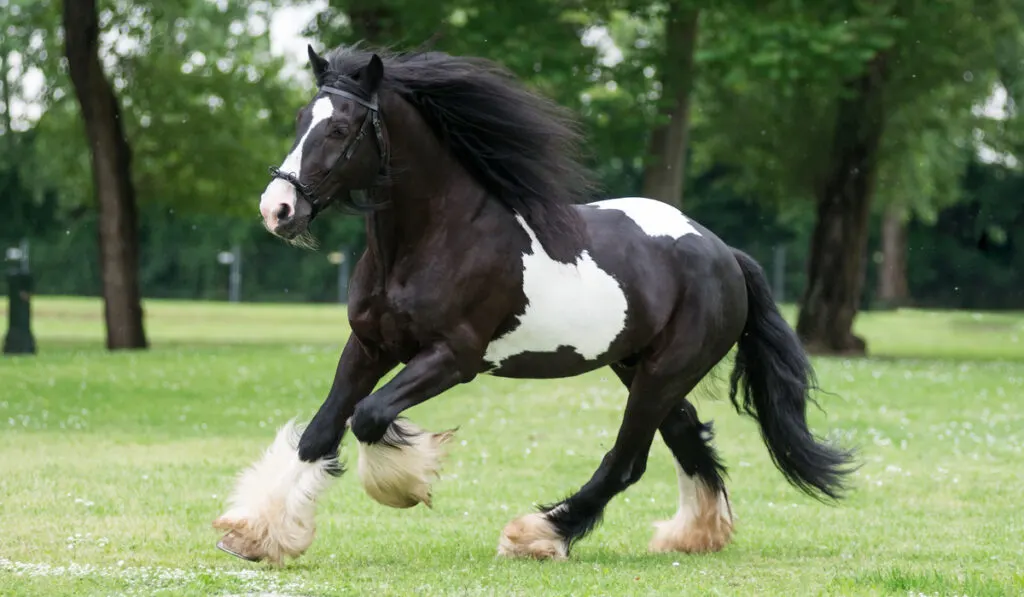 Cost: $4,000 – $30,000
Purebred Gypsy Vanner horses turn heads wherever they go. Originally bred to be the perfect carriage horse for Irish travelers, these horses came to the US in the 1990s and now perform in a variety of disciplines.
Because these horses are fairly new to the United States, they can be costly and hard to find. Registered unbroken foals and youngsters tend to start around $4,000 on EquineNow.
Dutch Warmblood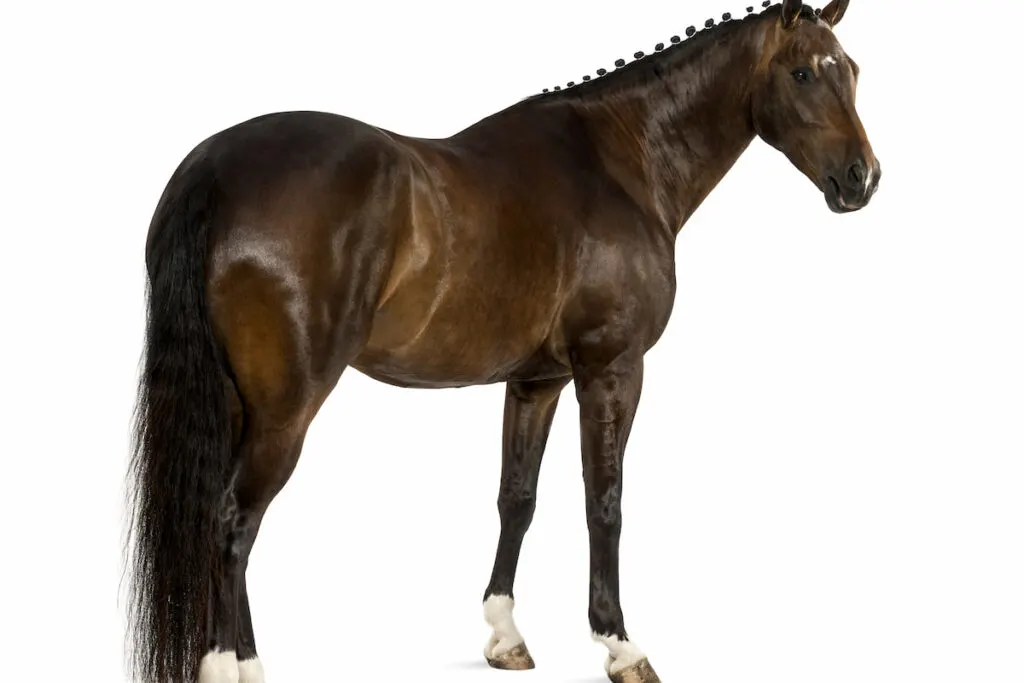 Cost: $4,000 – millions
Most Expensive Horse: Totilas $13 million (source)
The Dutch Warmblood is one of the most successful performance breeds, excelling in dressage, showjumping, eventing, and pleasure riding. A highly skilled Dutch warmblood with a competitive Olympic show record can cost hundreds of thousands to millions of dollars.
If you're looking for a good jumper to succeed in the lower levels, a well-bred Dutch warmblood can cost anywhere from $40,000 – $100,000. An imported Grand Prix horse could cost upwards of $500,000.
However, if you're just looking for a good pleasure horse to take you through local competitions, there are many good Dutch warmbloods available between $4,000 and $20,000 on Equinenow.com.
Holsteiner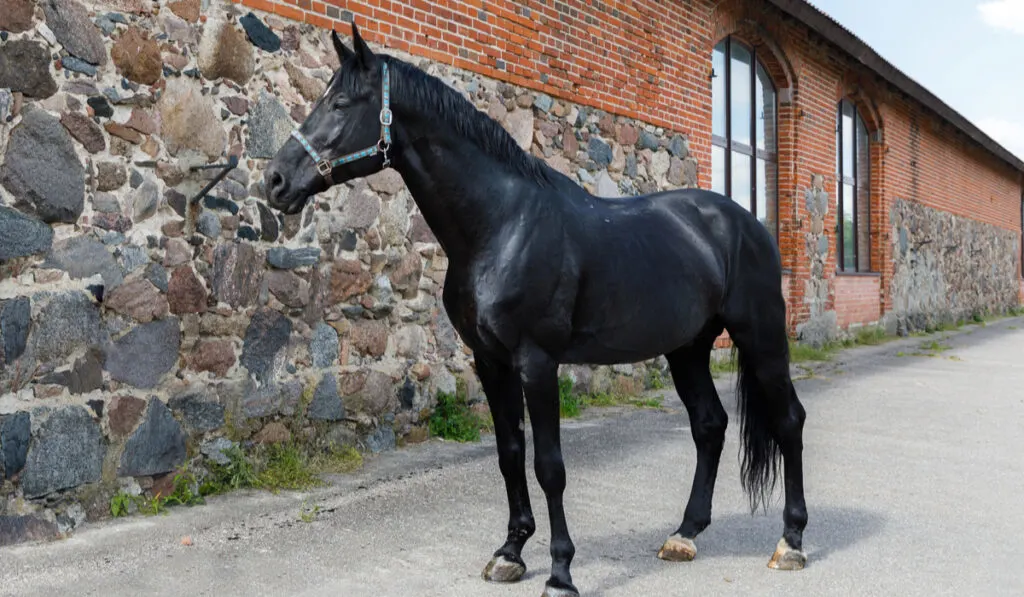 Cost: $3,000 – $50,000
Holsteiners are some of the finest athletes that money can buy. Excelling at show jumping, dressage, and eventing, these horses can do it all – with a great personality too!
Top competitive horses are expensive, especially those that have been imported from Europe into the United States. While Holsteiner horses are popular in the show jumping ring, they are not as commonly found as other breeds.
Someone looking for a good project horse or youngster may find a good Holsteiner for $3,000 – $4,000, but for a well-trained jumping prospect, be prepared to pay upwards of $50,000 for your next partner.
Hanoverian
Cost: $7,000 – $100,000
Most Expensive Horse: Lemony Nicket, $1,125,000 (source)
Hanoverian horses are big movers with big price tags. This breed commonly ranks highly in the WBFSH rankings, with a high price tag to match.
These horses are excellent athletes and are suitable for many disciplines. They also excel in the show hunter arena, where form is prized over speed – not an easy feat for any horse or rider!
Like other European warmbloods, many of the finest examples of this breed are imported straight from Germany, which increases the price. But, an amateur rider may find a good Hanoverian or Hanoverian cross for between $7,000 and $20,000 on Equinenow.
Oldenburg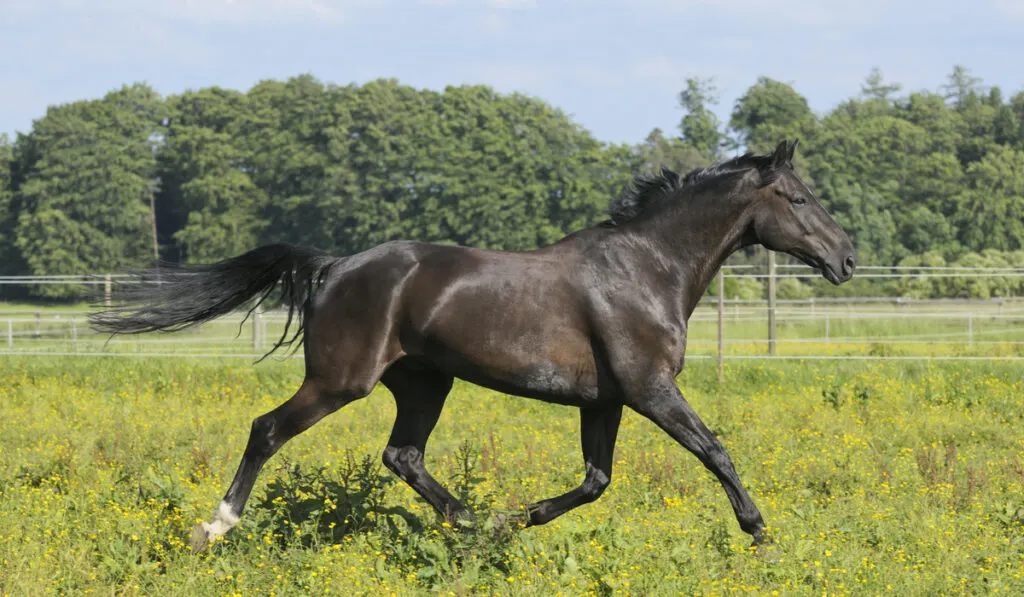 Cost: $4,000 – $500,000
While the Oldenburg breed registry may be more accepting with its requirements than other breed registries, Oldenburgs were bred to perform. Because of this, a well-trained Oldenburg with a proven competition record can cost a pretty penny.
Elite broodmares and riding horses can command a price of over $100,000 at auction. For the amateur just starting out, a seasoned Oldenburg can cost anywhere from $4,000 for a casual summer competitor to a $200,000 German-bred stallion on Equinenow.
Selle Francais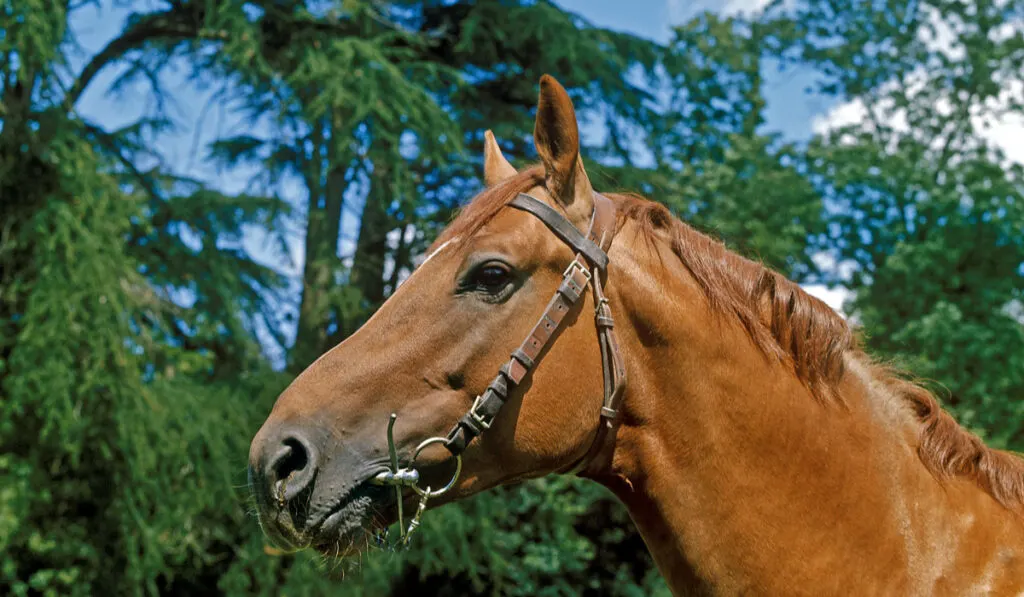 Cost: $15,000 – millions
Most Expensive Horse: Palloubet d'Halong, $15 million
The Selle Francais excels in the Olympic and Grand Prix showjumping arena. In fact, the most expensive show jumper ever sold was a Selle Francais called Palloubet d'Halong, who sold for nearly $15 million in 2013. (source)
If you don't have $15 million lying around, there are less expensive jumping horses on the market, especially from private sellers looking for amateur riders. Still, be prepared to shell out $15,000 – $20,000 if you're looking for a well trained Selle Francais to take you to the next level.
Final Thoughts
Remember, the true cost of horse ownership will vary wildly between breeds, standards of care, and planned use. There's no need to save $50,000 for a backyard pony unless you plan on training him for elite competitions.
Also, expensive horses are not guaranteed to be better performers just because someone paid a lot of money for them. If you're looking for your next equine companion, consider the total cost of your horse beyond the purchase price– and settle on a breed that works best for you.