*This post may have affiliate links, which means I may receive commissions if you choose to purchase through links I provide (at no extra cost to you). As an Amazon Associate I earn from qualifying purchases. Please read my disclaimer for additional details.
Every horse needs to wear a halter but, that halter doesn't have to always be plain. Day to day activities are usually done in a halter. It is usually the first thing we put on our horse when we get him out of his stall and the last thing we take off when we put him away for the day.
Since your halter is the piece of tack that gets used the most, why not get something for your horse that is truly unique? This is where personalized halters come in.
The good news is, there are lots of options depending on whether you want something with bling, something subtle, or something more classically refined.
Remember, personalized halters work great for gifts at any time of the year and can also be awesome as horse show or pony club awards!
1. Fully Beaded Customized Horse Halters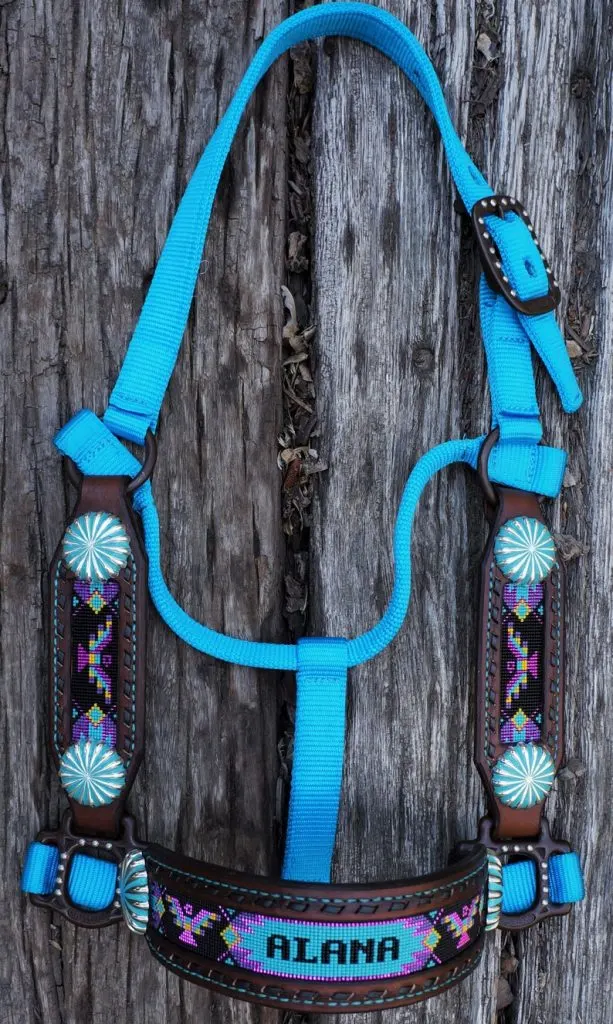 I love the look of beaded horse halters. RecklessCharmDesigns has a great selection in their store. These halters (they have dog collars too) will definitely turn heads in the barn.
The attention to detail on these halters is fabulous. Not only do you have amazing beadwork but even the hardware is studded to match.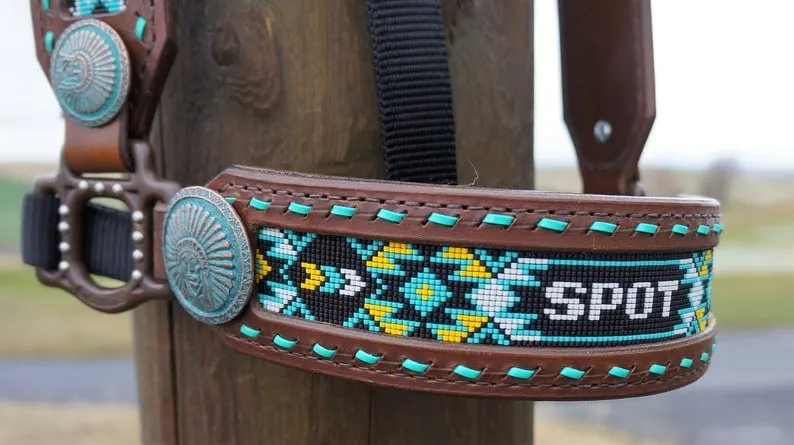 While I can't list all the pictures here, the concho options really seal the deal on this one. They round things out to make this one amazing halter great to buy for yourself or as a gift.
For those of you not as into beads as I am the shop also has cowhide inlay halters which are just as beautiful.
2. Personalized Rope Halter with Bronc Noseband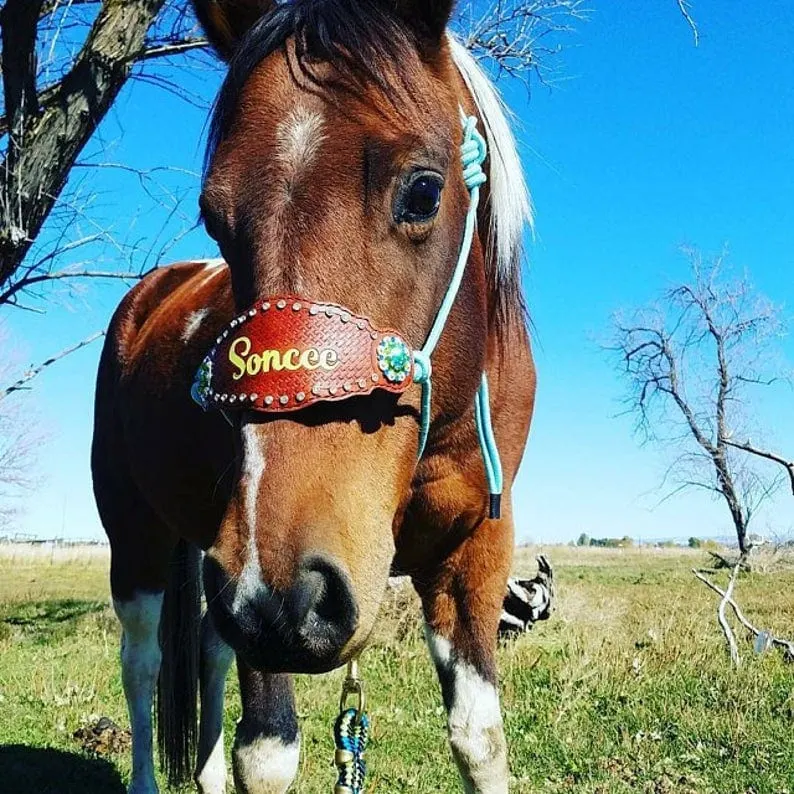 If you prefer a rope halter these personalized bronc noseband halters from RachelFailCustomTack are amazing! She offers a variety of leather colors, halter colors, concho types, stamping patterns, and fonts.
In fact, just about everything related to this halter can be completely customized to make it absolutely perfect for your horse.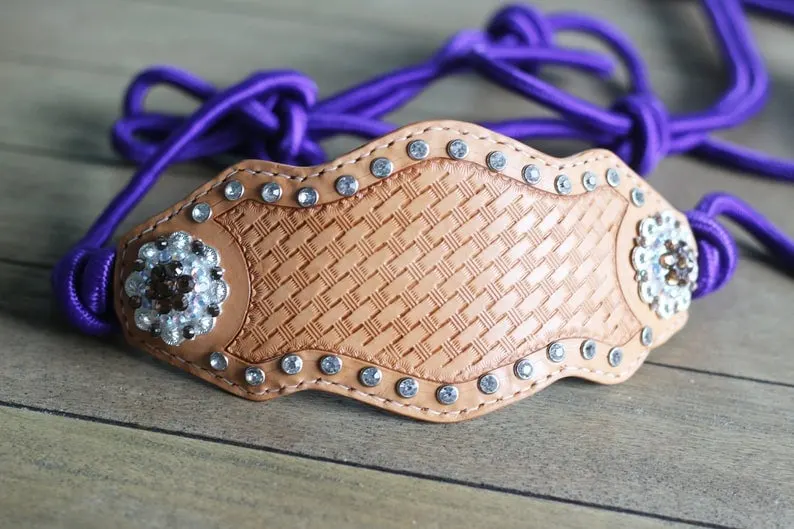 Having trouble thinking of color combos, stamping patterns, etc? Just go through all of the five-star reviews on the product page and look at the customer photos for inspiration.
3. Personalized Nylon Halter with Bronc Noseband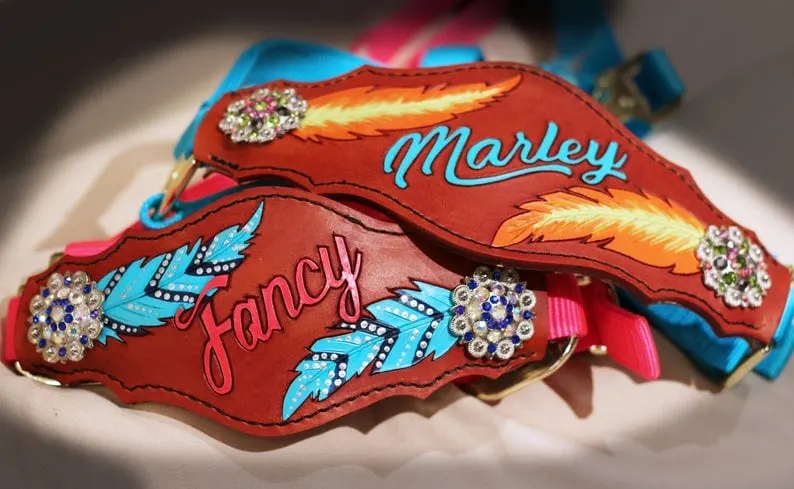 Do you love the look of a bronc noseband but want a traditional nylon halter instead of a rope halter? Once again RachelFailCustomTack comes to the rescue!
She has so many great options available in her store but these two gems are my favorite nylon halter options. The one above is customizable just as with her rope halter nosebands.
The feather accent is awesome and there are so many different colors to choose from you are sure to find the colors that suit your horse perfectly.
Now, I really wanted to only have personalized halters in this post but the rainbow bronc halter was way to cute not to throw in here.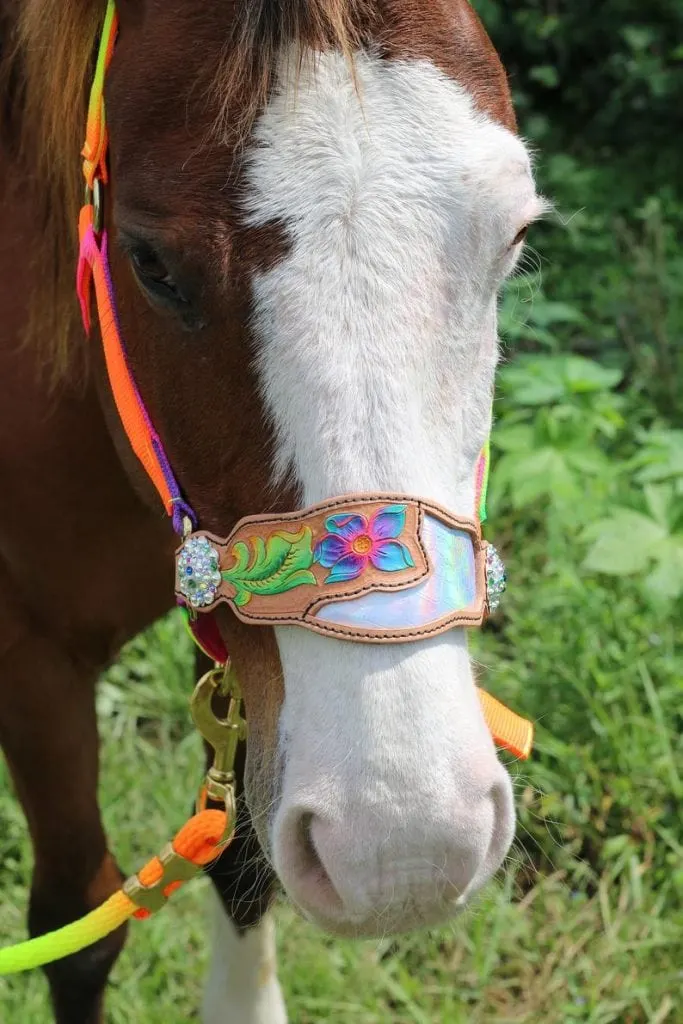 As a full-grown adult I LOVE this rainbow horse halter. Can you imagine that little girl in your life opening this on Christmas day, her birthday or any other special day!
Better yet have it already on the horse when you take her out there to meet that equine partner she has been dreaming of!
4. Hand Beaded Personalized Nylon Horse Halter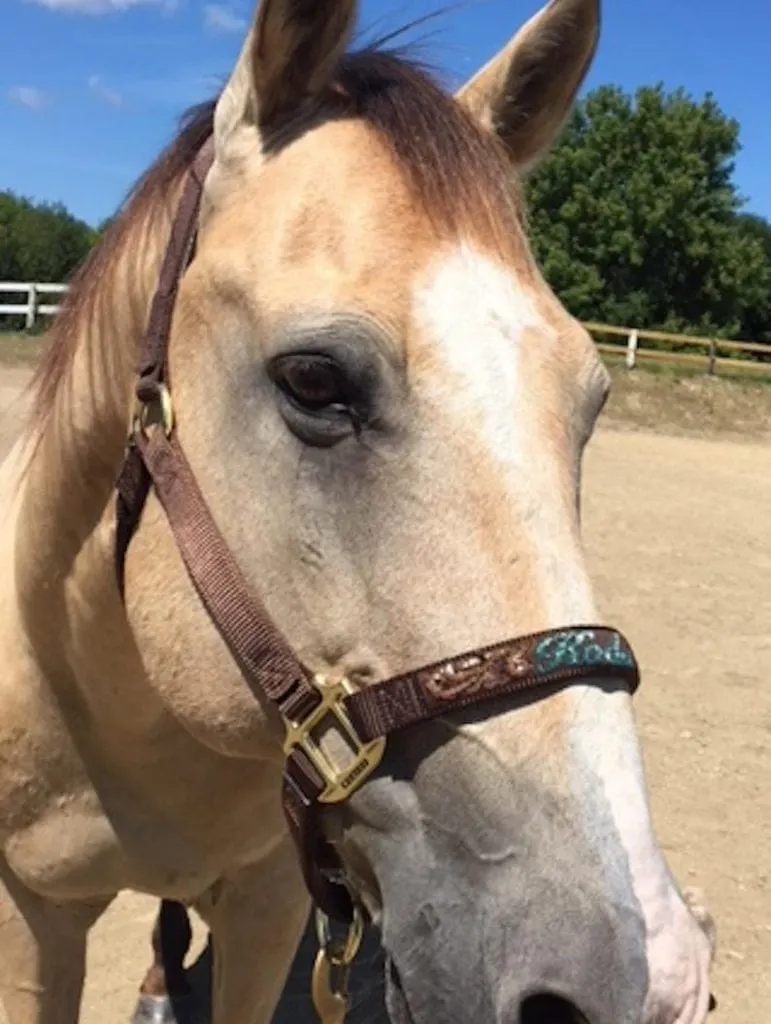 Anytime somebody makes something by hand I think you have to really appreciate the time and effort that was put into making that item just for you.
If you have ever done beading you know that it can take quite a bit of time to get intricate details right. One tiny seed bead in the wrong place can throw off your whole design.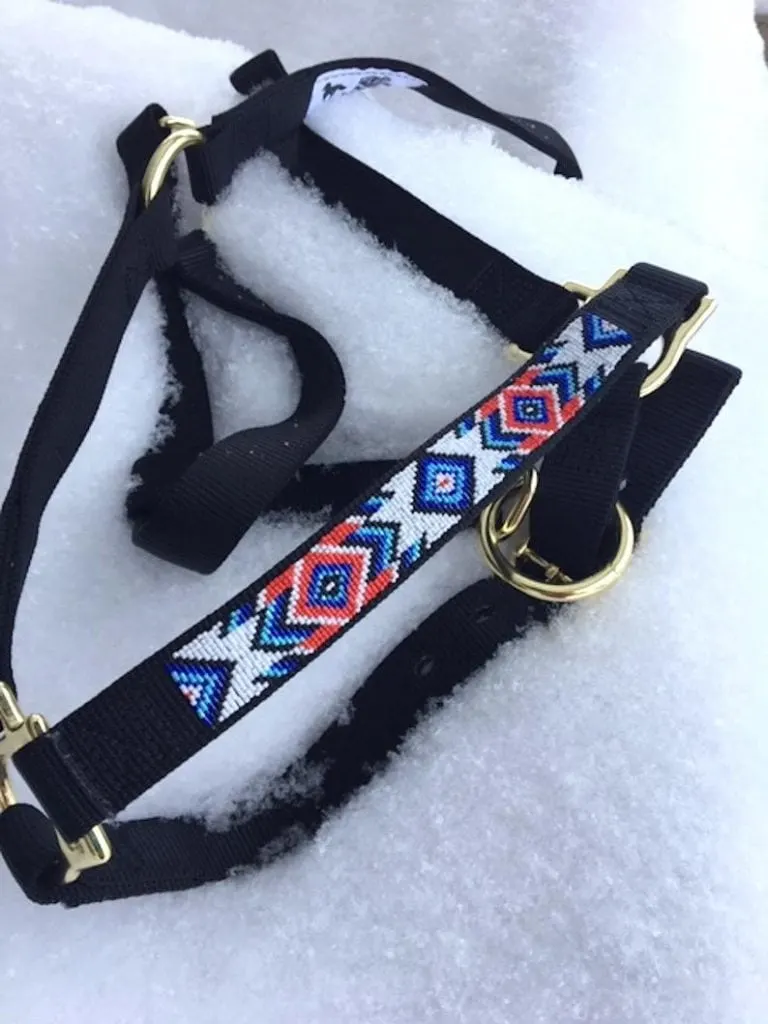 The end result, though, is beautiful and that's why I love these customized hand-beaded horse halters from BlackManeArt on Etsy. You can get a plain design or even customize the noseband with your horse's name. Either way, they are absolutely beautiful!
5. Padded Breakaway Nylon Horse Halter with Custom Rounded Brass Name Plate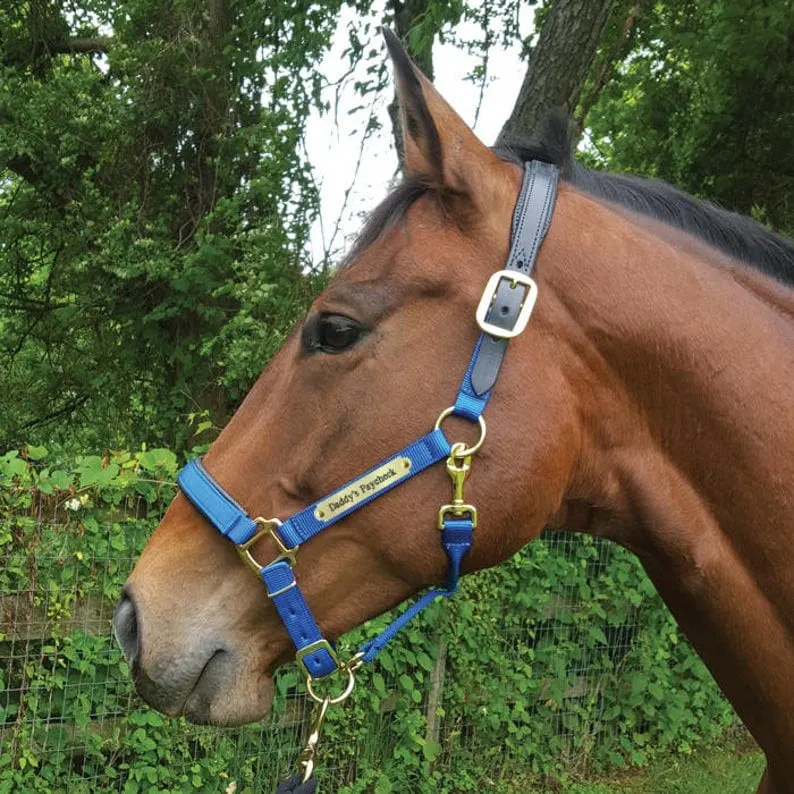 This padded breakaway halter from JCSaddleryCustom is a great, classic look done for you. Sure, you could just order a nameplate for your horse's halter and add it yourself but this combo is great for those of us who just want it done.
The halter padding helps keep your horse comfortable and will work to prevent the halter from rubbing. As an added benefit, if your horse gets caught on something the leather poll strap will break away.
Be sure to look through the reviews on this one to see how awesome the different color combinations are. I think my favorite is the purple halter!
If you are just looking for a halter plate or stall nameplate, be sure to check out their store as they have lots of options if you want to customize the halters you already have.
6. Custom Stamped Halter / Bridle Tags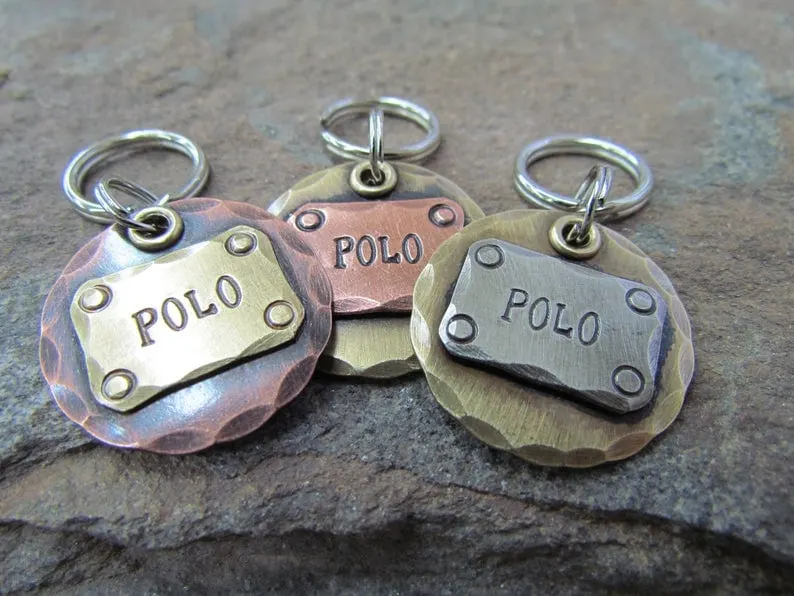 I really love the look of these hand-stamped horse halter and bridle tags. They kind of remind me of the steampunk style.
At theMadStampers shop there is a variety of different hand-stamped items available including pet tags, horse tags and even engraved dog collars for your canine companions.
The layered looks are my favorite. Use a smaller tag to attach to the crown of your bridle with your horse's name and/or an emergency phone number.
If your horse gets loose on the trail for any reason, it is one way to make sure the person that finds him/her has a number to call.
TIP: If you are using a bridle tag for this reason, don't have YOUR number on the tag. If YOU fall off you may be injured or not have cell service, better to use the number of your spouse, trainer or friend!
7. Personalized Embroidered Horse Halter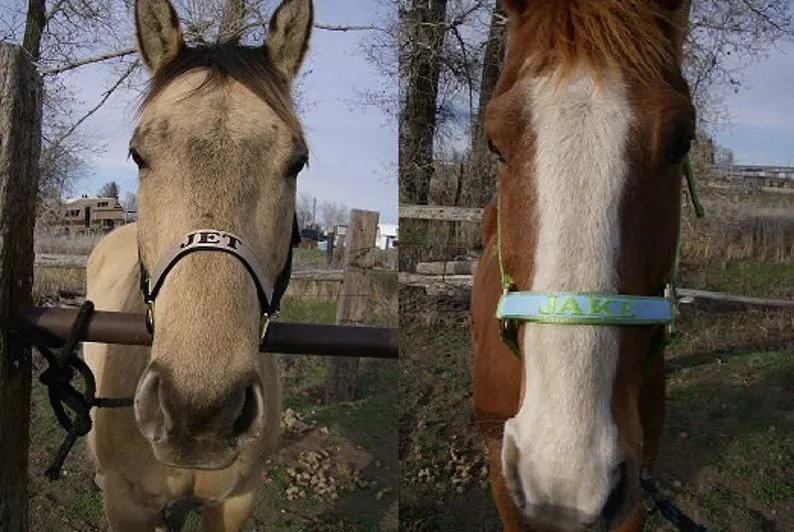 These personalized horse halters by SamanthasEmbroidery are embroidered which is a great option for day to day usage. Especially nice is the color options available.
This would be a great way to outfit an entire stable of horses in matching halters customized with horse names and stable colors.
The shop has a variety of different halter sizes available, including mini halters for the smallest members of your herd as well as personalized hay bags and even saddlebags!
Final Thoughts
Personalized horse halters make an amazing gift whether you are treating yourself or buying something for that special someone in your life. Getting something that is personalized really lets the other person know that you didn't just see something sitting on a shelf and make an impulse purchase.
Customized horse halters have to be ordered in advance. They can take a couple of weeks to make. You have to think about design and colors to match the personality of the horse or human the gift is for.
Just remember, always triple check the spelling of the horse's name if you are getting a gift for someone. Us horse people can sometimes do weird things with letters and names aren't always spelled how they sound!