*This post may have affiliate links, which means I may receive commissions if you choose to purchase through links I provide (at no extra cost to you). As an Amazon Associate I earn from qualifying purchases. Please read my disclaimer for additional details.
Thoroughbred horses are the elite performance breed in a variety of different disciplines. Though known mostly for racing, they excel in a wide variety of disciplines.
In fact, you can see Thoroughbreds at high levels in English show rings, and in western ones. But why, then, do so many wind up in poor condition or needing a home?
Discarded Race Horses
The racing industry is truly the sport of kings. Horses routinely go for millions of dollars and, when you have a winner, the horses can earn millions too.
But just as with all sports, not every athlete will reach the top, not every horse will make it to the big leagues. So what happens to the thoroughbred horses, born and bred for racing, that simply don't make the cut?
Not all race horse owners are bad, many will ensure their horses wind up in good hands. Some, though, will discard them and send them to auction or give them away to less than favorable homes.
Whatever the case may be, once off the track, these former racers need layup and then additional training to become loyal partners for equestrians in other disciplines.
This is when the thoroughbred makeover happens.
Thoroughbred Makeovers
Each year there is an event called the Thoroughbred Makeover. Owners enter a competition and provide veterinarian recommendations in order to get a chance to complete in the competition.
Event dates change slightly from year to year but the concept is the same. Trainers choose registered thoroughbred horses that fit a specific criteria. Namely that they have not received more than 15 training rides for a new off-the track career.
All of the trainers start training and riding their approved horses at the same time, culminating in a competition towards the end of the year where thy showcase their horses newly learned skills and compete against others for top prizes.
It's a great event but, it's also something you can do at home without the need to feel pressured to compete, or the necessity of filling out applications or getting references.
The truth is, there are thoroughbred horses everywhere, every time of year, that can benefit from a thoroughbred makeover. Such was the case for this gelding my partner/best-friend and I found at a horse auction.
Thoroughbred Makeover Results.
This thoroughbred gelding was purchased as a project horse. My partner wanted something suitable for low level dressage lessons, eventing and jumping lessons.
This big guy was just the kind of horse she needed. She took months of lessons and really advanced her horsemanship and his training level before selling him.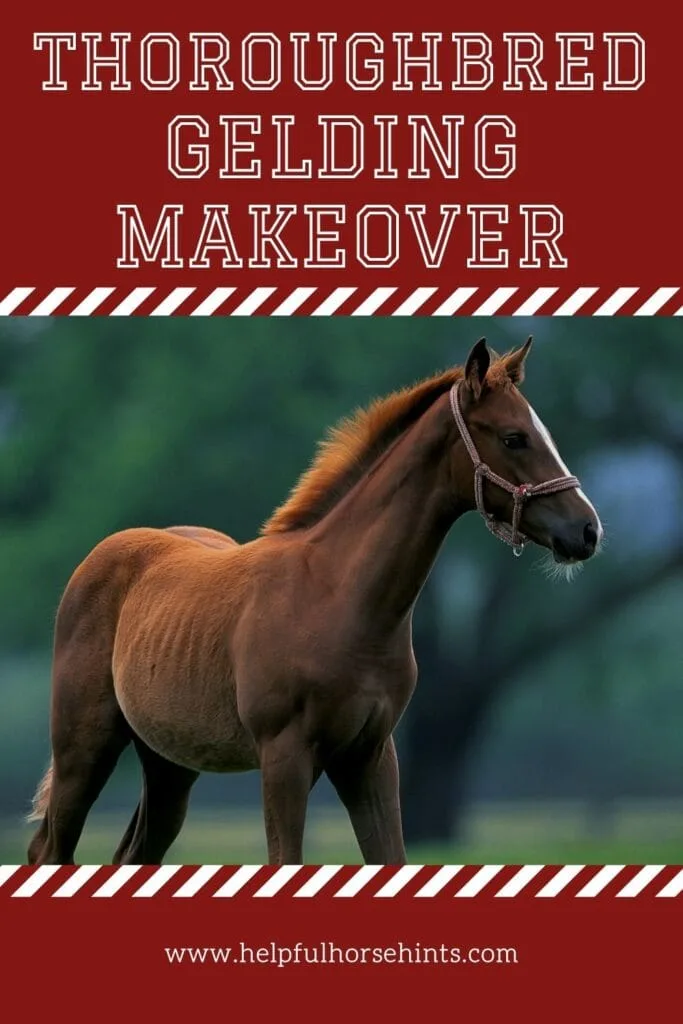 We do feed supplements and he may have been on some sort of commercially available grain but in general, our horses that need condition get all the hay they can eat, 1 lb of rice bran / day, beet pulp and bran mash.
We also deworm every horse the day it comes in and then again with every shoeing. The "intake" photos show him as he was when we purchased him.
Day 0
This is the horse we brought home from the auction. You can see where the sticker residue was still on his butt.
Sadly, there were also white marks on either side of his face. While he didn't come with a halter, those are very possibly sad scars of a halter left on for too long.
All of that is behind him now though, scroll down to see his progress over time.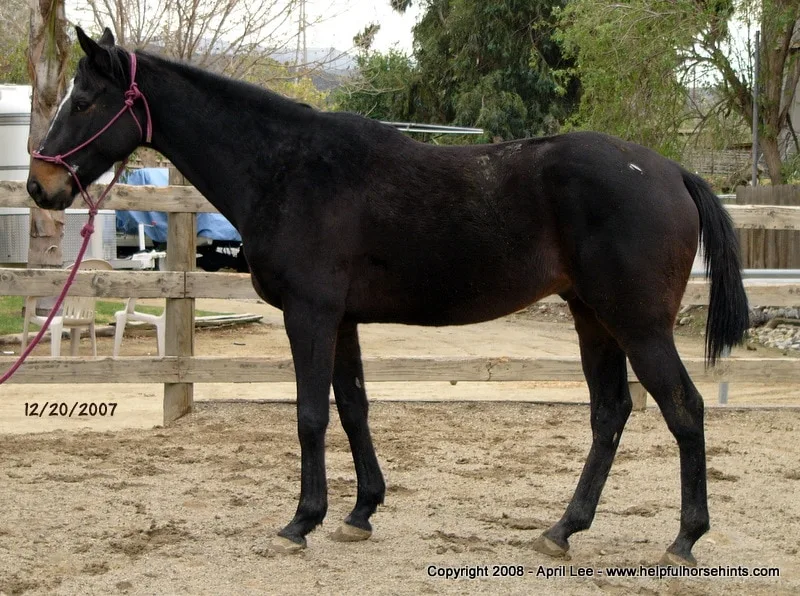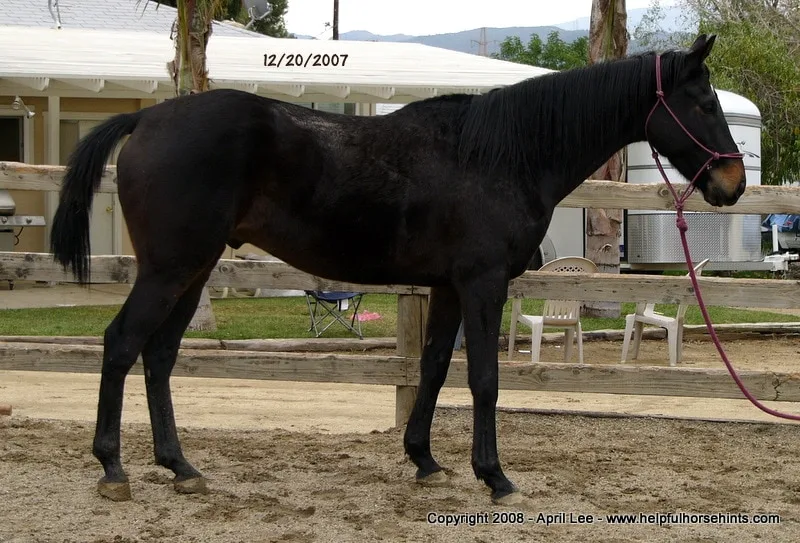 Day 14
What a difference a two weeks makes! We gave him a full body clip and you can see how the weight is packing on. With routine exercise and turnout time his topline started coming up nicely too.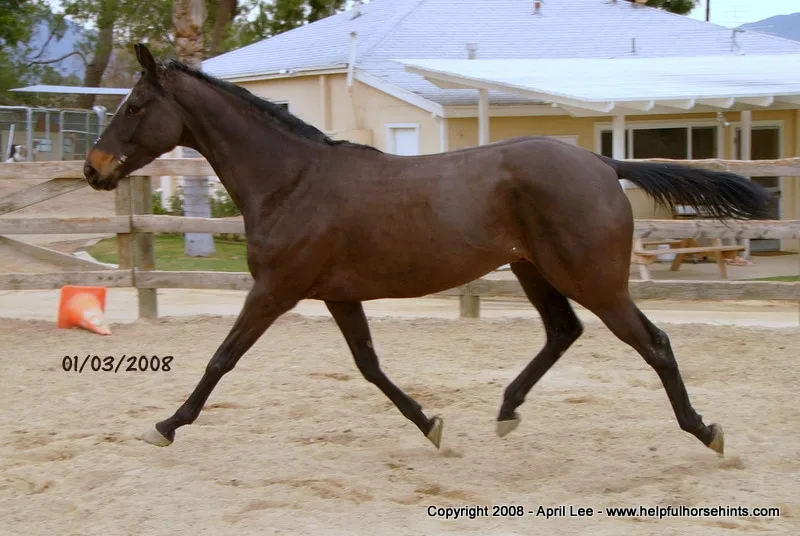 Day 71
Wow, look at the muscle on this thoroughbred! This results of this thoroughbred makeover were most pronounced here at 71 days. He came a long way and, competition or not, he was definitely a winner.
He found a great new home where he could enjoy daily life as a pleasure horse.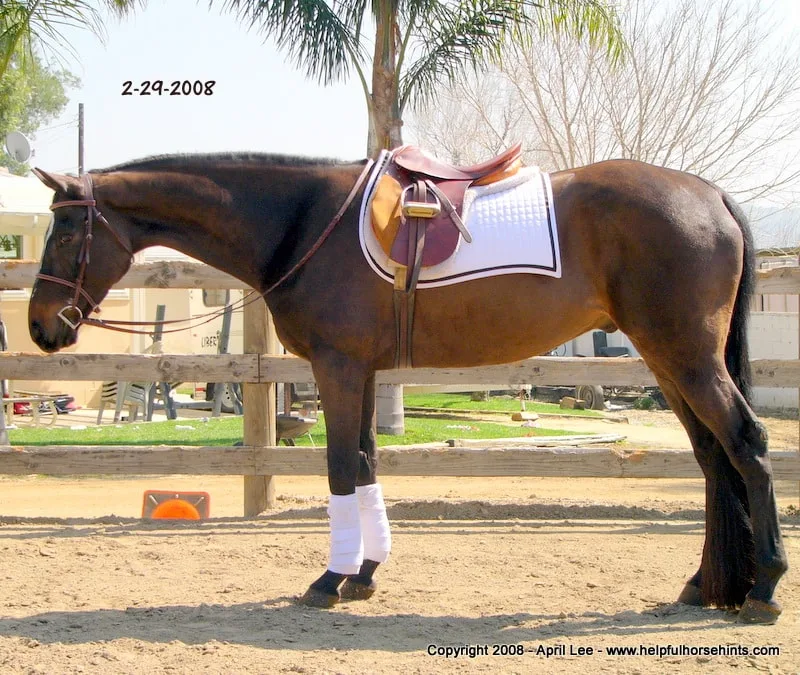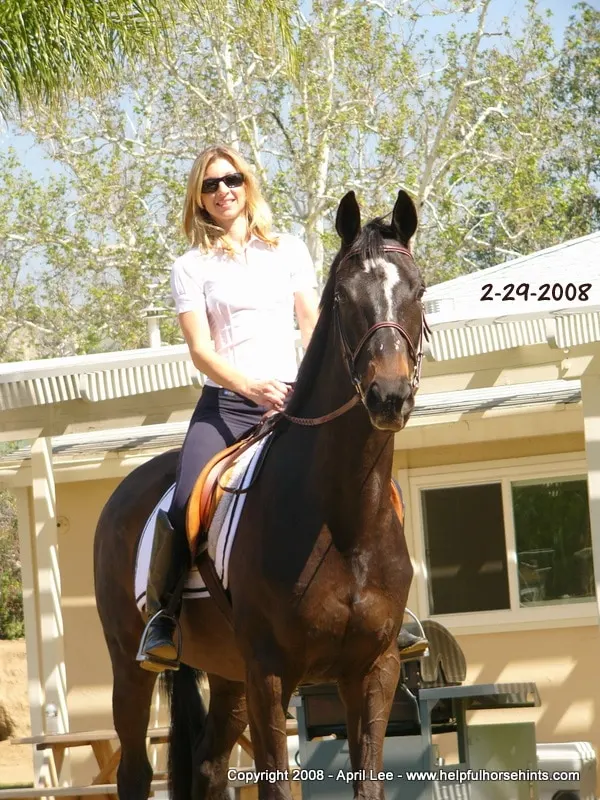 Final Thoughts
A thoroughbred makeover can be a fun project for an experienced horse person looking for a challenge that will not only give them an opportunity to learn new skills with a new horse but, also make a huge impact for the horse they choose.
Of course soundness and temperament are factors that need to be considered when finding the perfect thoroughbred makeover prospect but, with a large pool out there, you should be able to find an awesome project horse!
Source:
https://www.tbmakeover.org/download/RRP_Rulebook_8_5x5_5_bt_USE.pdf