*This post may have affiliate links, which means I may receive commissions if you choose to purchase through links I provide (at no extra cost to you). As an Amazon Associate I earn from qualifying purchases. Please read my disclaimer for additional details.
Cowboy boots come in unique styles and types. You can find modern to vintage style boots and others with a long or short shaft.
Their versatility makes them unique and worth wearing with your everyday outfit.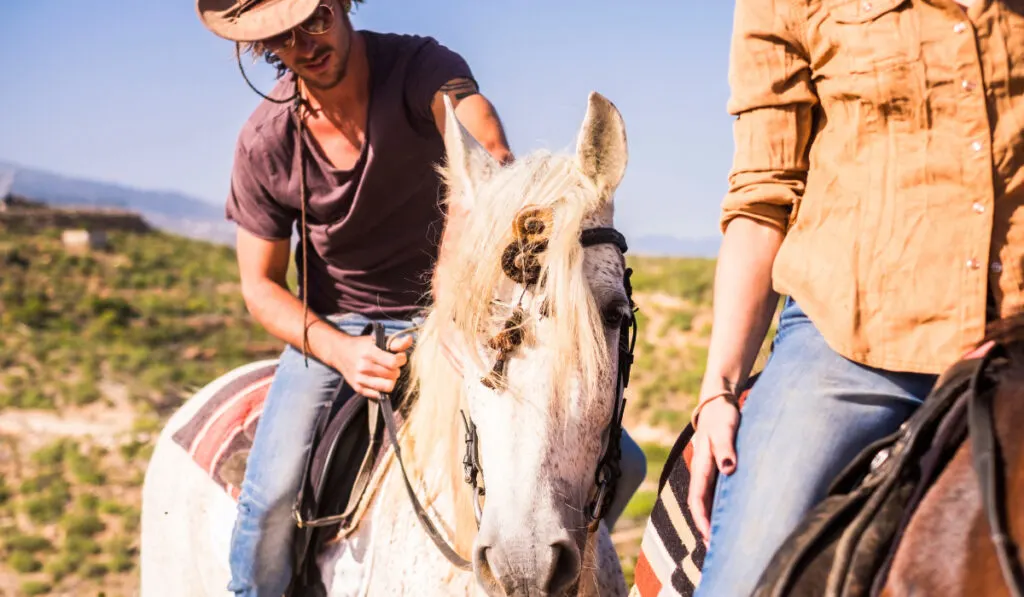 However, spending most of your time in the countryside may limit your style choices. Pairing your cowboy boots with the wrong outfit can leave you looking like a countryman or countrywoman.
Our detailed guide gives you some timely tips on how to wear cowboy boots without looking country. We also advise you to pair different outfits with diverse types of boots.
6 Tips on How to Wear Cowboy Boots
Some of the ways you can rock cowboy boots are:
1. Avoid Tucking in Your Jeans Inside the Boots
There's a misconception that tucking your jeans inside your cowboy boots gives you a neat look. Unfortunately, this doesn't apply to cowboy boots.
Wearing denim inside the boots was a practical way to keep them from getting debris stuck to them and prevent them from snagging when riding horses.
It's best to leave the jeans untucked for a formal occasion. Wear slightly shorter or rolled jeans to show your boots for a formal event. Women can wear cowgirl boots with a dress for a more casual and stylish look.
Alternatively, you can opt for slim jeans that fit inside your boots comfortably for a festival or country concert.
2. Choose the Right Pair of Cowboy Boots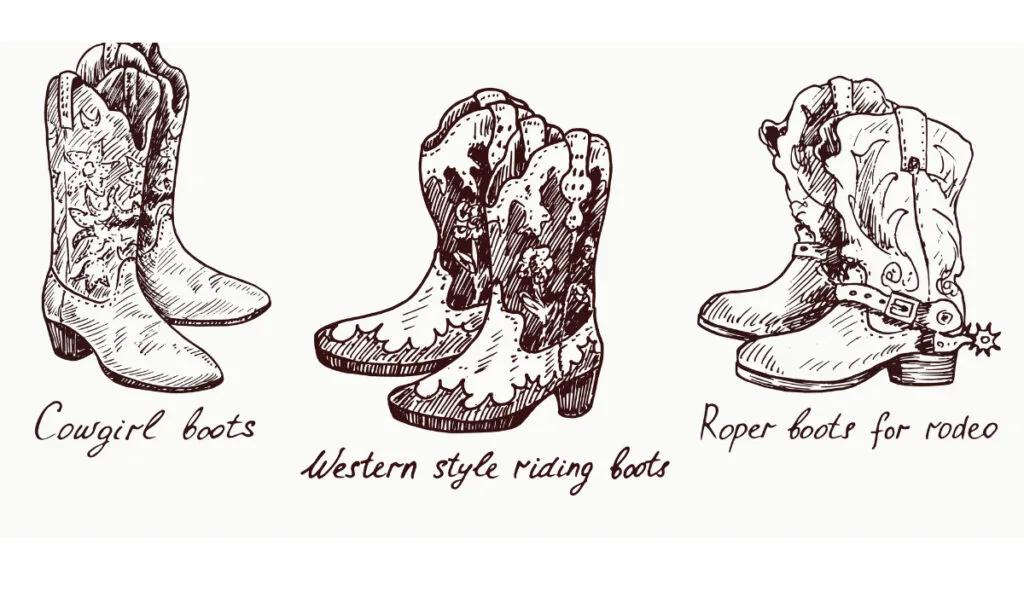 Cowboy boots have varying styles. You can find them in different heel/shaft heights, toe shapes, and materials.
Some common types of boots include:
Western Cowboy Boots: These boots have a one to two-inch heel and pointed toes. These classic boots have a shaft that goes to the mid-calf.
Animal Skin Boots: These cowboy boots are made of snakeskin, alligator, lizard, or elk skin.
Roper Boots: Roper boots are like ankle boots. Their heels are short, and the shaft is slightly above the ankle.
Fashion Boots: These are fashionable, decorative cowboy boots.
Once you know the different types of cowboy boots, you need to choose a pair that works for you.
A good example is the snakeskin boots that work well if you're looking to make the boots the main star of your ensemble. Wearing them with a black dress will make your boots stand out.
A short dress also matches well with roper boots.
For men, you can pair western cowboy boots with bootcut jeans, a belt, and a jacket for a formal look.
3. Understand What Color of Boots to Pair With Which Outfit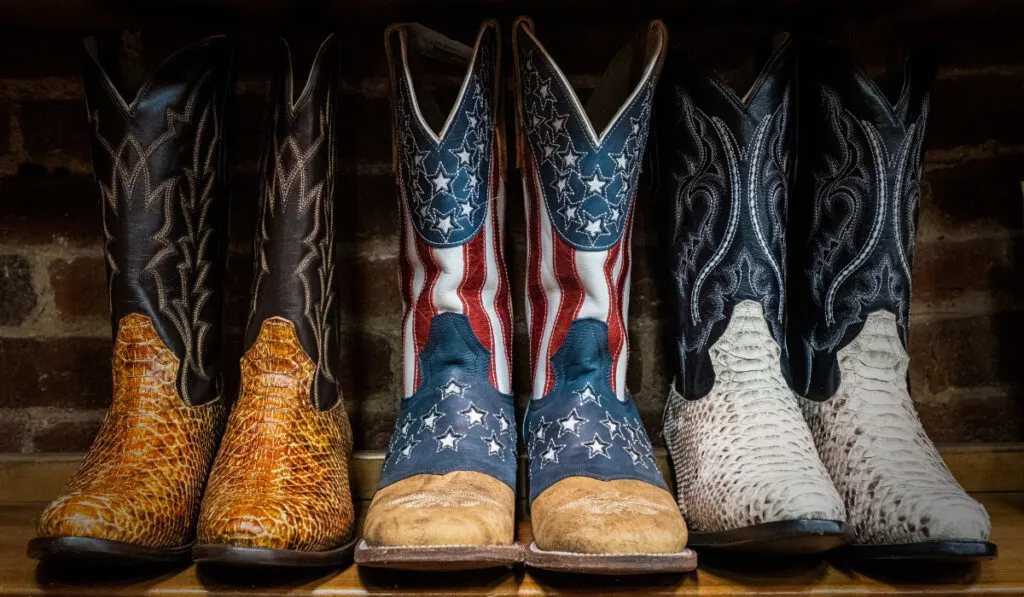 You can choose to pair your black dress with tanned boots for a pop of color. A monochrome look where you wear black boots with a black dress works for a formal occasion.
Avoid pairing a vibrant outfit with colorful boots, which creates a confused look. If you're wearing a bright-colored outfit, keep your boots toned down. Conversely, bright boots work well with a one-colored outfit.
If you're wearing brown or black boots, wear charcoal wash, dark blue, or light blue jeans. Light blue is perfect for a daytime look, while the darker shades are ideal for nights out.
4. Know Which Pants to Pair With Cowboy Boots
Style and cut play a critical role in how your whole ensemble look. For example, flared jeans will not work if you want to show your boots.
Boot-cut jeans pair perfectly with cowboy boots as they accommodate the boots without bundling around the legs. You can also wear your straight-leg or regular-fit jeans with your cowboy boots. The only challenge with straight-leg pants is that you may have to roll them up to wear your boots.
It's also critical to consider the right length when pairing your boots with jeans. You don't want your jeans to be so long that they get stuck under the heel.
For short jeans, ensure the hem is above the instep of your boots. That allows you to show off your boots without looking tacky.
5. Don't Be Afraid to Experiment With Different Looks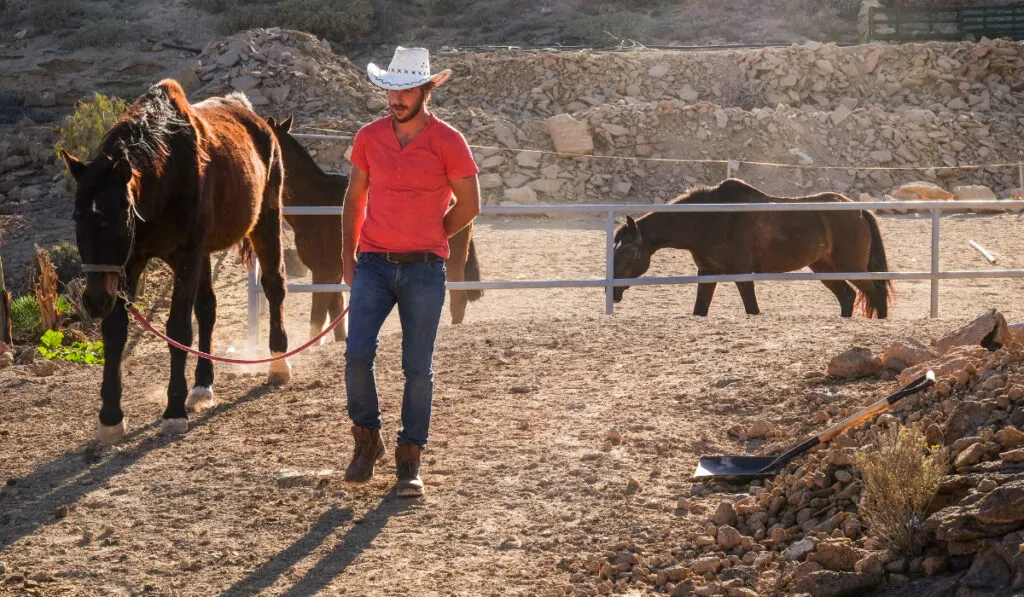 While you often want to stick to basics like wearing a simple t-shirt and jeans with your cowboy boots, it's best to get experimental with your outfits.
For women, don't be afraid to wear your boots with dresses. Find a dress that matches or contrasts with your boots.
Depending on your preferences, the dress could be checkered, plaid, or plain. Pairing your floral dress with plain boots is casual but shows off your style without appearing overly country.
You can add tights or leggings to your ensemble to make it stand out. If you're picking bright-colored leggings, stick to plain-colored dresses and boots. That gives you a chic and smart look.
Keep it simple when wearing your boots with a dress. Avoid other bold necklaces, earrings, and bangles. Adding too many accessories makes you look out of place.
6. Avoid Wearing Your Cowboy Boots With Certain Clothes and Accessories
Although these boots are versatile and available in assorted colors and styles, there are certain fashion styles you should avoid when wearing them.
Stay away from the two styles, as they don't blend well together. Accessories like ribbons and bows are also not a good idea.
Remember that less is more when thinking of how to style your cowboy boots.
Final Thoughts
Styling your cowboy boots doesn't have to be complicated or overly country. Knowing how to pair different boots with your outfits will help you stand out whether you're going for a formal or a casual look. Our tips above will help you wear cowboy boots without looking country.
Resources