*This post may have affiliate links, which means I may receive commissions if you choose to purchase through links I provide (at no extra cost to you). As an Amazon Associate I earn from qualifying purchases. Please read my disclaimer for additional details.
Jeans and cowboy boots just go together. Since the creation of jeans, cowboys have worn them on the job and when they're having fun. They offer the durability and style cowboys and cowgirls love.
These days, jeans come in different fashions, and people are always looking for better ways to style their boots with different jean colors and fits.
Skinny jeans, for example, weren't around back in the 1800s. In addition, people often buy various kinds and colors of jeans and boots. But knowing how to mix and match these pairs of boots and jeans can be particularly challenging sometimes.
In the right combination, it's tough to beat the combination of jeans and cowboy boots. They create a cool, relaxed vibe that makes a statement anywhere you go. They're formal enough to wear out on a Friday night and will keep you comfortable no matter what you're doing.
Here are some of the best ways to style boots with jeans. You can start trying these styles from today!
The Standard Boot Cut Jean Is a Great Standard Choice
Bootcut jeans are the most common style you'll often see on cowboys and other people working on ranches across the country. You will find them all over Texas, Wyoming, Oklahoma, and other states that started the jeans and boots trend.
Bootcut jeans go well with boots because they're wider at the bottom; they easily fit over the top of your cowboy boots. As a result, there's no bunching on your pants' cuffs, and you can get your pants on quickly.
You give off an unmistakable cowboy vibe when you wear bootcut jeans with a nice pair of cowboy boots. So, it's a great option if that's what you're going for.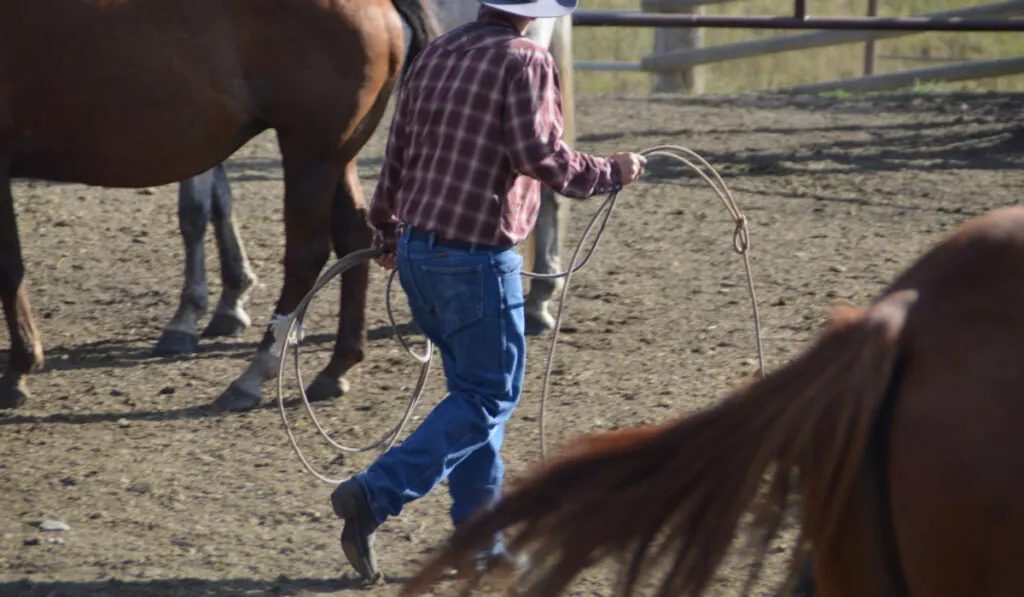 Choosing the Right Jean Shades to Wear with Your Cowboy Boots
People wear a ton of different jeans colors with their boots. Denim comes in all colors thereby giving you a limitless number of style choices and washing you can always feel comfortable in.
The standard cowboy look usually involves blue jeans with a medium wash. Throw on a flannel shirt, and you'll look like you belong on a modeling poster or on the cover of some of these magazines.
However, you can also mix things up. If you're going somewhere formal, you can choose a darker wash. Lighter washes are great for daytime events where you won't get dirty. Once you feel comfortable in jeans and boots, you can play around with black jeans, grey jeans, and even white denim.
Wearing Your Jeans Inside vs. Outside
A lot of people have strong opinions about whether you should wear your jeans inside your boots by tucking them in or keeping them outside and over your boots.
You'll certainly make a stronger fashion statement with the jeans tucked in. We see this more commonly when women wear boots with jeans, but plenty of men do it as well.
Make sure you're wearing a skinnier pair of jeans if you intend to tuck in your jeans into your cowboy boots because you won't want all of the jeans crowding up the space in your boots. For a sleek fit, get slim jeans that taper and will go into your boots without an issue.
On the other hand, wearing cowboy boots inside jeans is much more common. Of course, you'll need a larger cut around the cuffs of your jeans. If you like the bunching around the ankles and shins, you can buy tighter jeans in a longer length to complete your outfit.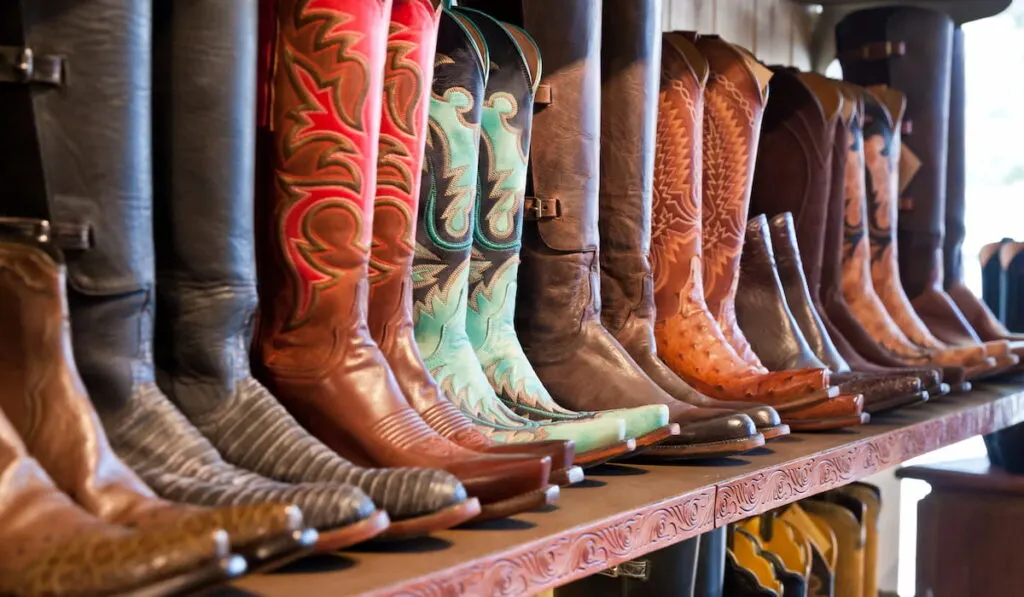 Wear Pointed-Toe Boots for Formal Affairs
Whenever you're dressing fancy with cowboy boots, you may want to choose pointed-toe boots. They seem to go better with a suit or formal jeans. For example, it's tough to beat dark denim with a close fit on top of a pair of pointed-toe black leather cowboy boots.
Square or rounded boots are fantastic for casual weekend gatherings or rodeo trips. But if you want to look exceptional at a wedding or a work event, pointed-toe boots are the best option.
Cowboy Boots Look Great with Denim Skirts and Dresses
For the ladies, boots go terrific with everything from a short-cut skirt to a full-length dress. You'll drive the men crazy by pairing a denim dress or skirt with some cool boots.
If you're wearing something like a skirt, it's time to break out your stylish boots that make more of a statement. You can pick boots with cool or colorful designs to show off to everyone at the bar, or when you're going to watch a game on Friday night or see a movie.
The fit of your denim dress or skirt will significantly affect how things look with boots. Tighter fits will make you look like a rockstar, and looser full-length denim dresses give that everyday-woman feel.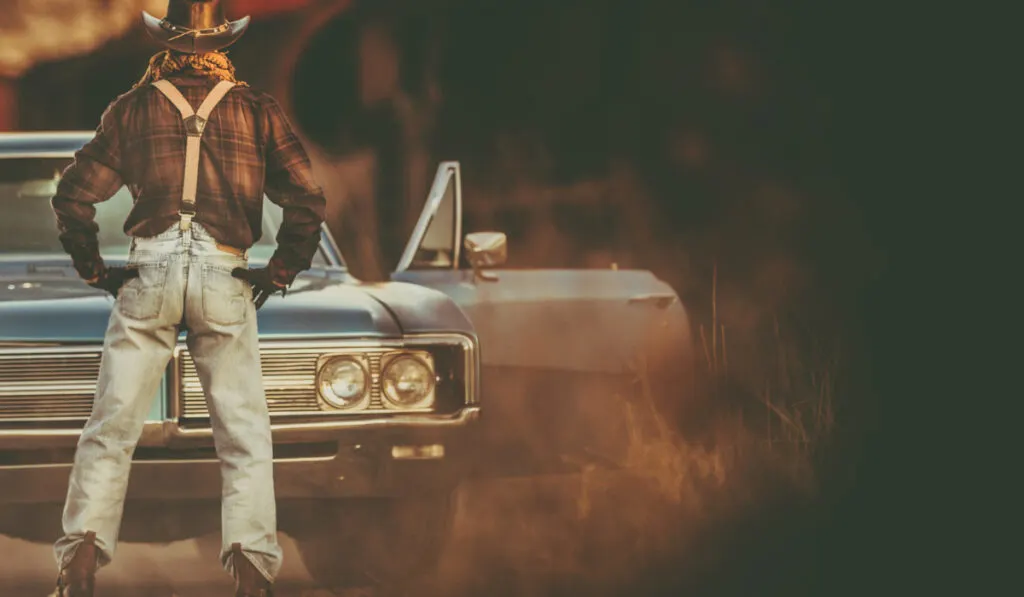 Baggier Jeans Are Coming Back
Skinny jeans will always be cool, but baggier fits are making a comeback. That means you have more styles to mix in with your boots.
You can either tuck baggier jeans into the tops of your boots and have them sort of billow outward to emphasize the fit. In addition, you can toss loose-fit jeans over your boots for a more dressed-down look.
If you're a lady, you may want to consider buying jeans that fit tightly around your waist or high-waisted jeans to add some style to your outfit.
Rolling Your Jeans
Some people have unique boots they want to show off, but their jeans are too long and cover the parts they want to show.
One easy workaround is to roll your jeans until you have them around halfway up your boot. It's a unique way to style jeans with boots. You'll get to show off your favorite boots without having to adjust the old jeans or buying a new pair.
Conclusion
Jeans and boots are a fantastic combination for everything ranging from weekend fun to formal events.
It's fun to mess around with diverse types of jeans to find cool new outfits. Wearing different denim colors, sizes, styles, etc., with your favorite boots, provides a great canvas for you to dress up in with a hat, purse, belt, and other clothing accessories you fancy.
Have fun with it, and don't be afraid to take chances! With boots and jeans, it's hard to go wrong as long as you confidently rock your outfit.
Resources