*This post may have affiliate links, which means I may receive commissions if you choose to purchase through links I provide (at no extra cost to you). As an Amazon Associate I earn from qualifying purchases. Please read my disclaimer for additional details.
All black horses are highly sought after in the horse world, especially by those looking to purchase their first horse. The black horse has been popularized by media such as the Black Stallion or Black Beauty. Once you finally reach your goal and purchase that perfect black horse of your dreams, what name will you choose? In this post, I'll give you over 180 name ideas for a black horse!
If you are anything like me you may have grown up reading the famous books about black horses like the Black Stallion or Black Beauty . In both cases, those were boys so that is the perfect place to start with this post!
Best Names for Black Horses
The top 10 best names for a black horse are:
Beauty
Bucephalus
Chez Noir
Dahlia
Drogon
Morticia
Nero
Raven
Ruger
Velvet
Black Horse Names for Stallions and Geldings
If your black horse is male, these are some great names you should consider. Whether he is a stallion or gelding, full-size horse or pony, these names are perfectly suited for your boy!
Ace
Ace of Spades
Angus
Ash
Bagheera
Batman
Bean (Black Bean)
Bear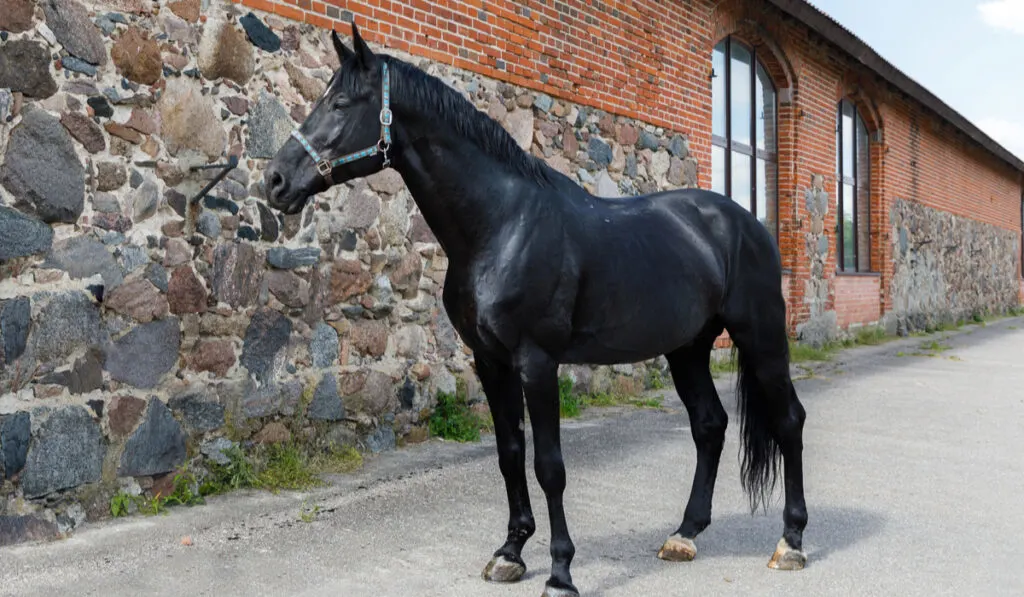 Black
Black Bean
Black Tie
Blackjack
Bucephalus
Carbon
Charcoal
Coal
Crow
Dark Knight
Domino
Dracula
Drogon
Elvis
Graphite
Guinness
Hades
Jack (Jack Black)
Jack of Clubs
Leviathan
Lucifer
Nero
Nimbus
Ninja
Phantom
Pirate
Ruger
Slim Shady
Smoke
Smokey
Sooty
Spider
Tarmac
Vader
Voldemort
Winchester
Zorro
Black Horse Names for Mares and Fillies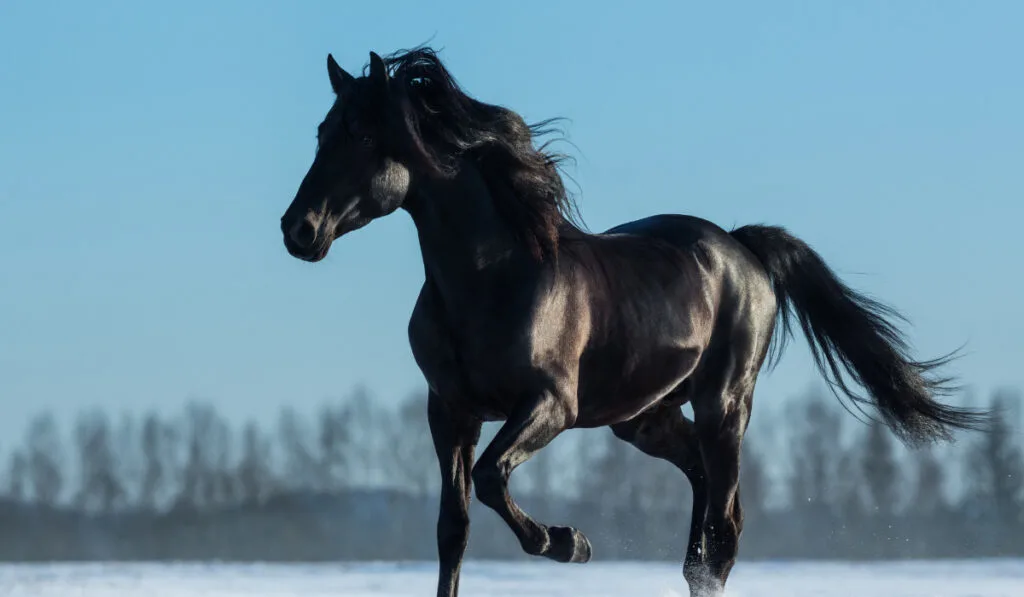 If your black horse is female, this list is for you. For whatever reason, it seems to be harder to find names for girl horses than for boys. Anyhow, this list of names should help get you started!
Ashley
Bat Girl
Black Pearl
Cat Woman
Char
Chez Noir
Cinderella
Coco
Ebony
Ember
Godiva
Kalamata (like the Olive)
Maggie
Magpie
Morticia
Nebula
Sable
Selena
Velvet
Wednesday
Gender Neutral Names for Black Horses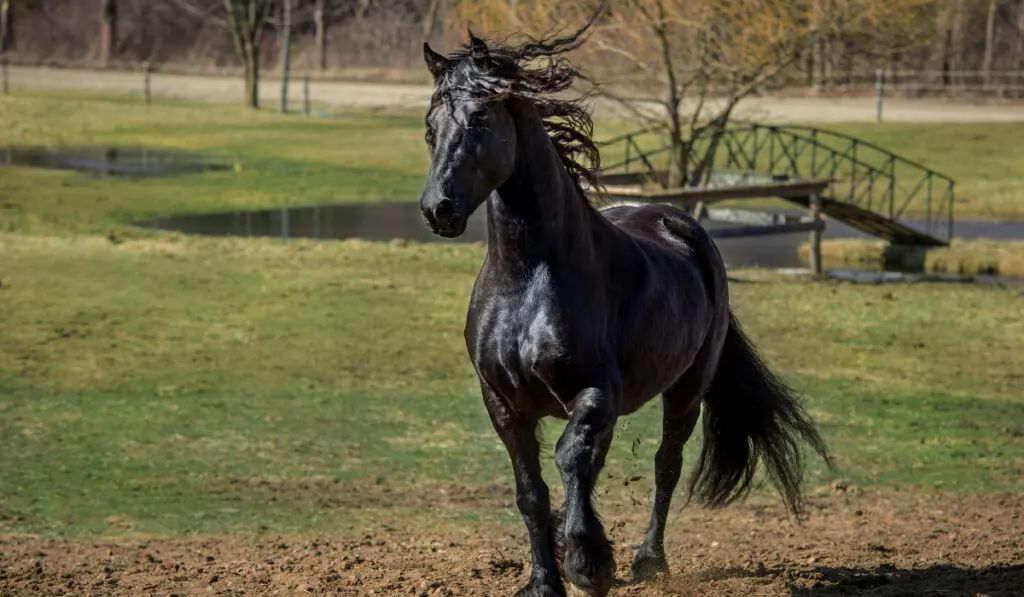 These names are great for black mares, geldings, and stallions. They work equally well for girls and for boys. If you know you are going to get a black horse but aren't sure whether you will get a male or a female, you can still get all of your stuff ready to go if you choose one of these names!
Apparition
Bear
Black Diamond
Blackberry
Blackie
Chocolate
Cinder
Cobra
Coco
Coffee
Cosmo
Currant
Hershey
Licorice
Magic
Midnight
Panther
Pepper
Phantom
Raisin
Shadow
Silhouette
Sombra (Spanish for Shadow)
Storm
Names of Famous Black Horses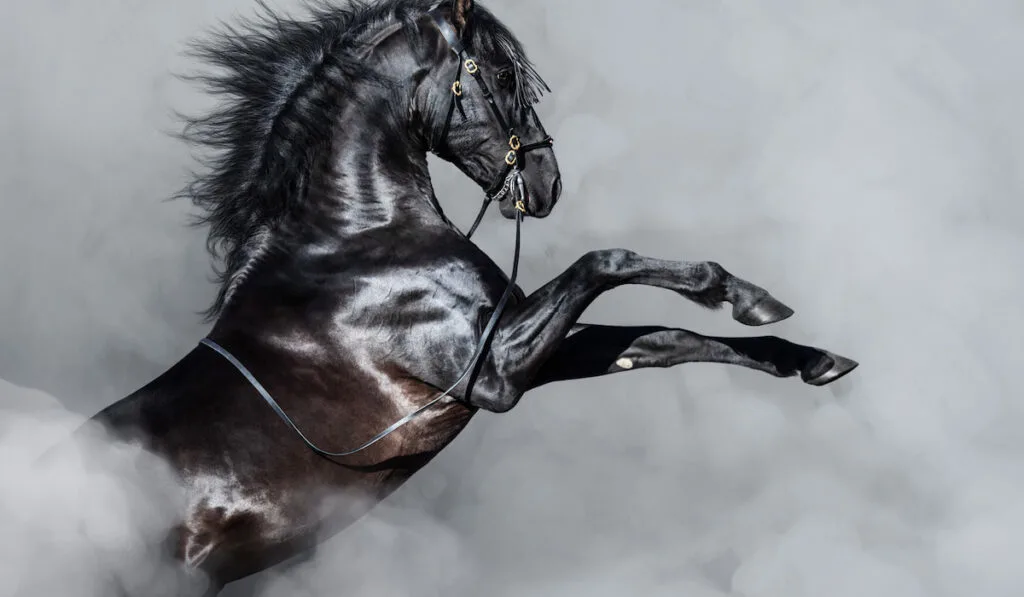 Famous black horses aren't just limited to Black Beauty or the Black Stallion. There are many black horses that have made their impact on the world in one way or another, here are a few of them!
5 Famous Black Mares
Black Caviar – Famous Australian Thoroughbred mare who was undefeated in 25 races. (Wikipedia)
Black Widow – Where are my Marvel lovers? Name your favorite mare after your favorite heroine!
Quo Vadis – This mare's name means "Where are you going?". She is one of two black mares given Hall of Fame status by the American Quarter Horse Association. She is well known for being a champion show mare as well as an excellent producer of champions. (Wikipedia)
Ruffian – This thoroughbred mare was famous first for her career on the race track and then her injury and attempts at recovery. She is remembered for being an extremely fast mare who won every race except her last where she was injured and still tried to run even though she couldn't.
Skydancer – The black/purple mount of Stormy in the Rainbow Brite movie!
11 Famous Black Stallions & Geldings
Black Hawk – This solid black Morgan stallion a very well known sire. In fact, he fetched a record price of $800 in 1844 which is the equivalent of $27,366 today. Not bad for a horse whose mom was an unnamed mare with no known pedigree! (Wikipedia)
Bucephalus – This legendary horse was the favored mount of Alexander the Great. Legend has it that Bucephalus would not allow anyone else to ride him.
Cass Ole – This famous black Arabian stallion played the lead role in the Black Stallion movies. He was also a national champion show horse! (TheBlackStallion.com)
Felix – Who doesn't remember Felix the Cat!
Figaro – Yet another adorable black cat, this time in the movie Pinocchio.
Goliath – Black Friesian stallion in the movie, Ladyhawke.
On-X – The black robotic horse ridden by Krys in Rainbow Brite and the Star Steeler. (Wikipedia)
Sylvester – There are lots of famous black cats, what can I say. Of course, it would be funnier if you found a Palomino companion you could name Tweety!
The Black – The Black Stallion was made famous first by Walter Farley's series of books and later by a movie of the same name.
Top Moon – An AQHA horse by Moon Deck out of the mare Rica Bar. This Quarter Horse stallion earned his place in the hall of fame through his illustrious career as a top racehorse and an excellent sire of racehorses. He's also the only black stallion in the Hall of Fame. (Wikipedia)
Tornado – Tornado was the name of Zorro's horse in the books and the television series.
Black Horse Names in Spanish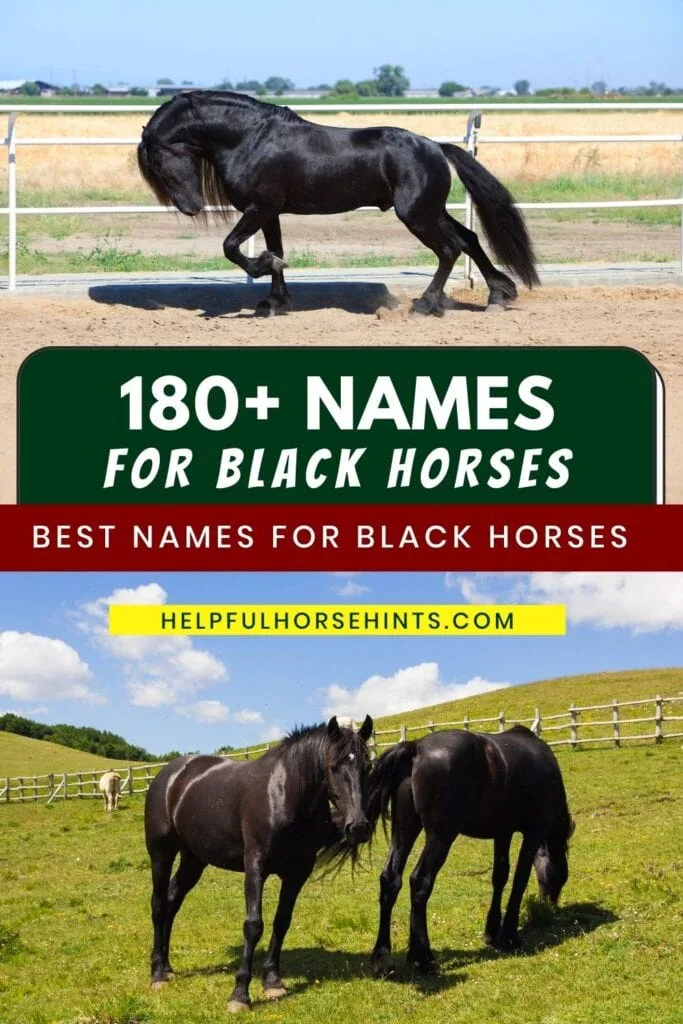 There are lots of languages you can pull names from but Spanish is, perhaps, the easiest. Here are a few Spanish names to get you started.
Alacrán – means Scorpion
Araña – means Spider
Estrella – means star
Morena – means "Dark Haired"
Negro – means Black
Noche – means Night
Nublado – means Cloudy
Oso – means bear
Oscuro – means dark, blackness
Pirata – means Pirate
Sombra – means Shadow
Show Names for Black Horses
Now that we have covered an extensive list of names for your black horse, how do we build on that to make a top-notch show name? After all, the name your horse goes by on a day to day basis is usually different from his registered name or the one you use for the announcer to call out at shows.
In deciding a show name, typically you want something more "proper". This is at least two words. These horse names can be clever, funny or unique. But you also want them to work for your black horse.
These horse names all use the word "Black"
Back in Black
Black Bacardi
Black Beauty Cutie
Black Belle
Black Cherry
Black Coffee Blues
Black Diablo
Black Friday
Black Label
Black Market Money
Black Moon Rising
Blacked Out
Black N Brew
Black Powder
Black Quartz
Black Sabbath
Blackstone Bay
Black Tie Affair
Black Tie Preferred
Blackberry Rose
Classic Black
Double Black
Joe Black
Little Black Box
Little Black Dress
Man in Black
Miner's Black Gold
Serious Black
Vision in Black
Unique Show Names for Black Horses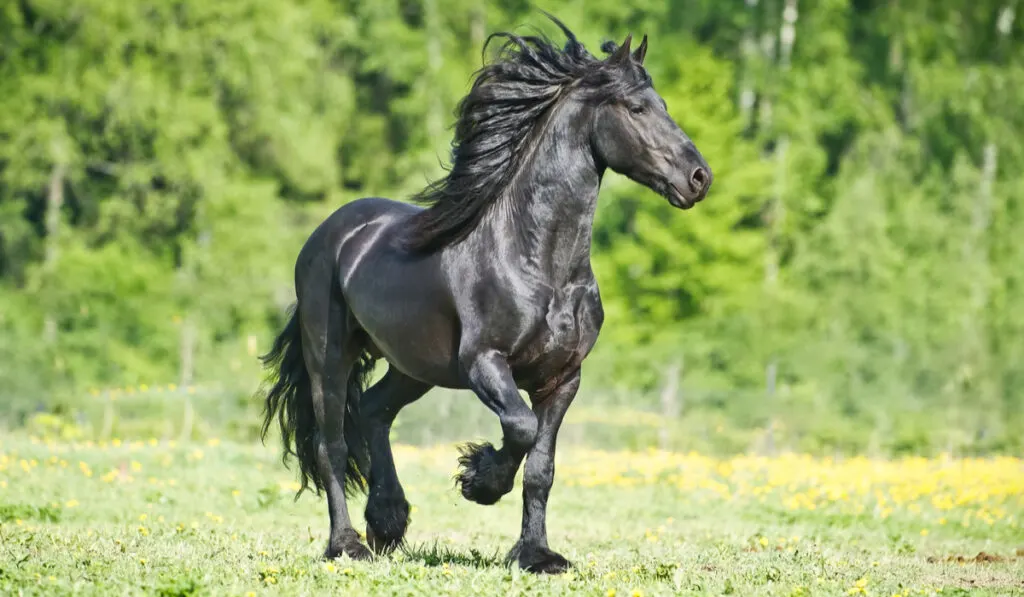 Almost Dark
Any Given Night (or Knight)
Carbon Copy
Cheval Noir (Black Horse)
Coal Miner
Cozy at Midnight
Dark Ages
Dark as Night
Dark Forest
Dark Side of the Moon
Dark Star
Darkest Secret
Exclusive Reward
Jack Sparrow
Lights Out
Midnight at Dawn
Midnight Chase
Midnight Confession
Midnight Maven
Near Darkness
Nightline
Nights Watch
Out of the Dark
Overnight Express
Rainbow in the Dark
Sealed with a Kiss
Shot in the Dark
Sleepy Hollow
SuperNova
Wait 'til Midnight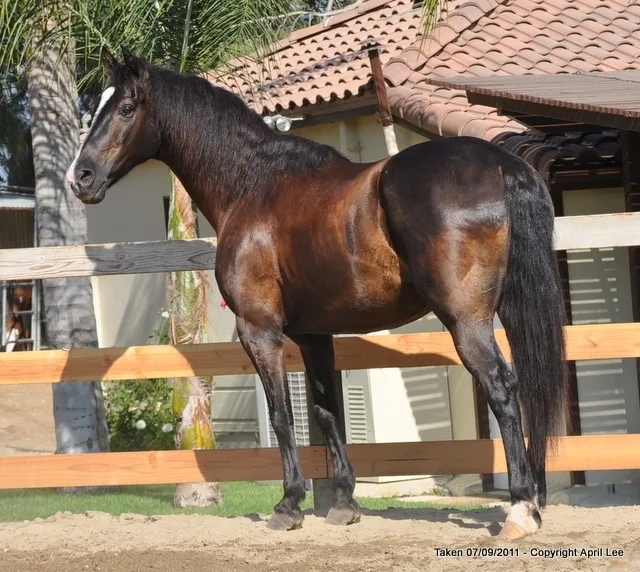 Whatever you choose to name your horse is your decision. You can just call your horse "Black" if you want. He is your horse. In fact, one of the best horses I ever owned was simply named "Blackie". He's the pretty guy pictured above. He's all faded out in this picture but he'd get a super nice dark black in winter.
Have fun choosing a name for your black horse. I hope this list helped you find one that is absolutely perfect!