*This post may have affiliate links, which means I may receive commissions if you choose to purchase through links I provide (at no extra cost to you). As an Amazon Associate I earn from qualifying purchases. Please read my disclaimer for additional details.
Whether you are a new horse owner or someone who has had horses all your life, these grooming essentials will help you keep your equines spic and span all year long!
I've tried to include only items that are either Amazon Prime eligible OR have free shipping for those that prefer to shop online. Your local feed store should have these items on hand as well! They are listed in no particular order.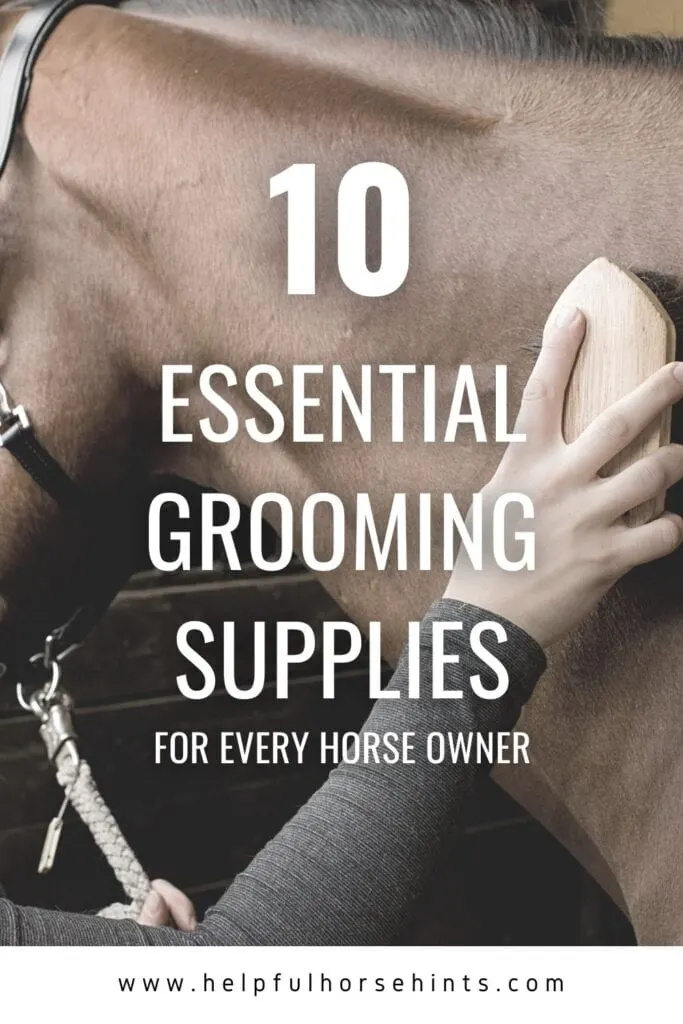 Horse Grooming Supplies List
Whether you are a professional groom or just grooming your own horses, having the right tools for the job is the best way to ensure your horses come out sparkling clean.
But what are the best horse grooming supplies? What grooming tools should you be sure to include in your kit? Let's have a look at some of the most important elements to have.
Let's start with the essential grooming supplies. These form the basic materials every horse owner should have on hand.
1. Horse Grooming Kit
Weaver Leather Grooming Kit
7-piece assortment of grooming essentials in a durable nylon tote bag
Tote features six exterior pockets for added storage
Features a convenient top Drawstring closure and plastic feet that protect bottom of bag
The easiest way to get started is by purchasing a commercially available horse grooming kit. We like this one by Weaver .
This horse grooming kit makes a GREAT gift and has all of the basics included. Plus its available in several stylish designs!
These types of grooming kits typically include all of the basics like a hoof pick, body brush, mane and tail brush, sweat scraper, curry comb, and face brush.
Generally, there is at least one medium bristle brush and one soft bristle brush. The former is typically used on the horse's body, and the latter is great for your horse's face, knees, legs, and other sensitive parts.
2. Horse Shampoo
Farnam Vetrolin Bath Ultra-Hydrating Shampoo
32 Oz., Vetrolin Bath, Protein Enriched, Conditioning, Equine, Shampoo
Formula Washes Away Dirt and Dandruff
Shampoo Produces A Rich, Thick Lather When Bathing
Formula Protects Skin and Coat With Conditioners, Vitamin E and Paba Sunscreen
Orvus WA Paste Cleaner Horse, Livestock and Dog Shampoo
Ideal for cleaning Fabrics, Horses, Livestock, Pets and Quilts. Effective in a wide range of cleaning tasks.
Orvus is the original gentle & bright clean. Made in USA. HE Safe. Residue Free.
Safe to Use: Hypoallergenic. Biodegradable. No phosphates or dyes.
There are lots of horse shampoos available on the market but this one by Vetrolin is our favorite!
If you have a large stable though, we would recommend Orvus WA Paste .
It is super concentrated, well worth the extra price and one tub will last for years. Plus it makes your horse's mane and tail super silky.

3. Horse Hair Polish
Sale
For making sure my horse's hair is ultra-shiny and smooth I use two different equine hair care products!
Laser Sheen is a budget alternative to ShowSheen and the concentrate makes an entire gallon!
I routinely stock both products and tend to use Laser Sheen on the body and Healthy Hair Care on my horse's mane and tail but either works for both if you just want to buy one!

4. Spray Bottle
You can get this from the Dollar Store. Any household spray bottle will do. Spray bottles are great for grooming horses because you can fill them with any number of liquids.
I typically use my spray bottles for fly spray and detangler.
5. Fly Spray
Sale
Absorbine UltraShield EX Insecticide Spray
OUR STRONGEST FORMULA: Kills and repels 70+ species of pests & bugs like flies, mosquitoes, ticks, gnats
WEATHERPROOF: Protection up to 17 days with UltraBond Technology
NO MIXING: Ready to use, water-based formula for horses, ponies, dogs, barns, or on premise
Farnam Repel-XPe Emulsifiable Horse Fly Spray
ECONOMICAL PROTECTION from biting and bloodsucking flies, gnats, mosquitoes and ticks
MIX YOUR OWN FLY CONTROL by just adding water, and one quart of concentrate makes 8 quarts of ready-to-use fly spray
I am listing two options here. My absolute favorite has always been Absorbine Ultra Shield …but it's PRICEY.
For a more economical option, go with a fly spray concentrate like Repel-X by Farnam .
Fly spray is essential to have in your horse grooming kit for keeping those pesky pests of your horse but they can also repel other pests like ticks and horse flies.

6. Hoof Dressing
Sale
Farnam Rain Maker Triple Action Hoof Oil
ATTRACTS, ABSORBS and RETAINS MOISTURE in the Hoof
LEAVES HOOVES STRONGER and More Pliable
HOOF OIL FOR HORSES Penetrates Deeply to Improve Texture and Elasticity
There are several equine hoof dressings available on the market and I've heard some say it doesn't really help and other horse owners swear by it.
I still include them in my horse grooming supplies list because I like using it before I put my horse away, especially at the coronet band.
There are several available and even some DIY recipes out there. I've kinda grown up with Rain Maker so that's the one I'm linking here 😀

7. Horse Braid Bands
Small Hair Bands Baby Hair Ties Tiny Elastics Rubber Bands
Multi-color: Various of candy color rubber bands not only provide a tool for holding hair but also braiding colorful mood
Wide use: Rubber bands for hair suitable for different kind of hairstyles and hair length, no matter ponytail, curls, hairdos or babies fine hair
Whether you want to tame a mane or tidy up a tail, plastic or rubber braid bands will be a great help. The best news is they come in all kinds of great colors because they also work well on childrens hair.
I like the multi-color but these come in black and clear too. This one has a great little container for them as well! Great for braiding manes, tails and forelocks.
I prefer the plastic ones over the rubber because they don't seem to degrade as much in a tack room.
If you have trouble with your braids coming undone, try securing them with electrical tape . It goes on quickly, secures the horse braids helping them last a lot longer, and is easy to slide off when you need to rebraid.

8. Rubber Curry Mitt
Rubber Grooming Gloves
Rubber mitt with curry Comb
Fits on the hand for currying legs and other sensitive areas
Eliminates loose shedding hair
The rubber curry mitt is my go-to tool for general horse grooming, shedding, bathing, you name it.
If I had to pick just two horse grooming supplies to tackle a dirty horse it would be this mitt and a body brush.
9. Micro Fiber Cleaning Cloths
Basics Microfiber Cleaning Cloths
Ultra soft, non-abrasive microfiber cleaning cloths will not scratch paints, vinyl, glass, finishes or other surfaces
Effectively cleans either dry or with liquid cleaners for streak-free and lint-free results
Absorbent cleaning cloths soak up eight times their own weight
Microfiber cleaning cloths are GREAT to wipe out horse nose boogers, wipe down saddles and tack, or put a final polish on your horse after a makeover.
I really love the Amazon ones . I use them at home and at the barn!!
Of course, you could use discarded rags or even cut up t-shirts to get the job done as well. Though, if you do buy the multi-colored set it can be helpful to keep track of which rags get used where.
For example, you can use yellow ones for tack, blue ones for anything with products like fly spray or coat polish, and white ones always with just water.
This kind of system makes it easy for others at your stable to know which rags are for what and also makes sure that you can be sure which cloths are safe to use on sensitive areas like your horse's face.
10. Horse Grooming Bucket
Sale
An 8-quart bucket is usually a great starting point for your horse grooming kit.
These buckets can usually be picked up at a local feed and tack store for around $5 bucks but they are great for mixing horse shampoo in, feeding grain or carrying stuff. They come in a variety of colors!
If you find that the 8-quart bucket is too small, try an 18-quart flat back bucket.
Just remember that you want something big enough to carry around all of your horse grooming supplies, but still small enough to not be too heavy or unwieldy.
List of Other Horse Supplies To Have on Hand
Your horse grooming supplies list is a reasonable place to start, especially when getting a new horse. Remember though, that's not where the horse supplies end.
Horse Clippers
Horse clippers are great to keep around the barn for general use. Whether you use them just to tidy up your horse's face or legs, clip areas with injuries or even for a full body clip, they can be invaluable.
There are different types of clippers available depending on the job you need them for. Be sure to check out our article with my favorite types of horse clippers.
Horse Tack Cleaner
Whatever horse tack and equipment you use on your horse will need to be cleaned at some point.
For most traditional leather tack a simple tack cleaning kit of a small sponge, saddle soap, and a rag will do just fine to keep everything clean and tidy.
Consider adding a leather conditioner to keep things supple as well.
Washing Saddle Pads and Blankets
Mild detergents such as Dreft, or any fragrance free detergent, can typically be used to keep saddle pads and blankets clean.
While english saddle pads can usually be washed in your home washing machine. Larger items like western saddle pads and winter blankets are typically washed with a hose and left to dry.
Just remember that when washing any of your horses saddle pads, or anything else that comes into contact with your horse's skin you want to be sure that the cleaning fluid is safe for the item you are washing and also that you rinse it fully out before using the item on your horse again.
Are there any grooming supplies that you find absolutely essential to have around the barn? We'd love to hear about them! Feel free to comment below!
RELATED POSTS