Selling a horse is usually not an easy decision to make. When the time does come you will want to make sure you have a bill of sale that details the purchase information.
In this post, I am going to share with you the printable horse bill of sale form that I used for dozens of horses I sold when I used to buy and resell horses in California.
If you would like to see some of the horses I've sold check out these makeover posts:
Please keep in mind that I am not a lawyer and nothing in this post is meant to constitute as legal advice. This form has not been reviewed by a lawyer. Anytime you have a question about the law you should hire an attorney.
OK whew, now that that is out of the way!
If you want a shortcut to the form, CLICK HERE to scroll down to the bottom, sign up for the newsletter and the form will magically appear.
I'll send you an awesome email usually no more than once per week…and sometimes those emails contain other free horse forms.
What can I say, I like making forms!
To view our other FREE printable forms and other topics in the record keeping category, visit the Record Keeping Archive page where you can find all kinds of horse forms.
Let's go over the sections in this bill of sale. Again, I am not an attorney so if you have questions, you should hire one. This is just my explanation of what I put in the bill of sale that I use.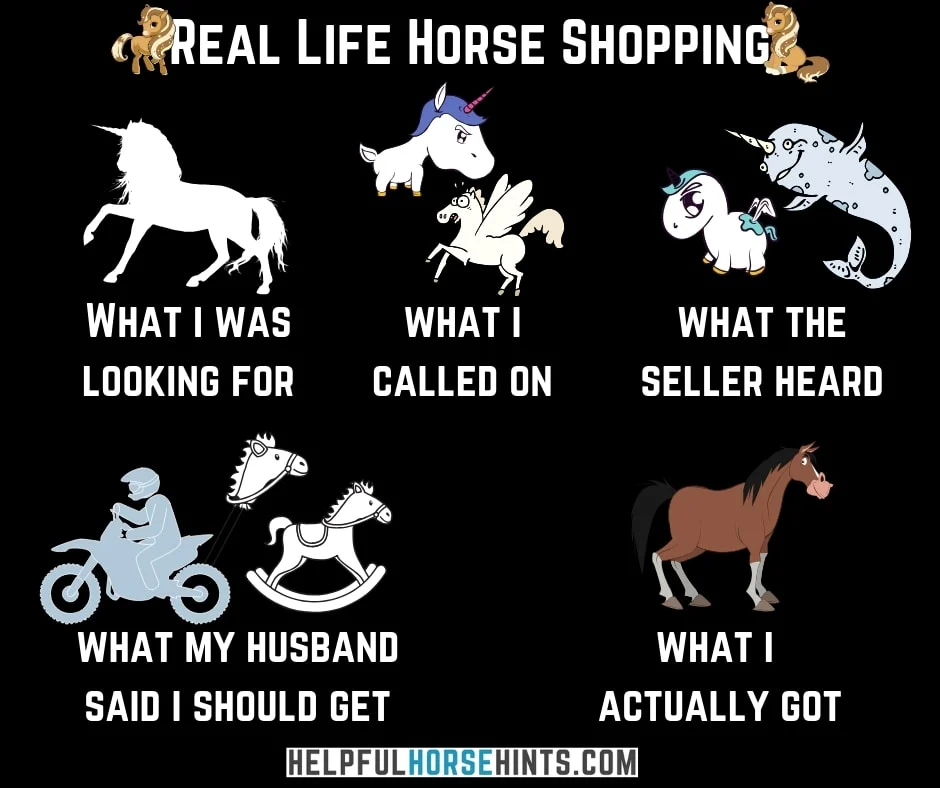 Sections in a Horse Bill of Sale Form
Purchase Price and Payment
In this section I put the total purchase price.
Deposit
In the case of a deposit pending vet check, I add details about the deposit here. In my case, I only refunded deposits if the horse failed a veterinary pre-purchase exam.
For me, this helped eliminate buyers remorse where the buyer goes home and decides they didn't want to spend that much or whatever.
The reason I did this was because I made it very clear to prospective purchasers they were under no pressure to put a deposit down. I never solicited one or pressured them. In my case, I didn't have problems selling horses and I certainly didn't want someone to feel pressured buying one.
So why not refund it if they change their mind? This comes down to pure business practice.
Once a deposit is placed on a horse I would pull all ads and let all other interested parties know that the horse was deposit pending. If the horse were to suddenly become available again, prospective buyers would want to know why and they may not take my word that it wasn't because of a failed vet check.
Of course, it's your choice whether or not to refund a deposit, I'm just letting you know why I don't.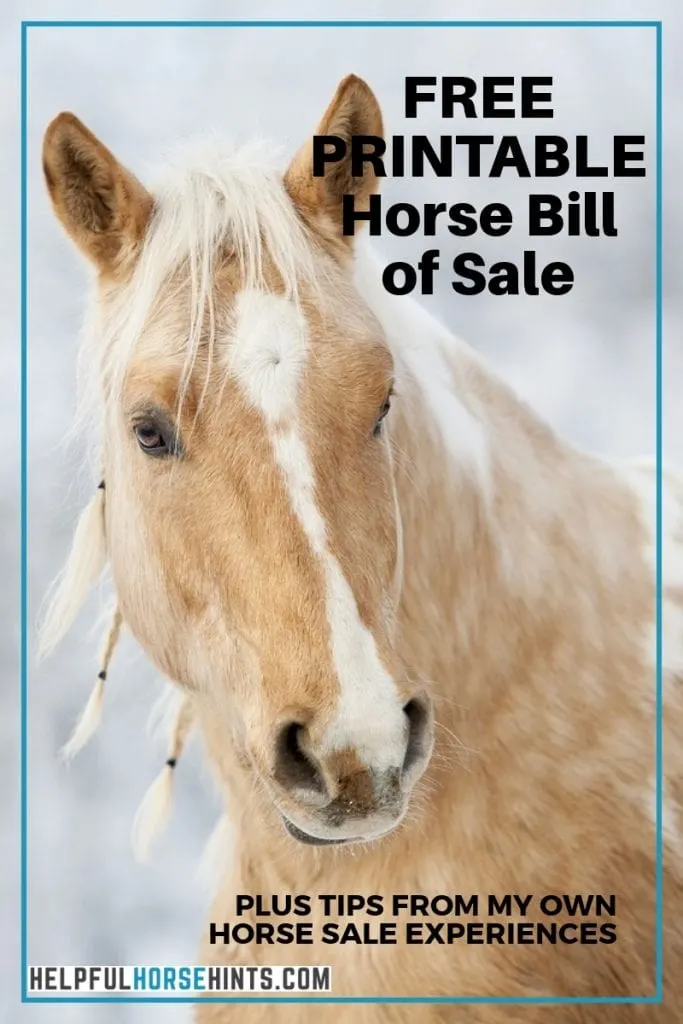 Warranties
"As-Is" is a term you will commonly hear when buying anything "used" and horses are no exception. I let the purchasers know in this section that the horse they are buying is being sold "as-is". I am not guaranteeing anything.
My ad may say the horse has the potential for western pleasure or that my yearling should make a nice cow horse. With this paragraph, I am saying that I can't guarantee the horse will work for western pleasure or the yearling will grow up to be a cutter.
Inspection
This is an important part for me. I encouraged vet checks. As a seller, I would even provide potential buyers with a list of veterinarians in the area that could provide one and their phone numbers.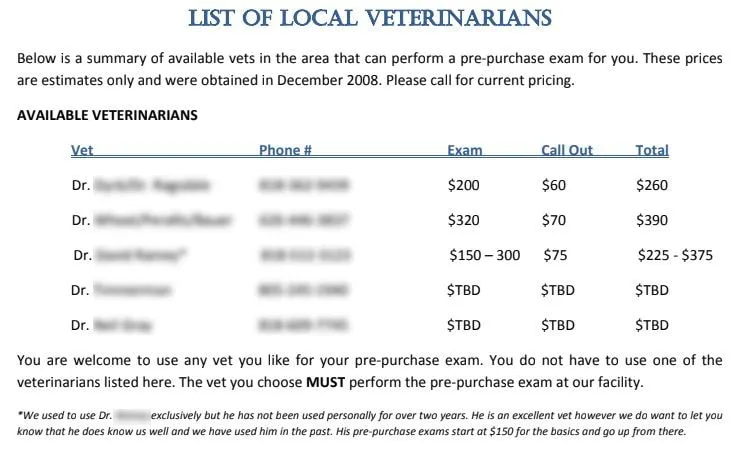 When I was selling horses, I never avoided or danced around the subject of a vet check. If the buyer asked me if the horse was sound I would simply tell them that the horse appeared sound to me but that I am not a veterinarian and they should have a vet check done to confirm that.
Of course, I don't want the veterinary exam part to take too long so I add in a time limit. That way the horse isn't sitting at my place for weeks waiting to get an appointment with some vet that has a crazy booked schedule.
Transfer of Ownership / Possession
Possession is a sticky subject when it comes to horse sales. Let's say you sell a horse and the buyer pays in full but they don't pick it up. The horse has a heart attack and dies (I know an extreme situation), now the buyer doesn't want to take the horse home.
I've heard of cases like this where the seller had to refund all of the purchase price because the buyer never took possession. Again, I'm not a lawyer, but I clarify in my contracts that possession transfers upon receipt of payment. They may not have taken the horse yet but it is theirs to take.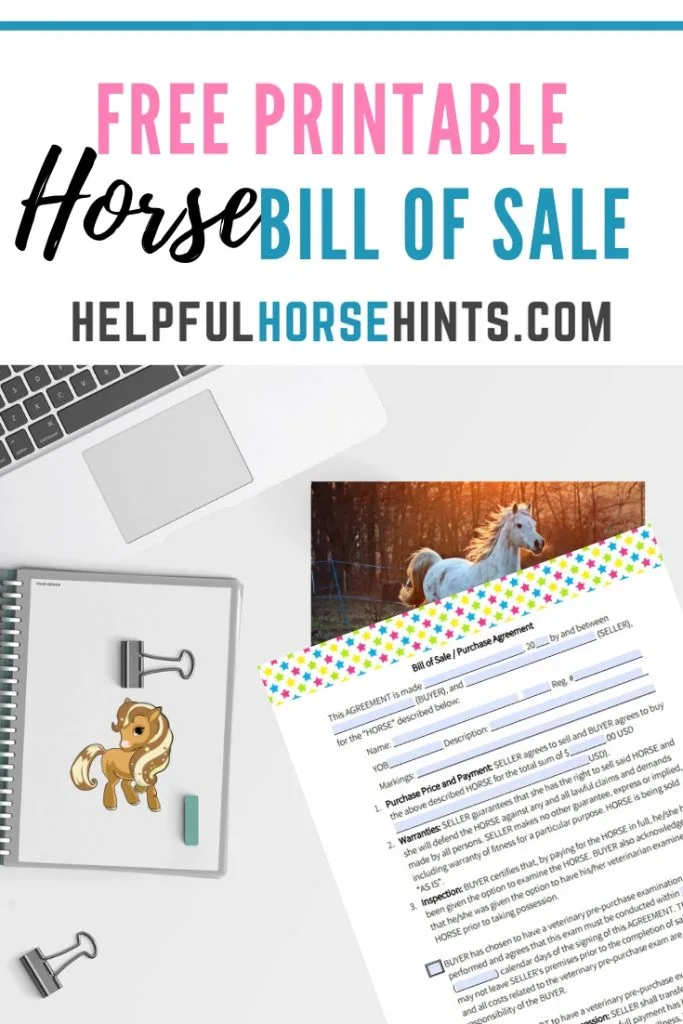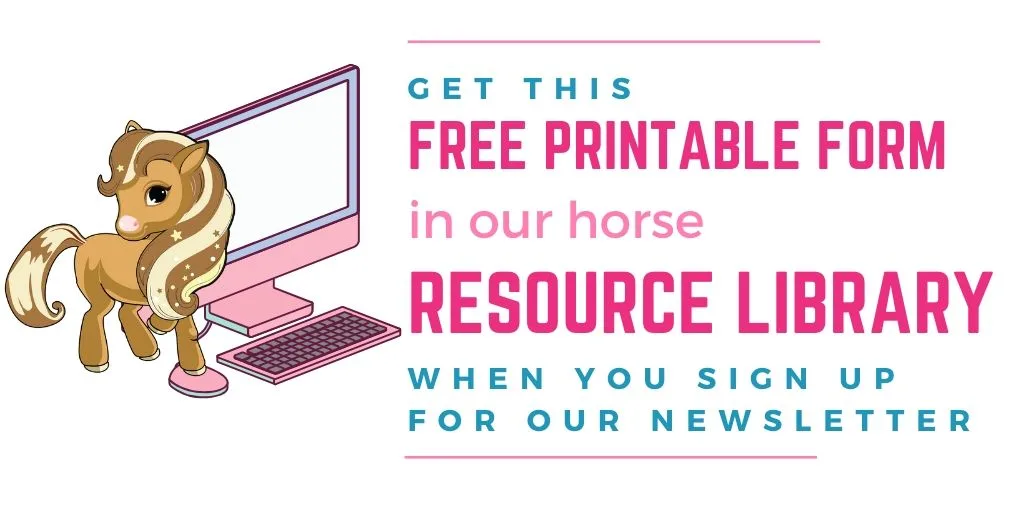 Risk of Loss
Risk of loss is the risk that the horse dies, gets sick or becomes injured. This section goes hand in hand with the transfer of ownership/possession above.
What if the buyer asks to board the horse with you for two months and the horse dies. Now they want a refund because they never even took the horse home. Is this scenario likely, no. Possible? Yes.
Registration Papers
Registration papers are important, as is a signed transfer. If I say a horse is registered, I always gave the papers and a signed transfer at the time of delivery or pickup.
True story, I have had buyers come back years later (I'm talking 8-10 years) saying I didn't provide the documentation. It is for situations like these that it is always best to have the buyer initial they have received all registration documents, test results, etc in good order.
Pro Tip: If you can, make a copy of all documents before handing them over.
Fill in the Blank
I added this for you so you can write in whatever. I realize sometimes you totally blank on having a bill of sale ready and you need a printable horse bill of sale form now. When you sign up you'll be redirected to the .pdf printable horse bill of sale form but I'll also send you an email with a link to the google docs version you can edit/mockup as you see fit when you aren't in a hurry.
If you do customize the document to meet your needs, keep a blank copy in your glove box, at the barn, in the horse trailer, etc. You never know when you might need it.
Laws & Entire Agreement
I saw this on a lot of contracts so I added it in mine.
It basically says I live in xx state and if you want to sue me you have to sue me in my state. I have read this avoids problems where someone buys your horse from out of state and wants to file a lawsuit in their home state.
The part about the entire agreement just means that we may have talked a lot and said a lot of things but if it isn't on this bill of sale it isn't part of the sale. This section is meant to prevent an issue where the buyer says you "guaranteed" something verbally and didn't follow through.
Bottom Stuff
This is like address, signatures, dates and that kind of good stuff.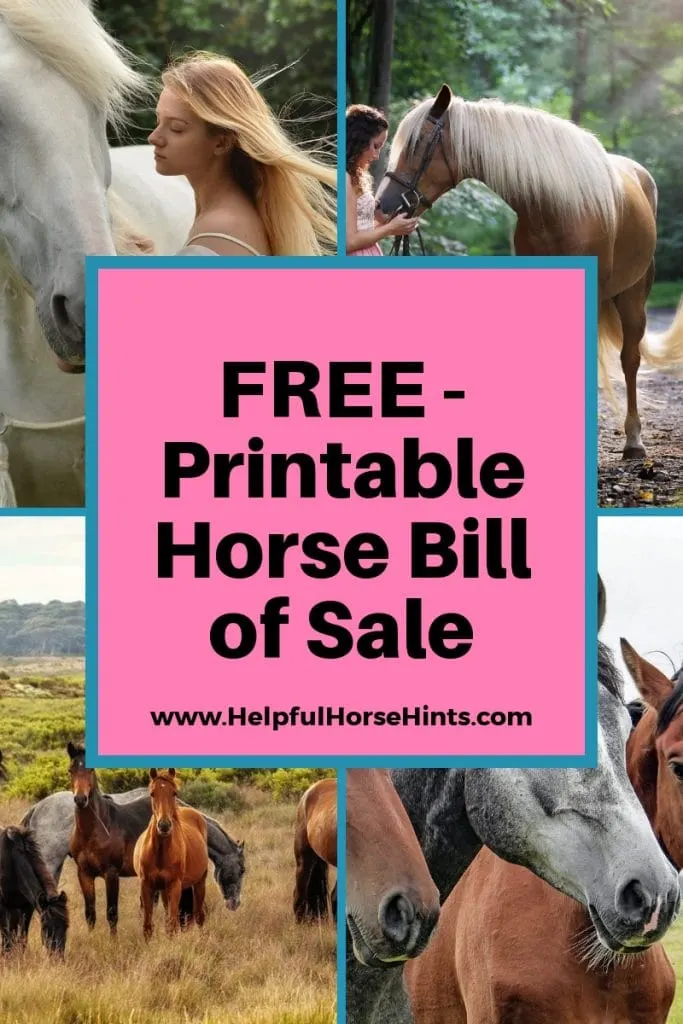 Recommendations when Selling a Horse
Here are a few recommendations I have for how to sell a horse:
Always, always be honest. It is not worth it to damage your reputation or have your horse wind up in a bad situation.
Make a copy of everything for yourself.
Take a picture of all sides of the horse the day it leaves your property. Preferably with the buyer holding the horse just in case there are any questions of conditions later on.
Take a video of the horse walking and trotting just in case there are questions of soundness later on (and never guarantee soundness…the buyer can pay a vet for that).
Use this FREE horse record form to give the buyer a list of all the vaccinations, deworming and farrier history for the horse.
After the Sale
Print a copy of any / all ads and then update the horse as sold everywhere.
Assemble your copies of all of your paperwork, scan them and email them to buyer. Most buyers will appreciate this AND it ensures you both have a digital copy.
Be sure to save any email or text exchanges.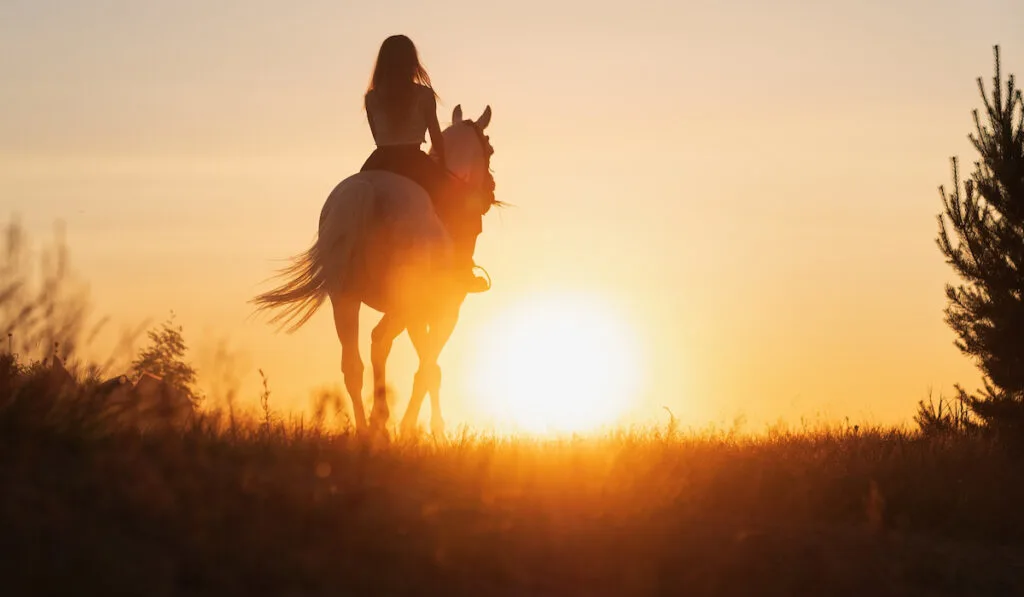 My Experiences Selling Horses
I've sold probably more horses than most people will own in their lifetime and never had an issue. For the most part, people are honest. A buyer is looking for their next dream horse and a seller is looking to move on.
That being said, having the documentation listed above has saved me a couple of times from having to argue with the buyer. Usually, it's because they lost papers and want to say I never provided them. I either show them the bill of sale with their initials saying they got them or show them they signed off that the horse did not come with papers.
In any case, you will probably never have an issue but just in case, have copies of everything.
Conclusion
Again I'm not a lawyer so this is just my explanation of why I have the wording I do in the bill of sale I use when selling horses.
Some of the sections may not be worded properly and some may be non-defensible. Nothing in this post constitutes legal advice. If you have questions ask a lawyer. Better yet, buy a form created by lawyers.
The reality is, most of us aren't going to sell a horse valuable enough to make it worth going to anything but small claims court. For those of us who do deal with more valuable horses, you would be silly to use this form without having it reviewed.
You want to be honest when selling your horse and try to have paperwork ready beforehand so you are not caught off guard.
If you are ready to download the FREE Printable Horse Bill of Sale Form, use the signup form below.
You may also find these FREE forms useful: