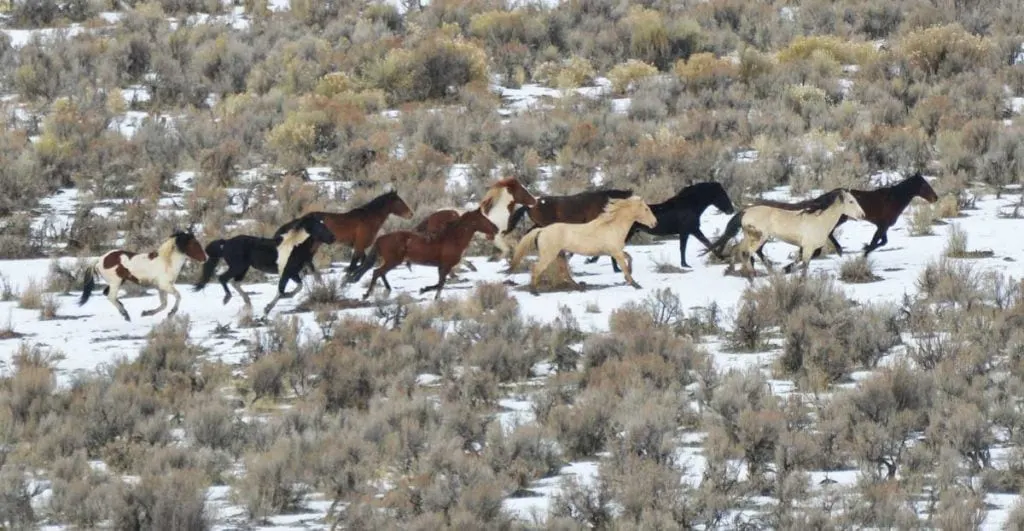 The Little Owyhee HMA seems to be very popular among BLM adopters. Perhaps it's because the horses are easily trainable or maybe it's because of the beautiful colors that are available. Regardless, Little Owyhee mustangs are beautiful.
Where is Little Owyhee HMA? The Little Owyhee Mustang HMA is located in Nevada west of the city of Owyhee and north of Elko.
Did you know that there is another HMA connected directly to the Little Owyhee range called Owyhee. That's right, just Owyhee..not Big Owyhee or anything like that.
It's safe to say that horses can and do cross over from one HMA to another but they are separate HMA's. Because they border each other, and their names are so similar, I'll talk about both in this article.
Map of Owyhee and Little Owyhee HMA's
To get a better understanding of the proximity of these two HMA's, it really does help to look at a map.
Here is an excerpt taken from a map of HMA's provided by the BLM. You can see how close they are in relation to one another.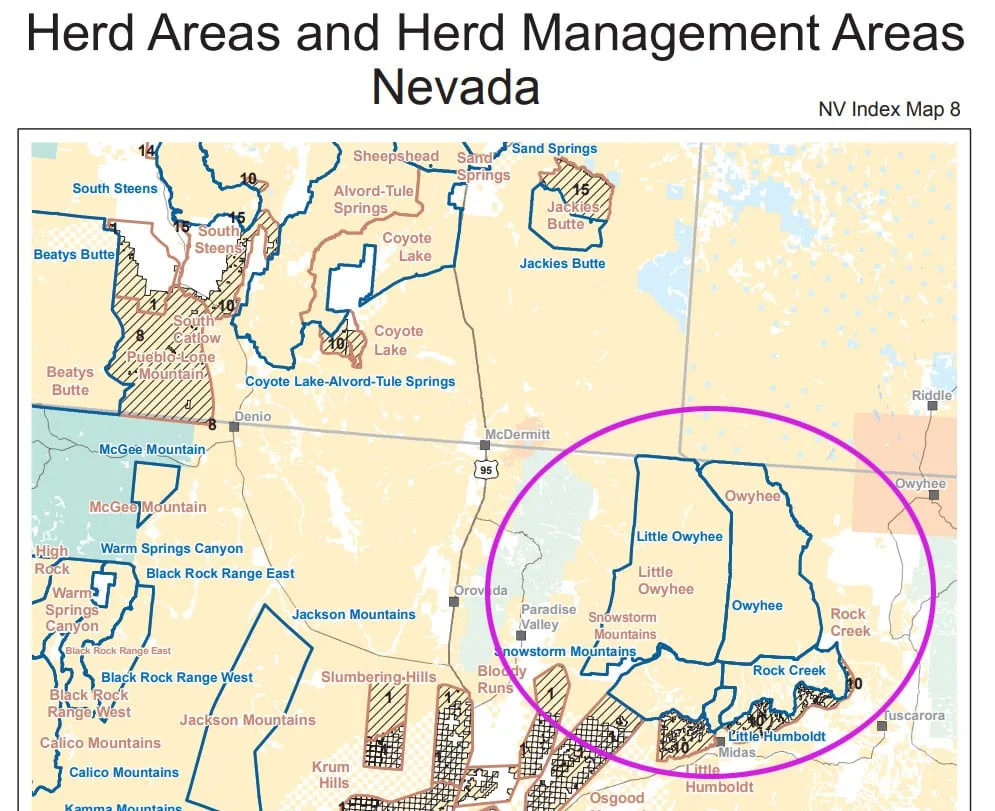 Now, I know you can see Rock Creek, Little Humboldt and Snowstorm Mountains listed close by as well but we'll cover those separately in a different article.
Let's take a closer look at Little Owyhee HMA and the horses that BLM mustangs that live there.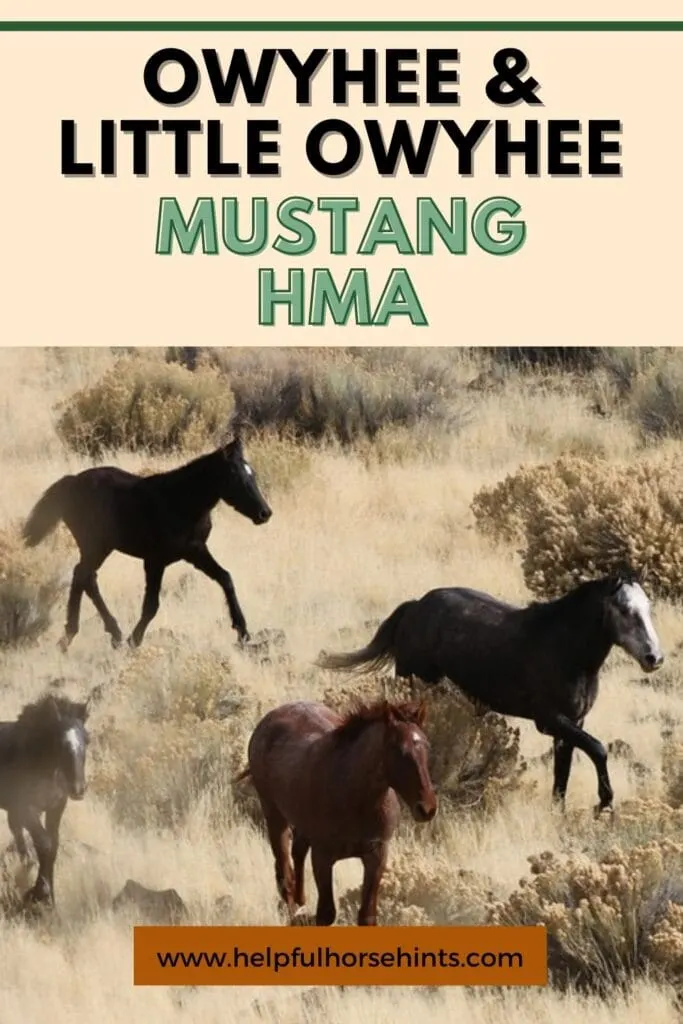 Basic Information About Little Owyhee HMA
State Herd Area: Little Owyhee HMA, Nevada
BLM Animals on Range: Horses & Burros
Acres: 460,128
Elevation: 5,000 to 5,500 feet
Climate: Continental and semi-arid with cool, moist winters and warm, dry summers.
Precipitation: 6 to 14 inches, occurring primarily in the winter and spring
Average annual temperature: 43 to 47 degrees Fahrenheit.
Vegetation: Almost entirely the sagebrush-grass types typical of the cold desert and Great Basin. Forage species for wild horses are primarily the perennial grasses: needlegrass, ricegrass, wheatgrass, squirrel tail, and bluegrass.
AML for this HMA: 179 to 298 head.
Note: Horses within the HMA are descendants of ranch horses that either escaped or were released into the area.
Source: BLM
Here is a video of Owyhee mustangs in the wild:
Gather Information
When the horses in this area become too many for the land they live on, the BLM will gather the excess animals, identify each individual and then offer some of them up for adoption to the public.
The Owyhee herds were gathered in November of 2016. The BLM did release photos and gather details for that event which can be found here: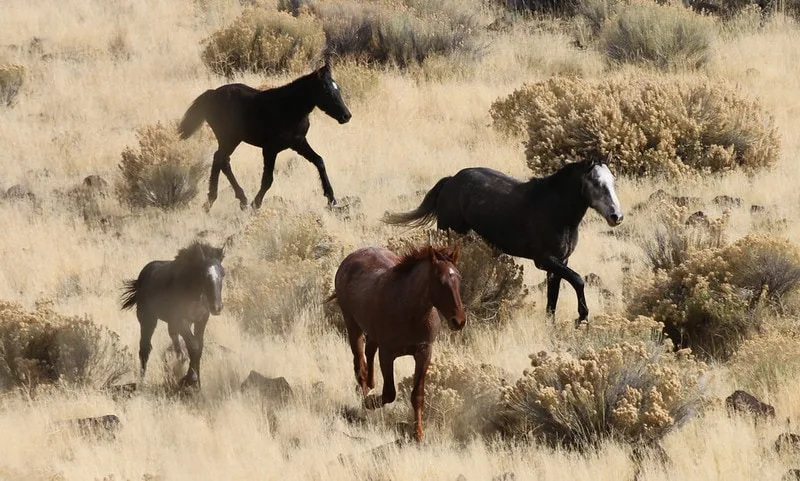 Where to Adopt Mustangs from Owyhee and Little Owyhee
After a gather, the mustangs are shipped to the National Wild Horse and Burro Center in Reno, NV. This facility, Palomino Valley, prepares them to enter the adoption program. (source)
Once the horses are prepared for adoption, they can be sent to any of BLM's other short term facilities as well as small adoption events. Horses are also frequently made available for adoption programs like the Trainer Incentive Program and the Mustang Makeovers.
Here is a gorgeous mare on Day 4 of training for the Trainer Incentive Program (see my article with details on that program).
Colors Available in Owyhee & Little Owyhee HMA Horses
The Owyhee and Little Owyhee HMA's have just about every color you can imagine. These include:
Bay
Brown
Black
Pinto
Sorrel/Chestnut
Appaloosa
Dun
Grulla
Palomino
Buckskin
Roan
Gray
Pictures of Horses from Little Owyhee
Here are some pictures of horses from the Little Owyhee HMA.
Blue Roan Mustang Mare
This mare, Once in a Blue Moon , whose barn name is "Mona" is a 2010 Blue Roan Mustang Mare from Little Owyhee HMA. She was captured 11/28/2012 as a 2 year old and adopted from her trainer in June of 2016. Her freezemark number is 10619829. She is 14.2 hands tall.
Here are some awesome pictures Mona's owner gave. It's amazing to see mustangs enjoying life with humans!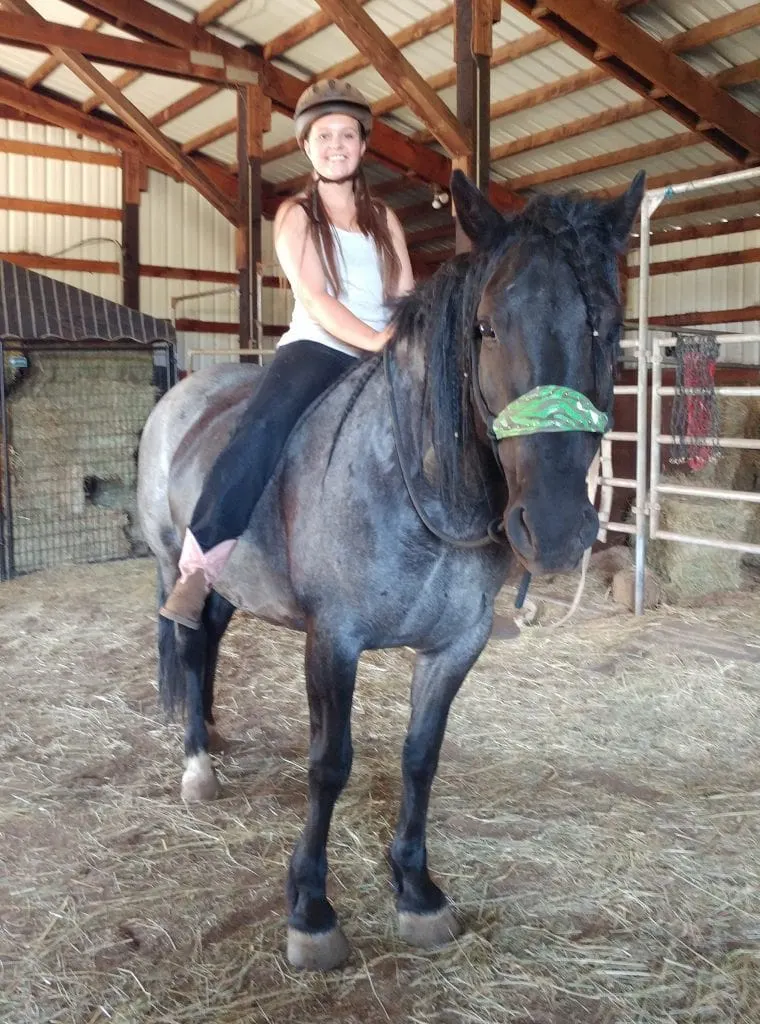 Gray Mustang Mare
This beautiful mare is Cricket. She was born in 2012. Her photos were contributed by her owner, Anna Z.
Doesn't this little mare look great in english tack? Mustang horses are so versatile, they can excel in almost any discipline.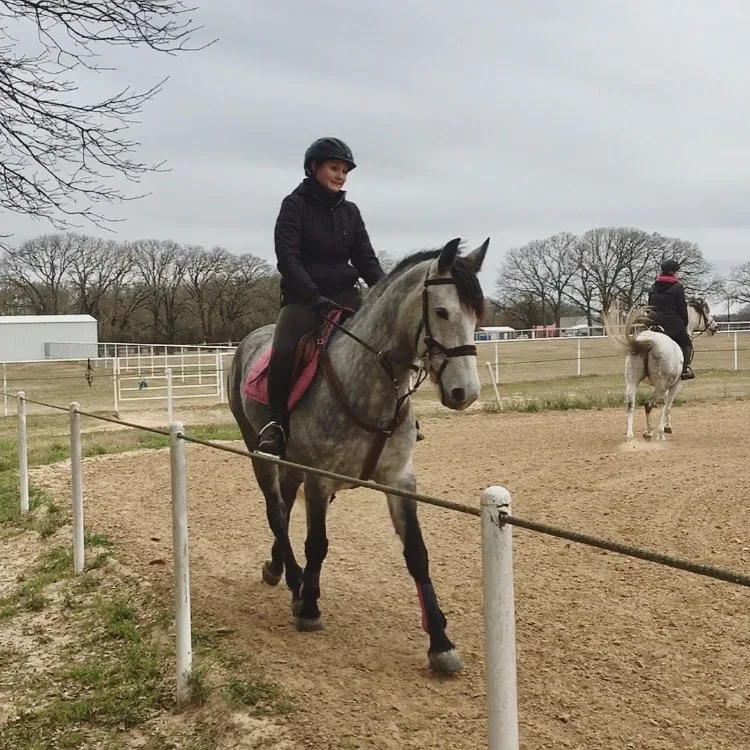 Other Mustang Articles On This Site You May Like: