We see it all the time. People making an awesome summer bucket list and doing all kinds of cool stuff. Let's get real though. As horse owners there is two problems with that: 1. Doing other things gives us less barn time and 2. All that "fun" stuff costs money that is better spent on tack, horse trailers and grooming products.
I decided that we deserve our own bucket list. This horse owner's summer bucket list has 20 things you can do with your horse this summer. Check them off as you go! Best of all, none of them require your horse to be rideable so no excuses!
This bucket list is great for mules and burros too!
Let's get started!
1. Go On A Trail Ride
Some of you may think well, duh, what else would you do all summer? The reality is some horse owners live on big properties or board in the city where they only have arena access.
For those of you that have easy access to trails, this will probably be the first check mark on your list. For those of you who normally ride in the arena or on your own property, be adventurous.
Even if your horse isn't safe on the trails, find time to schedule a ride with a friend who has trail horses. If that's a no go, rent a trail horse. Yeah, I said it. The point is to enjoy nature on horseback!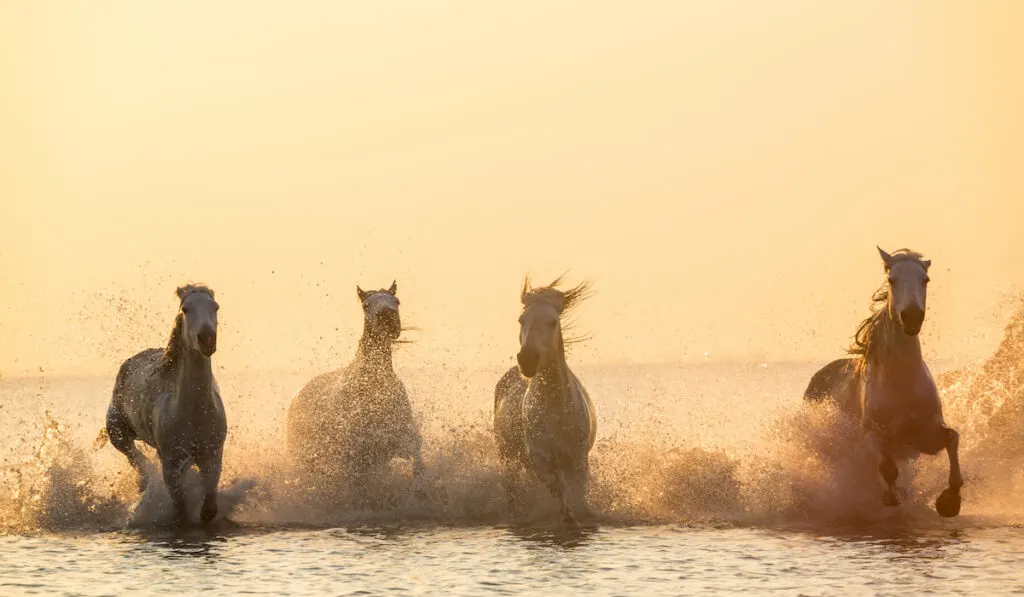 2. Take Your Horse Swimming
This is such a neat experience and something that should be on everyone's horse bucket list in my opinion. Whether or not you get this one checked off this summer, it's a must do for any equestrian.
There are a couple of ways you can approach this. As a kid, we used to take the horses to a small pond all the time and stand them in shallow water and jump off them. Then, when we got tired of that we'd take them for a short swim.
The key is you want nice calm water with no current and an easy, gradual entry and exit.
Of course, be careful, find a place where horses swim regularly and go with someone experienced for the area. You don't have to ride your horse either, take him for a hike and send him in on a lunge line or, just let him play in the water and swim only if he wants to.
It's up to you but horses and water can be so much fun!
3. Go To A Schooling Show
Sometimes its fun just to go do something with your horse. You don't have to win, heck, you don't even have to compete. My recommendation, find a schooling show with an in-hand class or two if it is your first time showing.
If you are a seasoned competitor, show your horse in something he doesn't normally compete in. If you rein, try English. If you ride dressage, try halter. Most of all have fun together!
4. Volunteer At A Rescue
Your horse has all the love and care he will ever need but all horses aren't so lucky. This summer, find a local rescue and volunteer for a day. Sure, it isn't glamorous and it does take time away from your own horse but the experience can be very rewarding.
It can be very hard for a rescue to find volunteers with horse experience. If you have a group of friends you're doing the bucket list with, call the rescue and suggest ideas on things you guys can help with. Maybe a spa day for every horse, photo shoots, facility repair or maintenance.
5. Picnic With Your Horse
Pack a lunch and head out to the barn. Spend some quality time with just you and your horse. Whether you pack your saddle bags and ride out to your favorite spot on the trail or you just walk your horse to the nearest tree and lay out a blanket, its the quality time with your horse that matters here.
Don't forget to check out my list of horse friendly fruits and vegetables so you can pack a snack to share!
6. Schedule A Horse Spa Day
Choose a day to just go out and pamper your horse. A hot day is probably best. Get things started with a nice liniment rubdown followed by a soapy bath. From there, the possibilities are endless. Maybe a creme rinse for the entire body?
For the mane and tail, be sure to thoroughly massage the roots as you shampoo getting everything nice and clean.
Follow up with a hot oil treatment (make sure it isn't to hot by testing first). Finally, work a nice conditioner through and allow to sit. Rinse and finger comb to avoid breakage.
Don't have hot oil? Try a mayo mask on your horses hair. Apply like you would conditioner and let it set for 15 -30 minutes. Then rinse and wash again with a gentle shampoo to clean the hair and remove any residue.
The spa day doesn't have to end there. Grab a pair of clippers (or scissors if you don't have any) and trim up your horse's muzzle, bridle path, and fetlocks. Condition his hooves with a nice hoof oil.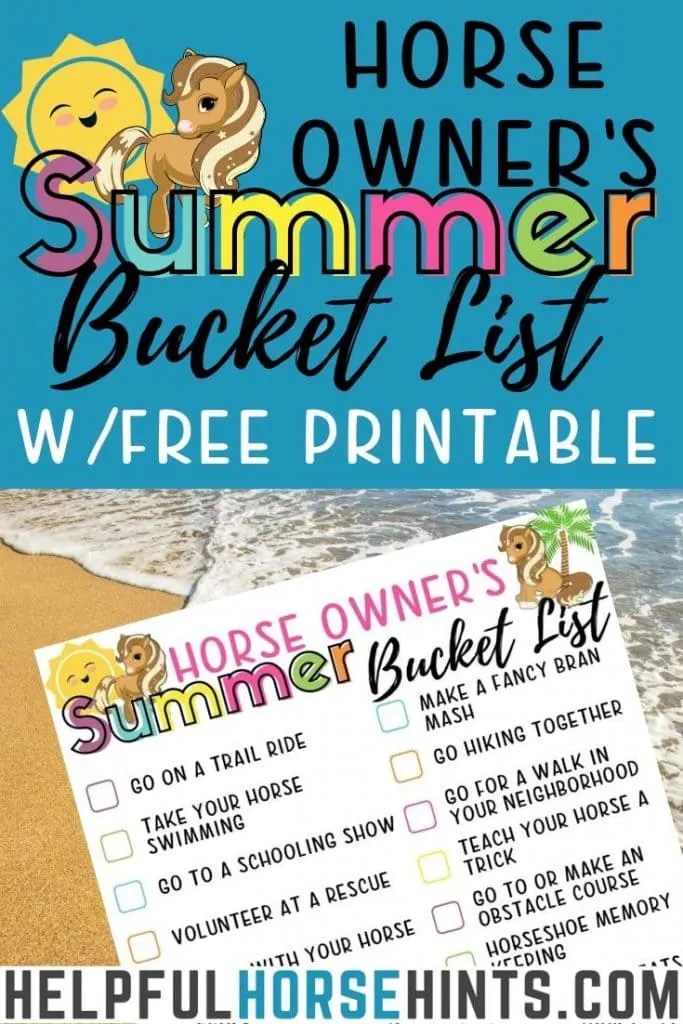 To finish up your makeover, decide if you want to do a fancy mane or tail braid. Maybe a waterfall french braid like the one in my tutorial. Perhaps a french tail braid to go with it?
Once you're done, step back and take some pictures to remember the awesome day you spent with your horse. Be sure to share on social media…you're horse probably just had more of a spa treatment than you will this week! #spaday #hisnotmine #oneluckyhorse
7. Try Something New Together
You and your horse are a team. Whenever corporations want to do "team building" exercises to strengthen relationships they typically take everybody to do something new together.
Maybe white water rafting or to an escape room. The idea is to spend time together with new challenges and new experiences.
Why not take the same concept and apply it to your horse. Don't get stuck in the same boring weekly routine. Make a date with your horse to mix things up and try something new.
Don't overthink it though. If you normally go on a particular loop trail one way, try going backward. If you normally take an English lesson on Wednesday, try taking a western one.
8. Invite A Friend Out To The Barn
We all know what it is like to have friends or family members that just don't "get" what all the fuss is with the horse. "Why do you even spend so much money on it?", that kind of thing.
For this bucket list item, take a friend or family member to the barn. A non-horse owning friend. Show them around, introduce them to the horses. Let them try leading it if they are interested. If it's safe to do so, lead them around.
This step can also be awesome to pair with #9 below. Especially for your super social friends. Tell them to bring a couple of changes of clothes and you guys can take turns getting #instaperfect by taking glamorous shots with the horse.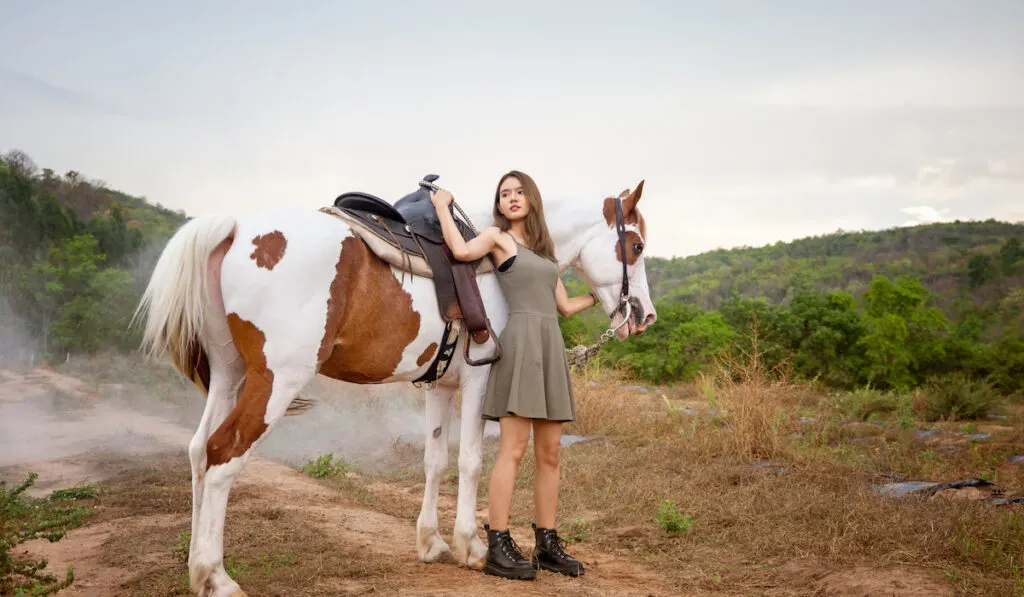 9. Do A Dress Up Photo Shoot
You could take this one of two ways. Dress up like fancy dress up or dress-up like a goofball dress up (check out the horse costume in this post I wrote).
Have fun with it. If you don't want to dress up, dress your horse up. Think flowers for her mane and tail or fancy quarter marks or maybe a glitter butt for your trail ride. The point is to be intentional about having fun!
10. Write A Diary Entry From Your Horse's Point of View
This is fun. Pick a day and then write a Facebook Post, Instagram Story or whatever, about the day from your horse's point of view. Get as cute as you want or just make a super simple timeline of events (i.e. Human arrived at 9:30 am).
This is fun but it can also allow you to think about how your horse may perceive his day vs. how you perceive the day. Thinking more from your horse's point of view can enable you to better solve problems and issues when they occur.
11. Make A Fancy Bran Mash
A nice, wet bran mash can help your horse stay hydrated during the hot days of summer. For this summer bucket list item, choose a day to mix things up and make them interesting for your horse. Here are some ideas:
Use hot/warm water instead of cold.
Add 3 or more of your horse's fruits and veggies (or try one of the 15 horse safe foods in this article I wrote)
Add sweet feed, oats or your horse's other favorite grain.
12. Go Hiking Together
Pick a morning, while it's still cool and take your horse on a hike instead of a ride. It's good for you and good for your horse. Getting closer to the ground helps you see things on the trail you might otherwise miss too. It provides a whole different perspective.
As you are on your hike, you can even work on your horse's ground work. Can he walk nicely beside you? Does he stop when you stop? What does he do if you backup will he mirror you? It can be fun!
13. Go For A Walk In Your Neighborhood
Safety first on this one but, if you and your horse can safely navigate the streets in your neighborhood, try going for a walk around the block or up to the corner market and back.
As a kid, this was my favorite. There was a little market up the street from where my yearling was boarded. I'd take her for a walk every weekend and tie her up at the store (they had a horse tie rail), go inside and grab a snack.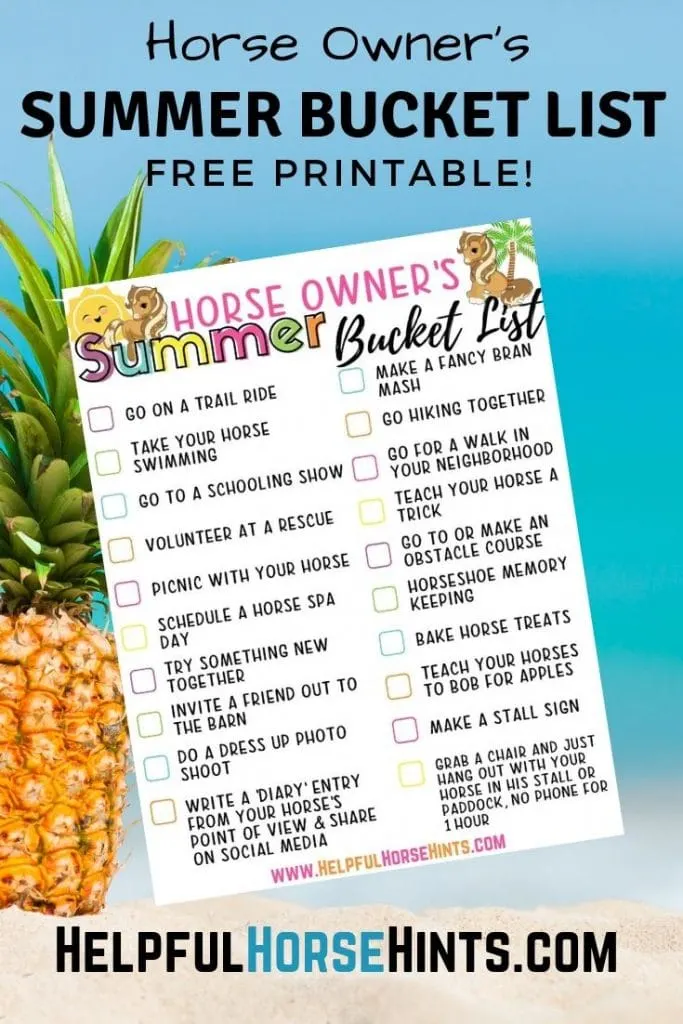 14. Teach Your Horse A Trick
Some horse owners love the ideas of tricks and some hate it. This summer, try to teach your horse a trick, any trick. See if you two can work together to accomplish a goal.
My favorite "trick" to teach is to train my horse to automatically side up next to any object so I can mount.
This can be a rock, log, fence, mounting block etc. Gosh I hate trying to position horses at the mounting block. Every single one of my horses learns this trick now!
If you want something cuter how about teaching your horse to say "yes" or "no"? I even taught one of my horses to "shake" hands. Mix things up this summer and teach your horse a new trick!
15. Go To Or Make An Obstacle Course
If you have poked around this site even a little bit you know I love horse obstacle courses. I find they are so incredibly valuable for teaching a horse how to handle his/her fear as well as learning where their feet are.
My first obstacle course was so very basic. You can see it below. Some railroad ties and a cheap blue tarp. Just outside of frame is a single piece of 4×8 plywood laying flat on the ground for a "bridge".
If you can't haul to a local obstacle course, use your imagination to make one. Turn buckets upside down in the arena and ask your horse to weave through them.
Layout some ground poles. Tie some streamers to the arena fence. In fact, if you have trouble finding ideas, check out my post on dollar store horse obstacles.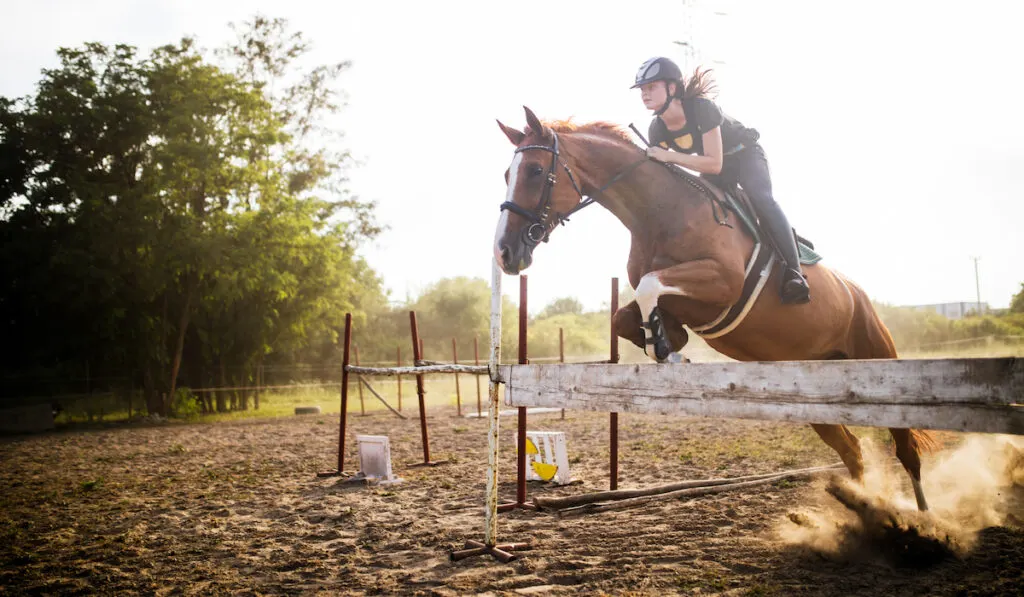 16. Horseshoe Memory Keeping
This summer, when your farrier comes out, keep one of your horses shoes and make an awesome horseshoe craft.
If your horse doesn't wear shoes, buy one for under $5 OR make the craft as a gift for your friend (with their horse's shoe).
There are tons of ideas on Pinterest for this kind of things. There are horse shoe dream catchers, windchimes, wall decor and more. You are only limited by your imagination.
17. Bake Horse Treats
Have you ever tried to make DIY horse treats? Whip up a batch for your horse this summer. You can use one of the recipes in my article or find a recipe on Pinterest.
There are lots of "human" cookie recipes that work for horses too. Just make sure the ingredients are horse friendly.
Keep in mind home-made horse treats generally don't keep long so if you make a whole bunch, try freezing them for use throughout the summer.
18. Teach Your Horse to Bob for Apples
Does your horse love apples or carrots? Something else? How about trying to teach him to bob for apples this summer.
Some horses will just get it. You can fill up a bucket with cool water, drop some apple slices in and they'll go for it. Other horses need a little help learning.
To teach your horse to bob for apples follow these simple steps:
Start with a small bucket and fill it so the water doesn't quite cover the apple slices.
Make it a little harder to grab the apple slices by increasing the water level so the apples just start to float.
Continue increasing the water level until the bucket is 1/2 full.
Your horse has fully graduated to apple bobbing when he can successfully grab apples from a full bucket.
If your horse isn't food motivated, he may loose interest once things get "hard". That's OK too, it is still fun to try!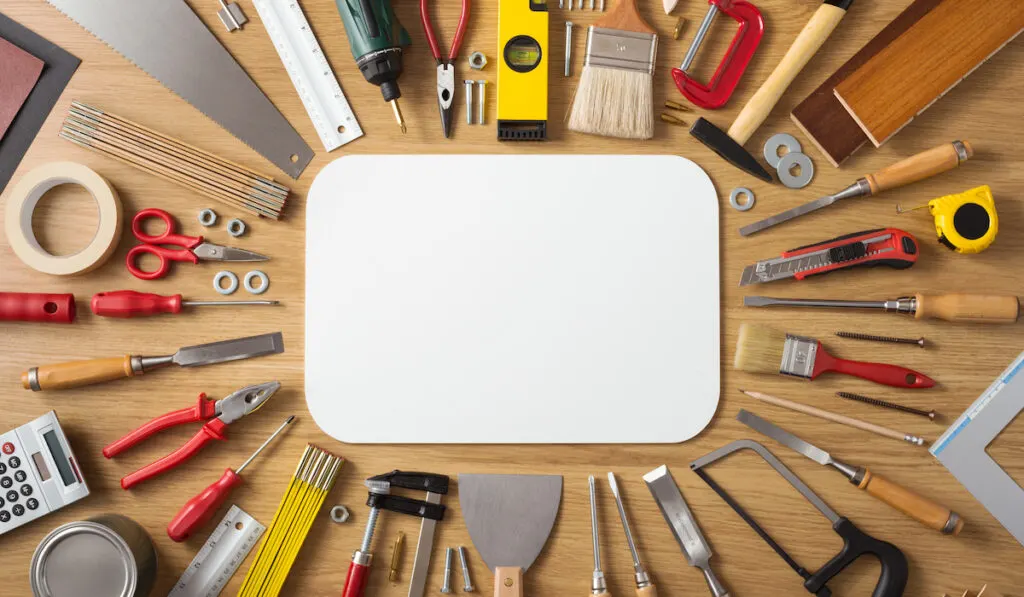 19. Make a Stall Sign
This is a fun summer project. You can make a barn party out of it by grabbing some barn friends, assembling the supplies and going for it or just hang out in your A/C at home and spend a quiet day making something nice.
I have written two tutorials for DIY stall signs you can try:
If your horse already has a stall sign, mix it up and make a bridle rack instead or perhaps, make a few to donate to the local horse rescue. You could also make a nice room sign for your bathroom or tack room. It's up to you, have fun with it!
20. Grab A Chair and Just Hang
When was the last time you disconnected? Can you remember hanging out with your horse without texting friends or browsing the internet.
Your horse hangs out all day waiting for you to come play with him. This summer, take some time and just "be" with him. Put down the phone (leave it in the car), grab a chair and just hang out.
Be observant. You'll get a small glimpse into your horses world. What kind of interesting sights and sounds are there? How do the neighboring horses act? People watch other boarders or just sit and enjoy the quiet.
We get so caught up in the daily hustle and bustle, pick one hour this summer to just sit, relax and be present in the moment.
Final Thoughts & Free Printable
Summer and horses should both be about having fun. These are meant to be ideas to get you started. They aren't set in stone. Feel free to add to your horse's summer bucket list or cross off things that don't really interest you. It's your horse, your choice!